Artificial Grass FAQs – What You Need to Know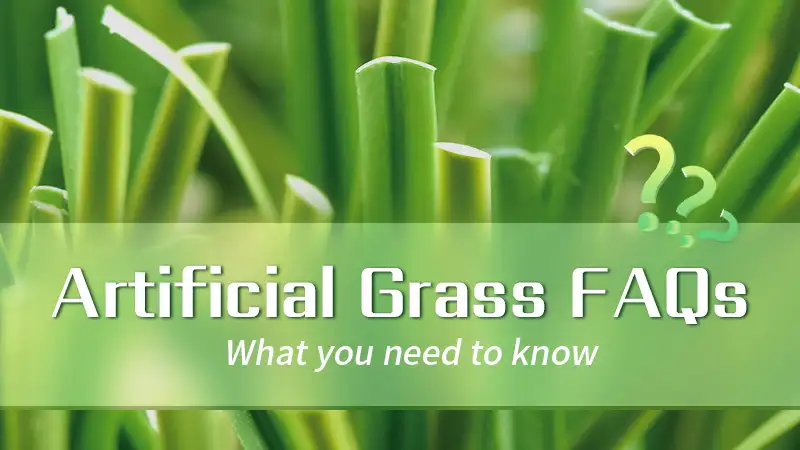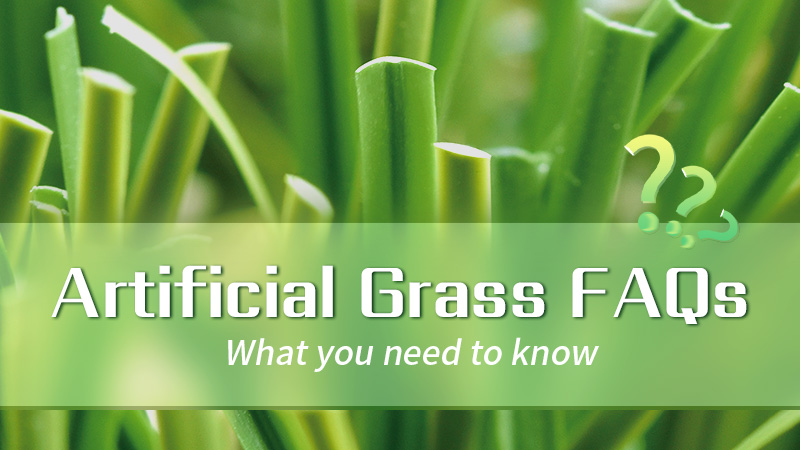 This article lists some FAQs about artificial grass. Whether you plan to buy artificial lawn or already own artificial lawn, you can get some useful knowledge and tips from it. Of course, if you don't find the answer to your question, please reach out to us directly here.
We have summarized the answers in the following topical categories:
Basic Knowledge of Artificial Grass
Q: What is artificial grass?
Artificial grass is made of high polymer fiber yarns that look like real grass.
Synthetic turf is mainly composed of grass fibres, bottom backing and coating.  The artificial turf field is a system consisting of base, synthetic grass, infill and, in some special fields, shockpad at the bottom of the turf to meet the needs of sports.
Q: How is artificial turf made?
There are four major processes in the production of artificial turf, namely: extrusion, twisting, tufting, and backing. Visit CCGrass, the world's largest artificial grass factory, to learn about the process to produce a top-level artificial turf.
For a comprehensive understanding of synthetic grass manufacturing, please check at: How & What Is Grass Made out of | Artificial Grass Manufacturing
Q: What are the categories of artificial grass?
Classified by function: Sports grass and Landscape grass
By material: Polyethylene and Polypropylene
By fiber structure: Monofilament and Fibrillated yarn and Texturised yarn
More details can be found in the article Types of Artificial Grass
Q: What's the product range of artificial grass?
Sports grass for football, hockey, rugby, tennis, padel, multi-sport and so on.
Landscape grass for garden, commercial, playground, golf, pets, roof and Chain/DIY Stores.
Functional grass has Antistatic series, Antibacterial series, Flame Retardant series, GrassCool series, etc.
Buyer's Guide & FAQ
Installing an artificial lawn is a big investment, and you are sure to have a lot of questions before making this important decision. But in fact, it's not difficult to buy suitable artificial turf, you just need to find a reliable supplier.
Q: How to choose your turf supplier?
There are several key points in choosing a reliable supplier:
Factory strength. The factory has been audited by third parties such as BSCI, WFSGI and ICS to ensure its ability to fulfill customer orders with quality and quantity; in-house yarn and turf production suppliers have more advantages in quality control and on-time delivery.
 Qualifications. For sports grass, qualifications from leading sports organizations such as FIFA, FIH, World Rugby, GAA and ITF are very difficult to obtain. Many of them set high standards for both artificial turf suppliers and products. So, whether you are buying sports grass or landscape grass, choosing from the Preferred Providers by FIFA, FIH or World Rugby means you are choosing a quality product, a quality service and a guaranteed quality.
Please check the article for other key points: 5 Key Points for Choosing Your Turf Supplier
Q: What is the first thing to consider before buying artificial turf?
Ask the company for samples. Turf that you have not carefully selected will cost you dearly down the road. There is a flood of imported cheap turf in the market, which may look identical on the surface but lacks substance in quality. Therefore, it is very necessary to ask for samples before purchasing. The sample can truly reflect the quality and appearance of the product. Artificial turf companies will usually send out free samples of their synthetic grass range.
Q: How much does artificial grass cost?
Artificial grass prices will vary depending on the specifications of the products, including material, pile height, face weight, etc. That's why we encourage you to get a complimentary estimate from your supplier.
To determine the cost of the project, you first need to check the area of synthetic lawn to be installed, usually in square meters. The second thing you need to decide is whether or not you want a full turnkey installation or you want to do it yourself.
Q: Is artificial grass safe?
All CCGrass artificial grass is 100% safe and tested by REACH, RoHS, EN71-3 and other authorities that it is free of high concern substances and heavy metals. You can choose and use it with peace of mind.
Details: https://www.ccgrass.com/caution-is-artificial-grass-safe/
Q: Can I have dogs on my artificial turf?
Most definitely! Your furry friend will also love artificial lawn. You no longer need to worry about the dog's burrowing and muddy paws. In addition, compared with real grass, artificial turf care requires no chemicals and is better for pets.
For more frequently asked questions about fake grass for dogs, please read the article Artificial Grass for Dog – Practical Buying Tips (6 FAQS)
Q: Does artificial grass look fake?
Not at all. In CCGrass, artificial grass is designed to replicate natural grass. CCGrass products are designed in diverse shapes, colour shades, thicknesses and special combinations making sure they look as natural as possible while having different personalities. We mimic nature is not just about the look, but also the sense of feeling it brings.
Q: Does artificial lawn get hot?
Yes, generally, synthetic lawn is made of PE material, which absorbs heat like most materials, and will get hot. But don't worry, there are many simple and easy ways to keep your artificial grass from becoming too hot and comfortable to use even in the hot summer. Check this article to learn about 5 ways to cool down artificial grass.
Installation, Maintenance and Warranty
Proper installation and maintenance of artificial grass will ensure performance and extend the life of your lawn surface.
Q: Can I install the artificial turf by myself?
Sure, you can. We recommend that the large and full cover artificial turf pitches be installed by professionals, while some small piece indoor decorations could be easily handled by the end users.
The installation is easy to learn and apply. Most of the guide videos will be loaded on the selling website, and the guide brochure could be easily found in the store you buy the turf. And the related accessories could be bought at the store as well. Installing artificial turf could also be a fun activity in the family.
Q: Will weeds appear on artificial lawns?
Weeds are difficult to grow out of the soil through properly installed artificial turf. This is because multiple steps in the installation process prevent weeds from growing. Excavating this area will remove weeds on the surface, the compacted base provides an additional barrier for weeds, and we always recommend that cover a layer of weed barrier fabric.
Q: Does artificial grass need maintenance?
Artificial grass eliminates the tedious work of mowing, watering, fertilizing and requires only occasional simple maintenance. Get some cleaning tips, please read our guide: How to Clean Artificial Grass?
Q: Can I have a BBQ on my artificial lawn?
The flame-retardant effect of artificial turf is shown in that the artificial grass filament will self-extinguish after being burned by fire. In this way, it will not cause a large area of burning caused by mutual ignition. Please put the BBQ grill on the ground instead of the artificial lawn, so as not to cause any damage to your grass.
Q: How long can artificial grass last?
CCGrass landscape grass uses the best UV inhibitors, with a service life of up to 10 years. CCGrass sports grass meets the highest standards from leading sports organizations such as FIFA, World Rugby, FIH and ITF. The best sports grass Superb, has a 12-15 years warranty, depending on usage and correct maintenance.