To achieve maximum potential in any sport, players require a consistent, excellent quality and high performing turf surface. With decades of experience serving the professional sports industry, CCGrass has established itself as a solution focused sports field provider. The company has developed a range of artificial sports turf for major sports such as football, hockey, rugby, tennis, padel and multi-sport. CCGrass is committed to providing athletes with the best possible playing conditions to perform at their best, elevate their skills and help them achieve their goals.
Why Choose CCGrass Artificial Sports Turf?
CCGrass started artificial grass manufacturing since 2002 and now the company operates the world's largest artificial turf factory. CCGrass is one of only 5 Preferred Producers in the world awarded by FIFA, FIH and World Rugby, and is the only 1 in Asia. Thousands of professional sports pitches were installed with our artificial sports turf throughout 5 continents, 140+ countries, with huge competitions being held on CCGrass fields.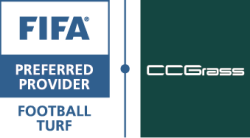 FIFA Preferred Provider

FIH Preferred Supplier

World Rugby Preferred
Turf Producer
Meet the highest industry standards
Thanks to close cooperation with world-renowned labs and continuous investment in R&D, CCGrass artificial sports turf products meet the highest standards of leading sports organizations such as FIFA, World Rugby, FIH and ITF.
Offer the widest choice of artificial sports systems
Featuring "Preferred" status with the 3 big global field sports – football, hockey and rugby, we are able to offer a comprehensive range of tested systems, for all levels of each sport.
Extensive experience and expertise
CCGrass has helped deliver many perfect artificial grass pitches for sports clubs, community facilities, schools, universities, professional competitions and more. We have accumulated rich experience to guide you through every step of your pitch building process.
R&D and innovation capability
With the openness and strong manufacturing capacity, CCGrass is committed to providing clients with uniquely designed sports turf systems through continuous innovation.
Innovative Sports System Solutions
Benefits of Artificial Sports Turf Fields
All-weather and clean
An advantage of the artificial sports turf field is its all-weather properties. Natural grass fields will turn to mud in the rain. In contrast, artificial turf pitches provide perfect surfaces for players, regardless of the weather.
Low maintenance
Artificial sports pitches are easier to maintain than natural grass. They do not require many maintenance tasks such as replanting, mowing, fertilizing, weed removal, pest control, etc., significantly saving maintenance costs and increasing playing hours.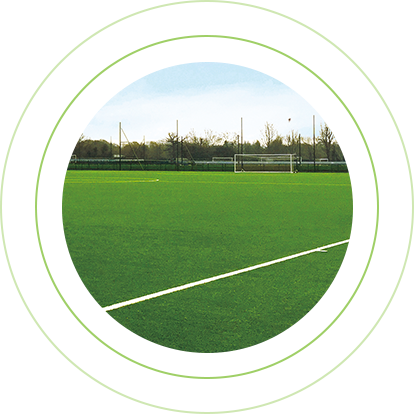 Durable and long-lasting surface
High-quality synthetic turf fields are able to withstand intensive use, offer more usage time, and maintain the performance and safety throughout its entire life cycle.
Cost effective
In addition to saving on maintenance costs, you can also rent out the use of your sports turf field for financial gain. Moreover, most artificial grass surfaces can host more than one sport; for example, football and rugby go very well together.