Ensuring Player Safety with Artificial 3G Rugby Pitches
In recent years, the utilization of artificial rugby pitches has been on the rise, owing to their numerous advantages over natural grass pitches. These surfaces not only possess superior durability, enabling more rugby to be played, but also provide a safer playing environment, which can effectively prevent player injuries. Player safety is a requirement not an option, and a World Rugby tested pitch guarantees this.
Artificial rugby pitches commonly belong to the third-generation (3G) synthetic turf surfaces, filled with both sand and performance infill, with longer grass fibers that typically have a height of 60mm or greater. Currently, 3G rugby pitches are the only type of artificial grass rugby pitch that is accepted by both World Rugby and RFU.
Discover the Top Advantages of Artificial Rugby Pitches
Increased usage and revenue
An artificial rugby pitch is a smart investment for rugby clubs or schools seeking a reliable and durable playing surface that can handle frequent and intense usage. With at least 30 hours of playing time per week, players have more time to train, improve their skills, and enhance their performance on the field. Moreover, the versatility of an artificial pitch allows clubs to organize more events, which not only increases revenue but also promotes the sport and attracts more players and spectators.
Artificial grass provides a safe and fast playing surface with high shock absorption and good energy restitution, reducing the risk of injury during contact sports like rugby. Additionally, artificial pitches are better suited to extreme weather conditions, such as heavy rainfall, snow or freezing weather, and maintain a consistent surface throughout the playing season, guaranteeing player safety and eliminating any potential hazards.
Less but more specific maintenance
Artificial rugby pitches offer a significant advantage in terms of maintenance requirements. Unlike natural grass pitches, which need constant attention to remain in good condition, synthetic turf pitches require far less maintenance and can be used year-round. The upkeep for artificial pitches is more straightforward and less time-consuming, enabling clubs to save time and money. A simple maintenance schedule of regular grooming, brushing, and infill management can maintain a high-performing playing surface.
Synthetic turf has revolutionized the way rugby is played. The performance infill of synthetic surfaces allow for a roll and bounce of the ball just as if it were on natural grass. Unlike poorly maintained natural grass pitches that can quickly develop lumps, bumps, and holes, artificial rugby pitches are far more durable and can retain their performance standards for hundreds of hours of use. With better performance, rugby players can have a competitive edge, allowing them to play at their best.
Enhance Your Rugby Pitch with CCGrass Synthetic Turf Systems

A World Rugby Preferred Turf Producer
CCGrass is proud to be a World Rugby Preferred Turf Producer, practicing our ability to meet the rigorous standards and our support for the regulatory process by World Rugby. You are always ensured that your artificial rugby pitch will be designed, manufactured and installed to the highest industry standards.
This is custom heading element
At CCGrass, we provide rugby turf systems that meet World Rugby Regulation 22, ensuring optimal safety and performance for players. Our 3G systems feature long-length fibers, performance infill, and special shock pads, which not only reduce the risk of head injuries (as measured by the Head Injury Criterion, or HIC), but also provide excellent energy restitution and durability for years of consistent play.

Choice of top level rugby clubs
CCGrass has firmly established itself as a top choice for professional rugby clubs worldwide due to our state-of-the-art artificial rugby pitches. Our fields have already been chosen by several top rugby clubs, like Munster Rugby, who have given us overwhelmingly positive feedback. This recognition is a testament to our high standards of quality, safety, and performance.
This is custom heading element
Our rugby fields have been utilized for various high-level competitions, including International U-20 rugby, Pro 14, and Premiership training and academy pitches.
We are also provided high-quality rugby pitches for schools and universities, which has helped to foster the growth of rugby among the younger generation.

Flexible and high standard rugby turf manufacturing
At CCGrass, we understand that each client has unique needs, which is why we offer a flexible approach to our rugby turf systems. Our systems are come with a tested pad, sand infill and resilient material infill, such as SBR, TPE, EPDM, PRO-gran, or cork. Whilst all rugby turf must be 60mm or longer in length, we provide different options for fibre types, shapes, and density to allow for more product design choices.
This is custom heading element
We entirely carry out our in-house production to deliver the highest possible standards of rugby turf manufacturing. Furthermore, we are committed to continuous innovation in our rugby turf products, with ongoing research and development focused on improving both the safety and performance of our rugby fields.
Featured Artificial Rugby Pitches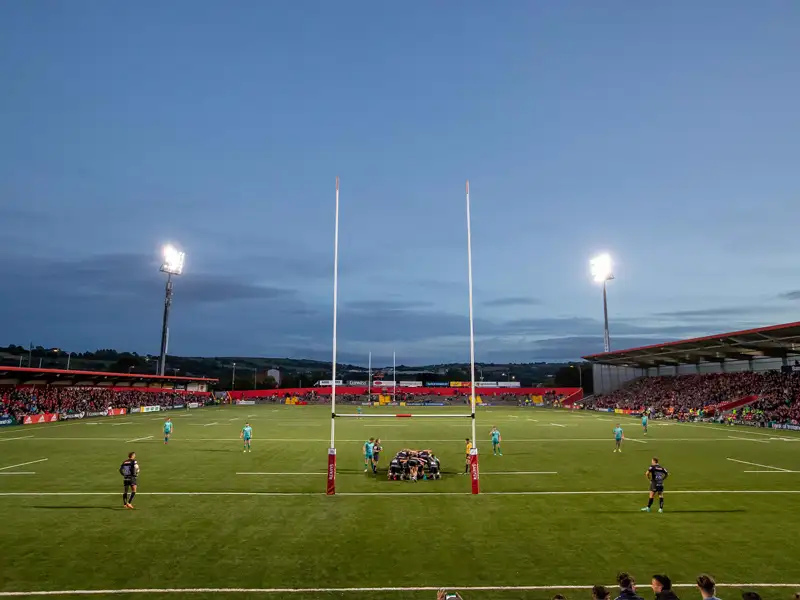 The most advanced 3G rugby pitch for Munster Rugby
Irish Independent Park in Cork, home of Munster Rugby, installed a state-of-the-art 3G rugby pitch that passed World Rugby Regulation 22 tests. The chosen CCGrass Superb EX2 60 is a top-level rugby turf system, designed to be installed over high-performance shock pads, to provide the ultimate rugby performance.
Irish Independent Park, Ireland
World Rugby Regulation 22 compliant
Superb EX2 60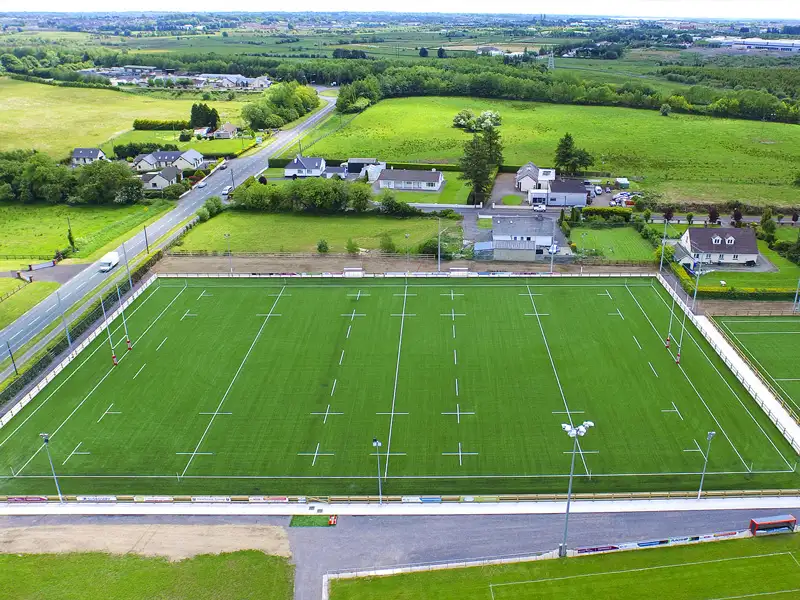 Outstanding artificial grass rugby pitch at Mullingar RFC
CCGrass provided a cutting-edge World Rugby approved artificial grass facility for Mullingar RFC at their home grounds, Shay Murtagh Park. The rugby turf surface has received high praise from players for its exceptional quality, as it offers superior comfort and support compared to other synthetic grass surfaces.
Mullingar RFC, Ireland
World Rugby Regulation 22 compliant
Stemgrass EX2 60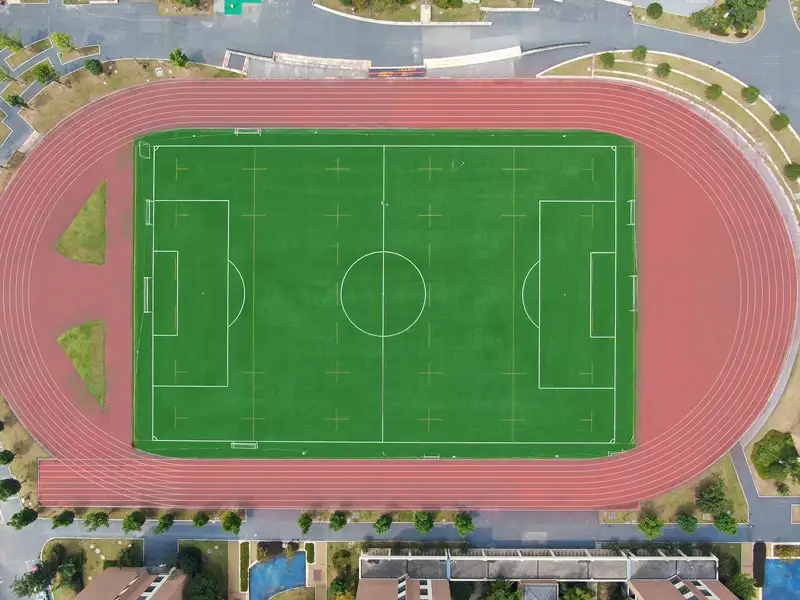 Dual-certified artificial turf pitch for rugby and football
The CCGrass artificial turf pitch at RDFZ King's College School in China has obtained certifications from both FIFA and World Rugby, ensuring that the field has been built to a high standard and provides excellent quality. It is suitable for a variety of activities such as football and rugby training, teaching, and competition, making it a cost-effective solution for the school.
RDFZ King's College School, China
FIFA Quality & World Rugby Regulation 22 compliant
Biplex LY 60