Maximizing Your Facility with Synthetic Multi-purpose Sports Fields
The artificial grass multi-purpose sports field is a popular choice for school and university facilities, clubs, and real estate projects due to its versatility, durability and low maintenance requirements. It offers excellent value by enabling multiple sports to be played on a single field, without the need for a larger area. Choosing the right multi-sport turf surface can pose a challenge as it requires consideration of player performance, safety, and playability for various sports.
CCGrass's extensive experience allows us to offer high-performing synthetic turf products that are tailored to meet the unique requirements of multi-purpose sports surfaces. Our expertise in the field enables us to manage the time-consuming design process, provide installation guidance, and deliver a safe, durable, and versatile sports field that can withstand the test of time. With our commitment to quality and customer satisfaction, you can trust us to provide you with a superior solution that meets all your sports turf needs.
Discover the Benefits of Artificial Multi-purpose Sports Fields
Artificial grass for multi-sport fields is designed to withstand heavy traffic and high-intensity use, making it a durable and long-lasting option for education and community sports facilities. They support multiple sports, events, and activities, allowing year-round use without compromising performance. Moreover, unlike natural grass, they do not require frequent maintenance or rest periods.
Save money, save space, save time
Multi-sport fields are a smart and affordable solution that saves money, space, and time. By eliminating the need for separate fields for each sport, they reduce construction and maintenance costs as well as land usage. Furthermore, multi-purpose sports fields provide a variety of physical activities and cater to the preferences of more people, rendering them a versatile and inclusive choice for sports enthusiasts.
Sports turf fields with multiple functions are not just limited to sports but also ideal for assembly and recreational activities. They provide a beautiful and comfortable surface for outdoor events such as festivals and concerts, as well as other recreational activities that require a large outdoor space. Many playgrounds feature multi-sport fields because they are versatile and popular.
Safer surface and environment
Artificial turf fields offer a consistent and predictable playing surface, reducing the risk of players tripping or losing their footing. They also eliminate the need for harmful chemicals like pesticides, making them safer for players and the environment. Additionally, their efficient drainage system further minimizes the risk of players slipping on wet or muddy surfaces.
Versatile Your Sports Field with CCGrass Multi-sport Turf Solutions

Leading the way in performance
CCGrass believes multi-sport fields should never sacrifice performance quality. Our football and rugby systems comply with FIFA Quality Pro standards and World Rugby Regulation 22, while our football and hockey systems have passed both the FIFA and FIH Laboratory Test.
This is custom heading element
We also offer a turf system that integrates certifications from FIFA, FIH, and World Rugby – the CCGrass Max EX2 50. Furthermore, our multi-sport fields provide a high-quality sports experience for a variety of sports, including tennis, netball, lacrosse, recreational bowling, basic cricket, and even archery.

Versatile turf colors
Our multi-sport turf provides both functional and aesthetic benefits with its availability in various colors. By offering different color options, contrasting zones and markings can be created on the field, making it possible to play several different sports on a single pitch while also facilitating easier differentiation.
This is custom heading element
Moreover, the field's overall look is enhanced by the wide range of available colors. Whether you seek to add vibrancy to your school or building, or develop a unique sports field, CCGrass has the perfect solution for you.
Expert design and installation assistance
With our extensive expertise and experience, CCGrass offers comprehensive on-site solutions for various multi-purpose sports fields. We comprehend the diverse requirements of different sports and recommend the most appropriate multi-sport turf system based on field usage.
This is custom heading element
Given the complexity of multi-purpose sports surfaces, we take care of the time-consuming design process and provide expert guidance to ensure quick and efficient installation with excellent playability.
Featured Synthetic Turf Multi-purpose Sports Fields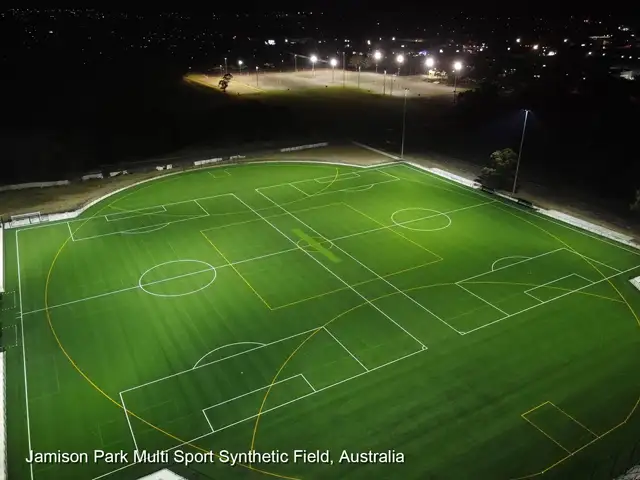 A top tier multi-sport facility for Jamison Park in Australia
This multi-sport turf surface covers an area of 22,000 sqm and includes two FIFA Quality football pitches that accommodate eight small-sided fields, one senior size cricket pitch, and one AFL oval for the enjoyment of the whole community. The Vmax 50 sports turf is installed, which utilizes a dual yarn type of V shape monofilament and fibrillated yarn, providing a perfect balance between performance and durability.
All-around sports area for inclusive recreation
At St Luke's College, we have created a versatile sports area with two multi-sport fields that feature bright and colorful turf. The blend of sports and play makes it an ideal recreational space, accommodating multiple activities at once to promote inclusivity and benefit a larger number of students. This sports area is popular among students and the community, contributing to a more vibrant and active campus.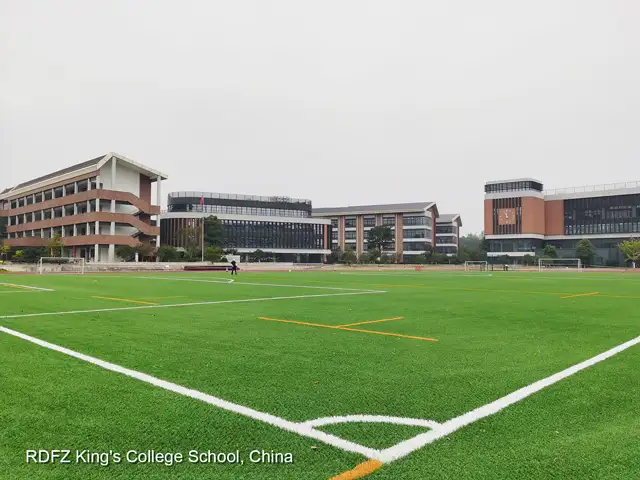 FIFA and World Rugby certified multi-purpose sports field
Our delivery of a FIFA and World Rugby certified multi-purpose sports field for RDFZ King's College School ensures top-notch performance and quality. The field is multi-functional, catering to a variety of activities such as football and rugby training, teaching, and competition, offering the school a cost-effective solution. It's also durable and low maintenance, allowing the school to allocate its resources towards other important areas.