Choose Artificial Grass Tennis Court for a Superior Tennis Experience
Tennis is a popular sport enjoyed by people of all ages and skill levels. Professional and amateur tennis players alike are constantly seeking high-quality courts to practice and compete on. Many prefer playing on artificial grass tennis courts, as they are well-suited for improving players' overall technique and match strategy. Additionally, the softer tennis turf surface is more friendly to your joints and limbs, which can absorb impact and provide good traction.
CCGrass provides high-quality synthetic turf that meets all your needs on a tennis court, whether for clubs, schools, residential or commercial applications. Tennis court turf is not only durable and comfortable, but also enhances the overall appearance and quality of your facility. Whether you're a beginner or an experienced professional player, you can enjoy the opportunity to improve your game and enhance your skills on artificial grass tennis courts.
Discover the Benefits of Artificial Grass Tennis Courts
Efficient drainage system
An artificial grass tennis court is equipped with a well-designed drainage system that allows water to drain quickly and keep the grass surface relatively dry. This minimizes the risk of slips and falls and reduces the downtime for players to resume the game after heavy rainfall, thereby improving both the safety and efficiency of the court.
Excellent UV resistance and durability
High-quality artificial grass boasts exceptional UV resistance and durability, ensuring that it can be used for years without fading. As such, it stands out as a prime option for outdoor tennis facilities in areas with strong sunlight. It is worth mentioning that many synthetic tennis courts are backed by extended warranties, which further adds their value and durability.
Better cushioning surface
Synthetic grass tennis courts offer a more cushioned surface than hard surface courts, reducing stress on joints and muscles. The turf surface helps absorb shock and vibrations from running and jumping, lowering potential injuries and allowing players to perform with greater comfort and confidence, while reducing fatigue.
Versatile and cost-effective
Tennis turf surfaces can be used for a variety of sports beyond tennis, such as field hockey, padel, cricket, and netball. This versatility makes them a popular choice for multi-sport facilities and recreational areas. Furthermore, the surfaces are uniformly smooth and low-maintenance, making artificial grass courts more reliable and cost-effective.
Upgrade Your Tennis Court with CCGrass Tennis Turf
ITF approved tennis court turf
The International Tennis Federation (ITF) is the governing body for tennis worldwide. To assist buyers in selecting the most appropriate surface type and speed, the ITF has established the Court Pace Classification Programme. This program categorizes tennis surfaces into five distinct groups based on their speed: slow, medium-slow, medium, medium-fast, and fast.
This is custom heading element
CCGrass is a leading artificial grass supplier that offers ITF certified tennis surface products designed for medium-fast and fast courts. These tennis court systems are of exceptional quality and are ideal for facilities that require consistent and reliable playing surfaces. In addition to meeting ITF standards, our superior tennis court turf is certified for use in other sports like hockey and padel.
Customizable aesthetics with colorful options
At CCGrass, each tennis court surface is made of our own fibers, ensuring exceptional performance, aesthetics and customization options. Our artificial grass tennis courts offer a range of color combinations, from traditional green to bold colors, designed to elevate the overall aesthetics of your facility.
This is custom heading element
Moreover, using bright and contrasting turf colors not only brighten up the visual appeal of the tennis court but also make it easier to distinguish boundary lines at a glance, simplifying line calls. Our tennis turf is fade-resistant and durable, ensuring that the boundary lines remain clear and permanently visible over time, further avoiding disputes.
Effortless and professional installation
Our artificial grass tennis courts are easy to install, and designed in kit form for a hassle-free installation process. Through careful court planning by our experts, joints are kept to a minimum, resulting in a seamless and consistent playing surface.
This is custom heading element
In addition, we work with recognized installation companies in many tennis markets to guarantee top-notch installations. These companies are based locally, which means that they understand the unique needs of the area and can provide personalized service to our clients.
Featured Artificial Grass Tennis Courts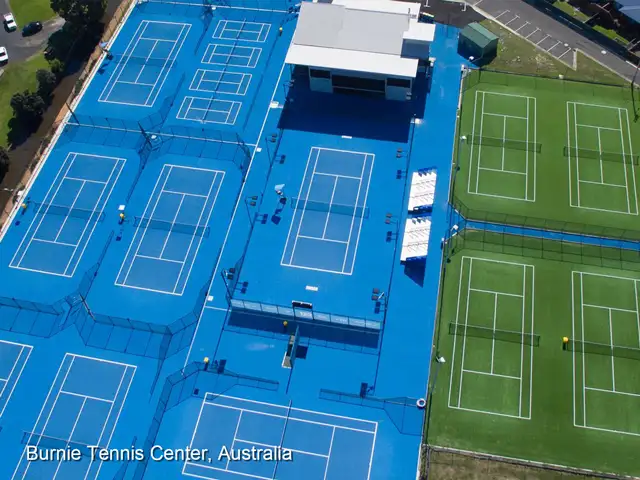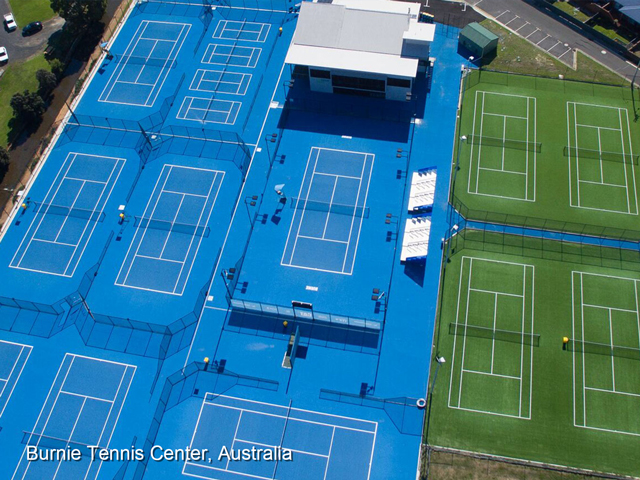 World-class artificial grass tennis court for Burnie Tennis Club
Popular with players for its many advantages, more and more tennis clubs opt for artificial grass tennis courts. CCGrass high-quality tennis court turf provides safe, high-performance, and smooth playing surfaces, helping Burnie Tennis Club to improve facilities and increase memberships.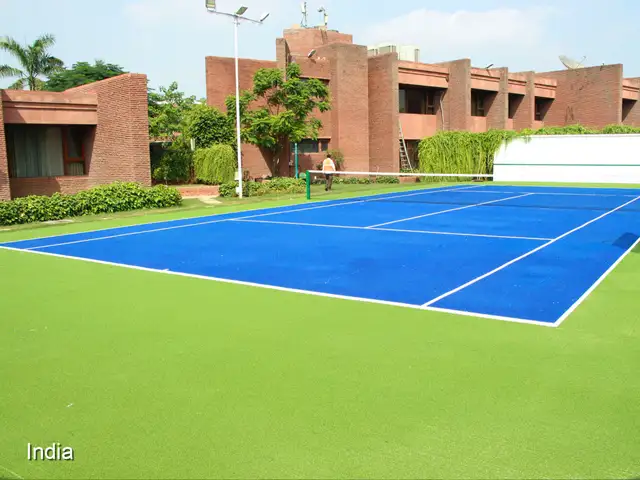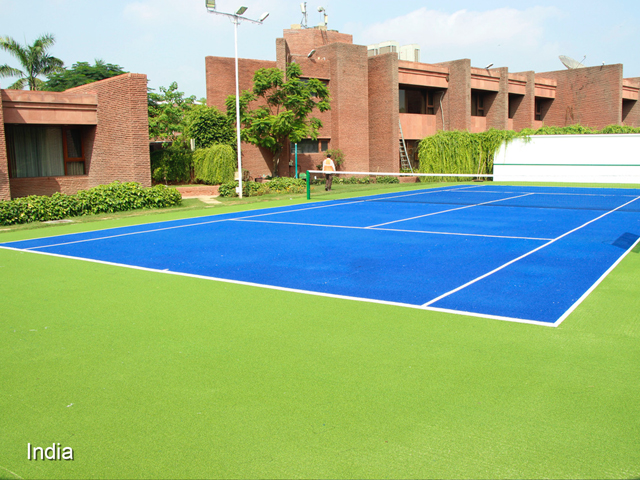 Outstanding blue with vibrant green synthetic tennis court
The blue and green combination is a particularly popular choice for creating a visually stunning tennis surface that stands out from traditional green courts. Its vibrant green provides a natural appearance while the blue helps reduce glare from the sun, which can be especially important for outdoor courts.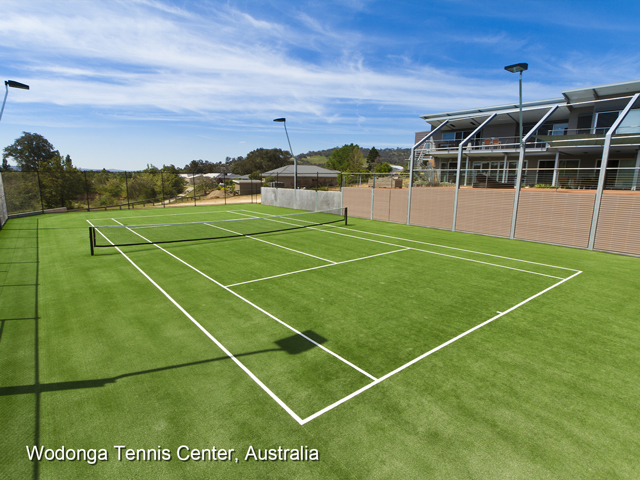 Stunning synthetic grass tennis court for Wodonga Tennis Center
The Wodonga Tennis Center in Australia boasts expansive facilities catering to tennis players of all skill levels. With synthetic turf, players can enjoy a safe, comfortable, and all-weather tennis court. Whether you're a seasoned player or just starting out, the center offers an extraordinary experience that is sure to leave a lasting impression.