CCGrass Advanced Synthetic Football Pitches
Synthetic football pitches are engineered to replicate the playing characteristics of natural grass, imitating the bounce and roll of the ball. Currently, the most popular and widely used type of artificial football pitch is the 3G pitch. The term "3G" refers to the third-generation synthetic surface, consisting of three elements; artificial turf, sand infill, and performance infill. The pile height of these surfaces usually ranges from 40mm to 60mm. 3G football fields can also be installed with shock pads underneath to meet FIFA standards.
In addition to the mainstream 3G system, CCGrass has been working on developing non-infill turf systems. Our non-infill systems incorporate more yarn within the turf to ensure that it still adheres to high standards, utilizing a high-performance thatch layer as a support structure to replace the function of performance infill.
Discover the Top Advantages of Synthetic Football Pitches
Synthetic football pitches require minimal maintenance compared to natural grass. They don't need watering, mowing, or fertilizing, which reduces the overall cost and time needed for upkeep. This allows football clubs and facilities to focus on their main activities of training and playing matches, without having to worry about the condition of the pitch.
Durability and weather resistance
Unlike natural grass, artificial pitches are resistant to heavy use and various weather conditions, rendering them perfect for year-round training and games. They exhibit high durability, boasting a lifespan exceeding 10 years while maintaining top condition for extended periods.
Synthetic football pitches offer a reliable and consistent playing surface, promoting the quality of the game by ensuring fair and consistent ball bounce and ball roll. Players can focus on their performance without the distraction of unpredictable field conditions, minimizing the risk of injury and ensuring a more pleasant playing experience.
An artificial football field that can withstand continuous use opens up the possibility of renting it out to other teams, sports clubs and community usage. Additionally, since artificial grass fields can host more than one sport, you can make the most of your available space by temporarily marking the field for other sports.
Upgrade Your Football Field with CCGrass Artificial Grass

A FIFA Preferred Provider
Being a FIFA Preferred Provider (FPP) is a testament to the quality of our football turf products. Our synthetic football pitch products have been rigorously tested and have met all the requirements of the FIFA Quality Programme.
This is custom heading element
This means that our football turf systems have excelled in all FIFA tests, including ball roll, vertical ball rebound, shock absorption, and skin friction.
Moreover, we understand that safety is a top priority for football players at all levels, which is why we have designed our football turf systems to incorporate excellent shock absorption technology. This feature helps to reduce the impact of falls and tackles, lowering the risk of player injuries during the game.

Trusted by the world
At CCGrass, we take great pride in our position as a trusted leader in the sports turf industry. With over 300 FIFA certified fields worldwide, our artificial turf products have become the preferred choice for top football clubs and international tournaments.
This is custom heading element
Our commitment to excellence has earned us a reputation as a reliable artificial grass supplier of high-performance football turf solutions.
Our high-quality football turf products have earned the trust of some of the world's top football clubs, including Chelsea and Olympiacos CFP, who have adopted them for their football fields. Moreover, our synthetic football pitches are regularly used in high-profile international tournaments, such as the FIFA Youth Cup, Summer Universiade, and the Homeless World Cup, among others.

Designed for your various needs
We understand that every synthetic football pitch has unique needs and requirements. That's why we offer a range of high-performance football turf systems designed to meet the demands of different levels of play and age groups.
This is custom heading element
Whether you need a full-size synthetic football pitch, a training center, or a mini-football field that's used more intensively, our turf systems are designed to meet your needs.
CCGrass are always dedicated to constantly improving and innovating technology in the sports world. With CCGrass, you can trust that you are getting a custom turf system that's designed to perform at the highest level, enhancing the appearance and sports performance of your synthetic football pitch.
Featured Artificial Football Pitches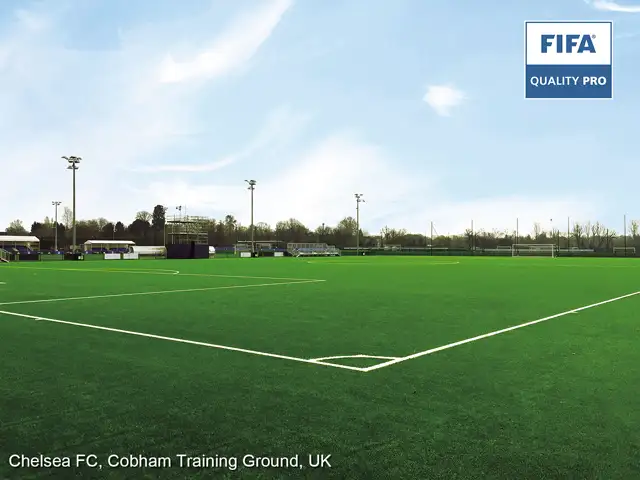 World-class artificial turf football field for Chelsea FC
CCGrass delivered a state-of-the-art, all-weather training facility for English Premier League giants Chelsea FC at their Cobham complex. Chelsea FC opted for our Stemgrass EX2 40 football turf system and praised its exceptional performance. The synthetic football pitch was independently tested to meet FIFA Quality Pro requirements.
Chelsea FC, Cobham Training Ground, UK
FIFA Quality Pro
Stemgrass EX2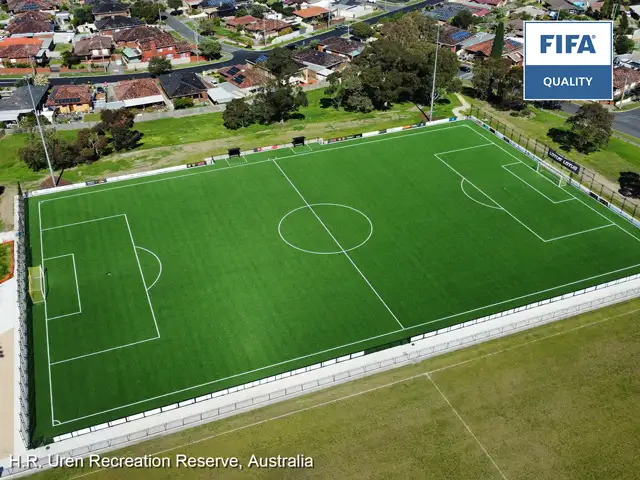 Successful football field uplifts the club & greater community
H.R. Uren Recreation Reserve football field has been upgraded to provide the local soccer club and the community with facilities for training, matches and exercise. The pitch is surfaced with Vmax 50 turf from CCGrass Green Play series, which combines shaped monofilament fibres and strong fibrillated yarns in one turf, leading the industry trend.
H.R. Uren Recreation Reserve, Australia
FIFA Quality
Vmax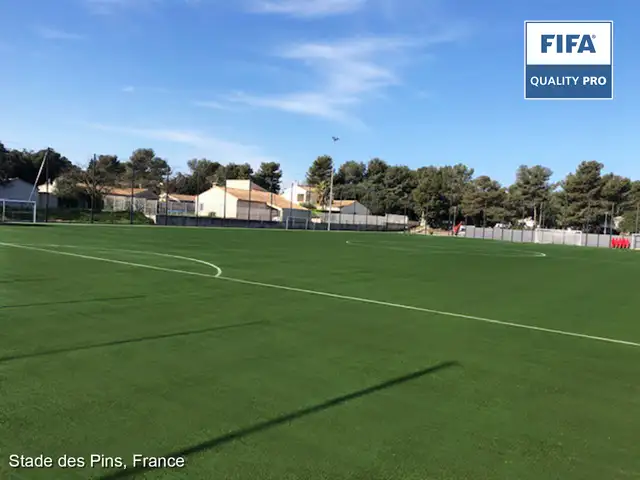 100% recyclable synthetic football pitch for Stade des Pins
CCGrass, with its unique and innovative recycling technology, provides 100% recyclable sports pitch solutions for better Greenlife. The FIFA Quality Pro field installed our flagship product, Superb, known to be the most durable yarn in today's market, ensuring maximum usage of the playing surface and a longer lifespan. Moreover, this football turf system features both PRT backing and organic infill, exemplifying its commitment to environmental consciousness.
Stade des Pins, France
FIFA Quality Pro
PRT Superb 45-C Cork