What is Artificial Grass?
Artificial grass is a synthetic material created to mimic the appearance and function of natural grass. Typically, artificial turf is comprised of synthetic fibres like polyethylene, polypropylene, and nylon, which are tufted or woven onto a backing material.
The history of synthetic turf can be traced back to the mid-20th century when it was first used in sports fields to replace natural grass. The Houston Astrodome became the first stadium to install artificial grass in 1966, but the initial design featured short, nylon fibres that were prone to matting and offered poor shock absorption.
However, advancements in materials and technology have since led to the development of longer, softer fibres with improved performance characteristics, resulting in artificial grass that closely resembles natural grass. There are numerous options available in different shades of green and lengths to achieve a lifelike appearance. Additionally, artificial grass is highly durable and can withstand heavy foot traffic, making it a popular choice for areas with high use. Today, synthetic grass is widely utilized in sports and recreational applications, as well as in commercial and residential landscaping.
What are Artificial Grass Sports Systems?
Artificial grass sports systems are innovative and sophisticated solutions designed to provide athletes with safe and high-performance playing surfaces. These systems consist of multi-layered surfaces that include synthetic turf, infills, shock pads, and sub-base. Each layer of the system is carefully engineered to meet the specific demands of the sport being played on it.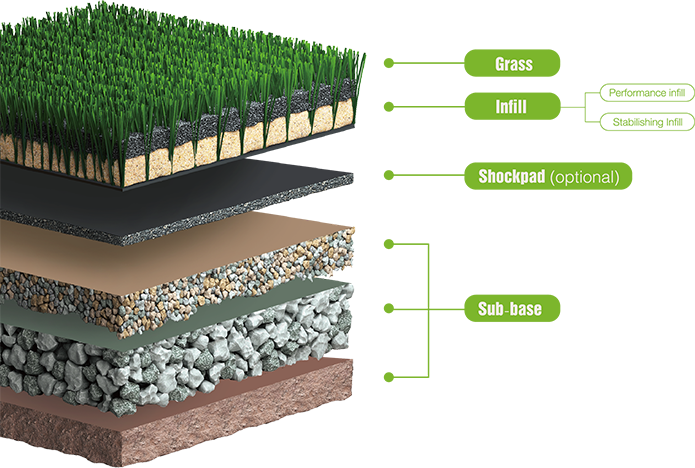 Grass
Synthetic sports turf is designed to replicate the look and feel of natural grass, while also offering superior durability and resistance to wear and tear. The fibers are typically made from polyethylene or polypropylene, which are strong, lightweight, and able to withstand heavy use. CCGrass develops various grass products for all types of sports, available in different pile heights, shapes and colors.
Infill
Proper infill material is vital for a safe and high-performance sports surface. Typically made from materials like sand, rubber, or a combination of the two, the infill helps to keep the fibers upright and prevent them from matting down over time. It also helps to absorb shock and reduce the risk of injury to players. CCGrass offers different kinds of infills, such as SBR, EPDM, TPE, and organic infills, such as cork.
Shock pad
Where a system requires additional shock absorption, sports characteristics, and the choice of the right type of performance shock pad is essential. CCGrass products are tested with a variety of approved shock pads, including factory produced foams in roll or tile form and in-situ laid rubber systems.
Sub-base
This layer serves as the foundation and support for the entire system, and any deficiencies or irregularities can result in a subpar playing surface. A stable sub-base provides a level and consistent base for the installation of the artificial turf and infill materials, allowing for proper drainage and preventing issues such as unevenness or deformation.
What Benefits does Artificial Grass Offer?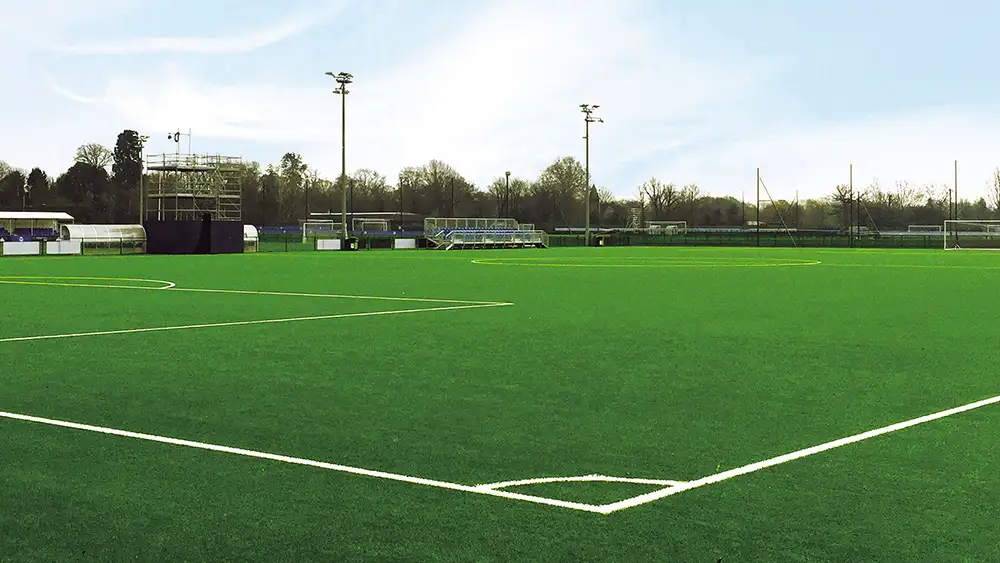 Durability and longevity
Over the years, artificial turf manufacturers have been dedicated to developing and manufacturing high-quality turf products that can withstand heavy, intensive use and harsh weather conditions. This not only enables playing fields to be utilized more frequently, benefiting the wider community, but also renders it an excellent option for high-traffic areas such as playgrounds, commercial pet facilities.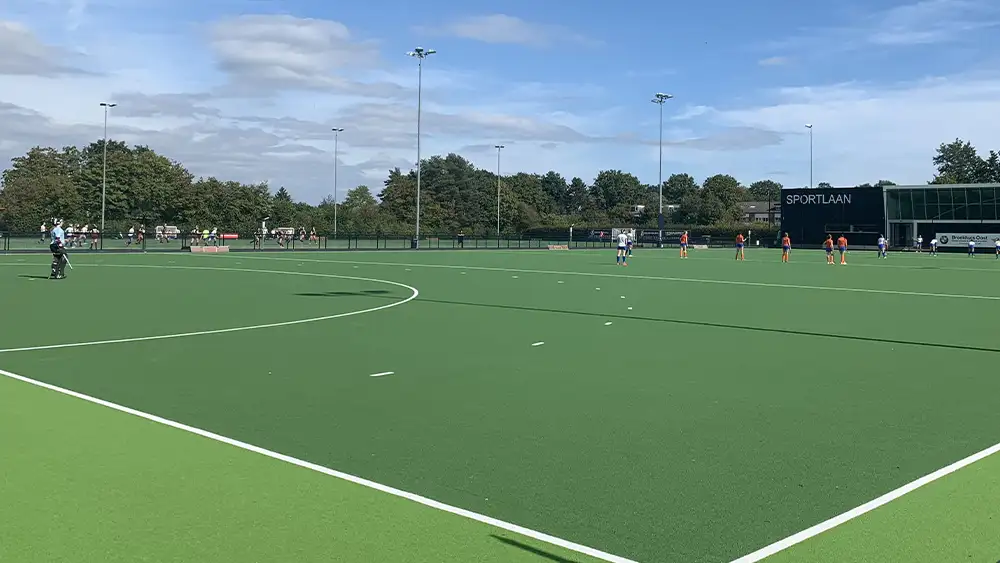 Low maintenance and environmentally friendly
Artificial grass offers a significant advantage over natural grass that it does not require regular watering, mowing, or fertilizing, thereby making it a cost-effective and time-saving alternative for both sports and leisure applications. In addition to reducing the financial and labor costs associated with maintaining natural grass, synthetic turf also minimizes water usage, providing an eco-friendly and sustainable solution that is becoming increasingly popular worldwide.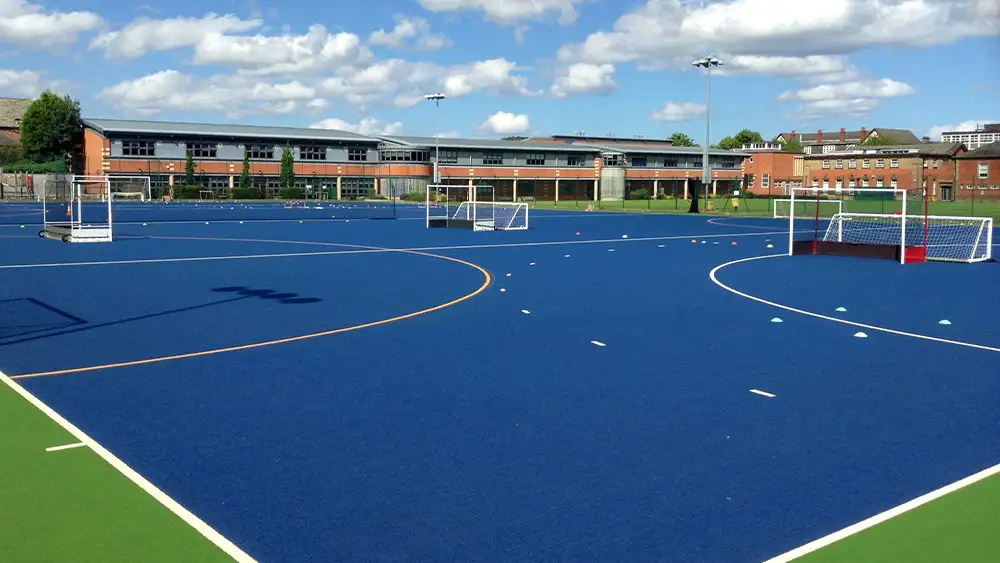 Versatility and aesthetic innovation
Artificial turf boasts extensive installation possibilities, ranging from sports fields and playgrounds to residential and commercial spaces. It can be cut to fit any size or shape, making it a great option for irregularly shaped spaces. Additionally, artificial grass is available in a diverse selection of colors, textures, shapes, and pile heights, catering to different standards and demands while inspiring designers and architects to innovate aesthetically.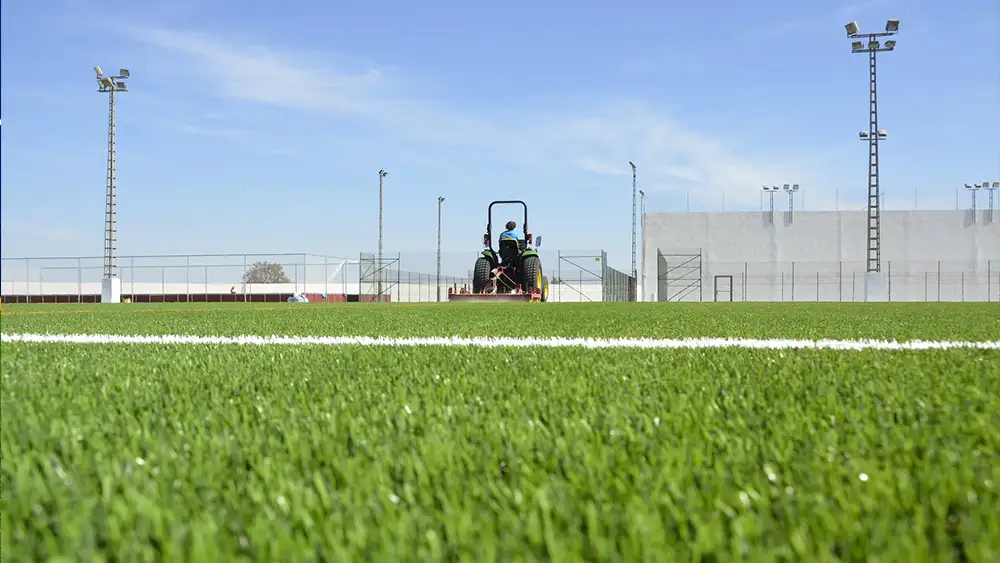 Safety and cleanliness
Artificial turf offers the safety of natural turf while also addressing the concerns associated with natural grass. These include the mess caused by mud and grass stains, the growth of unwanted weeds, the chemical residues like fertilizers and herbicides, the potential for allergens and insects, among others. The use of artificial grass provides a cleaner, safer surface for athletes, homeowners, children, pets and more.
Artificial Grass for Sports
Professional Sports System Solutions
Excellent sports performance results from the integration of the preferred system. Assessing the quality of the sports system from an overall perspective, along with its configuration, is what CCGrass focusing and pursuing. Every component of the sports system – fiber, infill, backing, and shock pad – plays a crucial role in achieving consistent performance and safety for athletes. The grass yarns can be designed for specific feel and stability, while infills and shock pads provide protection and improved stability for enhanced performance.
CCGrass professional sports system incorporates advanced technology and engineering to provide high-performance playing surfaces that are durable, safe, and easy to maintain. Different sports turf systems can be customized to meet the specific needs of different sports, such as soccer, football, hockey, rugby, baseball, and more. For example, some artificial grass systems may incorporate different types of infill material to provide a specific level of shock absorption and traction, while others may be designed with different blade heights to mimic the characteristics of natural grass.
With over 20 years of industry experience, CCGrass have successfully installed over 200 sports systems. To ensure long-term safety, durability, and performance that exceed player expectations, all materials and products undergo rigorous testing. At CCGrass, we are always dedicated to constantly improving and innovating technology in the sports world.
Boost Your Sports Performance with a Customized System
Artificial Grass for Landscape
Innovative Landscape Turf Solutions
CCGrass landscape turf is mainly composed of straight fibres, curly fibres and backing. Diverse shapes and colors monofilaments designed according to the profiles of natural grasses in different regions around the world. Uniquely engineered curly fibers that support the straight fibres add to the realistic aesthetic and cushiony softness of artificial grass. Multi-layer backing structure exaggerates dimensional stability, easy installation and conventional maintenance.
By our Innovative Landscape Turf Solutions, we're revolutionizing the way we approach landscape design. Our team of experts works closely with you to understand your vision and create a custom design that incorporates the latest in synthetic turf technology. We're committed to providing our clients with the very best in synthetic turf technology and engineering. It is trusted that our innovative solutions allow you to enjoy a beautiful, sustainable, and low-maintenance landscape that is tailored to your needs.