Choose the best football grass for your facility
Sports is the theme of life. Sometimes sports dominate the world's attention in the form of the Olympics, World Cup or Super Bowl. But one important part of sports is often overlooked – the playing surface.
Any sports fan will agree that the player performance depends in large part on the quality of the turf surface. Professional turf management is a rigorous science and art that works behind the scenes to provide the best playing field for athletes.
In some parts of the world, it is difficult or impossible to provide high-quality natural grass pitches due to climate or resources. Therefore, artificial football grass that replicates the playing qualities of high-quality natural grass has quickly gained acceptance in the football world.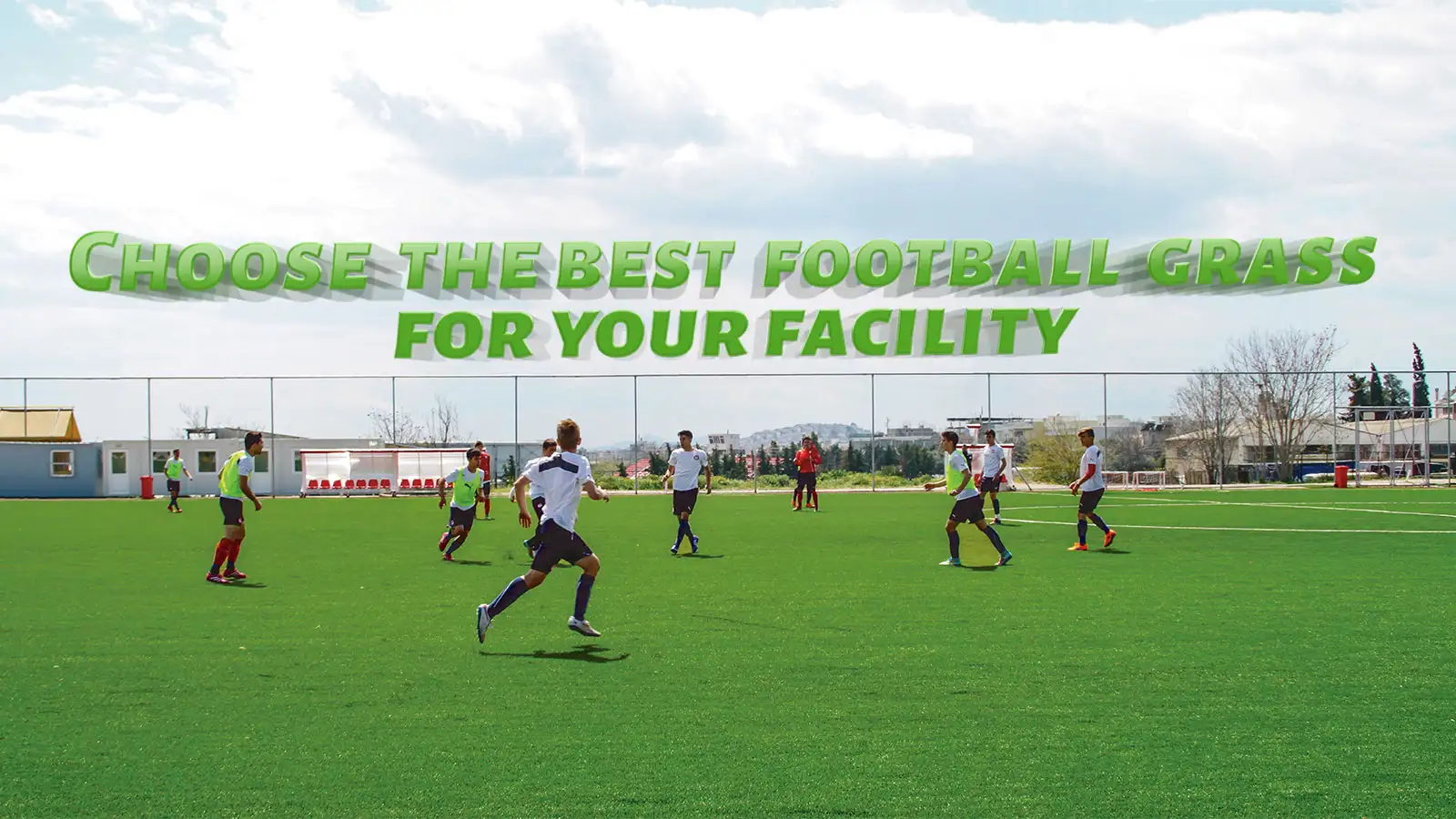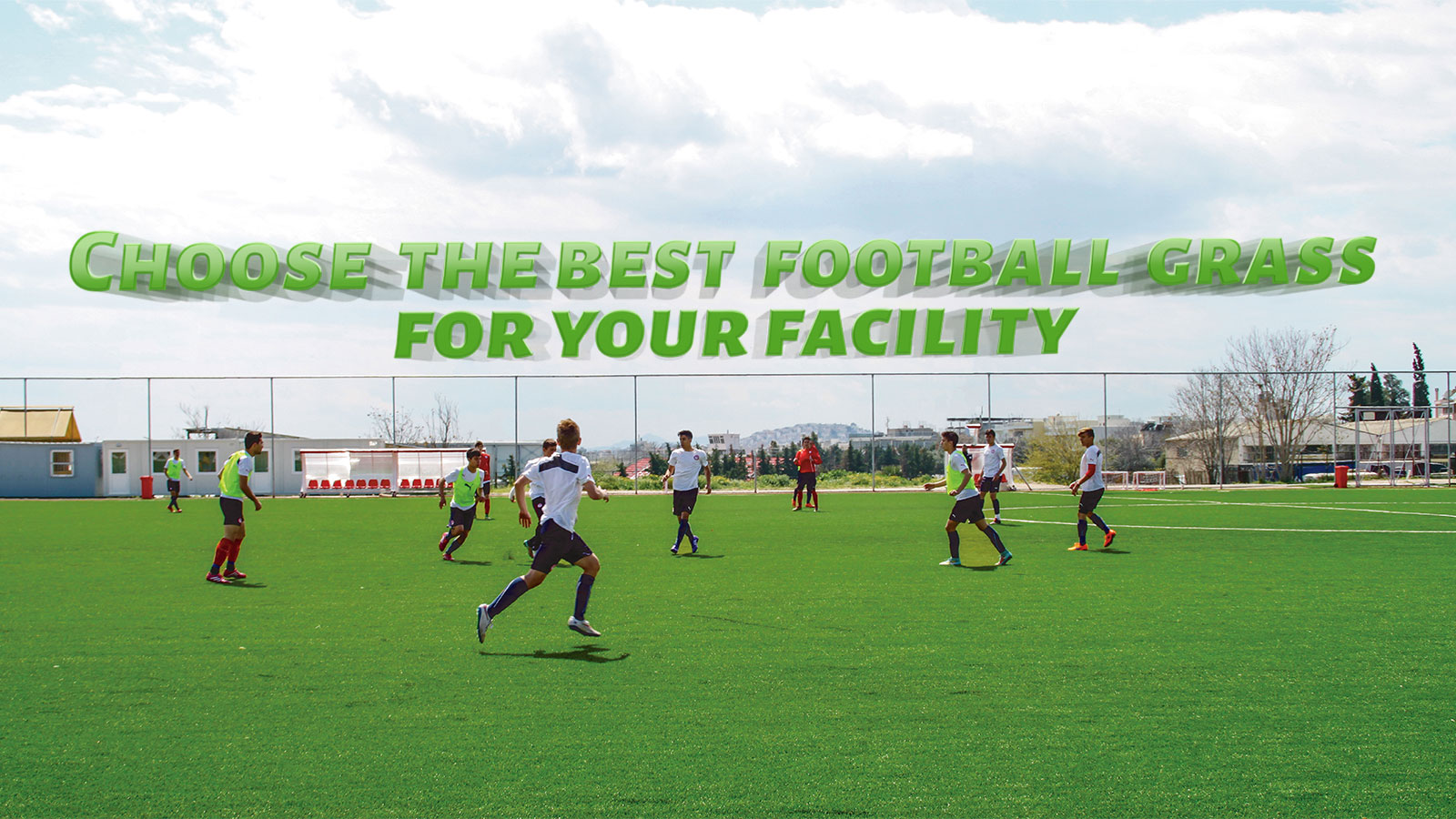 Qualities of football grass
Historically, football fields have been covered by natural grass. The Football Association lists the four main characteristics of a good grass pitch as adequate grass cover, low level of weeds, flatness and good drainage.
So how to ensure that artificial football grass successfully replicates the excellent performance of good quality natural grass? FIFA developed the FIFA Quality Programme, which is a rigorous test system for football turf, assessing ball-surface interaction, player-surface interaction and durability of products. FIFA certification ensures that the football grass pitches meet high requirements regarding quality, performance and safety.
FIFA test includes laboratory test and field test. The following tables are the requirements of some major testing items in the laboratory and field.
Table 1 – Laboratory test requirements
Property
Test conditions
Requirements
Preparation
Temperature
Condition
FIFA Quality Pro
FIFA Quality

Vertical ball rebound

Pre-conditioning
23ºC
Dry
0.60m – 0.85m
0.60m – 1.0m
Wet

Simulated Wear –3000 cycles

Dry
0.60m – 0.85m
N/A

Simulated Wear –6000 cycles

Dry
N/A
0.60m – 1.0m
Reduced Ball roll
Pre-conditioning
23ºC
Dry
4 – 8 m
4 – 10 m

Simulated Wear –3000 cycles

Dry
4 – 8 m
N/A
Wet
4 – 8 m
N/A

Simulated Wear –6000 cycles

Dry
N/A
4 – 12 m
Wet
N/A
4 – 12 m
Shock Absorption
Pre-conditioning
23ºC
Dry
62% – 68%
57% – 68%
Wet

Simulated Wear –3000 cycles

Dry
62% – 68%
N/A

Simulated Wear –6000 cycles

Dry
N/A
57% – 68%
Pre-conditioning
50ºC
Dry
62% – 68%
57% – 68%
–
-5ºC
Frozen
62% – 68%
57% – 68%
Vertical Deformation

Pre-conditioning

23ºC
Dry
4mm – 10mm
4mm – 11mm
Wet
Simulated Wear –3000 cycles
Dry
4mm – 10mm
N/A
Simulated Wear –6000 cycles
Dry
N/A
4mm – 11mm
Pre-conditioning
50ºC
Dry
4mm – 10mm
4mm – 11mm
-5ºC
Frozen
4mm – 10mm
4mm – 11mm
Table 2 – Field Test Requirements
Characteristic
Requirement
FIFA Quality Pro
FIFA Quality
Vertical ball rebound
60cm – 85cm
60cm – 100cm
Ball roll
4m – 8m
4m – 10m
Shock Absorption
60% – 70%
55% – 70%
Vertical Deformation
4mm – 10mm
4mm – 11mm
Rotational Resistance
30Nm – 45Nm
25Nm – 50Nm
Advantages of artificial grass for the football field
Low maintenance
Artificial football grass does not require many maintenance tasks such as replanting, mowing, watering, fertilizing, weed removal, pest control, etc. It can save a lot of water and maintenance costs every year, and daily maintenance is simple. Usually, brush the turf once a week, with the aim of keeping the grass upright and the infill evenly, as well as removing litter.
Extreme durable
Football turf can be used in almost any weather condition and does not require a recovery period between matches. Extreme wear resistance helps to extend the use time. The average use time of football grass can reach more than 2,400 hours per year, while the natural turf loses its best playing characteristics after only 400 to 800 hours of play.
Enjoy no more mud
Some players like to play in mud, some don't. Certainly, the lack of dirt is a real plus for reducing kit washes.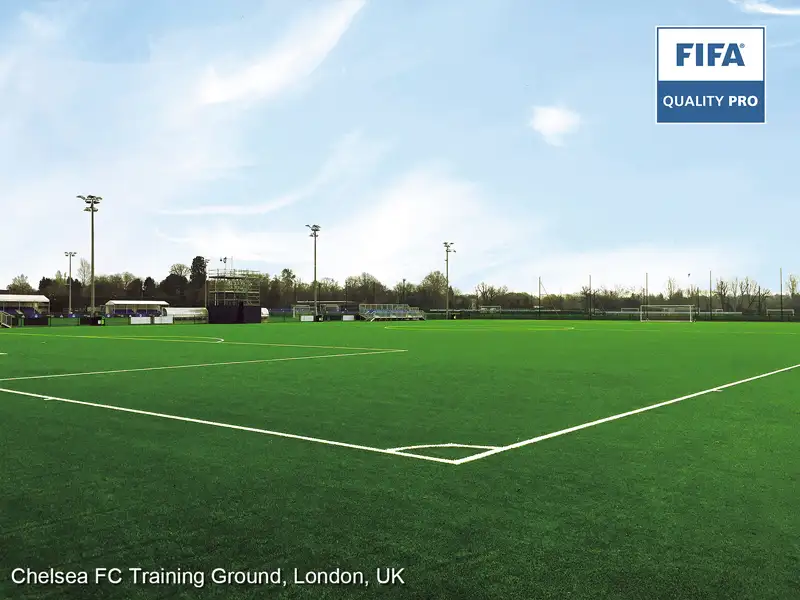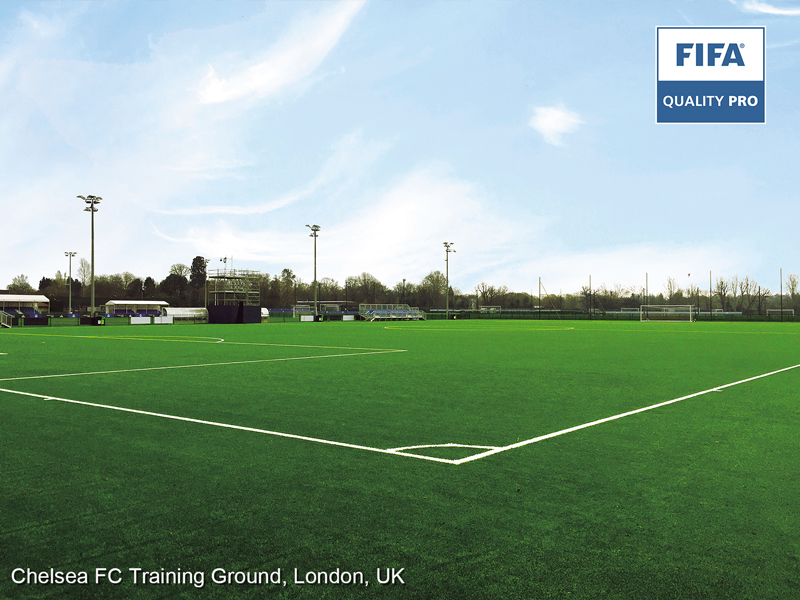 Choose best artificial football grass for your facility
There are numerous football grass systems on the market, so how do you choose the best turf system for your facility?
First of all, you need to know that the prevailing sports system is mainly composed of 4 parts: artificial grass, infill, shockpad and sub-base. The artificial turf consists of grass fibers and bottom backing.


Let's look at the role of the yarn, backing, infill and shockpad, plus the necessity of professional installations and conscientious maintenance to produce the best football fields.
Grass Yarn
There are many components that come together to create a top grass fibre, including the type of polymer used, the quality of the masterbatch (colour) and additional ingredients including UV inhibitors. The extrusion process that produces the yarn requires the latest technology and a committed and effective quality monitoring system.
Once produced the yarn's thickness (measured in microns), weight (measured as Dtex), width, shape and colour combination all play a key role in how it will eventually perform.
To meet different standards and demands, CCGrass has developed a variety of football grass in different pile heights, shapes, and colours. For example, clubs with intensive training and schools with frequent use, our Superb and Pride series are perfect. Their yarn is diamond shaped and uses the strongest C8 polymer with a thickness of 400 µm, making the fiber incredibly durable and ensuring the blade stands up beautifully, even after heavy use.
Check the football turf page for more product details.
The Backing
The role of the backing is to ensure that the fibres stay where they have been tufted. This means they need to be anchored in place to provide the correct "tuft lock". There are different systems to choose from – latex, PU or PRT. PRT backing is 100% recyclable and porous throughout, whereas latex and PU require drainage holes to be punched through the backing.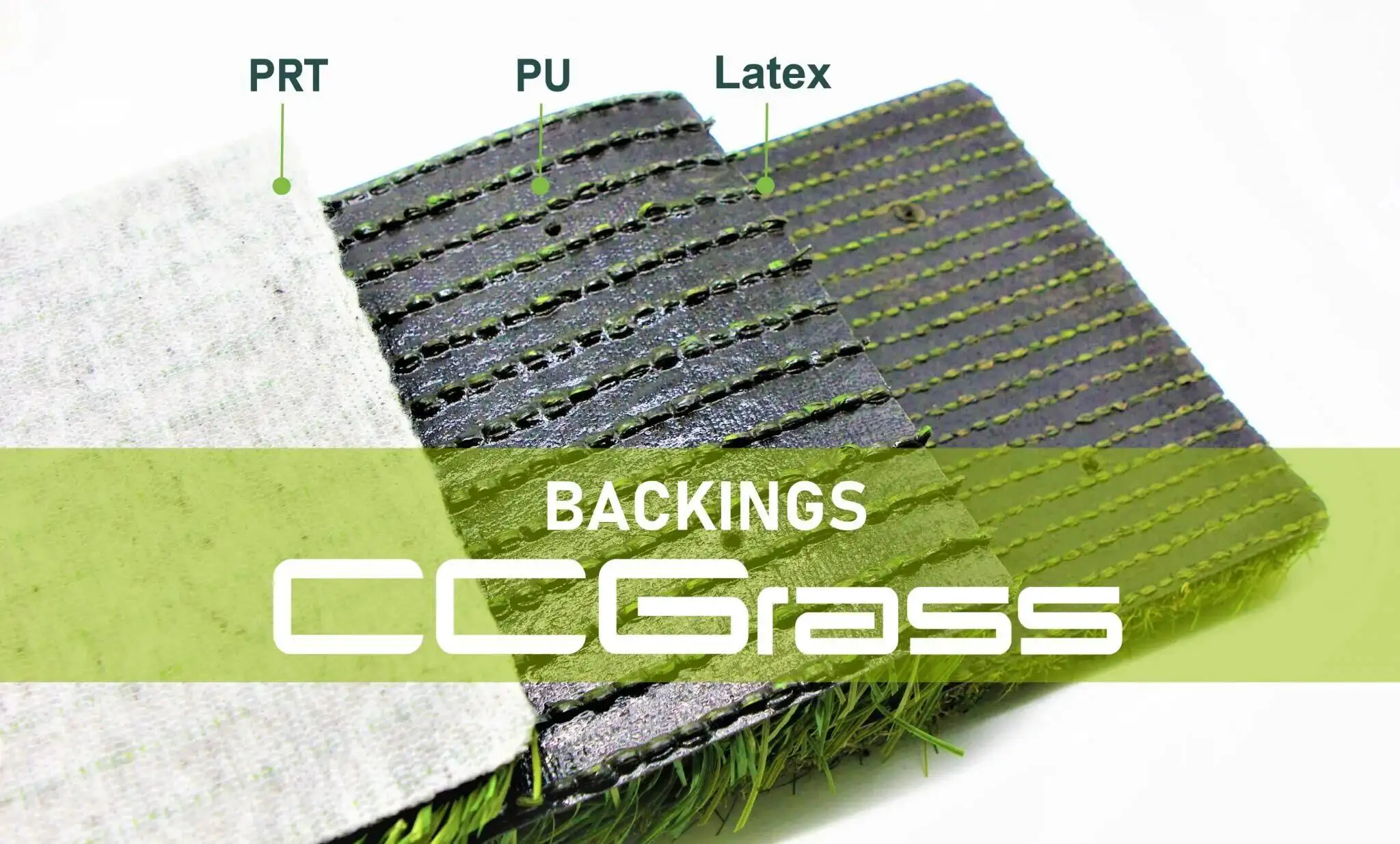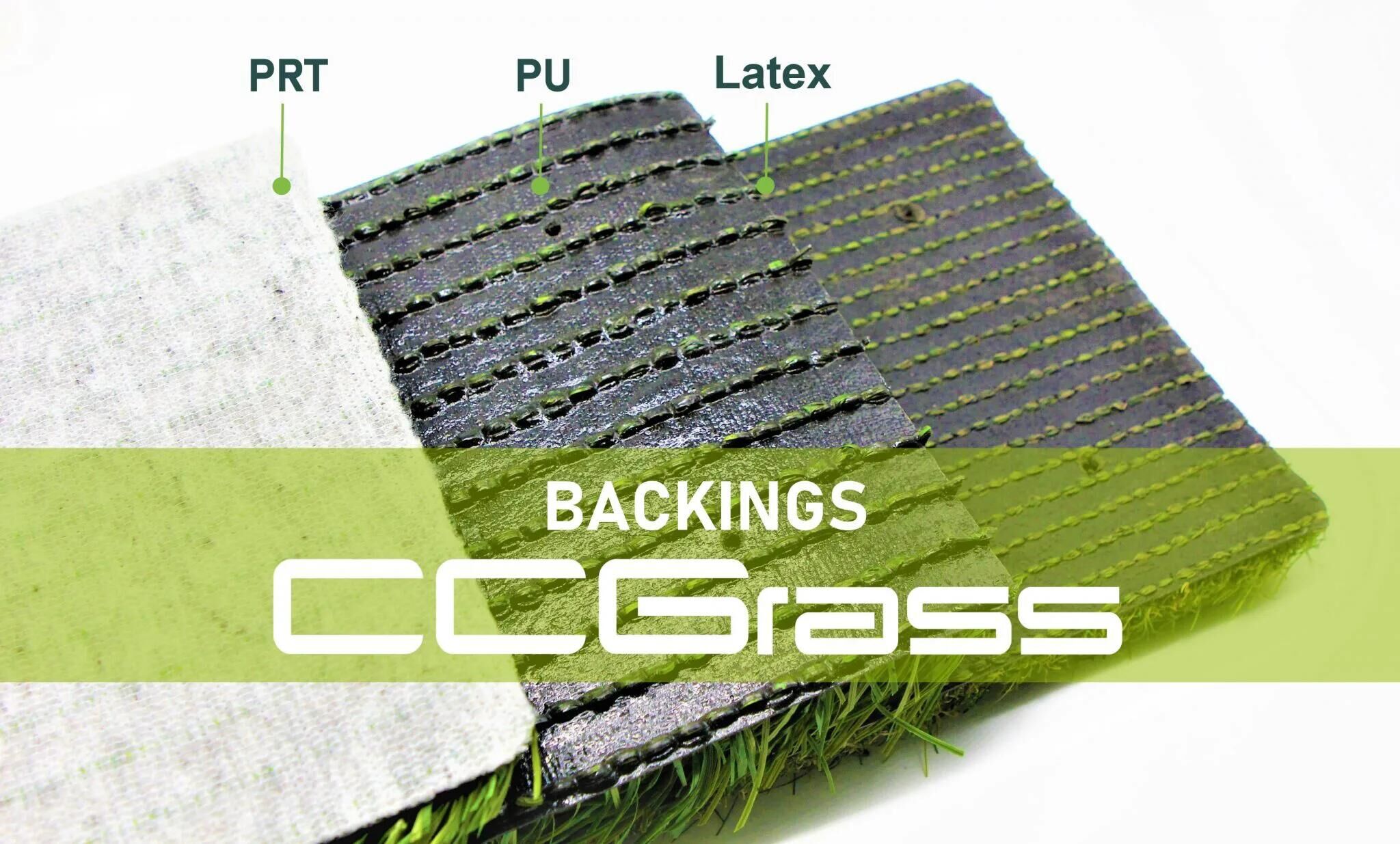 The infill
The infill provides weight to help keep the football grass surface stable, it helps support the fibre and adds to the sports performance. At the base of the grass carpet, there is a layer of rounded, graded and clean sand. Onto this the performance infill is added to a depth required to provide the desired sports performance.
FIFA categorise performance infill as falling into 3 types:
Polymeric (Micro plastic)– these include recycled rubber crumb SBR, TPE and EPDM
Bio-degradable – these may be man-made, but are expected to degrade over a short time
Natural – these are products such as cork, walnut or pine that have been specially prepared to be used as infill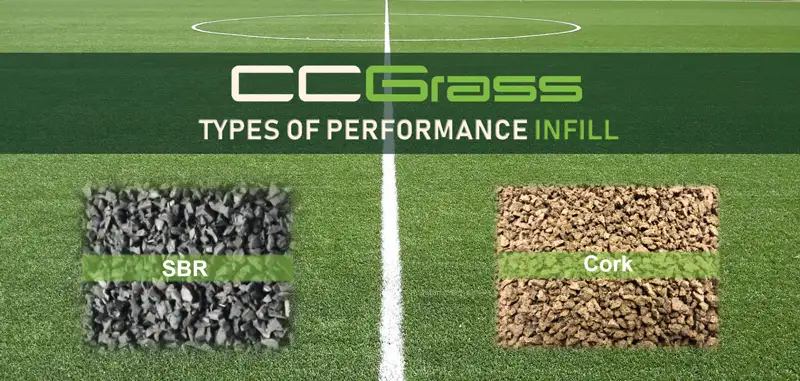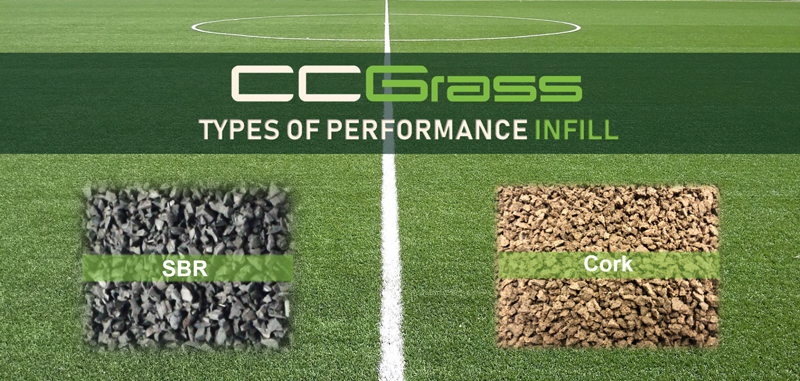 The Role of Shockpads
Natural turf has a certain "give" when you walk, run or fall on it. Artificial turf systems try to mimic this when meeting the required sports performance. Sometimes this can be achieved by using just a large depth of performance infill, but most authorities and sports consultants will recommend that a pad is used beneath the grass surface to ensure the pitch plays to its best at all times.
Professional Installation
A great football grass carpet can look cheap if not laid correctly. In sport, a poorly laid surface can also fail the required field tests. It is essential that an experienced team is chosen to lay the pitch that follow installation instructions and focus on details. Lines are tufted or cut in, joints are either glued or stitched and the infill carefully applied in layers. The final brushing ensures that the infill sits within the system to the required height and is consistent over the entire field.
The importance of maintenance
Having invested considerable money into a high-quality synthetic turf field, it is essential that the owner understands how important maintenance is. Firstly, no artificial grass pitch is maintenance free and secondly, every field needs regular upkeep to ensure the investment is not wasted and the field´s performance not compromised. Maintenance equipment and a maintenance handbook should be provided with the pitch.
Conclusion
In recent years, many teams in Ligue 1 and other leagues have begun to use artificial turf for competitions. With its irreplaceable advantages, artificial football grass is gradually becoming the preferred choice of more and more players and clubs.
For football fields with relatively high intensity use requirements such as recreational, community and municipal, the standard requirements are more focused on safety and durability, and we recommend that these facilities be equipped with FIFA Quality surfaces.
If you want to equip a football pitch for professional football matches and training with artificial turf, where the standard requirements are more focused on sports performance and safety, we recommend you to install FIFA Quality Pro surfaces.
CCGrass, the largest manufacturer of artificial grass in the world, has become FIFA Preferred Provider since 2013 and now has over 300 FIFA certified fields worldwide.
Our high performance football grass products have been widely adopted by top football clubs, such as Chelsea, Olympiacos CFP and are regularly used in international tournaments, such as the FIFA Youth Cup, Summer Universiade, and the Homeless World Cup, etc.
For more information about artificial football grass products and systems, please feel free to call us at 86 25 6981 1666 or email us at [email protected].