Safe & Creative Synthetic Grass for Kids Playgrounds
Playgrounds are great places for children to play outdoors, and parents always want their children to have fun on a safe, clean surface. Synthetic grass for kids has naturally become the first choice for thousands of playgrounds.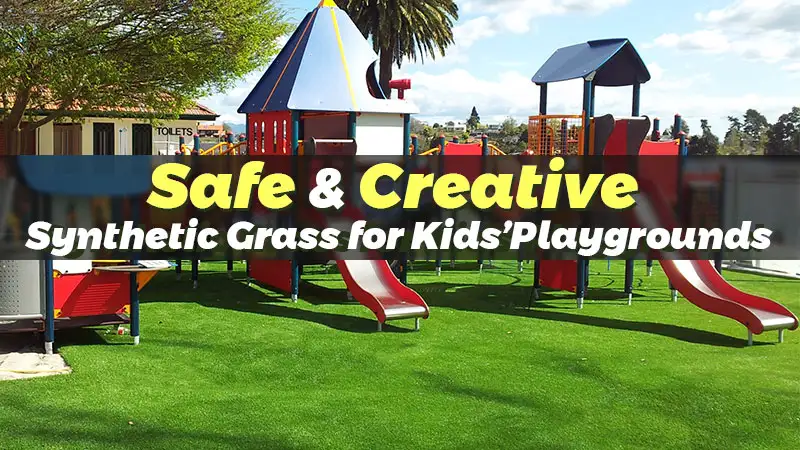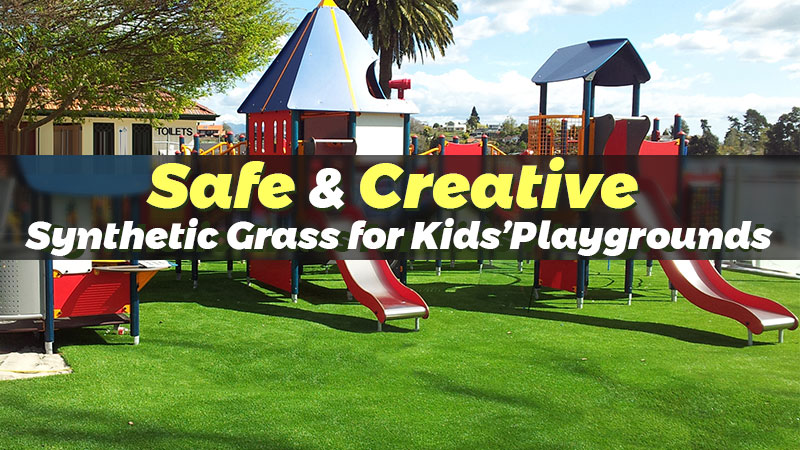 Is synthetic grass safe for kids?
Safety must be your number one priority when you install a playground. Artificial lawn provides a softer and safer surface than natural materials such as sand, soil, and gravel. You can ensure the highest level of safety by installing shockpad, choosing high quality turf that are antibacterial and mildew resistant and tested to be free of heavy metals.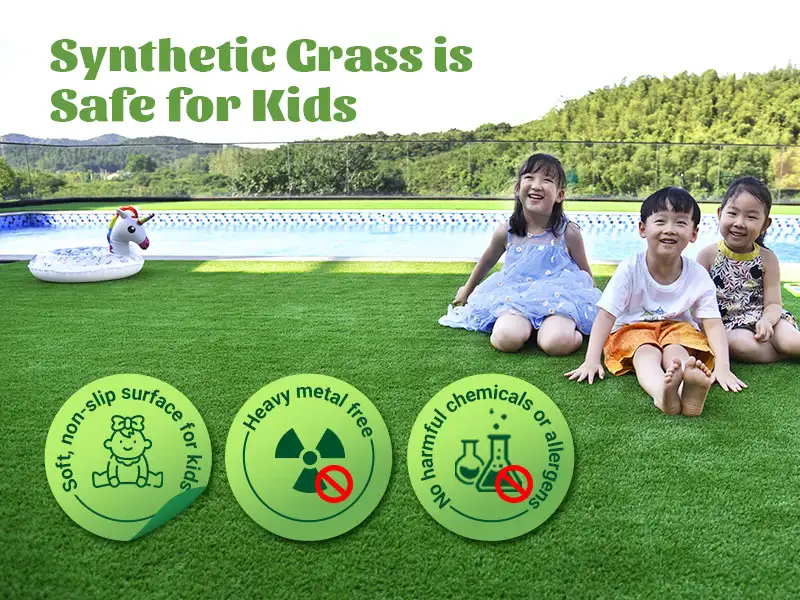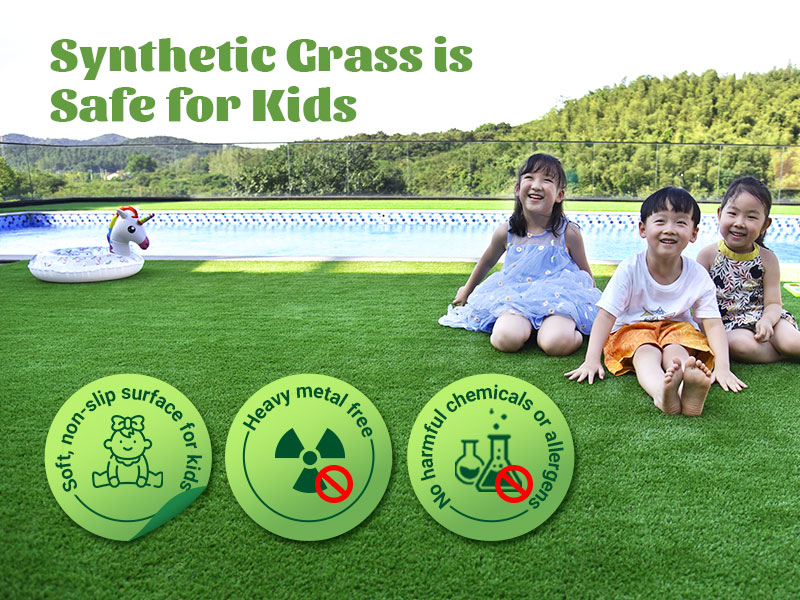 Soft, non-slip surface for kids
It is common for children to fall down when they are chasing each other, but you need not worry at all. CCGrass Playground Turf is as comfortable and soft as the breeze, and will not chafe kids' delicate skin. At the same time, you can choose to equip with shockpads to help absorb shocks and minimize the injuries caused by falls.
Synthetic grass is made of polyethylene that is not slippery when wet, and its backing has good water permeability, which is no problem to use after rain.
Heavy Metal Free
CCGrass Playground Turf products pass the Health Tests includes REACH, RoHS, DIN, EN71-3, ASTM, etc., which can prove our grass doesn't contain any harmful components, such as lead, other heavy metals and substances of high concern.
No harmful chemicals or allergens
Unlike real grass, synthetic grass does not require the use of unsafe chemicals, such as herbicides, fungicides and pesticides, and does not contain any potential allergens.
Besides, CCGrass Playground Turf is specially designed with patented technology. Our special tech inhibits the growth of bacteria and mold on the turf surface, protecting kids from exposure to bacteria which can cause infections.
What are the benefits of installing synthetic grass for kids play areas?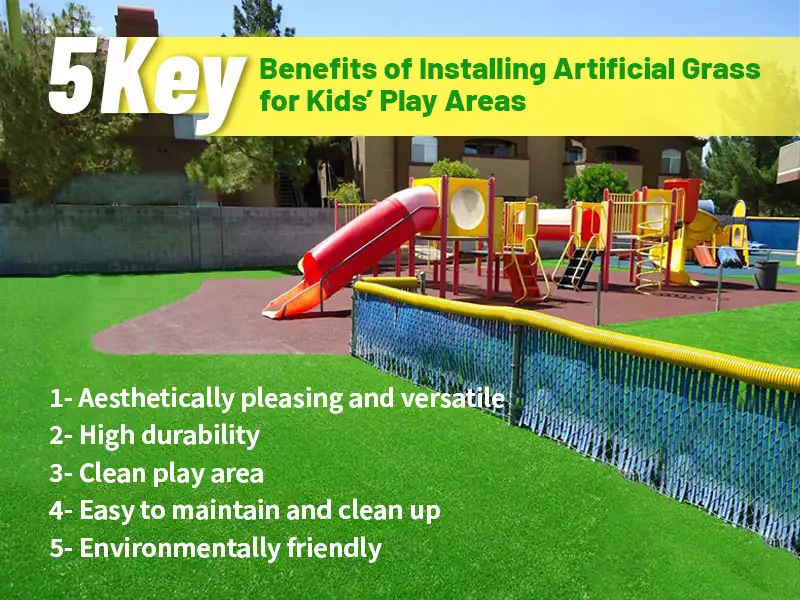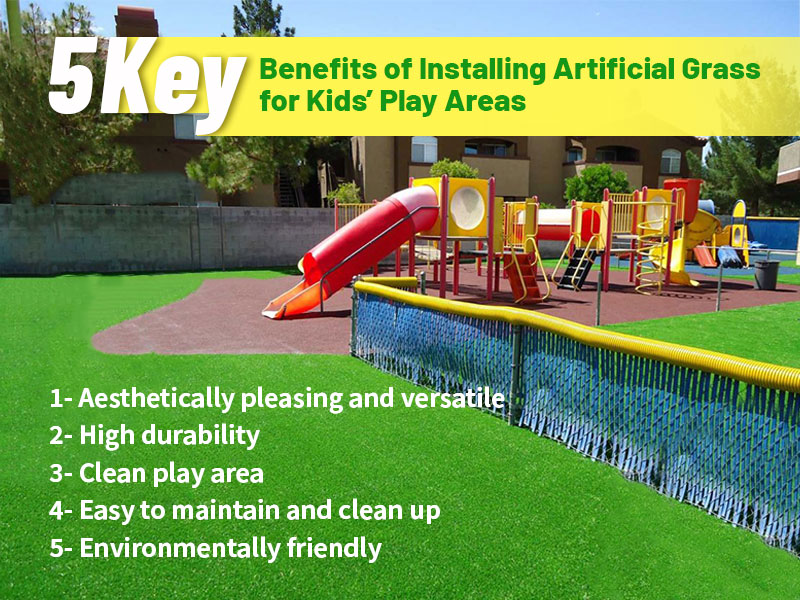 Aesthetically pleasing and versatile
Our Playground Turf has the look and feels of natural grass, maintaining the natural beauty of the outdoors, so that your children can still feel connected to nature.
Our synthetic grass for kids comes in a variety of colors. You can be creative in designing your playground space or customize the markings to delineate different zones and inspire additional play modes. The colors and game options stimulate children's imagination and creativity, while also making the whole playground more dynamic.
High durability
For kid's playground with heavy foot traffic, synthetic grass with high wear resistance and excellent resilience is your best choice. Artificial grass has a life span of up to 10 years and can be used continuously throughout the year yet maintain a good condition.
What's more, CCGrass artificial turf products use the best UV inhibitors to offer extra protection to extend service life and ensure stable color for outdoor use. Our synthetic grass for kids is tested to both UVA 5000h & UVB 3000h by SGS, exceeding industry standards.
Clean play area
Natural grass needs soil to grow, so whether it rains or simply waters, the lawn will become muddy. On a playground installed with artificial grass, children can enjoy outdoor activities without bringing dirt, grass clippings into the home and the big load of laundry after.
Easy to maintain and clean up
Not only is synthetic grass for kids a cleaner option, but it also reduces the time and money you'll have to spend maintaining it. After it's installed, you will say goodbye to regular mowing, watering, fertilizing, and treating weeds.
In addition, if you want to keep it beautiful, there is no need for any special maintenance—just brush it regularly and rinse it several times a year to keep it in shape! Get some tips on cleaning all kinds of stains, please read our guide: How to Clean Artificial Grass?
Environmentally friendly
Synthetic grass for kids playgrounds is a sustainable, environmentally friendly option that helps cut down on waste while reducing the number of chemicals and other pollutants in our environment.
On top of that, CCGrass has developed 100% recyclable PRT backing, an alternative to traditional latex or PU backing, which is applied to the back of the tufted carpet. Using a special 100% thermoplastic, free-draining fabric, PRT is not only fully recyclable but also has super water permeability and strong tuftlock, which makes it perfect for playground surfaces!
Where synthetic grass for kids can be installed?
Our synthetic grass for kids can be used and installed wherever there are children! Now let's take a look at some of our outstanding references.
Backyard or personal playgrounds
Creating an outdoor play area for kids and pets at home can't be greater! Children can invite their friends to spend time together, and you'll also like to enjoy the sunshine and green here.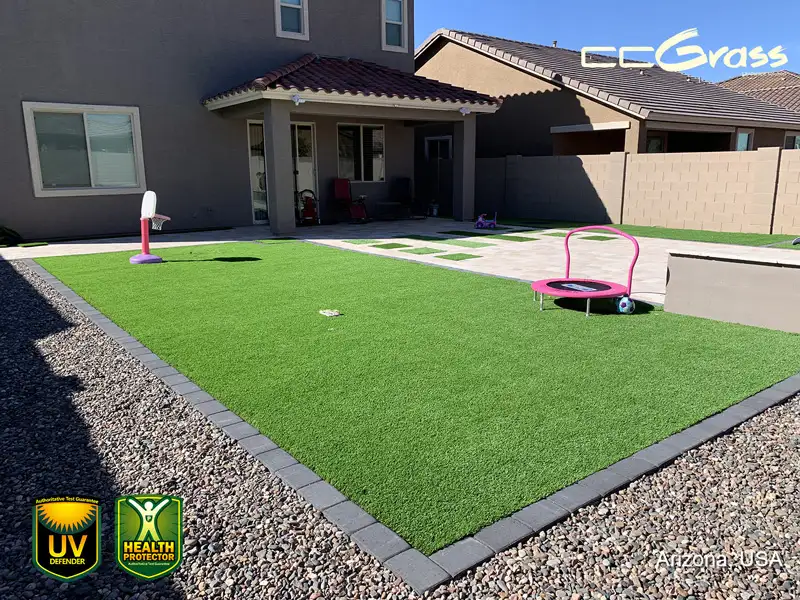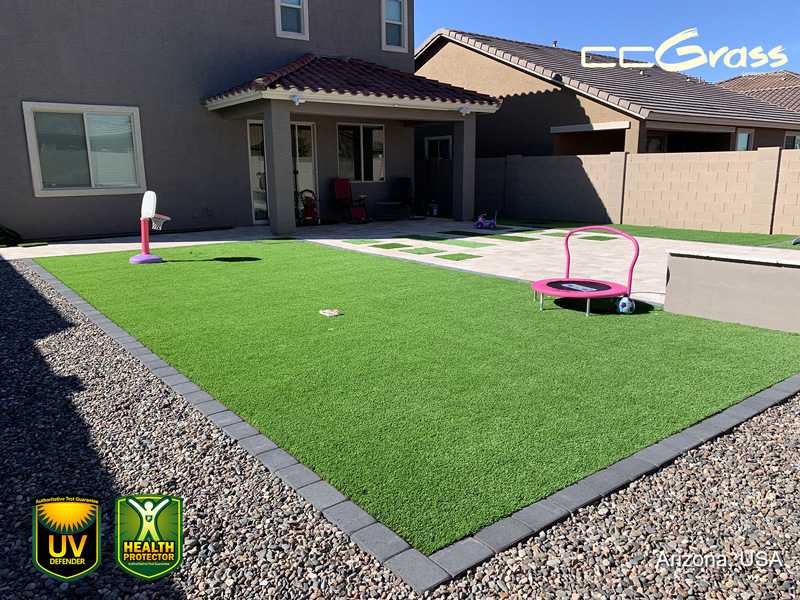 Nursery school facilities
Trust us, when our rainbow grass and art grass appear in kindergarten, it is sure to attract the attention of all children.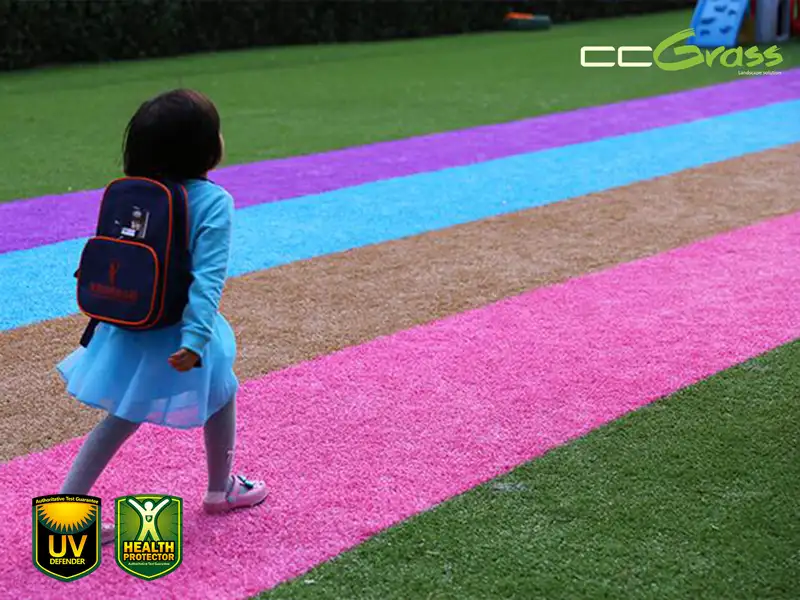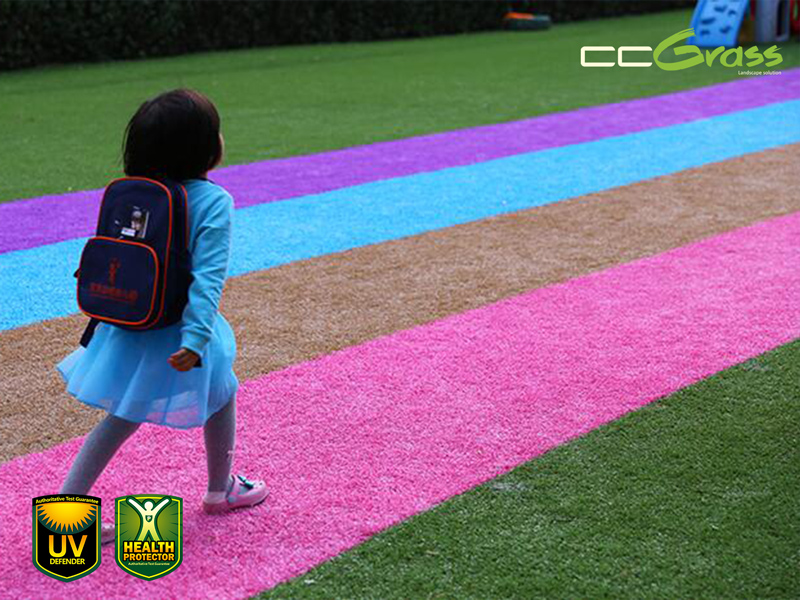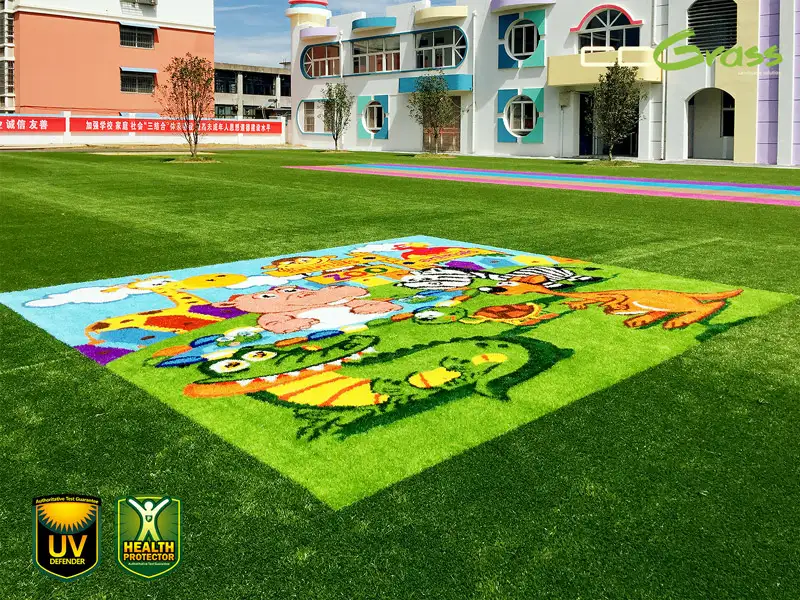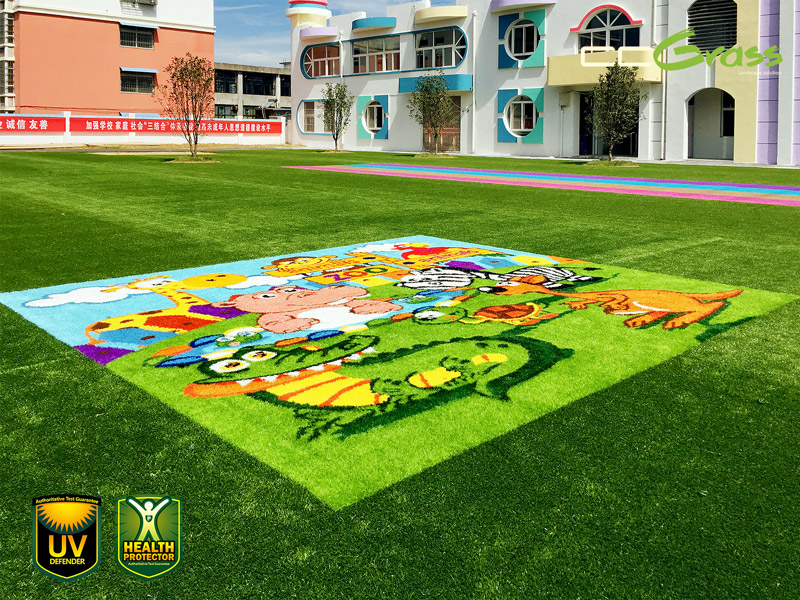 Commercial playgrounds
CCGrass Snow Grass creates the feeling of a winter wonderland, realistic in terms of vision. And our blue grass is perfect for the marine theme playground!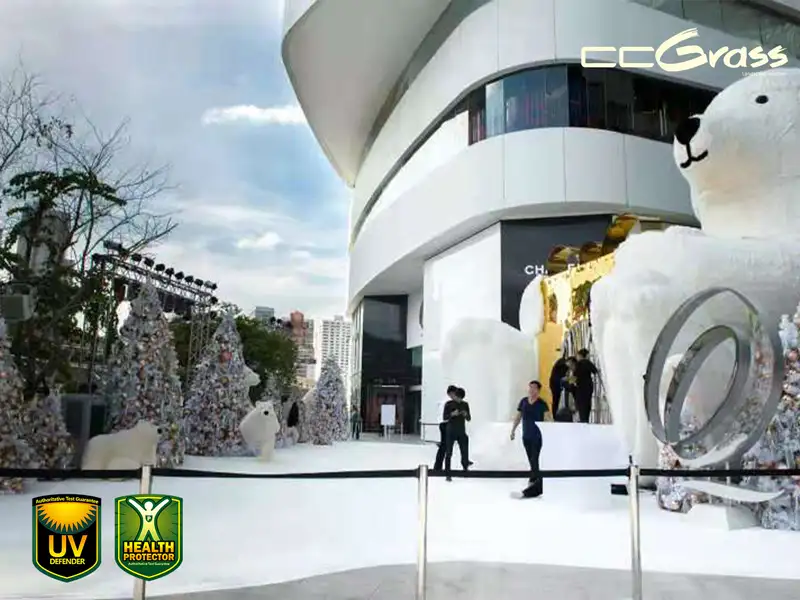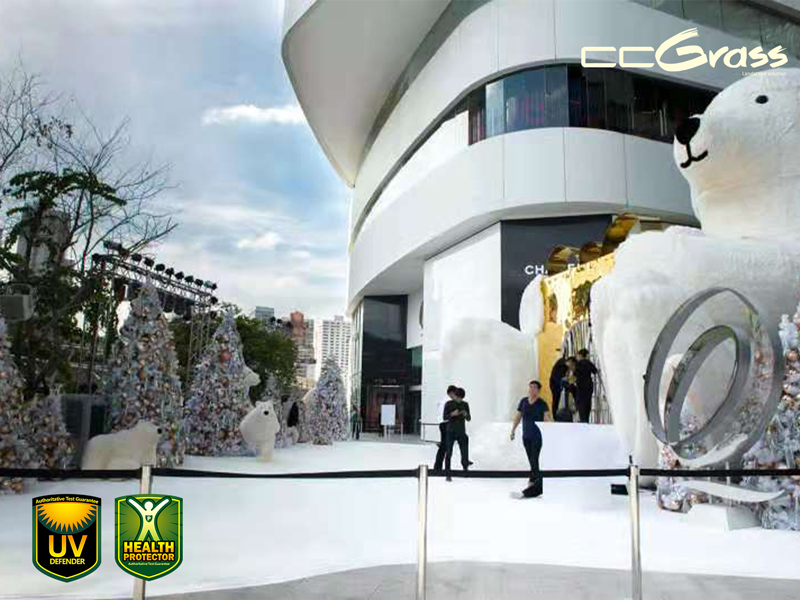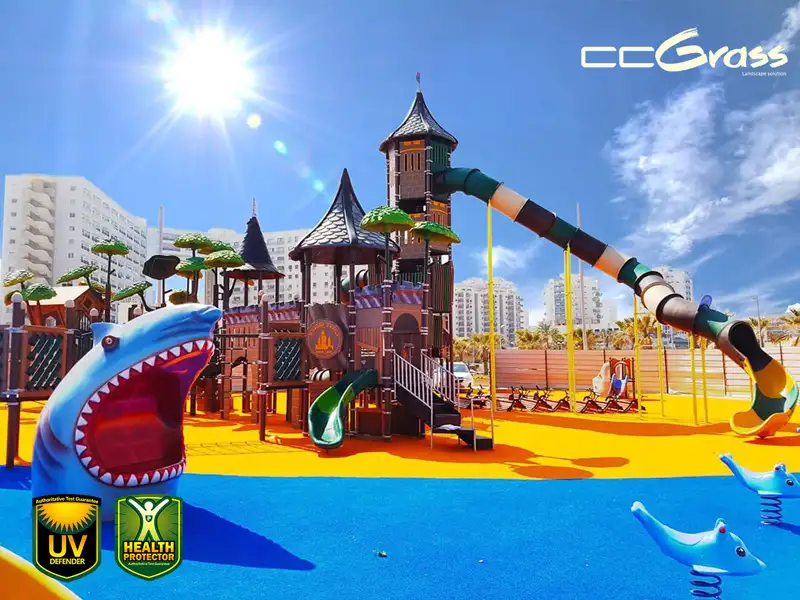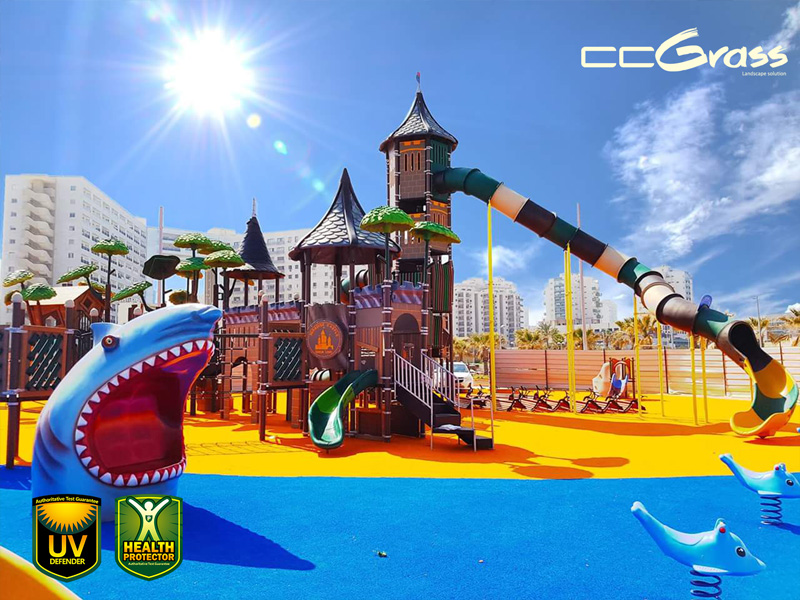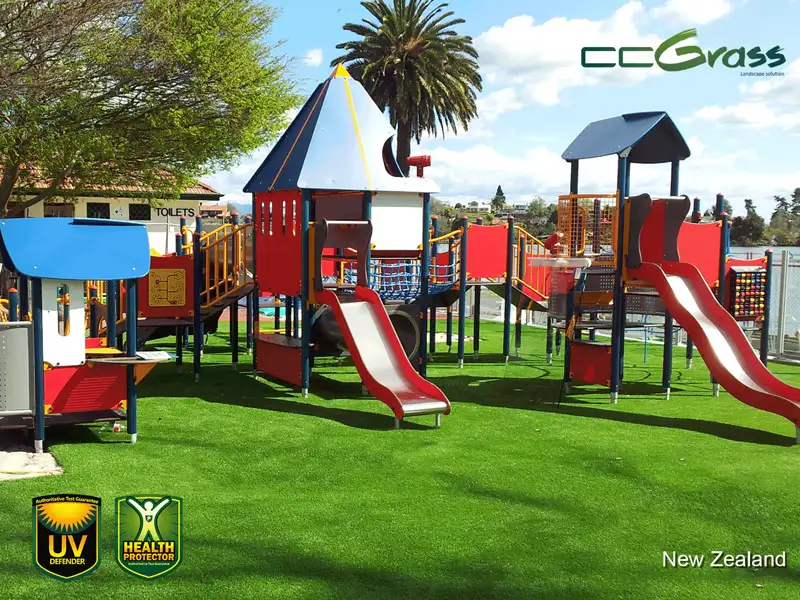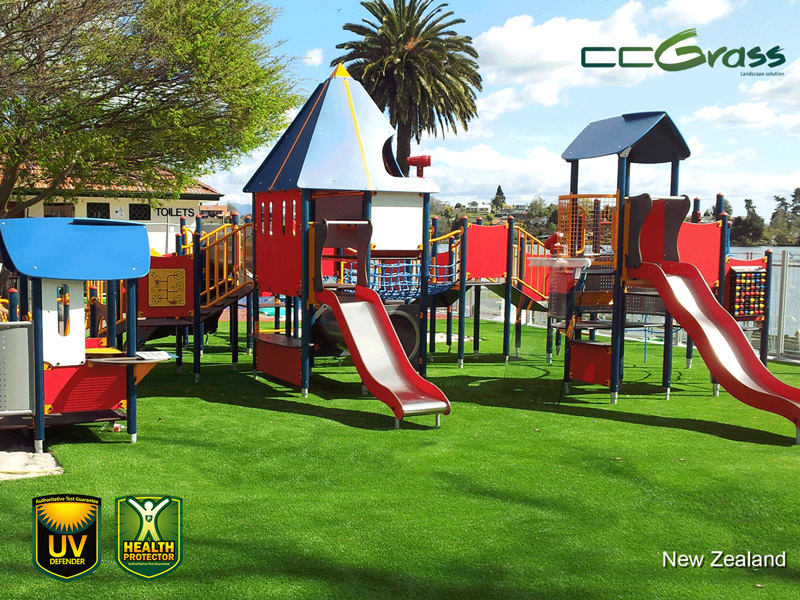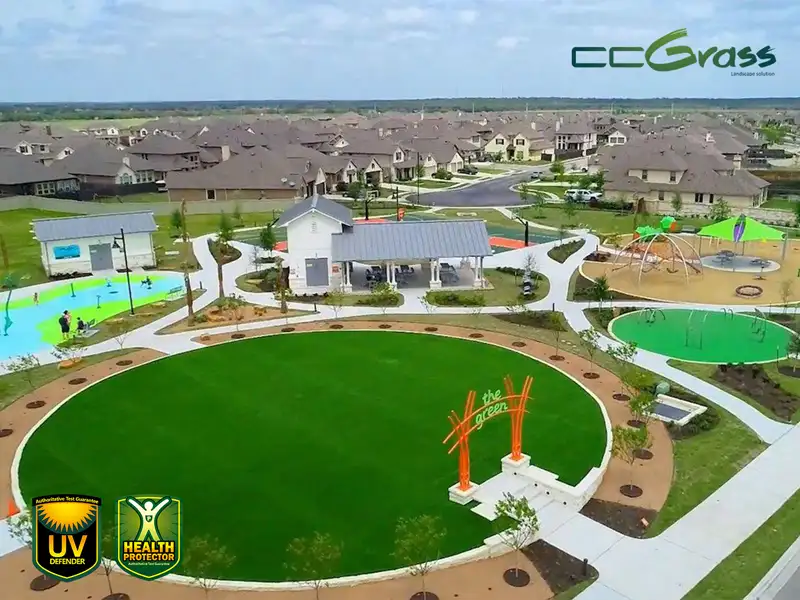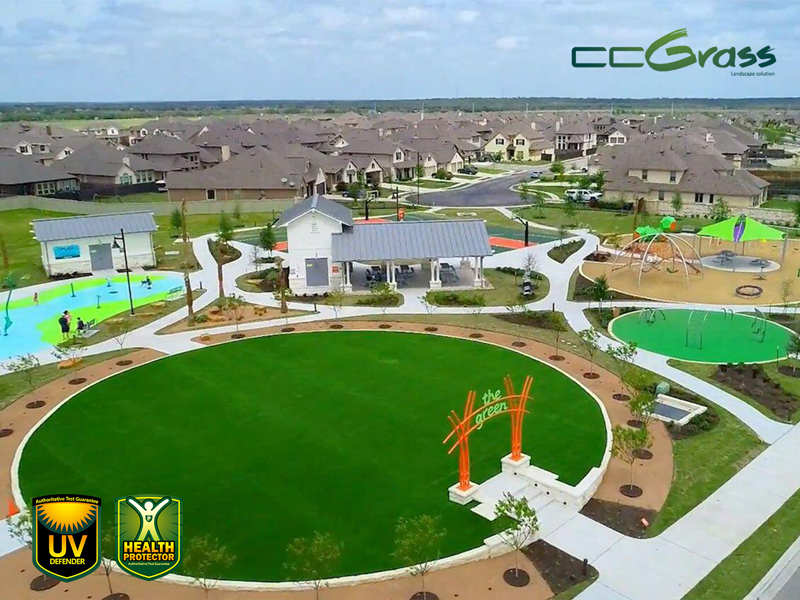 If you are looking for the right synthetic grass for kids playground, our wide range of products and reliable quality will definitely win the children's hearts! If you have any further questions or would like free samples, please call us at 86 25 6981 1666 or email us at [email protected].