Is Artificial Grass Fire Retardant?
Artificial grass is widely used for landscaping, and now an increasing number of households start to use artificial grass as an indoor decoration because of its beauty and durability. As artificial grass becomes more widely used indoors, flame retardancy is becoming more important.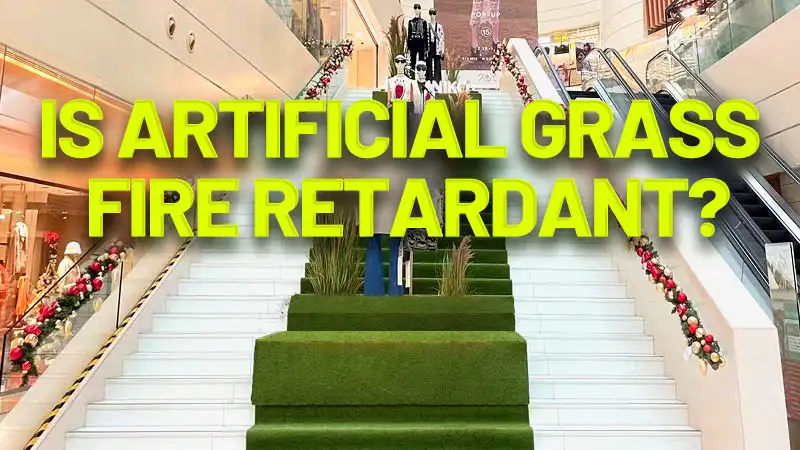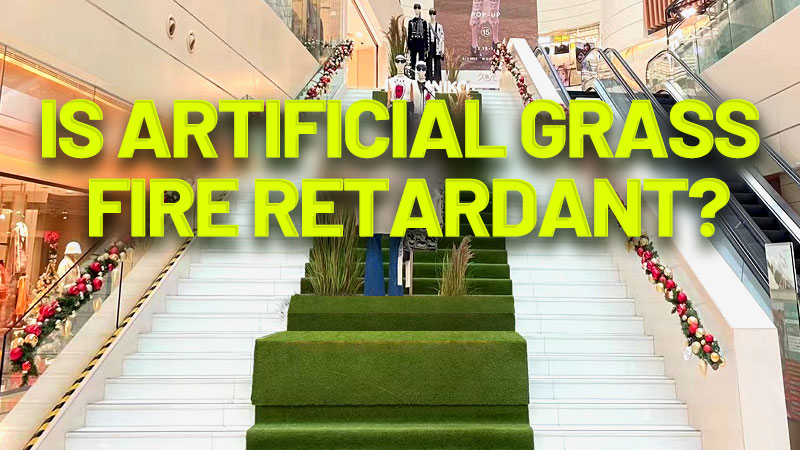 Is artificial grass fire retardant?
Yes, but not all artificial grass is fireproof.
Artificial grass itself does not have fire resistance properties. Its flame retardant series is achieved by adding FR additives during the yarn production process.
The fire retardant effect of artificial grass is shown in that the grass fiber will self-extinguish after being burned by fire. In this way, it will not cause a large area of burning caused by mutual ignition.
In addition, artificial grass with sand infill performs better in terms of flame retardant because the sand also has fire extinguishing effect, which prevents fire from spreading.
Is it necessary to choose fire retardant artificial grass?
Fire retardant artificial grass is undoubtedly safer, but flame retardant performance is not a necessary standard for testing artificial turf. As a kind of functional artificial grass, a fire retardant series is a good option for indoors.
Especially in densely populated public places such as hotels, kindergartens, shopping malls, and office spaces, emergencies are difficult to control. Therefore, in order to avoid possible fire hazards, we strongly recommend that you choose fire retardant artificial grass.
Decorating fire retardant artificial grass in a commercial environment not only provides safety, but it also provides you with:
Immaculate natural, green lawn creating a well-presented environment all year round.
Low maintenance required allowing for costs to be reduced in site management.
Easy to clean.
Child and pet friendly, with an allergy-free promise.
How to choose reliable fire retardant artificial grass?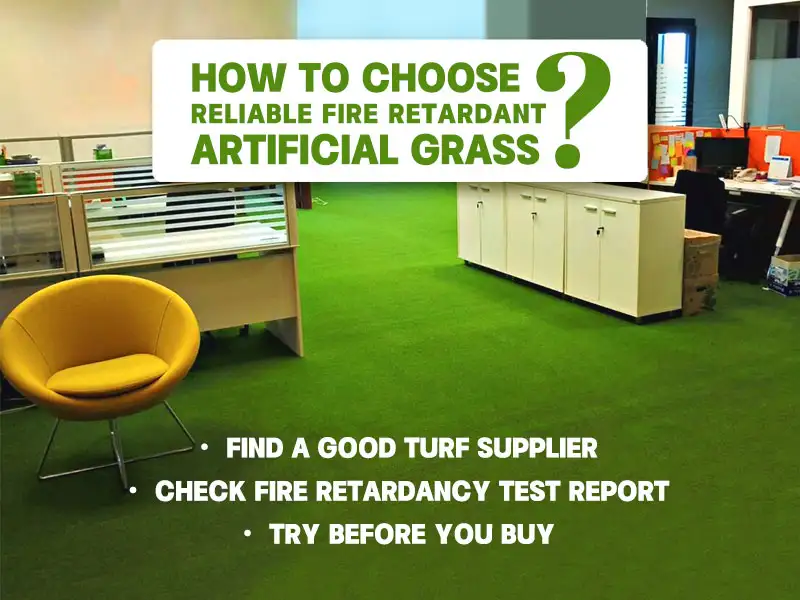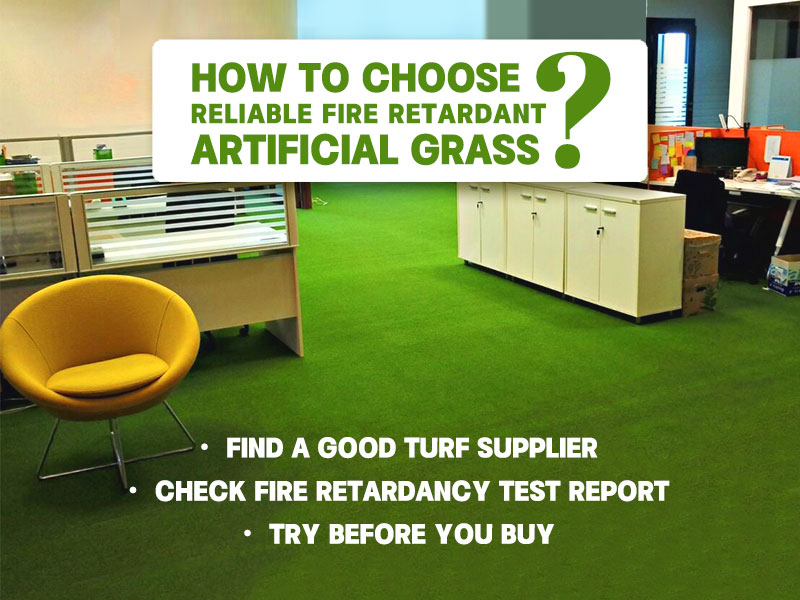 Find a good turf supplier
Whether you are a personal user or a business trader, a good supplier is one of the most important factors in ensuring the success of your project. They can offer high-quality products, professional recommendations, premier service, and after-sales guarantee.
Then, how to find a professional and trustworthy supplier? Please check this article to learn about 5 Key Points for Choosing Your Turf Supplier.
Check fire retardancy test report
The fire retardancy test report issued by the third-party authority is strong proof that the product has a flame retardant effect. Moreover, you will most likely need it to apply for installation permits from the fire department.
CCGrass' fire retardancy test is conducted by the authoritative laboratory SGS in accordance with EN ISO 11925-2:2010 standards of reaction to fire. It is conducted independently and abiding to strict standards, which ensures its reliability.
Try before you buy
Before purchasing artificial grass you should ask suppliers for free samples. The sample can truly reflect the quality and appearance of the product. And once you get a sample, you can do a little test to see if it's a good fire retardant artificial grass.
Conclusion
It is worth highlighting the fact that top quality artificial grass is not flammable even when exposed to heat or open flames. Fire retardant artificial grass is enhanced by adding FR additives and has undergone rigorous fire retardancy tests, making it a safer choice for both commercial and household use.
CCGrass, the world's leading artificial grass manufacturer, is dedicated to providing the best artificial turf for both sports and landscape purposes. We have developed wide applications including residential, commercial, DIY, pets, golf, city landscape, etc. Our functional grass has Antistatic series, Antibacterial series, Flame Retardant series, GrassCool series, etc. For more information, please feel free to call us at 86 25 6981 1666 or email us at [email protected].