Why We Recommend You Use Artificial Grass around a Pool
"Is artificial grass ok to use around a pool?" I saw this question raised by a netizen on a forum. At that time, a man was building a home in Southern California. He has a house with a swimming pool in front and wants grass around the pool. The man asked everyone around him, and the answer he got didn't recommend him to use grass. So he started asking if artificial grass is ok to use around a pool.
Today, let us discuss this question.
Artificial grass around a pool is a low maintenance floor covering for the pool area, not only you get the look and feel of real turf, but you also improve the safety of your pool deck and pool area. Why do most people suggest using stones? That's because traditionally most in-ground pool decks are made of concrete or other hard materials. Tile can be slippery and dangerous when wet.
Wood floors require a lot of maintenance, and stones take a lot of elbow grease. At this point, have you found that artificial grass has become the best choice for the pool area? You'll enjoy the soft grass under your feet and the lush, soft, natural-looking ground cover.
Not enough? Let's take a look at other advantages of artificial grass around a pool!
Safety & Eco-friendly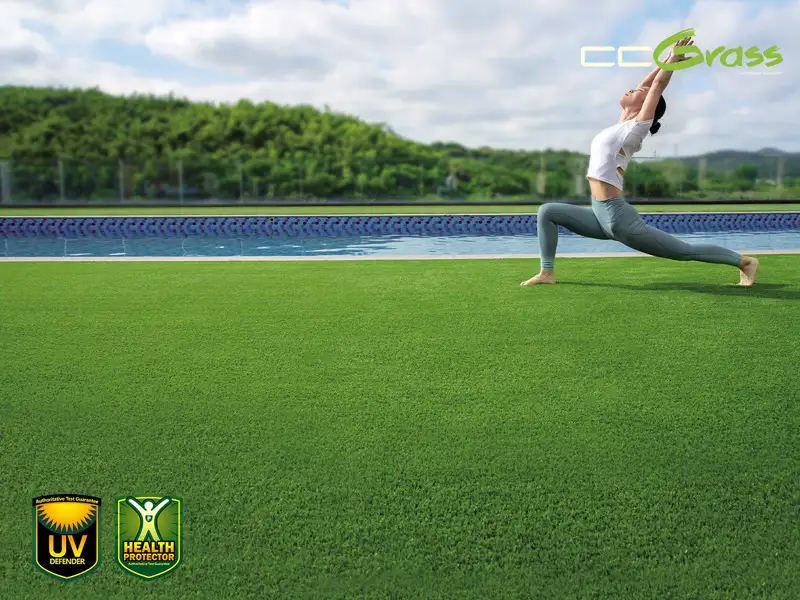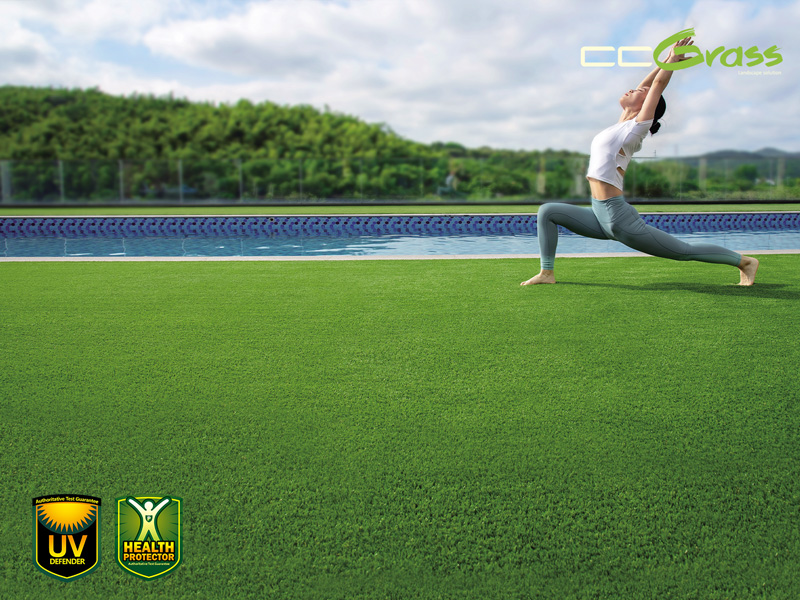 I believe everyone agrees that safety should be the most important thing. Fortunately, artificial grass is 100% safe. In fact, it could be safer than natural grass!
All CCGrass products have passed health tests including REACH, RoHS, DIN, EN71-3, ASTM, etc. which can prove our artificial grass doesn't contain any harmful components. CCGrass is very strict in the choice of raw material. With our artificial grass, you don't need to worry about the safety of your children and pets.
Also, artificial grass is not only non-toxic, but also non-allergenic. Many children and pets are allergic to grass pollen. CCGrass uses anti-bacteria technology that artificial turf will not produce pollen and other bacteria, so children and pets are healthy to play on it. What's more, the artificial grass can protect children from falls of up to 5 feet, which is a major improvement over artificial grass.
We take our environmental responsibility very seriously. When the maintenance equipment for real grass, like gas-powered lawnmowers, are reported by the environmental protests as big polluters, producing a massive number of pollutants like carbon monoxide. Artificial grass needs no maintenance like edgers or mowers. It's non-toxic and environmentally friendly, making it the perfect choice to install.
Artificial grass is great for any location and is completely customizable to your installation. It only requires simple maintenance for long-time use.
Cost-effective & Easy installation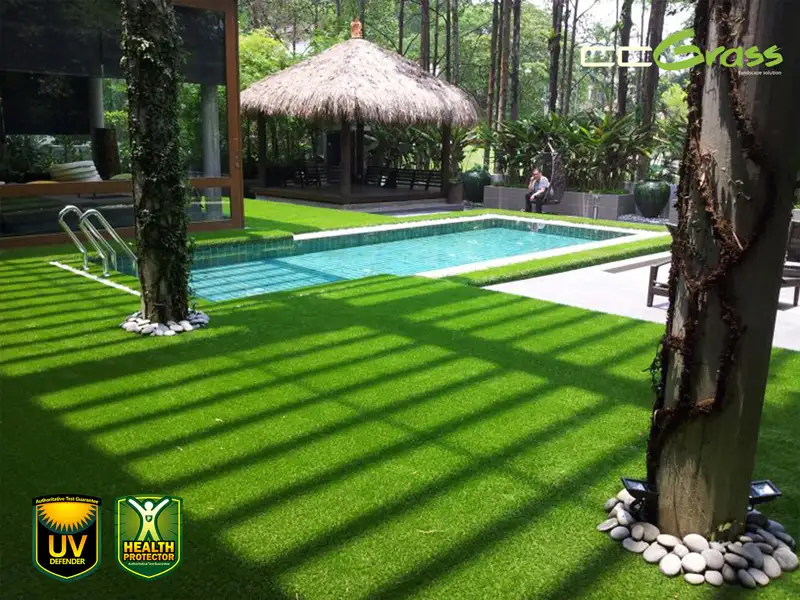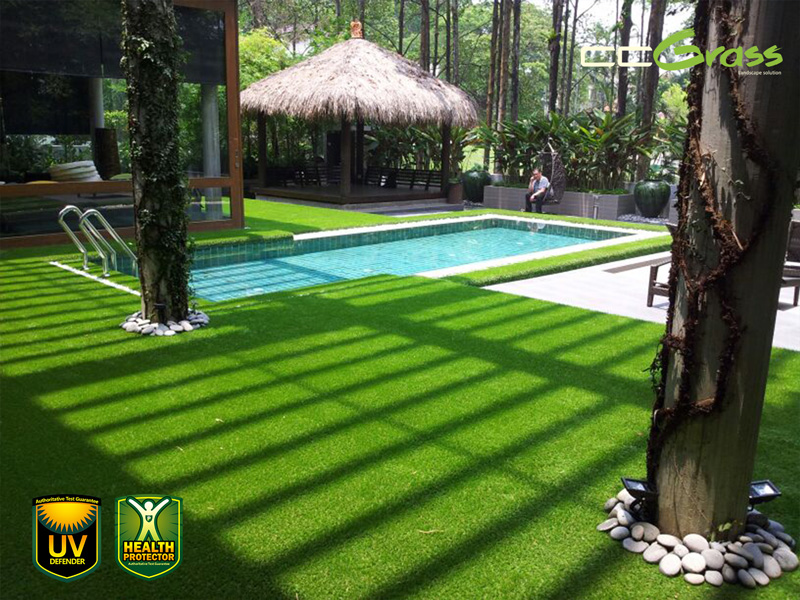 Are you getting sick of the natural lawns due to the endless work of mowing, fertilizing, watering and weeding?
Not like natural lawns, artificial grass does not require fertilization, irrigation or extensive maintenance. This means that when you use artificial grass, you can completely save money and time. Compared to natural grass, artificial grass is very low maintenance. To elaborate further, the only time you need to water them is when you want to clean them. Rinse the yarn to remove dirt and mud in seconds.
Artificial grass is designed for long-time heavy use, including daily rough-and-tumble sports. That is one of the vital reasons to buy artificial grass for most residential with a pool.
Compared to decorating your house with real grass, installing artificial grass is much simple. You can finish the work in 6 simple steps with 1-2 labors. For more detailed information on installation, please check here: https://www.ccgrass.com/how-to-install-artificial-grass/.
Quick Draining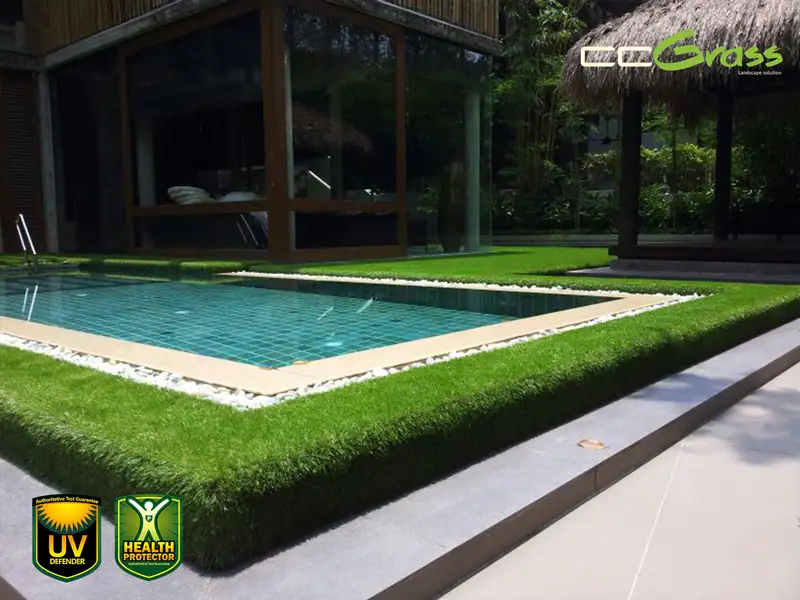 Drainage is an important consideration especially when you want artificial grass around a pool. When your family swims and plays in the pool, there is a lot of water splashing around the pool. Without good drainage, you will worry about a serious slip hazard from wet and slippery surfaces.
In fact, artificial grass drains a lot quicker than natural grass, Especially the unique system PRT backing from CCGrass, It's an alternative to traditional latex or PU systems, using a special 100% thermoplastic, free-draining fabric and fully recyclable.
PRT backing drains five times faster than conventional synthetic grass backings, allowing rainwater away from the surface top far quicker.
Great Looks and Feeling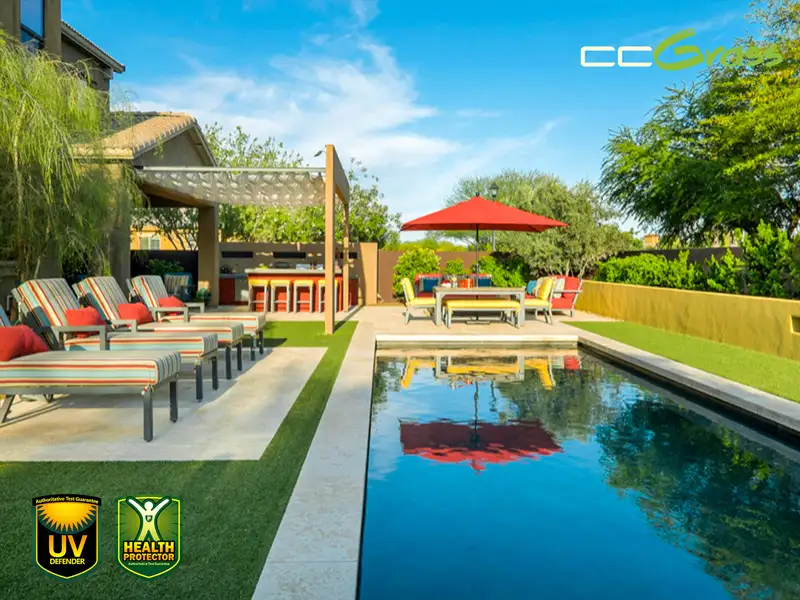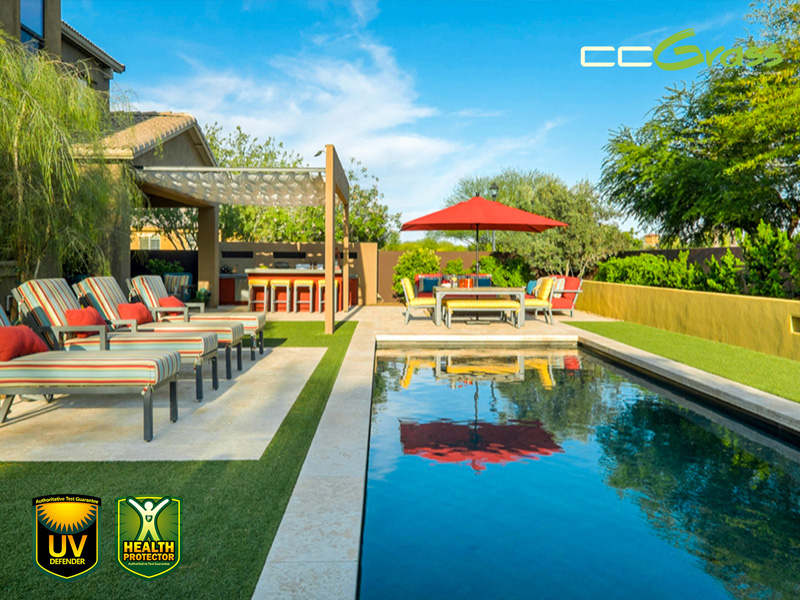 With artificial grass, you don't have to sacrifice the look or feel of natural grass. Our artificial grass reveals the features and characteristics of natural grass in both feeling and appearance. It can stay green and vibrant all year round without fading and has a UV-stable finish and materials to protect from sun damage. You can fully enjoy the soft and comfortable artificial grass on sunny days and you'll never have to worry about mud and dirt.
FAQs of Artificial Grass around a Pool You Care About
Here are some most frequently asked questions regarding artificial grass for pool areas and pool decks. We hope the answers will help you.
Will chemicals in pool water damage artificial grass?
Chemicals in swimming pools can quickly kill or discolor natural lawns. Alternatively, if natural grasses absorb water that contains chlorine and salt, it may be very hard to grow. But our artificial grass can withstand pool chemicals when it's exposed to pool water without being affected or discolored.
Can I put some tables, chairs, or umbrellas on artificial grass?
Of course, you can! Artificial grass can handle a lot of weight. You can even think of artificial grass as similar to a carpet. A chair leg or table leg may leave a temporary mark. Don't worry; it will recover after removing the object.
Can I put an above ground swimming pool on top of artificial grass?
If you plan on placing an above-ground pool on your lawn, it is imperative that you consult your artificial turf installer to discuss potential issues with the weight. You need to confirm that once the pool is filled with water, the surface will provide a solid foundation that can withstand the immense weight. After all, even a smaller above ground pool can weigh tens of thousands of pounds of water.
Is artificial grass around a pool slippery when wet?
There are also issues around safety since natural grass does get muddy and can be quite slippery when wet. Our artificial grass is made of polyethylene which is not slippery when wet and has no problem holding up to the heavy traffic that often occurs around pools. Artificial grass is superior from a safety perspective with regards to slips and falls around a pool.
How much does artificial grass around a pool cost?
The cost of artificial grass varies depending on many factors. The first thing we need to measure and figure out the quantity of artificial grass and accessories you will need.
For an approximation of the cost of lawn installation for your pool area, welcome to contact us.
Artificial grass is low-maintenance. It requires no watering, fertilizer, or mowing, which can save you money in a long term. Unlike natural turf, artificial grass gives you a green lawn all year round.
How long does it take to install artificial grass around a pool?
Like I said above, we need to measure and figure out the area ready for installation. Each installation is customized and it would be difficult for us to determine this if we hadn't gone to the site to measure.
But what can be confirmed is that installing artificial grass is much simpler. You can finish the work in 6 simple steps with 1-2 labors.
Can artificial grass stand up to the constant heat of summers?
YES! Artificial grass has advanced significantly in recent years and we use the best UV inhibitors to ensure the yarn is not damaged by the sun's rays for 10 years. Our artificial grass is tested to both UVA 5000h & UVB 3000h by SGS, exceeding industry standards.
Why should I choose CCGrass to install artificial grass?
CCGrass, the largest artificial grass factory in the world, is dedicated to providing the best artificial grass for both athletic and landscape purposes. Our artificial grass products meet the highest standards of leading sports organizations, such as FIFA, FIH, World Rugby, GAA and ITF.
Our factory is also considered one of the best-managed synthetic turf factories in the industry. Our artificial grass factory complies with ISO9001, ISO14001 and has passed various kinds of strict factory audits such as BSCI, WFSGI, ICS, etc.
Conclusion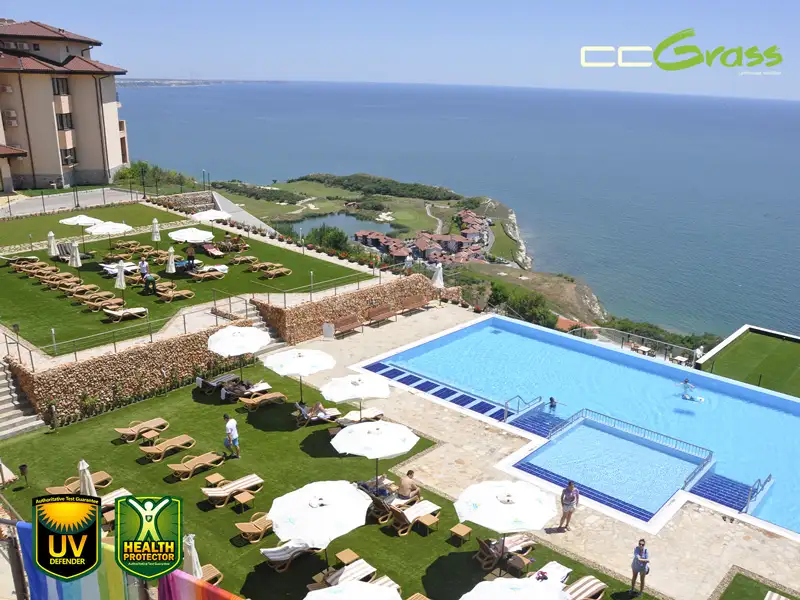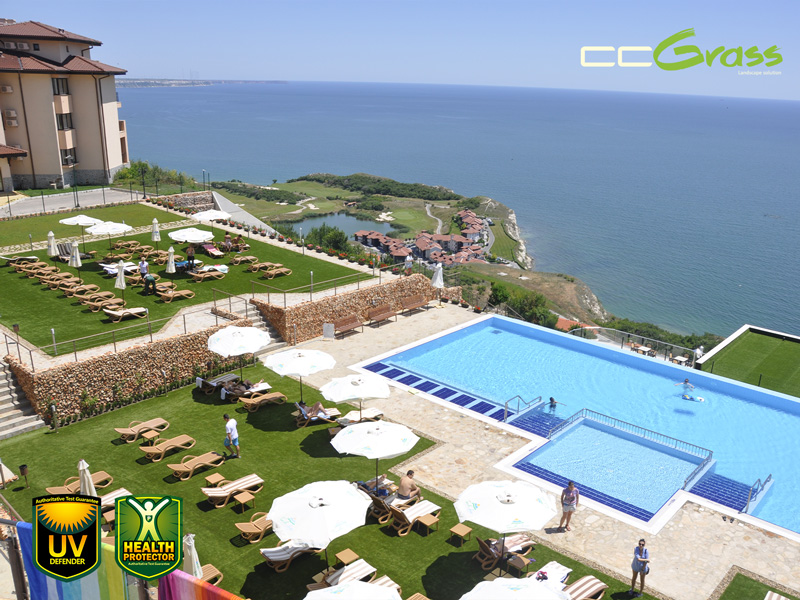 Now we have given you a few things to think about before choosing your artificial grass. Artificial grass pool surrounds are a great way to make your yard greener, more comfortable and safer.
Choose us to make your backyard stand out in your neighborhood and achieve artificial grass around a pool area. This will be a great option!