How to Install Artificial Grass | CCGrass Essential Guide
When most families choose artificial grass, there are often concerns about whether it is easy to install and whether they can complete the installation on their own. We've put together the ultimate guide about how to install artificial grass, read these steps to learn how the artificial turf installation process works, what tools you need, and instructions for installing your own.
How to install astro turf video:
Step 1: Planning
The first step for artificial turf installation is to plan out and measure your garden, figure out how much artificial grass and which accessories you will need. The astro turf has a width of 2m or 4m and a length of up to 25m. Roughly calculating how many rolls need to be ordered will help you avoid a high amount of waste and ensure that you don't overspend, maintaining the project cost-effective.
Tools required for artificial turf installation
Next, what tools do you need to prepare for laying artificial grass? It depends on the type and size of your installation. Some elements are optional, and some are essential.
Tape Measure
Sharp Knife
Shovel
Hammer
Broom/Stiff Brush
Gloves
U-shaped nails
Self-adhesive Jointing Tape or Jointing Tape plus Jointing Adhesive
A roller or vibrating plate to compact the sand (both can be hired)
Weed block cloth – This is optional, but we highly recommend it for outdoor installation.
Shockpad – This is optional, especially recommended for concrete surfaces.
Step 2: Base Preparation
Artificial grass can be installed on a variety of different surfaces. Here we will focus on the ground preparations for installing artificial grass on soil and concrete.
How to install artificial grass on soil?
Get rid of weeds
Before installing grass, the first thing you do is to kill grassroots and weeds. Spray the area with a non-toxic weed killer you trust. Weed killers need ample time to work, so it is recommended that you do this at least two weeks in advance.
Add the base material
Get rid of the top layer of soil, about 3 inches to make room for your new base. Use a shovel to scatter your base material. Generally, in places with a mild climate, you can use gravel, crushed rock, decomposed granite, or any stones smaller than 3/8 inches as a base.
Around 3 inches of the base material is needed to improve drainage and avoid slumping. Use a shovel or sand spreader to lay sand 10-15mm thick on the top of your sub-base to provide a smooth surface.

Compact the base
Compact the loose material into a strong base with the help of a roller or vibrating plate (both can be hired).
Optional: add a weed barrier
If necessary, after the base is compacted, cover the area with weed block cloth and secure in position with U-shaped nails around the perimeter.

How to install astro turf on concrete?
Clean existing concrete
The uniform standard for the base is that the surface needs to be smooth, clean and level. First, clean your area thoroughly, and then check for uneven surfaces. If they aren't too uneven and can be fixed, you can use self-leveling compounds.
Optional: install the shockpad
Because concrete is a hard surface, you'll need the shockpad for support in case anyone falls on the surface. The concrete surface needs to use glue instead of U-shaped nails to fix the shockpad and turf.
Step 3: Lay out the artificial grass
Unroll the artificial turf over the area, being careful to not move the weed block cloth, and then let the turf sit in the sun for 30 mins to an hour – this allows any creases to fall out as well as the condition of the grass yarn will be better. Then stretch the grass to make sure it's nice and flat and anchor the turf to the edge with U-shaped nails.
If you are working with multiple rolls, it is very important that the yarn direction and stitch patterns are facing the same way. Crossing yarn directions will result in poor appearance. Having the yarn direction running toward the house will give the best look from the windows of the house.

Step 4: Fix the seam
1. Cut off the manufacturing edge strip (if present) or cut off another stitch so that there is as little backing as possible next to the stitch and butt the two edges together.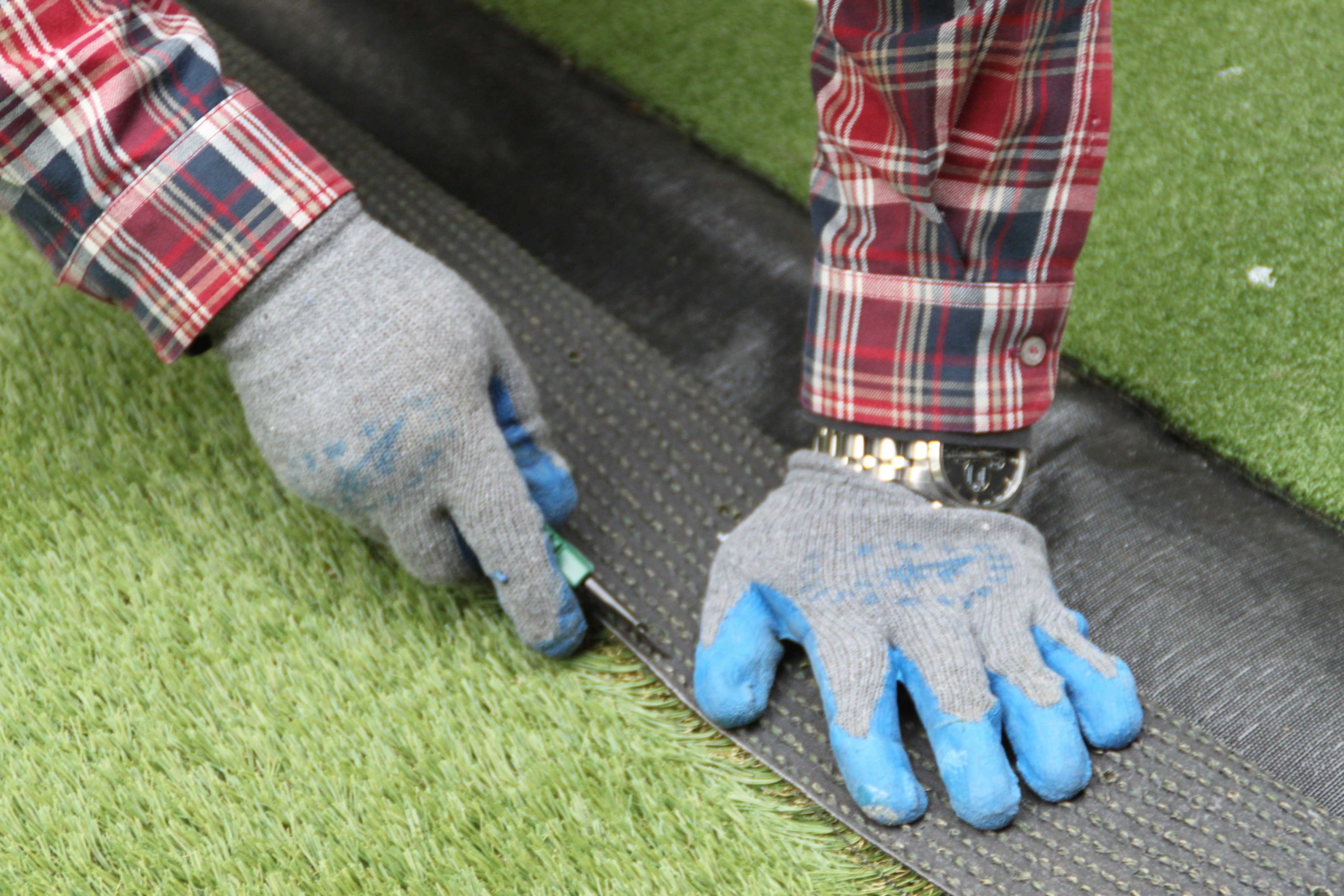 2. Fold back the edges and position self-adhesive jointing tape (smooth side down) so that the edges of the carpet meet down the centre of the tape when joined.
3. Fold the turf back into the adhesive tape starting from one end. Work your way down the seam carefully, jointing the two pieces together. Make sure tufts aren't damaged or buried.
Step 5: Cut excess grass
Cut the grass to shape using scissors or a sharp knife for a perfect fit. Take your time to carefully cut around any obstacles like trees, planter beds or drains.

Step 6: Sprinkle and brush silica sand
The final step for artificial turf installation is to spread silica sand across your astro turf, building the depth in layers. We recommend 6-8 kg of sand per square metre of lawn.
For the best results, we recommend using a bristle broom or a grass rake to brush the pile before, during and after. Brush against the pile fibre direction to encourage the individual grass tufts to stand upright.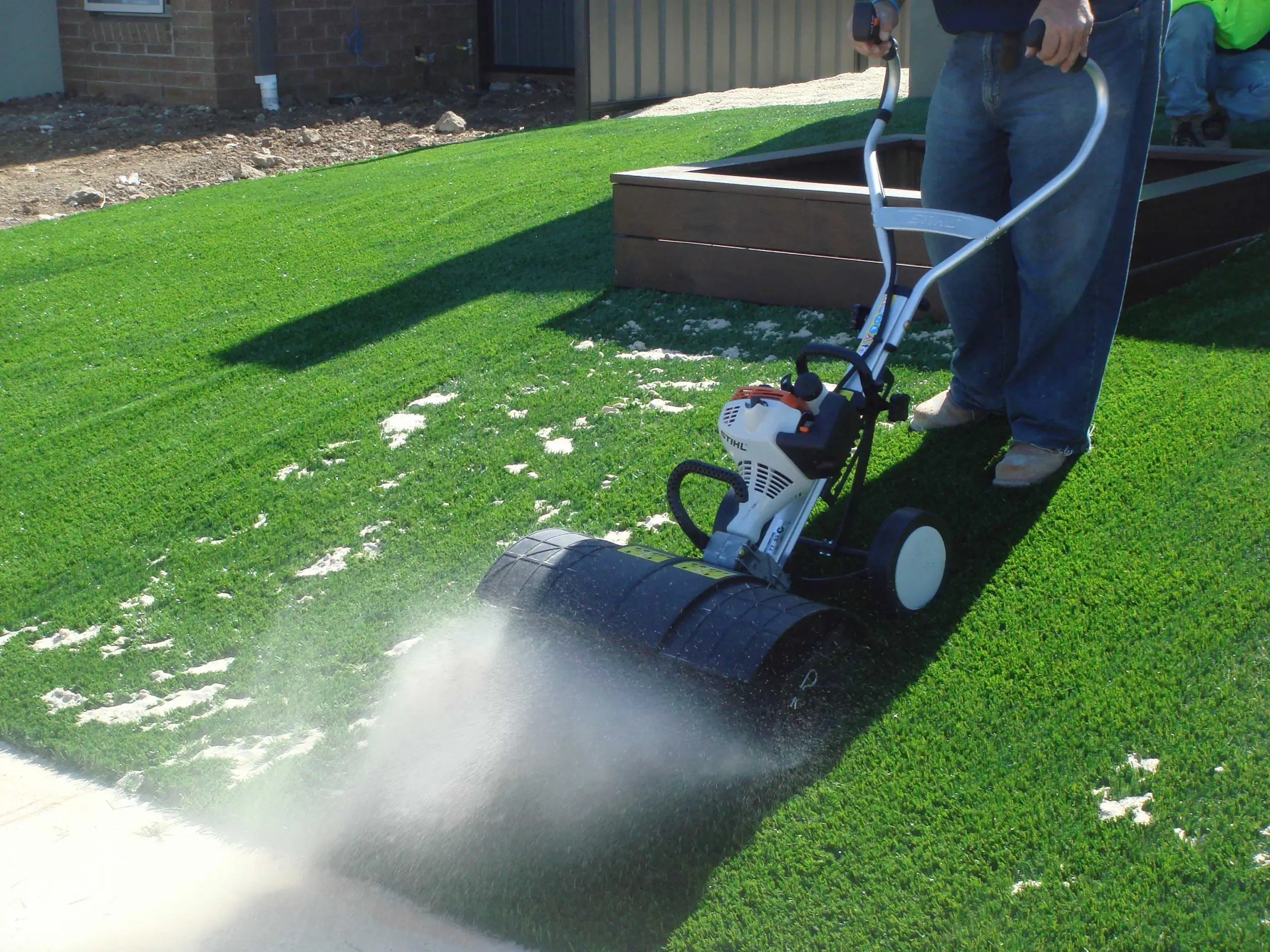 There are pros and cons to hiring professional install crews or DIY artificial turf installation, and you need to evaluate your situation objectively and decide based on your budget. DIY artificial turf installation may seem like a daunting task, but it could also be a fun activity for the family.
CCGrass, the world's leading artificial grass manufacturer, is dedicated to providing the best astro turf for both sports and landscape purposes. We manufacture a complete range of artificial turf applications for residential, commercial, DIY, pets, golf, city landscape and many more purposes. If you have any questions about artificial turf installation, please call us at 86 25 6981 1666 or email us at [email protected].