Does artificial grass increase home value?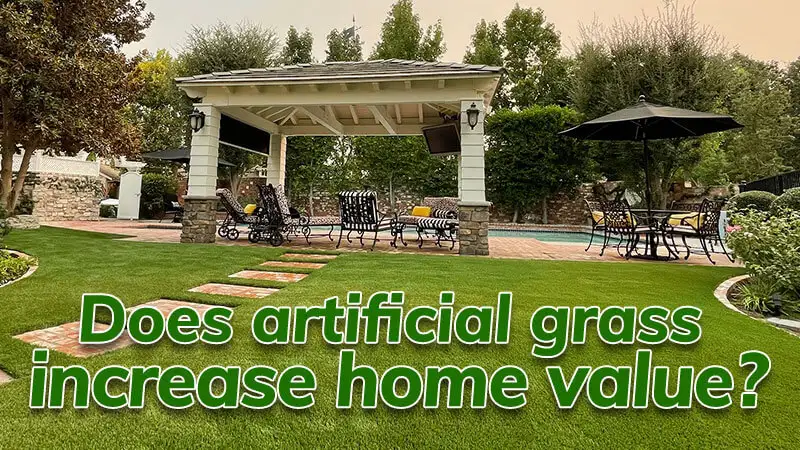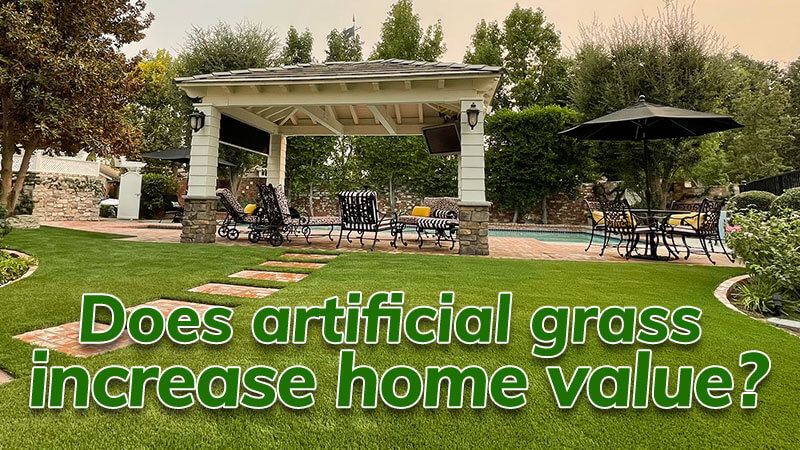 If you've ever considered moving and selling your house, you probably know that a nice, well-groomed garden is an invaluable asset for attracting potential buyers.
So should you choose natural grass or artificial grass for your garden lawn? If you enjoy gardening and have enough time, natural grass is your nice choice. However, if you are looking to add value to your property for sale, we would definitely recommend artificial turf.
How does artificial grass increase home value? Fake grass has many unique benefits over real grass and is a very quick and efficient way to add value to your home.
We've prepared a list of the benefits of artificial grass and some marketing tips on how to effectively present and communicate the artificial grass home value to potential buyers when it comes to selling.
How does artificial turf add value to a home?
Beyond the obvious aesthetic advantages, artificial grass has numerous practical benefits. In addition, potential home buyers often view artificial turf as a value-added and household luxury.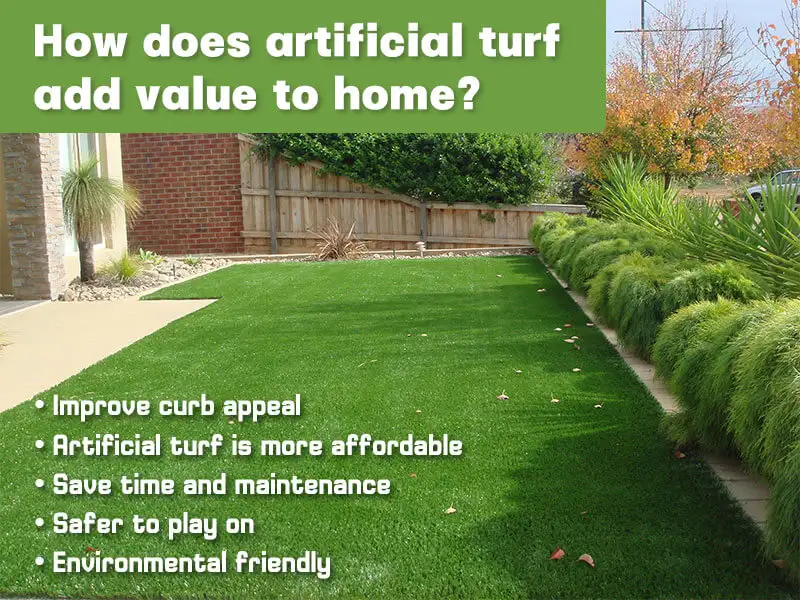 List of benefits of a house with fake grass
Improve curb appeal
Well-installed artificial turf greatly enhances curb appeal and improves the appearance of your home, which can positively add resale value to your home. Our synthetic turf has good UV resistance, won't fade or discolor over time, and your grass lawn will look beautiful to visitors no matter the season. As the saying goes that first impressions are everything, and curb appeal can make a big difference in how your home feels.
Synthetic grass is more affordable
In terms of initial cost, installing synthetic turf cost more than natural turf. But in the long run, high-quality artificial turf can last 8 to 12 years, amortizing less than natural grass landscaping. When it comes to maintenance costs, artificial turf costs are basically nothing. It radically reduces the cost of buying or renting lawn equipment, such as mowers, and weed whackers.
Save time and maintenance
Many potential home buyers see artificial turf with a hearty smile: ah, relaxing weekends ahead! Only minimal care is required to maintain the beauty of your house turf, including brushing, rinsing and removing debris.
On the other hand, maintenance and care that goes into a natural lawn involve mowing, edging, aeration, seeding, fertilizing, weed control, and watering, which is time-consuming. It is obvious that the cost of care and maintenance of artificial grass is much lower than natural grass.
Safer to play on
Unlike real grass, artificial grass does not require the use of unsafe chemicals, such as herbicides, fungicides, and pesticides, and does not contain any potential allergens. Children and pets can touch and play safely on your home grass!
On top of that, all of the CCGrass products pass the Health Testing including REACH, RoHS, DIN, EN71-3, ASTM, etc., which can prove our artificial grass doesn't contain any harmful components, such as lead, heavy metals, and substances of high concern.
Environmental friendly
With water conservation issues on the rise, artificial grass makes more sense than ever. Fake grass uses far less water than real grass, doesn't need water to keep it green, and doesn't require fertilizers or pesticides. Since mowing is not required, the carbon emissions of lawn mowers are non-existent. The low-maintenance nature of fake grass makes it an eco-friendly option.
Tips for increasing your home value to make it more saleable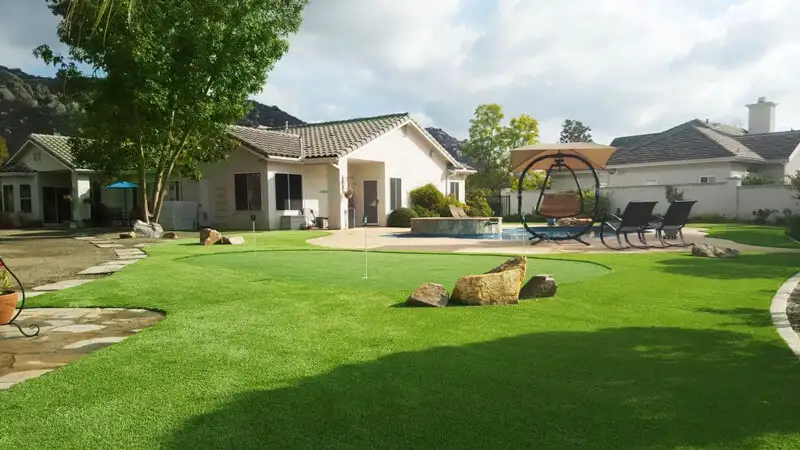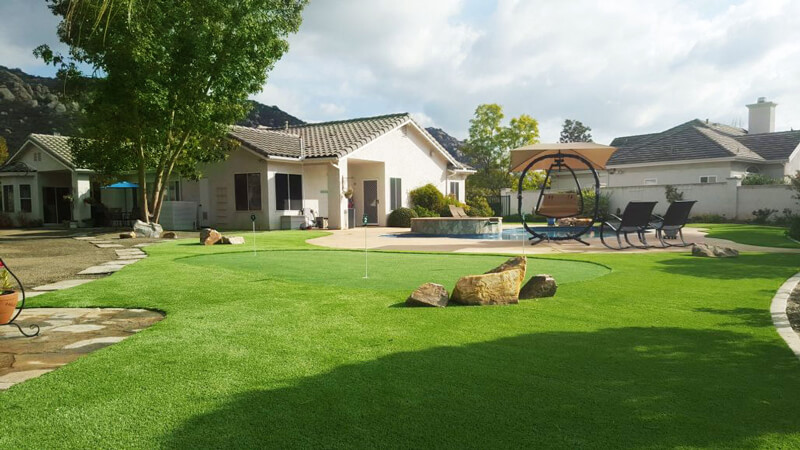 Invest in good photographs
Ultimately, you're selling a lifestyle, and the visual cues within a photograph can make all the difference. With neat, fluffy home turf, you can take more eye-catching and exquisite photos of your house. The turf lawn can add a touch of green to your shots, attracting would-be homebuyers while conveying a vibrant, comfortable lifestyle to them.
Pet-friendly artificial turf to increase value
Pet turf makes cleaning up pet waste easy, you just need to rinse it as often as needed. Our pet turf is specially designed with AegiPro tech, which inhibits the growth of bacteria and mold on the grass surface, as well as prevents the generation of odors. Our pet lawn can create a unique, pet-friendly environment that appeals to buyers with pets at home.
Organize your space
Clutter is objectionable to buyers. So, throw away what you don't need and pack up anything that looks redundant. It is also necessary to take good care of your garden. For your artificial lawn, you can spruce it up with a few simple steps. Rinse your grass lawn with a hose to remove dust from the surface. Brushing keeps your home turf pile bouncy and upright for a fluffy, natural look!
Final thoughts on increasing your home value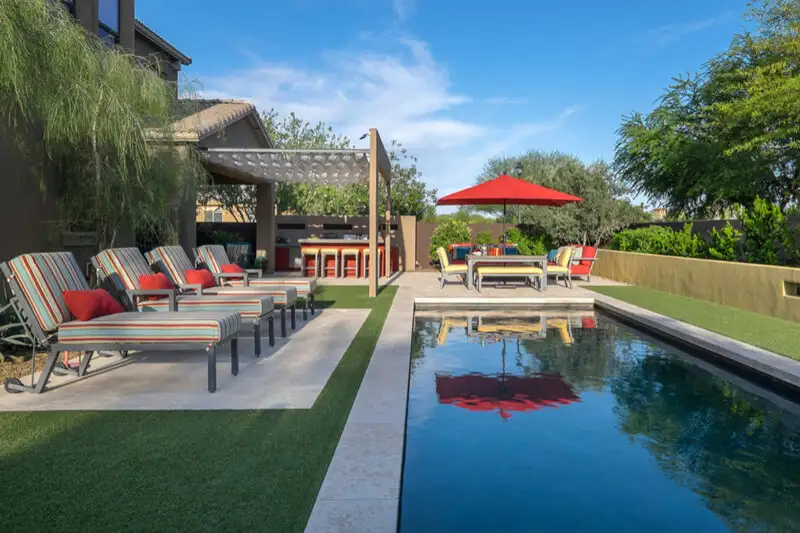 Does artificial turf add value to a home? From first impressions to long-term ROI, adding fake grass to your house is a wise investment.
Installing high-quality artificial grass in your house can help boost your home's appearance and add resale value to your home, while saving you from exhausting maintenance and a lot of money. To learn more about the benefits of synthetic turf, please read the article: Artificial Grass vs. Natural Grass
Of course, if you're not tired of your home, or you don't want to move any time soon, you can enjoy the benefits of a synthetic garden yourself.
Get in touch with CCGrass' turf experts who will help you learn more about how artificial turf adds value to your home. Please contact us on 86 25 6981 1666 or email [email protected].