Top 10 Benefits of Synthetic Turf
By now most people know that synthetic turf can be a game changer for clubs, schools, communities, and thousands of families. There are many advantages in having such a facility and so many plus points, that narrowing it down to just 10 is a real challenge. This post will list 10 benefits of synthetic turf compared to real grass, starting with 5 of the most obvious and then 5 lesser known benefits of artificial grass.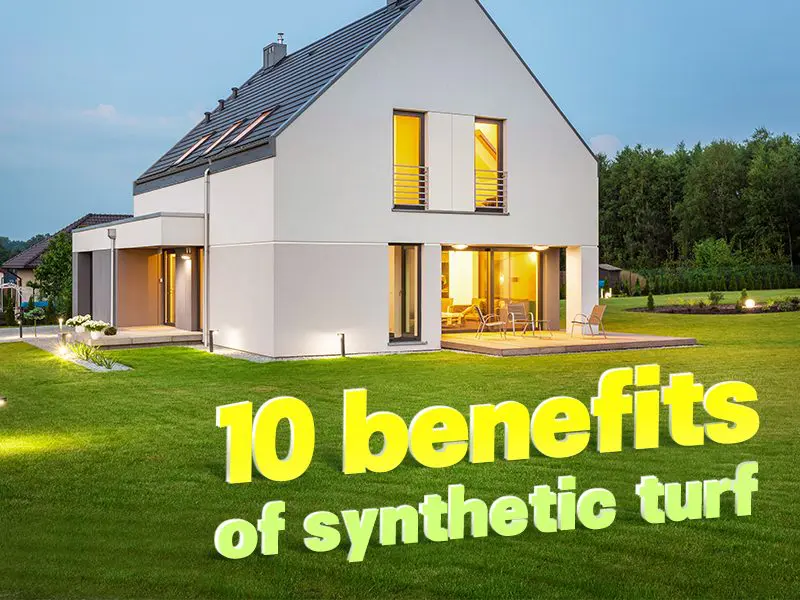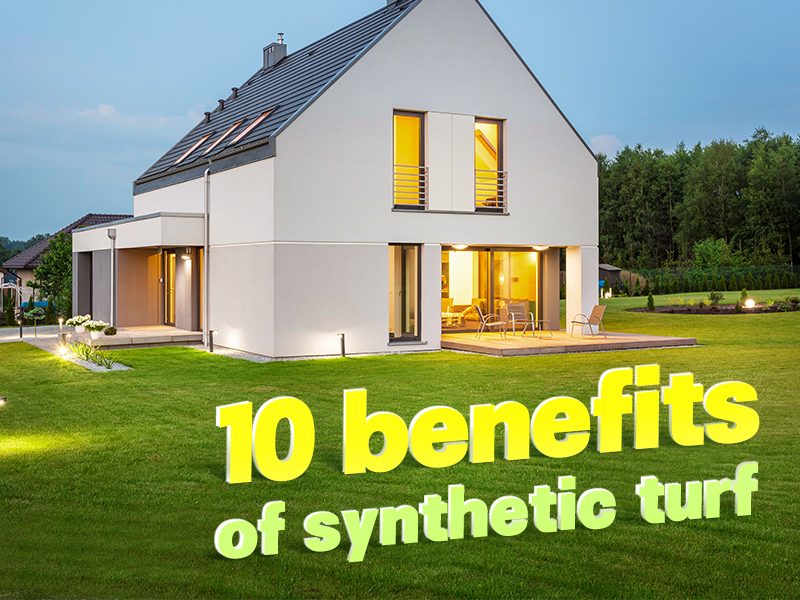 5 Well Known Benefits of Synthetic Turf
All-weather
Actually, if it snows this point can be challenged, but basically, the turf can be used in pretty much any weather. For example, in sport, the weather will not delay players from using the turf.
Maintenance free
A better description would be Easy or Less Maintenance, as cleaning, grooming and general care is still needed. To be exactly that less maintenance is one of the key benefits of artificial grass. Regarding some common issues about synthetic turf maintenance, we have prepared a guide for you, please click here to see: https://www.ccgrass.com/how-to-maintain-artificial-turf/
Long lasting
The main raw material of most artificial turf is polyethylene. Polyethylene products are not only soft and natural, but also have good wear resistance. For sports clubs, artificial sports pitches cannot be more suitable for daily intense training.
CCGrass sports turf has been widely adopted by top football clubs, such as Chelsea, Olympiacos CFP, etc. Our star product Superb is the most durable product in the market, which has 12-15 years warranty. For landscape turf, CCGrass uses the best UV inhibitors to offer extra protection to extend service life and ensure stability.
All year round green
Grass and sod will go into a dormant stage in the winter and turn brown and unsightly. Synthetic turf maintains the same color year around, no matter what season it can bring you a charming oasis. Choose artificial grass with UV protection so that even if you install it in a place where the sun is strong, it won't fade or discolour and will maintain its vibrant green colour. For the equatorial zones, sunny latitudes or thin air areas, this point is rally a decisive benefits of artificial grass.
Save money
Commercially synthetic turf pitches are proven to be a lifeline for schools and clubs when the income from external bookings is considered. In addition, most surfaces can be catered for multiple sports pitches to host more than one sport; for example, football and rugby go very well together.
CCGrass' multi-purpose systems have been used by a large number of universities, communities and amateur clubs, for they maximize function and minimize cost. The benefits of synthetic turf for household are even more, such as no mowing, no watering, no fertilizing, which can undoubtedly save a lot of expenses for your family.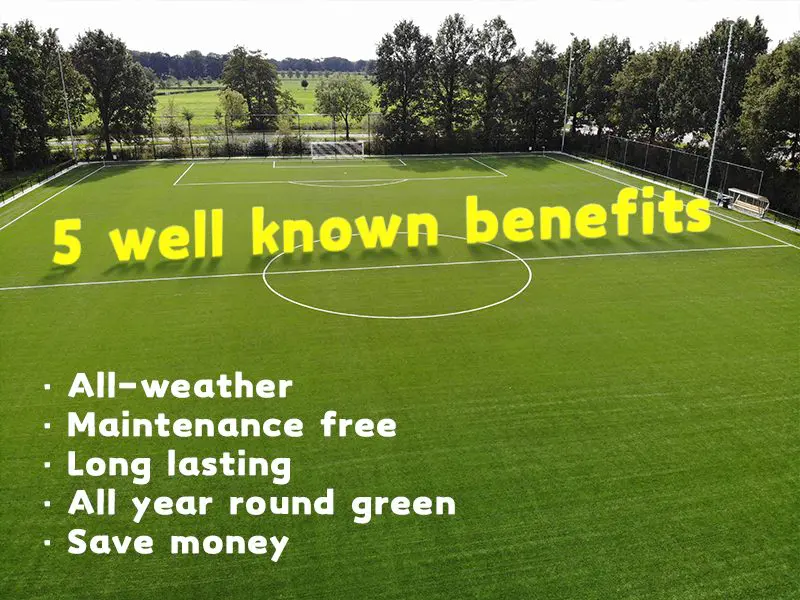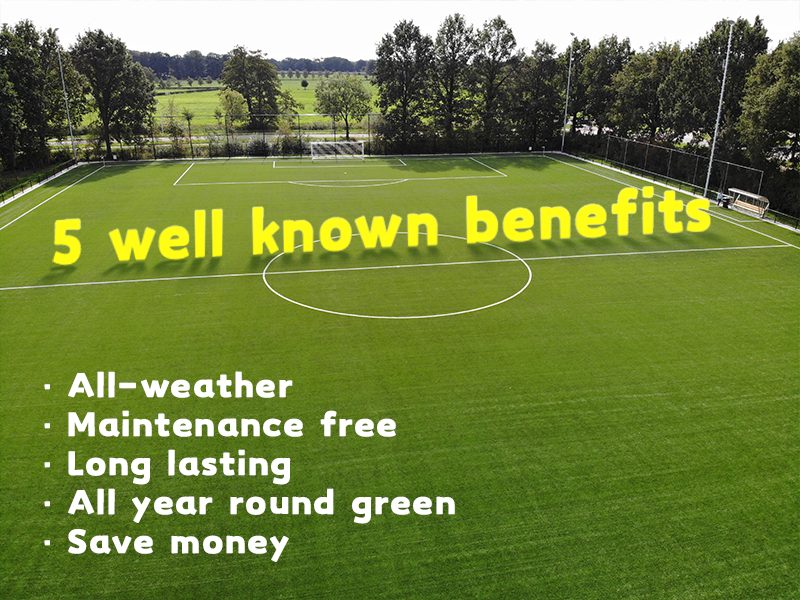 5 lesser known benefits of synthetic turf
Enjoy no more mud
Artificial turf is mud-free so you can look forward to no more muddy footprints, muddy patches, and no more dogs digging up mud holes in the turf  lawn and walking paw prints into the house.
On the sports field, some players like to play in mud, some don't. Certainly, the lack of dirt is a real plus for reducing kit washes, which is really an advantage and benefit of artificial grass pitches.
Environmentally friendly
No fertilisers or pesticides are needed for artificial grass lawn as is required with natural turf. This reduces environmental pollution caused by chemicals and keeps your garden safer. Moreover, the artificial turf does not need to be mowed, which saves fuel and greatly reduces air pollution. This is a critical environmental benefits of artificial grass.
Flexibility
With a well-built base beneath, some clubs cover the area with a marquee for special events; the turf is protected by a floor covering.
Similarly, the benefits of synthetic turf for rooftop are not only to make your rooftop attractive and functional, but also to protect the roofing material underneath from the bad weather, thus extending its lifespan.
Another innovative benefit of artificial grass is to cool down the rooftop. CCGrass has developed GrassCool series to increase the reflectance of the sunlight, decrease the thermo absorption and reduce the amount of power consumption used in cooling.
Safe for children and pets
For children or pets use, one of the benefits of synthetic turf is that you can choose anti-bacterial artificial grass to help prevent the spread of germs and bacteria. It is clean and tidy, soft and cushioned so perfect for playing on, as well as requires no chemicals or pesticides so is safer.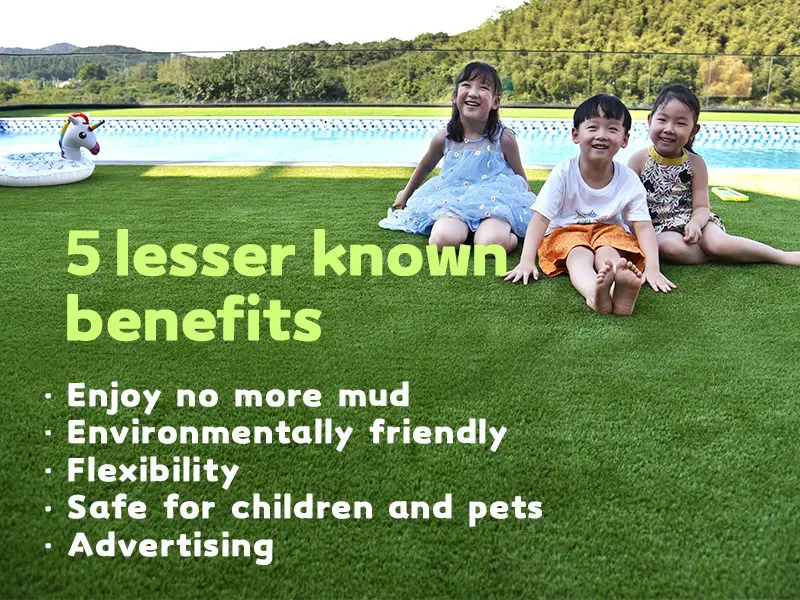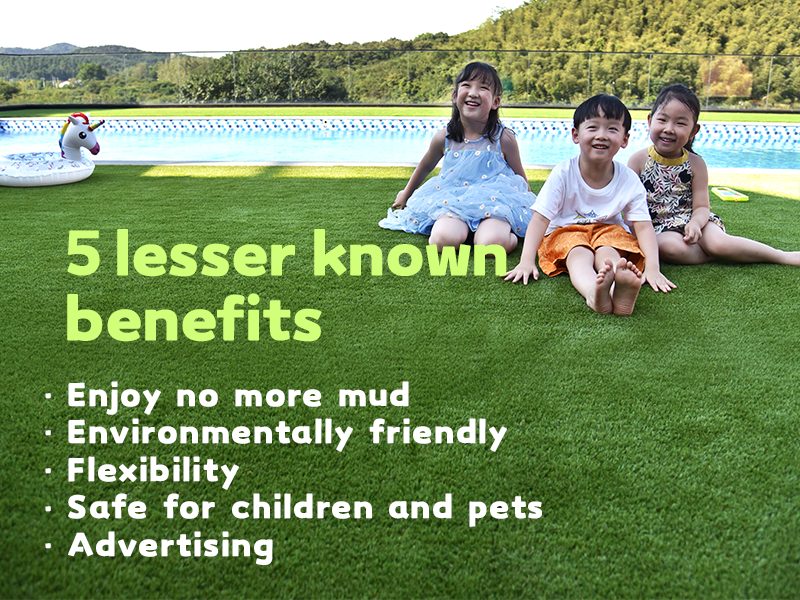 Advertising
Pitch fencing surrounds create a perfect medium for advertising boards, whilst sponsors logos can also be put into the surrounds of a pitch.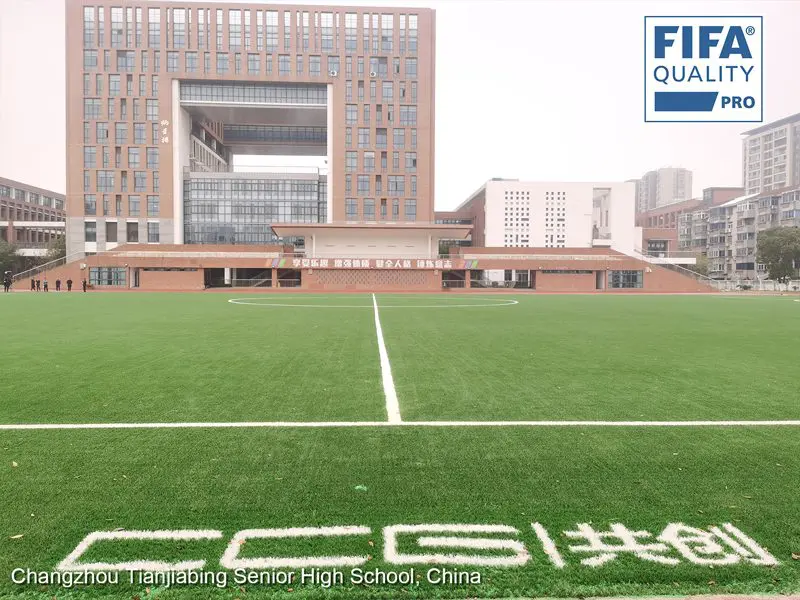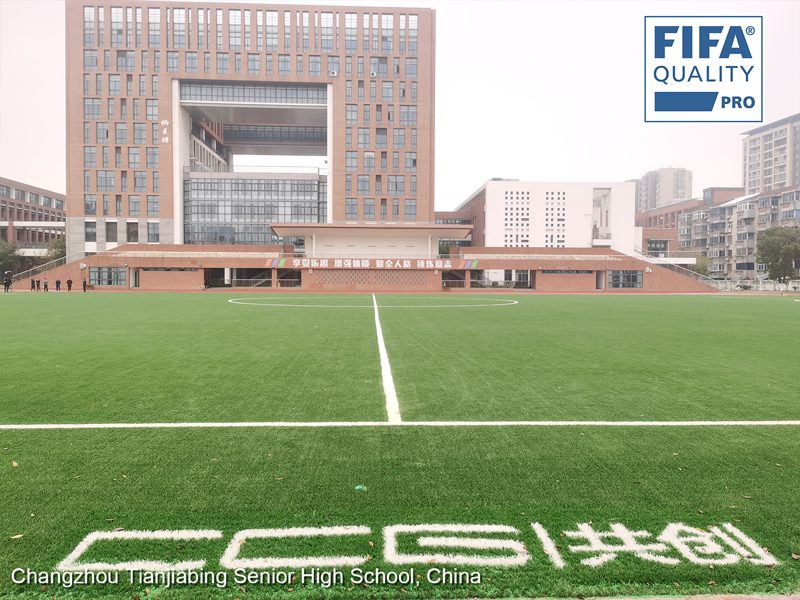 Since synthetic turf first became a viable and affordable alternative to natural turf it has become a necessity at most families, schools, universities, sports centres and junior clubs. Each will have realized its own benefits, but by far the biggest benefit of artificial grass is to make participation possible.
With society's focus on health and fitness, the more people who can safely participate in some activity, the better we are. We sincerely hope that more people can enjoy the benefits of synthetic turf pitches or artificial grass lawns.
There are many more advantages of artificial grass. We would be interested in knowing your top benefits of synthetic turf.
CCGrass has developed a range of sports systems for major sports such as football, hockey, rugby, tennis, padel and multi-sport. We manufacture a complete range of artificial grass applications for residential, commercial, DIY, pets, golf, city landscape and many more purposes. Call us at 86 25 6981 1666 or email us at [email protected] to find out more!