Artificial Grass vs. Natural Grass: Which Should You Choose for Your Lawn?
Artificial grass is becoming increasingly popular as it is more suitable for modern busy lifestyles. Compared to traditional lawns, artificial grass requires far less time and effort. Natural grass also has its charms, and here are some trade-offs when deciding what's the best option for your lawn.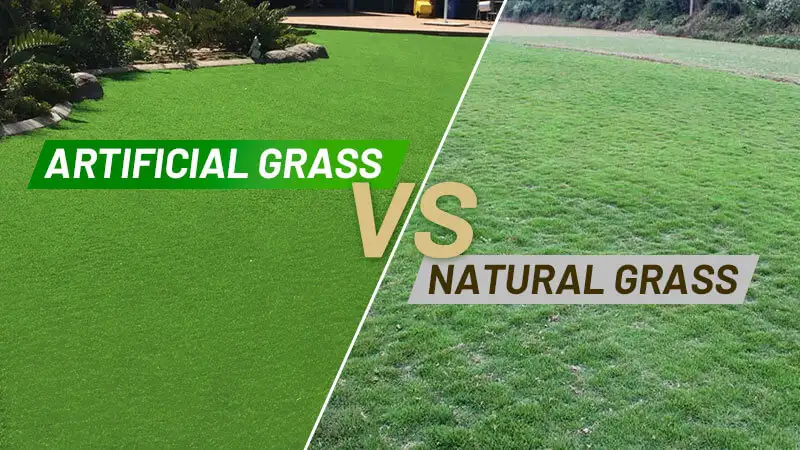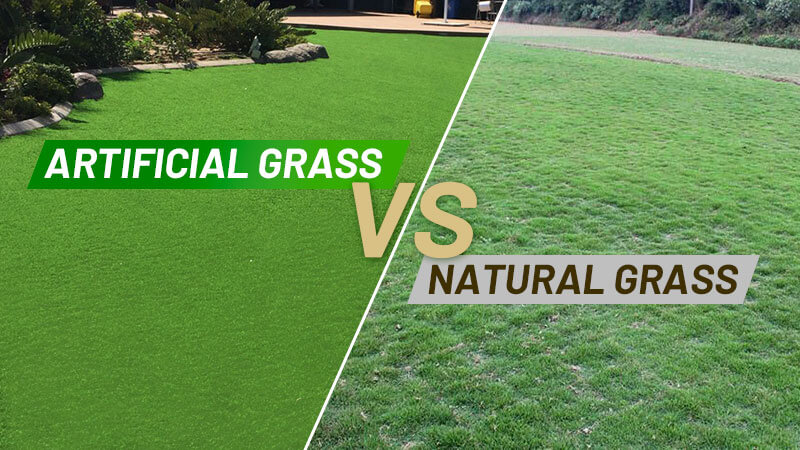 Pros of Artificial Grass
All-weather
Artificial lawns remain green all year round, are basically weather-proof, and are all-weather lawns that drain quickly after heavy rains without standing water or flooding.
Extensive uses
Artificial grass is widely used. Not only does it look stunning in the garden, but it can be used for a variety of uses and environments, including decks, poolsides, roof terraces, play areas, offices, exhibition spaces, balconies, restaurants, and hotels, gyms, and more.
Safe for children and pets
The great thing about synthetic turf is that you can choose anti-bacterial artificial grass to help prevent the spread of germs and bacteria. It is clean and tidy, soft and cushioned so perfect for playing on, as well as requires no chemicals or pesticides so is safer.
Cost-effective
Commercially synthetic turf pitches are proven to be a lifeline for schools and clubs when the income from external bookings is considered. In addition, most surfaces can host more than one sport; for example, football and rugby go very well together.
CCGrass' multi-purpose systems have been used by a large number of universities, communities, and amateur clubs, for they maximize function and minimize cost.
The benefits of synthetic turf for households are even more, such as no mowing, no watering, and no fertilizing, which can undoubtedly save a lot of expenses for your family.
Cons of Artificial Grass
The initial cost
Installing an artificial lawn is not a small investment. To get the best results, most homeowners pay for counseling, artificial grass, and installation. The cost of a project depends on the area of artificial turf you need to install. We offer free consultations and evaluations for anyone considering turf.
Artificial grass absorbs heat in hot weather
Artificial grass gets hot in extreme heat but does not cause any burns. There are many easy ways to keep your synthetic turf from getting too hot even on a hot summer day. Check this article to learn about 5 ways to cool down artificial grass.
Pros of Natural Grass
Natural and fresh air
Live lawns can purify dust and dirt from the air, capture carbon dioxide, produce oxygen, and help improve the air quality around your home. Microbes in the soil also help break down pollutants.
Natural grass has the potential to last forever
If you enjoy spending weekends in the garden and taking care of your outdoor areas, then a natural lawn is a great option for you. With a natural lawn, what you put in is what you get. A well-maintained natural lawn has the potential to last for many years.
Cons of Natural Grass
Not durable enough
Real grass cannot withstand prolonged use and trampling, which may make it unsuitable for children's play, homes with dogs, commercial areas, and other high-traffic areas.
Easily can become an eyesore
Since the grass is natural, it is profoundly affected by the environment and weather and has seasonal yellowing periods. If the grass is not well maintained, it can reduce the value of your home, increase pests, and develop fungus.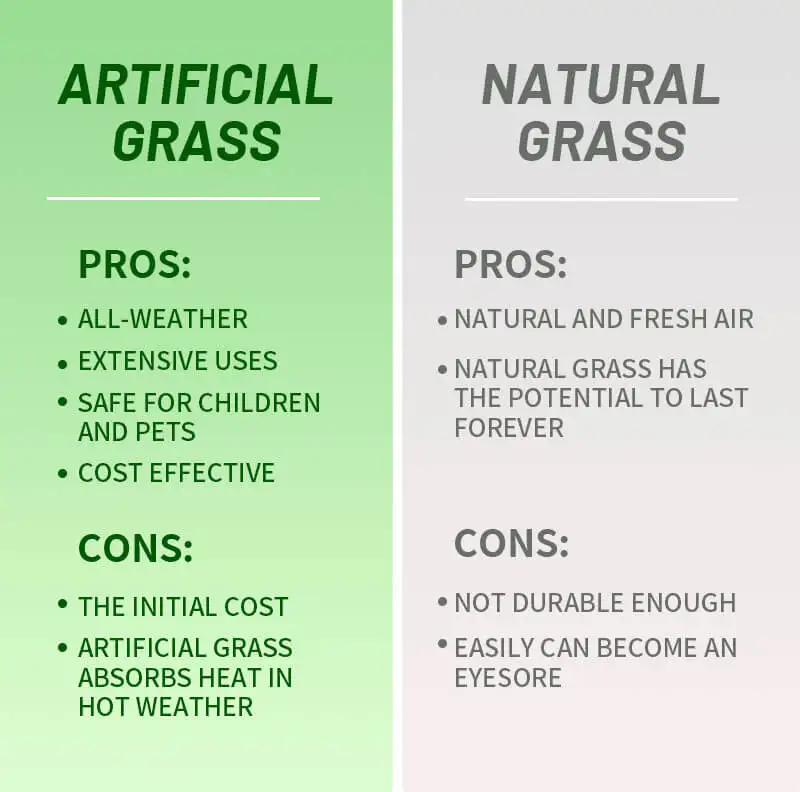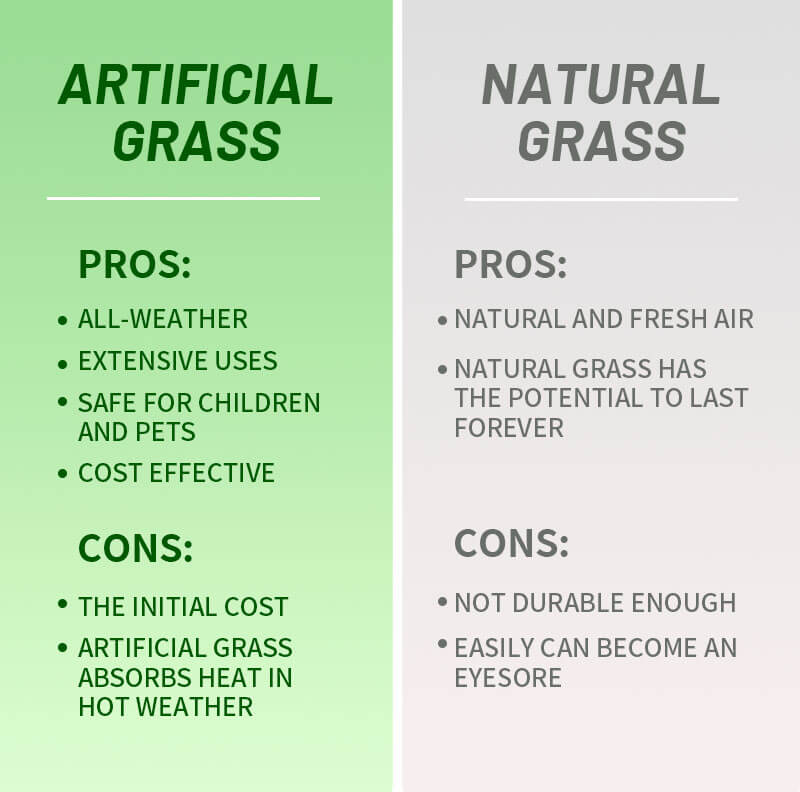 The Differences between Natural Grass and Artificial Grass
In addition to the pros and cons mentioned above, the following will elaborate on the differences between natural grass and artificial turf from the aspects of aesthetics, maintenance, cost and environmental impact.
Aesthetic
Natural grass aesthetics
A traditional lawn will certainly give your outdoor space a more beautiful and natural look, but without a lot of weekend time or a gardener, keeping real grass flat, green, and weed-free can be a major challenge.
It is nearly impossible to have a beautiful natural lawn without spending a lot of time and money – especially in arid regions such as northern Australia, western America, and the Middle East. In these areas, the grass needs irrigation at least twice a day.
 Artificial grass aesthetics
Artificial grass comes in a variety of colors, piles, lengths, densities, textures, yarns, and design options, meaning you can customize it to your needs and style choices.
Inspired by real grass, CCGrass landscape designs grass in diverse shapes, color shades, thicknesses, and special combinations, making sure it looks as natural as possible while having different personalities.
Care and Maintenance
How to maintain natural grass?
Natural lawns require high and continuous maintenance. Natural grass maintenance includes:
Mowing
Weeding
Fertilizing
Watering
Overseeding
Pest control
To get the most out of your lawn, try to get your soil at the correct PH level and choose a seed mix that matches your local climate. This will slightly reduce the amount of fertilizer, watering, and seeds needed to maintain your backyard.
How to maintain an artificial lawn?
Compared to natural grass, artificial grass is almost maintenance-free.
Steps to clean artificial turf regularly include:
Use a grass brush or a bristle broom to remove debris from the lawn.
Your turf is flushed every time it rains, but it can be helpful to give it a hose rinse from time to time, especially during periods of low rainfall. This can help remove dust, pollen, and grime from the surface.
For areas that a simple rinse cannot clean completely, just mix warm water with a household cleaner, sponge, and rinse.
Brush it every now to make your artificial grass look lush and attractive.
Cost
Real grass
Complicated maintenance procedures lead to high maintenance costs. The recurring costs of water, conventional fertilizers, and seeds are already significant expenses. Additionally, the lawnmower, weeder, and strimmer are costly to buy and operate. To counter this, you may also need to hire a local landscaper.
Synthetic turf
In terms of initial cost, installing synthetic turf can cost more than natural turf. But when it comes to maintenance costs, artificial turf costs are basically nothing.
The environment
The environmental impact of real grass
Natural grass requires a lot of water, especially during the hot summer months. The air pollution caused by the equipment needed to maintain lawns, such as gas mowers, far outstrips the oxygen-producing benefits of grass. If you use fertilizers and pesticides on grass, the runoff may contaminate the surrounding area.
The environmental impact of artificial grass
With water conservation issues on the rise, artificial grass makes more sense than ever. Fake grass uses far less water than real grass, doesn't need water to keep it green, and doesn't require fertilizers or pesticides. Since mowing is not required, the carbon emissions of lawn mowers are non-existent. The low-maintenance nature of fake grass makes it an eco-friendly option.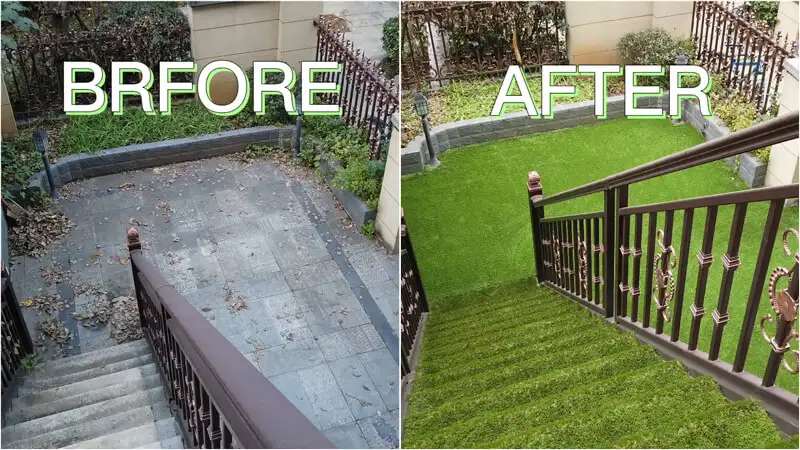 Real Grass vs. Fake Grass: Which Should You Choose for Your Lawn?
Some keen gardeners love to care for and maintain their garden and take pride in its appearance, enjoying the pleasure of mowing the lawn on a sunny Sunday afternoon.
However, if you're open to the idea of a free weekend, more cash in your pocket, and lean toward a "set it and forget it" landscaping option, artificial turf is for you.
If you live in a place where water is scarce, or if you are busy with work, life, and travel, artificial grass is the perfect choice for you.
If you are interested in artificial grass and want to know more, you can click our "Knowledge Center" column. Contact us on 86 25 6981 1666 or email [email protected] for free samples and quotes!