Guide to Decorating Artificial Grass Rugs for Outdoors and Indoors
If you're looking for a way to add some green and warmth to your home without the hassle or expense of caring for natural plants, artificial grass rugs are an attractive option.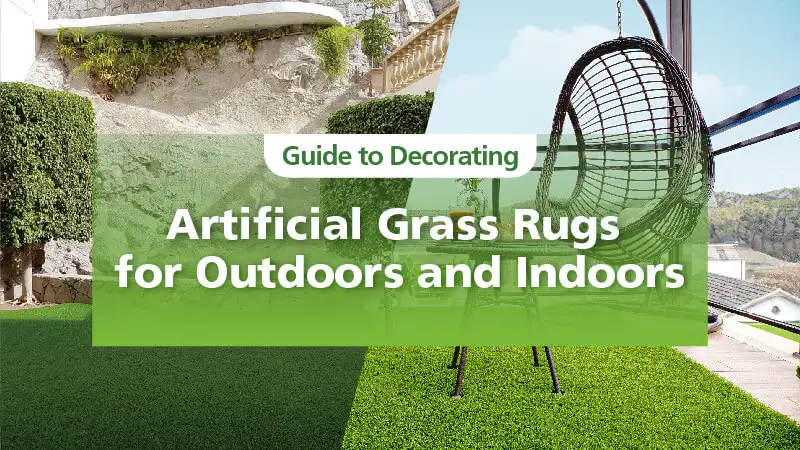 Artificial Turf VS Artificial Grass Rug
When many people think of artificial grass, the first thing that comes to mind is playing fields. In fact, because of the low maintenance costs and visual appeal, artificial turf is widely used in residential, commercial, urban landscapes, etc., and is an excellent substitute for real grass. Not only is the use of artificial turf growing, but it is also being used in all kinds of ways, often outdoors as well as indoors.
Artificial grass is a term that applies to many different products and applications. If you're looking to buy a carpet that looks like grass, you might ask: what's the fake grass carpet called? There is a more common name is artificial grass rug.
An artificial grass rug is a product derived from artificial turf. There are plentiful types of artificial grass rugs and numerous lawn products to choose from. It can be said that each of our turf products is basically a lightweight rug. For some uses and needs, our synthetic turf rugs are made with flat wire edges, which are tight and smooth to make them more durable.
Synthetic turf rugs can be DIY into different sizes and shapes, and if you're a creative and handy person, the ways you can use artificial grass are endless.
Artificial Grass Rugs for Outdoor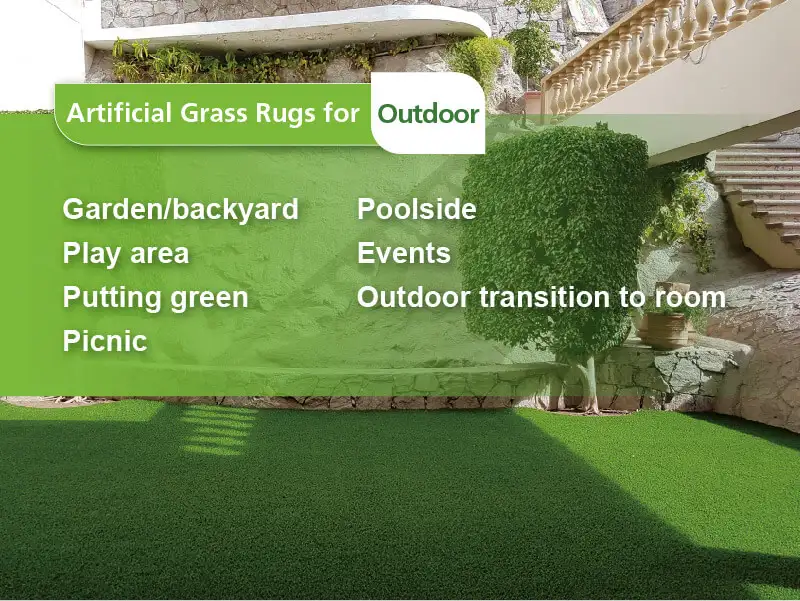 Garden/backyard
Artificial turf can easily add a touch of green to your garden or small yard. A creative, well-designed garden patio or outdoor space is enlivened with the addition of a grass blanket.
Artificial grass rugs come in a variety of styles, colors, and DIY options, and you can use them to cover your furniture and spice up your outdoor seating. Grass carpets are also great for parties and gatherings because they are easy to clean and can withstand high traffic.
Play area
Artificial grass has high wear resistance and excellent resilience, so children can play on it freely and avoid bringing dirt and grass clippings into the home. Our synthetic grass is available in multiple colors and you can be creative in designing your children's play area.
Putting green
You can enjoy manicured putting greens anytime you want to play golf. No need to drive to the range, no dress code, and no waiting, it will make your life easier and more enjoyable!
Our Golf Putting Mat is versatile for home practicing, backyard sporting, family entertainment, and office relaxing. We offer delicate patterns and shapes in various sizes, which can perfectly realize your customization requirement.
Picnic
Picnic grass blankets are free of dust and leaves, making your picnic easier. And it's easy to fold up and throw in the back of your car! CCGrass Picnic Grass looks and feels like real grass, with a carrying handle for easy portability as well as a special backing that prevents water penetration and slippage.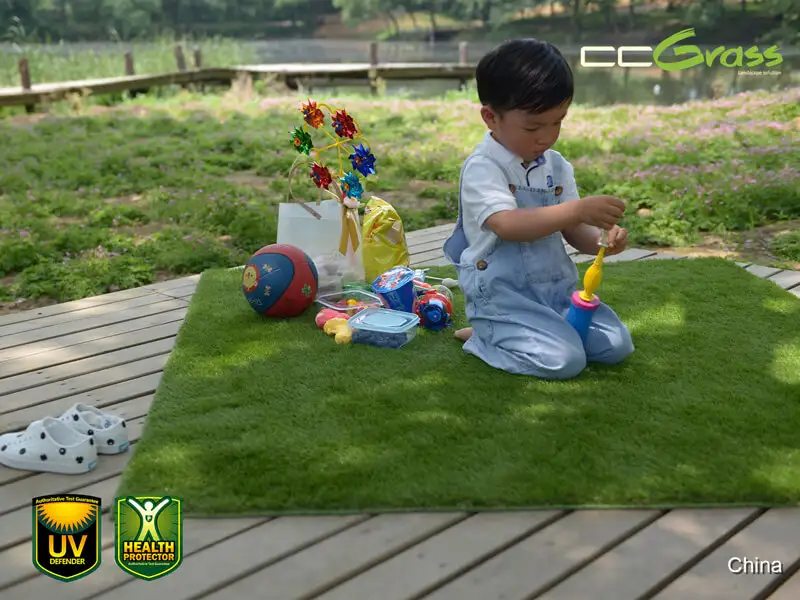 Poolside
Artificial grass rugs are an excellent choice for poolside. Adds extra safety over the floor as it absorbs splashes and prevents slippery surfaces. It also feels much better underfoot than concrete, wood, or industrial carpets. Plus, lush green grass rugs adorn your pool lend your space an aesthetic, inviting look.
Events
Elegant and chic lawn weddings with beautiful wedding dresses and sunshine let the wedding out of the ordinary and more natural.
For more casual events held outdoors using a canopy tent, you may want to cover the floor with a rug that blends in with the grass and coordinates with your color scheme. In this case, an outdoor grass rug is a perfect choice!
Outdoor transition to room
In some domestic and commercial locations, artificial turf is an awesome addition to rooms that transition into an outdoor space, such as porches, conservatories, or garden rooms.
Artificial Grass Rugs for Indoor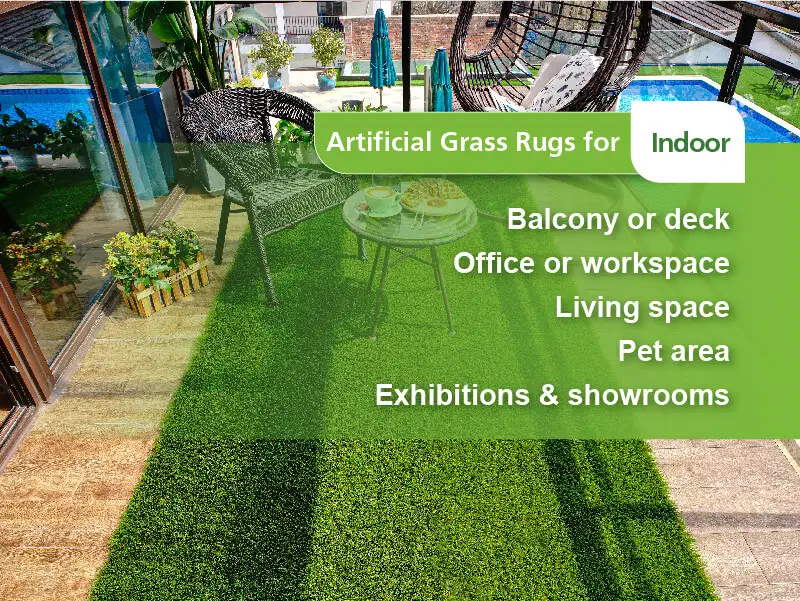 Balcony or deck
The balcony of a lot of families is used as living clutter areas, which is a big waste of space. Having a cozy balcony space can be a huge plus, especially during quarantine.
Covered with turf carpet, the balcony becomes more dynamic and attractive, perfect for relaxing and enjoying family time.
Office or workspace
Artificial grass rugs are a great way to liven up a dull, drab office environment. Lush grass rugs are a refreshing addition to tile floors or commercial carpets. Add a lawn lounge area where employees can relax for a while, and is also ideal for impromptu meetings and brainstorming. A natural, fresh working environment helps to lift the spirits of employees, allowing them to be inspired and relaxed.
Living space
Faux grass rugs add unexpected fun and sophistication to living spaces. A plush green rug can easily bring a cozy, natural feel to your living room, bedroom, study, children's room, or any other living space. You'll enjoy the soft, skin-friendly feel under your feet.
Imagine waking up in the morning with the sun shining through the window on the head of your bed, and your bare feet on a soft grass rug that will make your day. Synthetic grass carpets are also flawless for exercise and fitness areas.
Pet area
Synthetic turf is an interesting addition to the pet nest. Every pet loves nature! The soft surface also protects pets' paws and is a small play area for pets indoors. Our PET Mat is specially made for pets that are small, light, and easy to carry in many styles. Give PET Mat to your lovely pet and enable them to enjoy the green at home anytime!
Exhibitions & showrooms
In the exhibition, artificial grass can be used to assist the display of various products, integrated into the design of the exhibition hall, which can help your platform stand out from the crowd.
Conclusion
Whether outdoors or indoors, you can easily bring a touch of nature and add some vibrant green to your space with an artificial grass rug. Even more surprising, grass rugs are available in a wide variety of styles, colors, heights, and densities.
When choosing a synthetic grass rug, you should consider comfort, intended use, and your personal style. If you would like more product information or free samples, please call us at 86 25 6981 1666 or email us at [email protected].