A Comprehensive Buyer's Guide: How to Choose the Best Artificial Grass for Playground
Playgrounds are great places for children to play outdoors, and parents always want their kids to have fun on a safe and clean surface. Whether you're looking to create an inviting, cozy, and aesthetically pleasing children's play area for your backyard or local park, there's no better option than playground turf.
Check out our comprehensive guide to artificial grass for playground to help you understand the ins and outs of artificial turf and how to choose the best playground turf.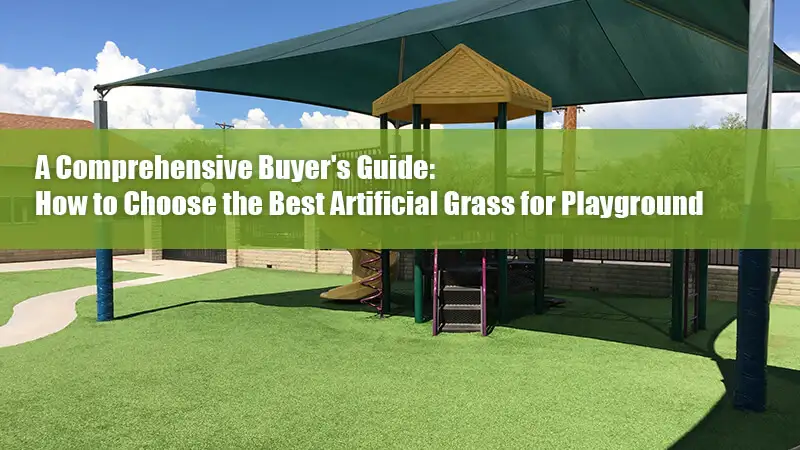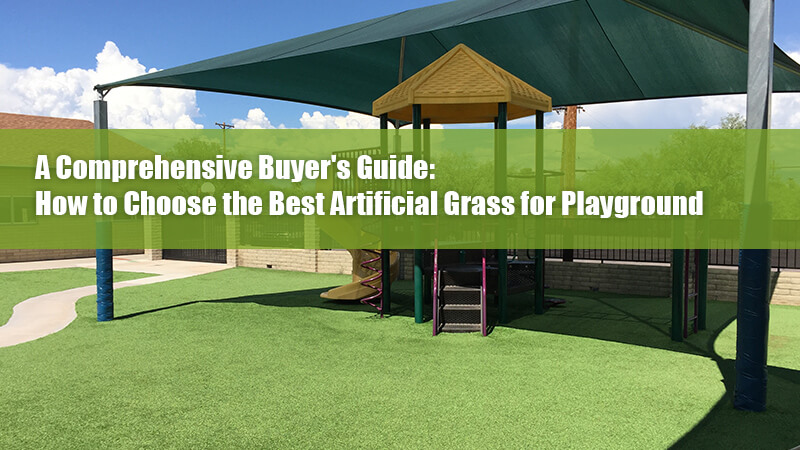 Understanding artificial turf specifications
When you are shopping for playground turf, you'll find a wide variety of products to choose from, so it's necessary to learn the terms of the artificial grass industry.
By understanding the product specifications and following our suggestions, you'll feel confident in your ability to opt for the most suitable turf products for the playground and create a unique and beautiful children's play space.
Playground turf materials
What is synthetic grass made of? At first, fake grass was made from nylon (PA), then polypropylene (PP), and now mainly polyethylene (PE).
Playground turf is usually made of polyethylene. Polyethylene grass is both soft and durable, and behaves most like real grass, making it ideal for playground surfaces.
Thatch layer
The curly, soft thatch layer is the hallmark of premium landscape turf products and is used to increase the realistic appearance of the lawn while providing a comfortable foot feel.
Pile Height of artificial grass for playground
The length of the tufts is measured from the primary backing top surface to their tips, is usually measured in millimeters (mm). Typically, the choice of pile height depends on your preference and how you plan to use the lawn.
If you like your lawn surface to look lush and luxury, you'd better choose high-pile (30mm upwards) artificial grass. The ideal pile height for a natural-looking garden should be between 35 and 50 mm.
For areas with frequent usage and high foot traffic, it is best to choose short-pile turf. Playgrounds are subject to heavy, continuous use, so for playground grass, we recommend selecting lawn products with piles of 30mm and below.
Gauge
The gauge is the measure of distance between two lines of stitched artificial grass, which plays an important role in the overall look and feel of your artificial turf. Usually using 'inch' as the unit, the common gauge includes 3/4 inch, 3/8 inch, 3/16 inch, 5/16 inch, 5/32 inch…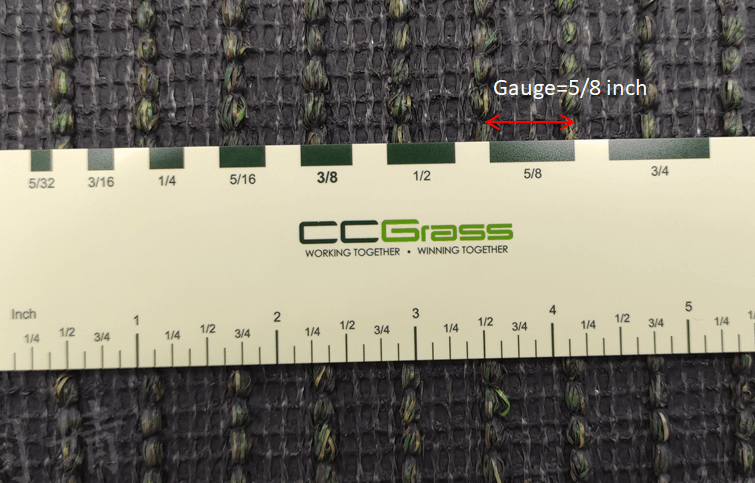 Stitch rate
Stitch rate is the number of stitches per 10cm in the stitch line direction. The gauge of a machine does not change but the stitch rate can. The higher the number of stitches, the denser the grass.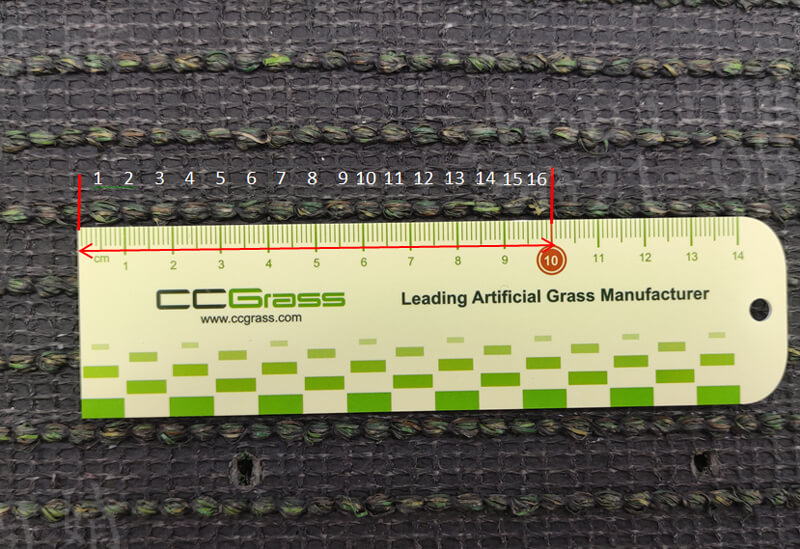 Face weight
The face weight of artificial turf is the weight of the yarn in one square yard of grass. Higher face weight means denser and more durable turf products. Artificial turf for a playground with 70 ounces or higher face weight works best.
Turf backing and drainage
The role of the backing is to ensure that the fibers stay where they have been tufted. This means they need to be anchored in place to provide the correct "tuft lock". CCGrass has different backings to choose from – latex, PU, PRT, or RCX. The latter two are recyclable and 100% permeable, whereas latex and PU require drainage holes to be punched through the backing.
For most playgrounds, PU backing is sufficient. Our PRT and RCX backings are more effective drainage systems for areas prone to standing water, helping to create a safer, non-slip surface for kids.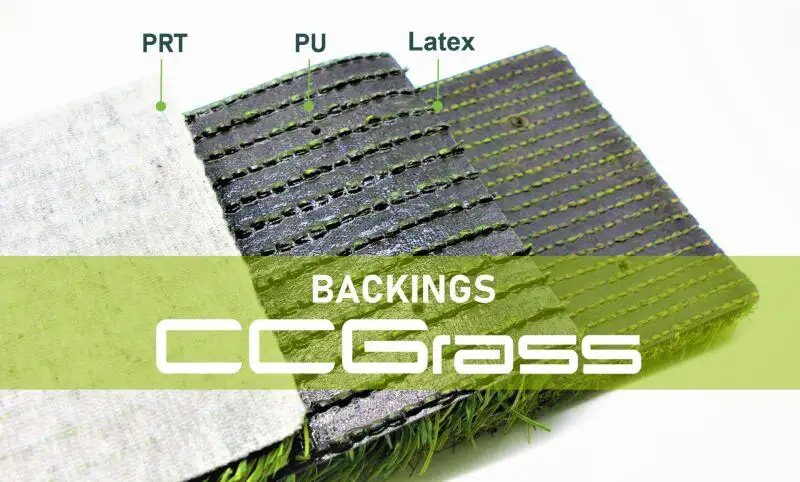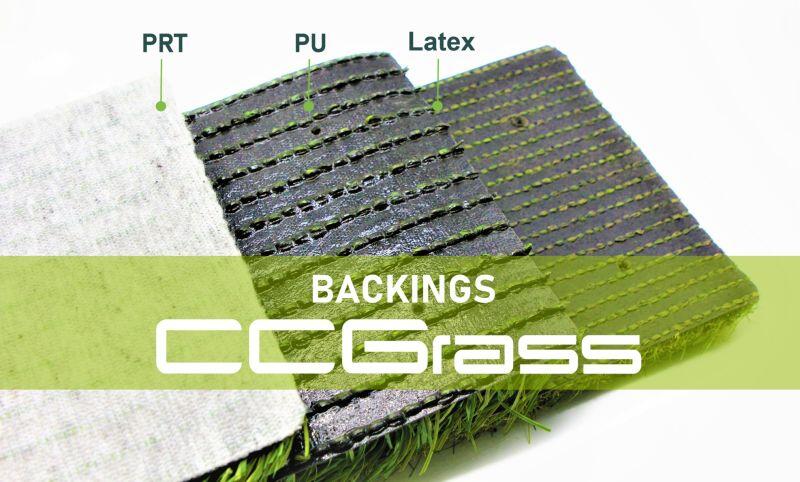 Antibacterial artificial grass for playground
What makes it possible to have artificial grass behavior is an additive that kills bacteria. Our playground grass is designed with Patented Antibacterial Tech and has passed SGS laboratory tests. Build-in antibacterial function inhibits the growth of bacteria and mold on artificial turf, providing long-lasting protection for children.
Playground turf padding
Playground turf padding is installed in place for shock absorption. Elastic layer pads are necessary for commercial playground turf installations. When it comes to the installation of artificial grass for the backyard playground, it is up to you to decide whether you need a shock pad.
Shockpads are fully permeable and available in multiple thicknesses, adding extra cushioning and a soft feel to the artificial turf surface as well as kids will have a safer children's play area.
Benefits of artificial playground turf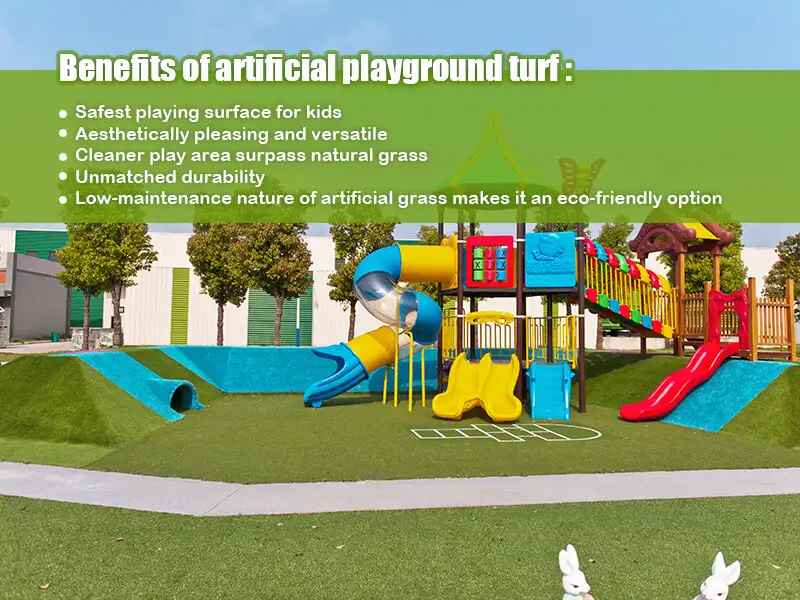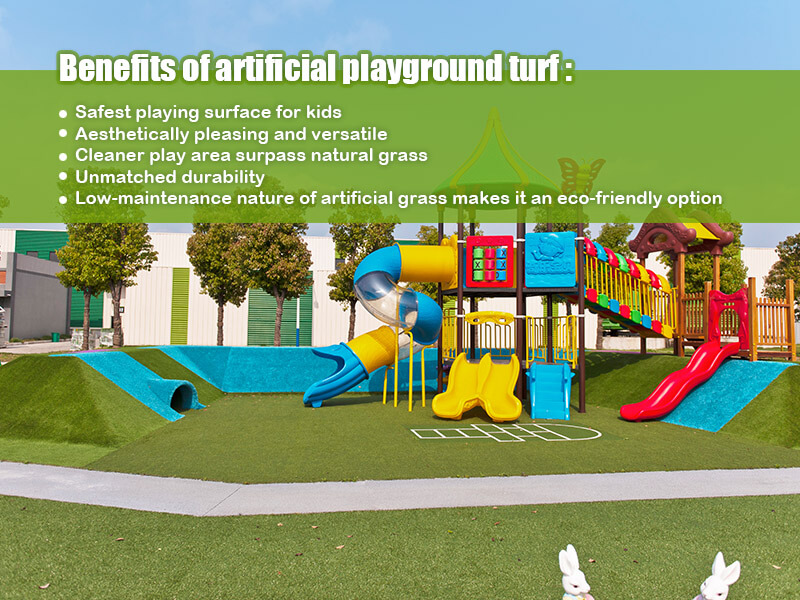 Safest playing surface for kids
It is common for children to fall down during playing, but you need not worry at all. Playground turf provides a softer and safer surface than materials such as rubber, tiles, soil, and sand. It also absorbs impact better than either. When children fall on turf surfaces, they are less likely to suffer abrasions and other injuries.
On top of that, our artificial turf products pass the Health Tests including REACH, RoHS, DIN, EN71-3, ASTM, etc., which can prove our grass doesn't contain any harmful components, such as lead, other heavy metals, and substances of high concern.
CCGrass holds the HEALTH qualification that our grass product has been tested for more than 200 substances according to the highest industry standards on health and safety.
Aesthetically pleasing and versatile
Our playground turf has the look and feels of natural grass, maintaining the natural beauty of the outdoors in all seasons, so that your children can always feel connected to nature.
CCGrass artificial turf for the playground is available in a variety of colors to fulfill the diverse needs of different projects, allowing you to creatively design your playground space. You can customize markings to delineate different zones and inspire additional play modes by using multiple artificial grass colors, which also can be used to create patterns or whimsical walkways.
A cleaner play area surpasses natural grass
Mud and grass stains are inevitable when playing on real grass, and there are some potential threats. There may be chemical residues such as fertilizers and herbicides on the surface of natural grass, while natural plants themselves may become allergens for some children, let alone common insect bites.
Playgrounds paved with fake grass will be free from all these mud, chemicals, allergens and insects, providing cleaner, healthier play areas for kids.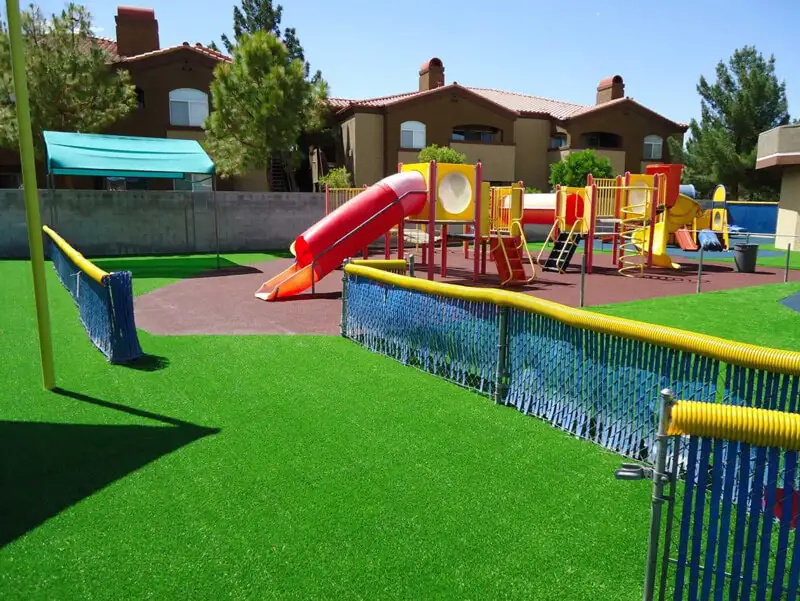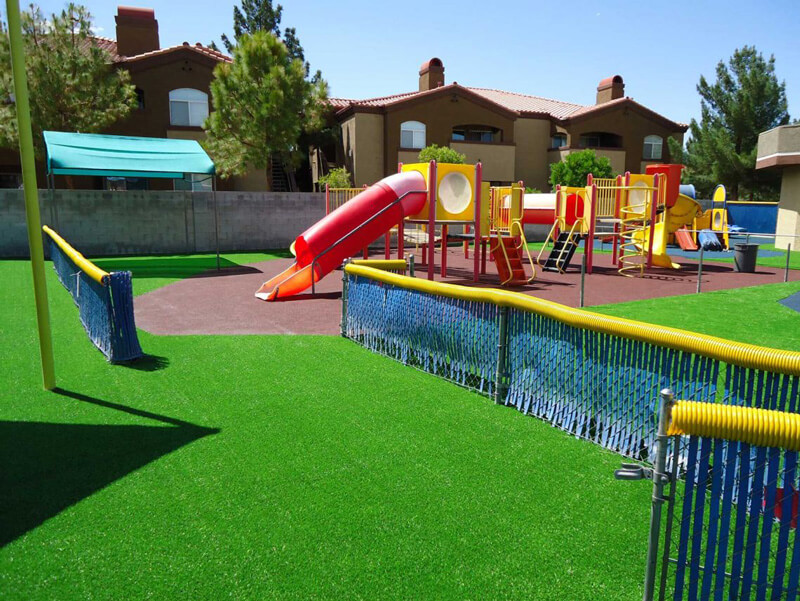 Unmatched durability
For children's playgrounds with heavy foot traffic, synthetic grass with unmatched durability is your best choice. Our artificial grass for the playground has a life span of up to 10 years and can be used continuously throughout the year yet maintains a good condition.
Specially designed for long-term and outdoor application, our playground turf applies the highest level of UV defense to ensure that the turf won't fade and damage in the summer heat, while great stability avoids cracking during the winter.
The low-maintenance nature of artificial grass makes it an eco-friendly option
Playground turf is a sustainable, environmentally friendly alternative. Synthetic turf uses far less water than natural turf and eliminates the need for chemicals to stay green and healthy. Since mowing is not required, the carbon emissions of lawn mowers are non-existent.
When you choose fake grass for your playground, you will save time and money on maintenance and upkeep. From lawn mowers to fertilizers to the time it takes to maintain the lawn, investing in artificial grass for playgrounds makes a lot of economic sense in the long run.
Recommendations for the best artificial grass for playgrounds
We offer a number of turf surface options for various commercial and residential playgrounds. Here are some of our recommended products that are popular choices for playground use.
FastPro HF
This product comes in a variety of bright colors, which makes the playground more distinctive and provides a more creative space for children to enjoy. 100% PE curly monofilaments, and dense stitches create a full, compact, and extremely durable product.
Highlights
Top performance versatile turf
Safety Guarantee
Multiple Colors
Extreme UV stability and durability
YEII
With its unique fibrillating structure, YEII is a lightweight, low-maintenance, and durable option ideal for children's playgrounds and high-traffic areas.
Highlights
Safe and durable
Color choice
Soft touch
Economical
Classic
Designed as a special C-shaped with brilliant Dual-Arch structure, Classic is soft and resilient, making it a great choice for backyard playgrounds. The vibrant green and plentiful thatch layers make it exceptionally realistic and provide a heavenly cushion for bare feet.
Highlights
Safety Guarantee
Highly similar to natural grass
Soft and resilient
Pet-friendly turf
3D ART GRASS – Portable Hopscotch
Our colorful 3D ART GRASS, designed to incorporate elements such as numbers, letter paths or hopscotch, can be inserted into playground surfaces to create interactive play elements. 3D ART GRASS is also great for residential playgrounds and indoor floors.
Highlights
Vivid colors and pattern
Perfect for commercial &residential playground
Children's favorite playground
Childhood memories of adults as well
Conclusion on choosing artificial turf for playgrounds
An artificial lawn is a perfect solution if you want to provide your kids with a safe and soft playing surface. This article can help you choose the right turf product for your playground project.
Our playground turf offers the safest, most advanced, and most functional surface for playgrounds. If you have any questions about the product or would like a free sample, please call us at 86 25 6981 1666 or email us at [email protected].