How to Choose the Best Type of Artificial Grass for Sports Field?
In some parts of the world, it is difficult or impossible to provide high-quality natural grass pitches due to climate or resources. As a result, there are numerous sports where artificial turf can be used to create a field for safe and efficient play.
Artificial grass fields that replicate the playing qualities of prime real grass are increasingly favored by schools, recreational areas, communities, sports clubs, and professional competitions.
What kinds of sports can use artificial grass?
Artificial grass for football & soccer
Unless you have the ability to maintain high-quality natural turf, a synthetic turf pitch is the best option, providing many more hours of use, on a FIFA-tested, proven, and safe grass surface.
As a FIFA Preferred Provider, CCGrass football turf products meet all requirements of the FIFA Quality Programme. We offer all sizes of soccer and football fields, from full-size stadium fields, and training and practice facilities to smaller 5, 7, or 9-side pitches.
Artificial turf for hockey
For hockey players, the speed and smoothness of the ball across the field surface is the most important element to ensure a great game. Playing hockey on an artificial hockey turf field is the best choice to ensure you play a fast, skilled, and safe game.
CCGrass is an FIH Preferred Supplier, guaranteeing our surfaces meet the high standards required for hockey at all levels of the game. Our hockey fields have a denser fiber surface than comparable products, which promotes a better game of hockey.
Artificial turf for rugby
It's very wise to choose artificial turf for your rugby pitch. Artificial grass pitch enables more rugby to be played than on natural grass and is a safer surface. Player safety is a requirement, not an option, and a World Rugby-tested pitch guarantees this.
CCGrass keeps working on artificial grass Research & Development, providing high-quality artificial grass surfaces. As a World Rugby Preferred Turf Producer, we ensure every pitch meets rigorously tested standards, and that the player's safety is never compromised.
Artificial grass for tennis
Around the world, tennis is played on a variety of surfaces. Artificial grass has proven a popular alternative surface for players of all ages and abilities. CCGrass tennis courts are designed to meet ITF test standards and are also visually attractive and comfortable to play on.
Synthetic turf for padel
Padel is popular because it's simple, easy, and fun, allowing people of all ages and abilities to enjoy the sport. CCGrass padel turf products have been designed and developed under the test by the independent laboratory IBV, and comply with the standards set by the FEP (FEDERACIÓN ESPAÑOLA DE PÁDEL).
Artificial grass for multi-sport
A multipurpose artificial turf pitch is a safe and practical option. Over the years, our multi-sports turf systems have been used by a large number of schools, communities, and amateur clubs, for they maximize function and minimize cost.
Artificial grass for golf putting green
CCGrass artificial putting green can be installed virtually anywhere, no matter the size of your area. A putting green area is an ideal way to add visual interest to a residential or commercial space.
Artificial turf for American football
Few sports can match the enormous impact American football has had on the playing field. Artificial grass is more durable and resilient, and is now an ideal playing field for American football, providing players with a safe and aesthetically pleasing pitch.
Artificial grass for baseball & softball
Baseball and softball are both played on a field that has a diamond, which encompasses three bases and a plate. Artificial turf can be used for professional baseball competitions, practices, or training camps.
It offers player comfort and the added advantage of low maintenance costs, making it popular with many professional teams.
Artificial turf for an indoor facility
With indoor artificial grass fields, athletes can train and compete in bad weather outside. An indoor facility has become a must for numerous sports organizations to shield from the rain or snow.
What are the different types of artificial grass for sports fields?
There are all kinds of sports which is why there are all kinds of artificial turf systems. Artificial grass is a significant investment for any organization and the specific turf systems installed will have different performance characteristics and benefits, so it is important to choose the right synthetic turf system based on the needs of the field.
First, let's take a look at what an artificial turf system is. The prevailing sports system is mainly composed of 4 parts: artificial grass, infill, shock pad, and sub-base. Next, we will focus on the different types of artificial grass for sports fields.


There are multiple types of artificial turf for sports fields, the main difference is the grass fiber type. Different types of grass yarn give it different sporting characteristics and look. Our main turf fiber options are:
Monofilament yarn
With monofilament yarn, it is possible to create different shapes. This allows for creativity in design, with some shapes, such as diamonds, proving more resilient and stronger than flatter yarns.
Turf surfaces made of monofilament fibers are suitable for most sports, most commonly for football pitches. To meet different standards and needs, CCGrass has developed a variety of monofilament fibers in different shapes and colors.
Of these, our ultra-wear-resistant Green Dura Series is particularly popular. Advanced polymer and diamond shape with 400µm thickness makes the fibers extremely durable, extending the service life of the turf and increasing the time to a replacement, which in turn improves the cost-effectiveness of the whole sports surface.


Fibrillated yarn
Unlike monofilament fiber, fibrillated yarn is produced as a wider tape before being semi-split (fibrillation) into connected fibers. It has the advantage of being very durable, and great at holding infill material in place, but not as good at staying upright.
For tennis and Padel pitches, our turf product YEII with its unique fibrillating structure is a good choice.

Curly yarn
When yarn is produced for hockey, a curl is added during the extrusion process. CCGrass FastProTM series is made of 100% PE curly monofilament, thus the hockey pitch will have more fibers per square meter than comparable products.
This leads to greater stick control, improved foot/surface interaction, and a faster game. FastPro is also our best artificial turf for putting green.


Mono and curly combined
Monofilament fibers combined with strong curly yarns in each tuft of grass are a range of artificial turf sports surfaces exclusive to CCGrass. The curly yarn acts as a support layer that wraps around the sand infill, supporting the straighter yarn to stay upright longer, offering better sports performance, better shock absorption, and less infill migration.
The best uses of this series are for sports pitches such as football, rugby, American football, and multi-sport fields.


Mono and fibrillated fibers
There is one typical product is the VmaxTM series. Vmax combines V shape monofilament fibers with fibrillated yarns, together in one turf, to offer better surface fiber coverage. This reduces performance infill splash, to give an enhanced playing experience.


Combining 2 or 3 yarn shapes
CCGrass Union series mimics nature by combining two or three different shaped and colored artificial grass yarns harmoniously. Each yarn plays its own role – durability, softness, and resilience; forming a truly cutting-edge sports turf.


CCGrass offers the widest choice of artificial sports systems
CCGrass is proud to be awarded "Preferred Producer" status by FIFA, FIH, and World Rugby for the 3 big global field sports – football, hockey, and rugby. This means we are able to offer a comprehensive range of tested systems, for all levels of each sport.
CCGrass artificial grass systems tested for different sports pitches
Football – Over 200 football turf systems tested to FIFA Quality and Quality Pro standards. Our systems work with no pad (60mm or 55mm pile length), with sand and resilient infill, such as SBR, TPE, EPDM, PRO-gran or cork, or shorter heights (50mm, 45mm or 40mm pile length) with an appropriate shock pad and infill.
Hockey –The FIH divides hockey fields into Global Elite Level, Global Level, National Level, and Multi-Level. CCGrass offers hockey turf systems for all levels to suit different playing applications from international matches to junior training.
Rugby – We provide rugby turf systems, which incorporate long-length fibers (pile height), infilled with performance infills, and laid over special shock pads, to ensure a high HIC value and good energy restitution to players, meeting World Rugby Regulation 22.
Multi-sport choice – 33 tests cover more than one sport.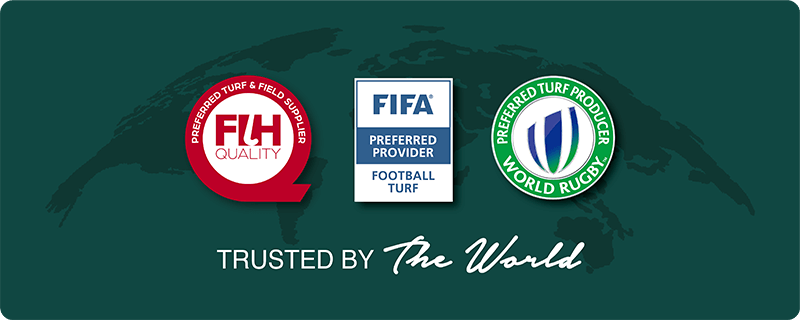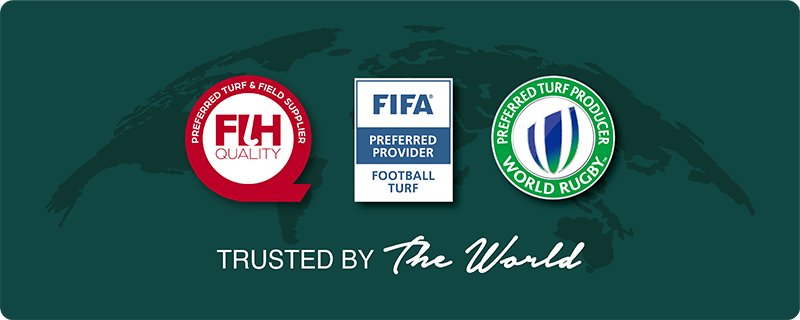 Artificial turf fields are customizable, and you can choose the type of turf, infill, and shock pads according to your actual needs and preferences.
For more tips on choosing the best artificial turf system, please check out the article: Top 20 tips for building the perfect pitch
Call us at 86 25 6981 1666 or email us at [email protected] for a free field consultation today!