Artificial Hockey Pitch Types, Installation & Maintenance
Field hockey is an Olympic sport that is popular all over the world. In most parts of the world, hockey is played on artificial turf, while some countries still use other surfaces, such as natural grass or hard compacted bases.
In today's article, we shall be covering the benefits and types of artificial hockey pitch, as well as helping you install and care your hockey turf.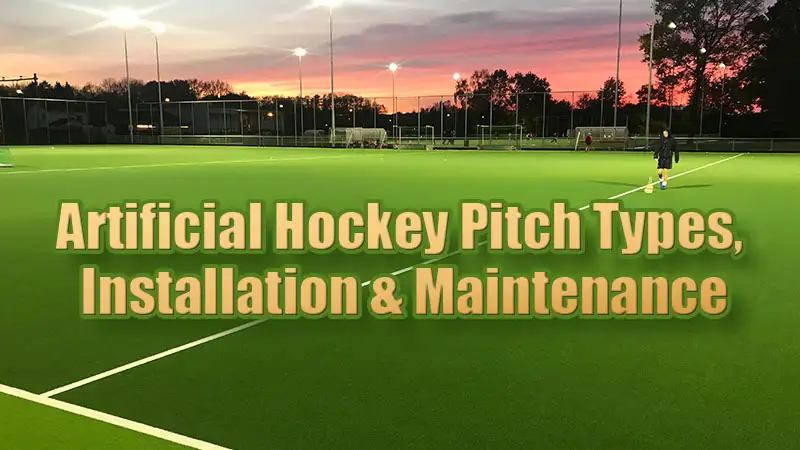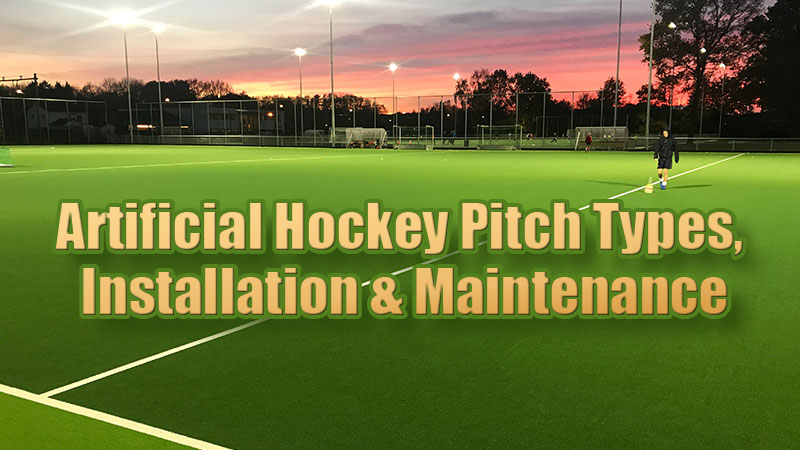 Why choose artificial grass for your hockey pitch?
The flat, smooth surface of the artificial hockey pitch offers precise ball control, ensuring a consistent and fast ball roll. You can color match your hockey field, such as the contrast color scheme of blue and green really stands out that is popular with many clubs.
Our artificial hockey field provides players with a great playing experience all year round, regardless of the weather. Artificial grass for hockey is extremely durable due to its dense stitch plusrobust face weight, and requires minimal maintenance, whichis cost-effective.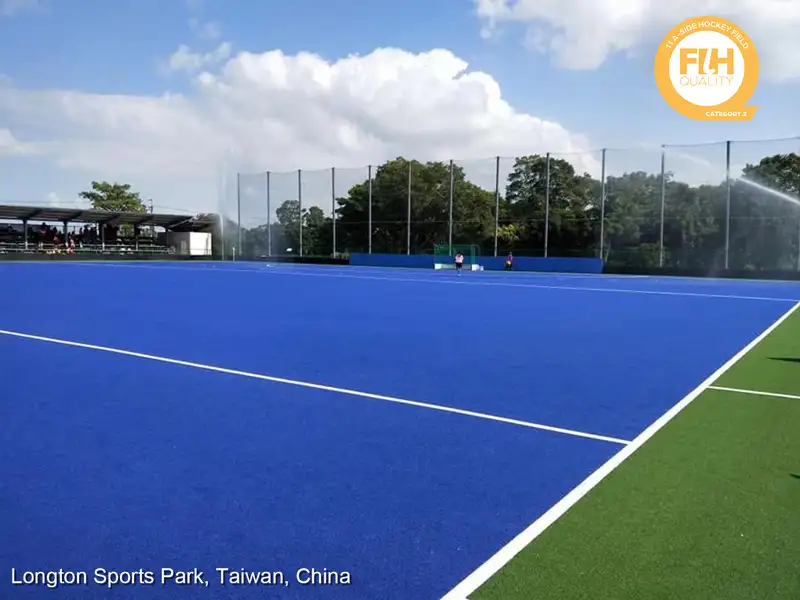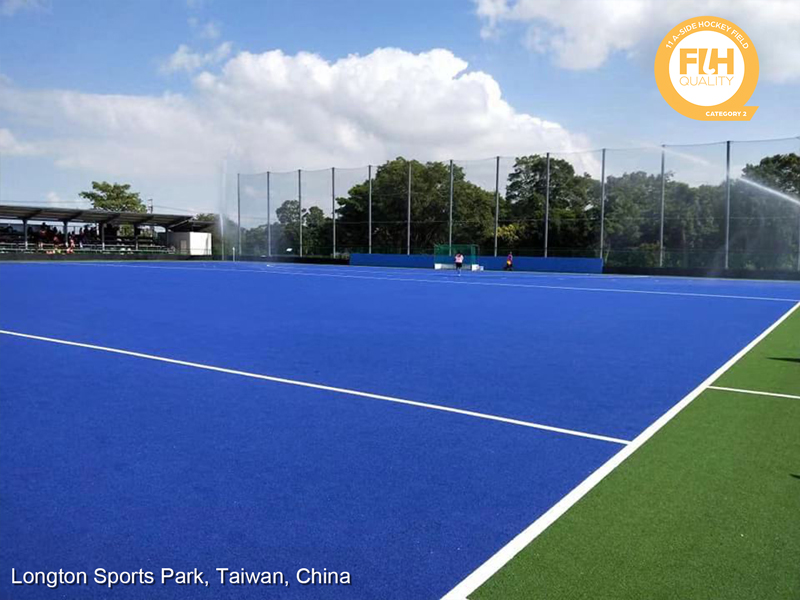 Artificial Turf Hockey Pitch Types
With the development of artificial turf over the years, hockey pitches are roughly divided into 4 types of surfaces. The main difference between these surfaces is the combination of turf and infill in their chosen artificial hockey system.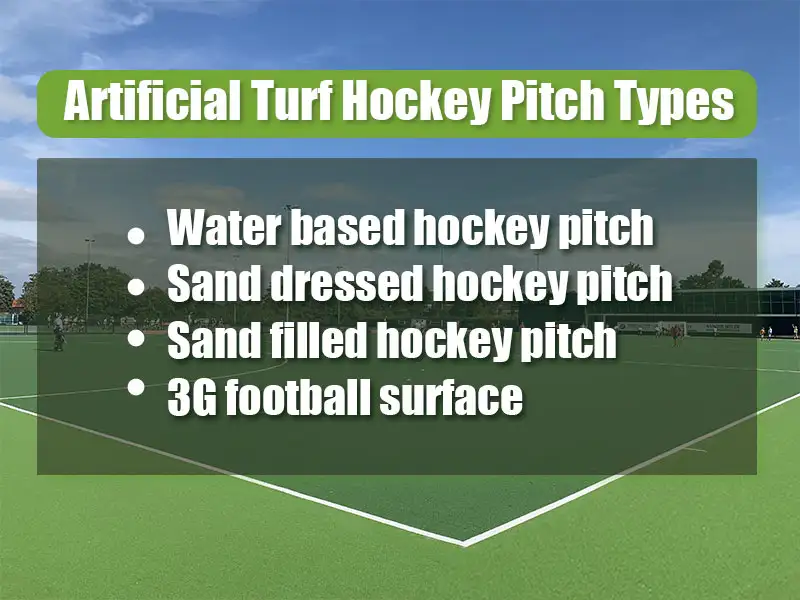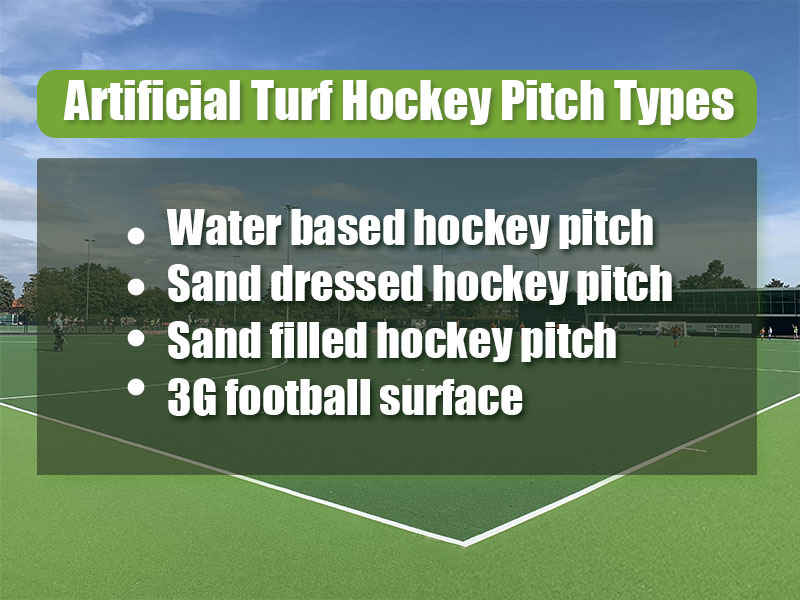 Water based hockey pitch
At the top is the synthetic turf pitch that is watered to provide fast, safe and hockey specific characteristics. The ideal water-based surface will be firm underfoot with stiffish curly fibres that allow the ball to travel on them.
The non-filled hockey field is the optimal surface for international competitions as the ball transfers easily and has a low bounce, as well as players can slide without risk of injury.
Sand dressed hockey pitch
This means that an alternative type of synthetic turf is needed which meets most of the requirements of a watered pitch – the sand-dressed pitch. Its dense fibre surface obscures the sand infill, which helps support the fibres, to provide a fast, safe and consistent top. Intended for National & local competitions and training, these surfaces are popular with clubs and schools.
Sand filled hockey pitch
As sand-dressed fields, sand-filled fields use sand as infill, but in some extreme cases, the sand covers the surface with barely visible green fibers. Sand-filled fields are less common these days, with a flat, level surface that allows the ball to travel safely, but there are several limitations at the top level of play.
3G football surface
The final option is the most basic artificial turf surface that can be used for school introductory training. The main issue is that the ball can roll in the surface, not on it, due to the longer fibres. This makes the game very slow and not suitable for serious hockey players.
High performance hockey turf
As an FIH Preferred Supplier, CCGrass' FastPro HF series caters for different systems that meet FIH standards offering a fast, skilled and consistent game of hockey for players.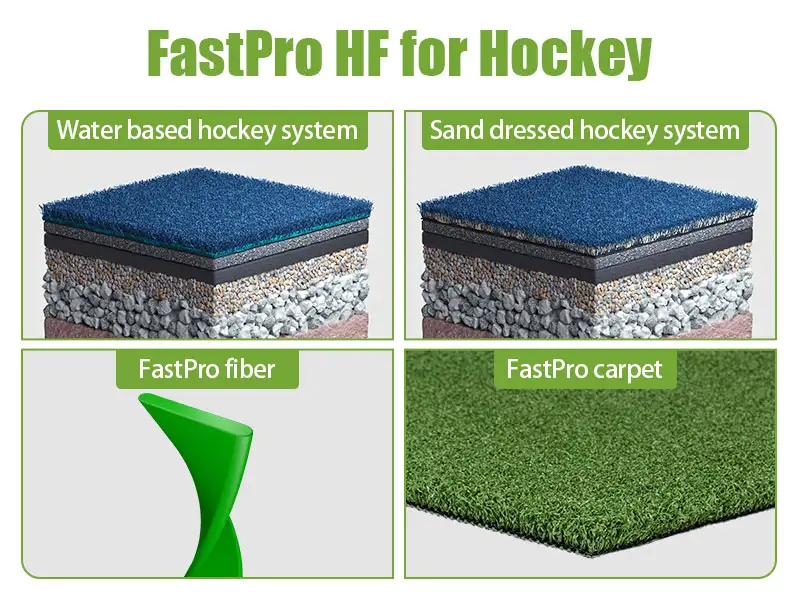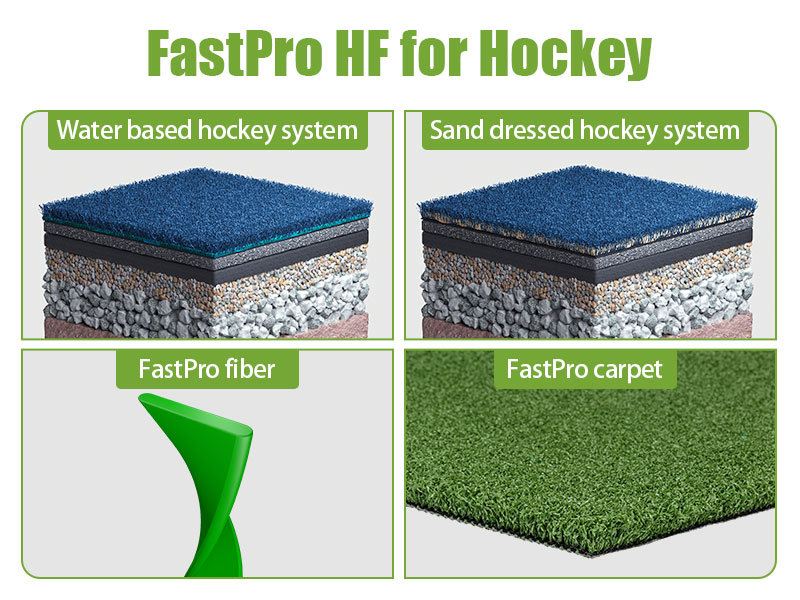 Find out more about CCGrass' high performance hockey turf here.
Hockey pitch installation tips
As we mentioned above, hockey fields have high requirements for smoothness, meanwhile, there is no large amount of infill to provide pressure after the turf is laid, which puts forward higher requirements for the installation of the field. Here are some practical tips for paving:
About the base
For the hockey pitch, the base must be level with no potholes or bumps. It is recommended to use an asphalt base for better flatness.
About the shockpad
It is recommended to use In-situ pouring for shockpad, especially for water-based surfaces, to avoid unevenness caused by the prefabricated shockpad when it meets water.
Lawn Paving
Before the lawn is paved, the grass rolls need to be spread out and placed for at least 1-2 days to fully shrink naturally.
You'd better install under the same weather and temperature conditions to prevent bulging caused by thermal expansion and contraction. In particular, avoid large temperature changes during the paving process, and try not to pave under high temperatures.
All turf should be fully tensioned, requiring the use of turf tensioners and other equipment. When cutting seams, use new sharp blades to avoid cutting burrs and frequently change blades.
Seams should be pulled tight. Tighten the seam with tools, choose good quality glue and seam cloth, and immediately after the seam is glued, press the seam with a heavy object to achieve a strong bond without any wings.
The buffer lawns on the four sides should be fixed with nails and stuck, or jammed with a drainage cement board.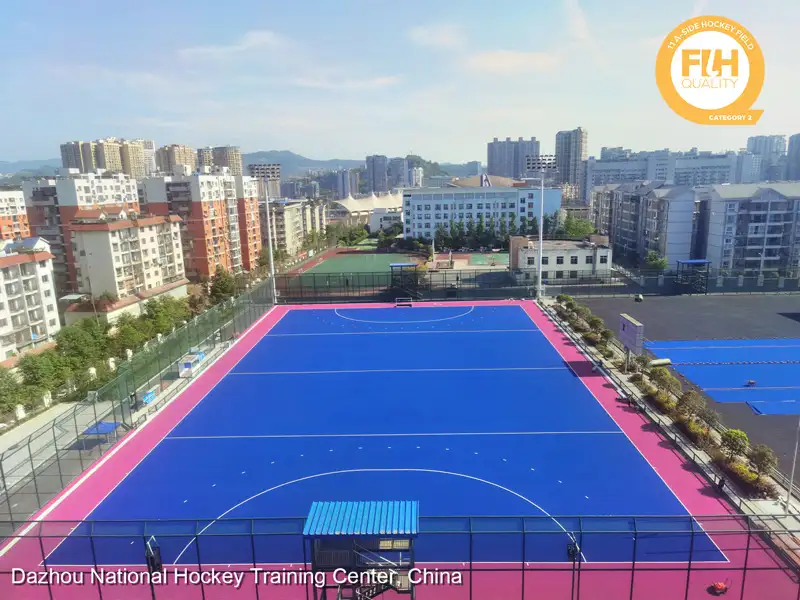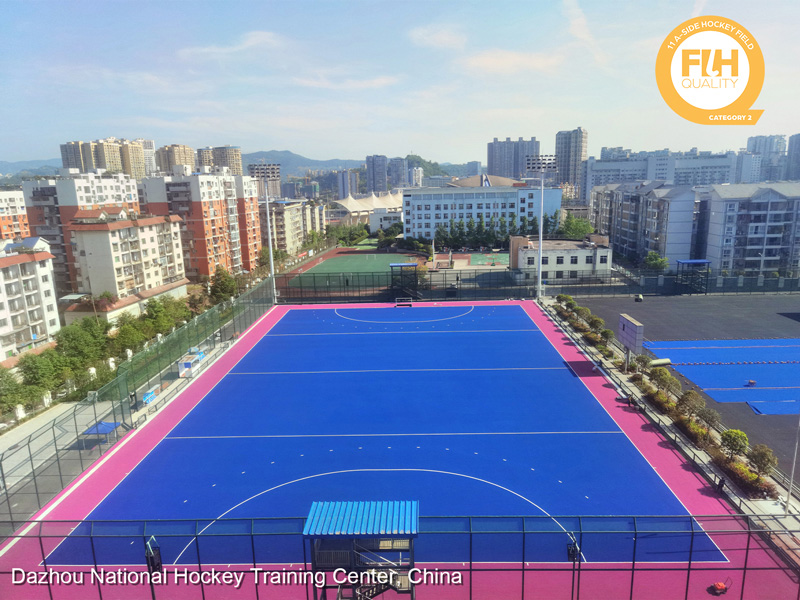 How to maintain your hockey pitch?
Due to the high cost of replacing an artificial turf surface, regular and specialist maintenance of the pitch is very important to ensure maximum usage over time. On top of that, a well-maintained, high-quality pitch can reduce the risk of injury and create a more enjoyable and satisfying playing experience for players.
Regular maintenance
Sweep the field weekly and remove debris including litter, leaves, dirt, etc. This will keep your hockey pitch safe and aesthetically pleasing!
Regular, proper watering of water-based turfs can keep them in top condition, reduce the risk of injury and cool the playing field.
The infill layer is loosely and evenly sat in between the fibres of the artificial turf. Regular grooming of the infill can prevent it from moving across the surface of the turf. In addition to grooming, it is also important to monitor and replenish the infill.
Specialist maintenance
We recommend an annual Deep Power sweep by a specialist that will refresh your lawn.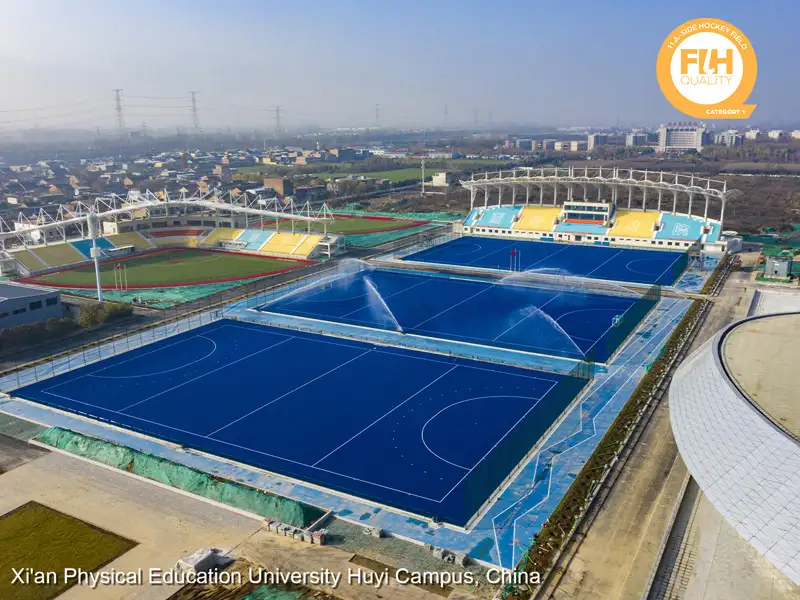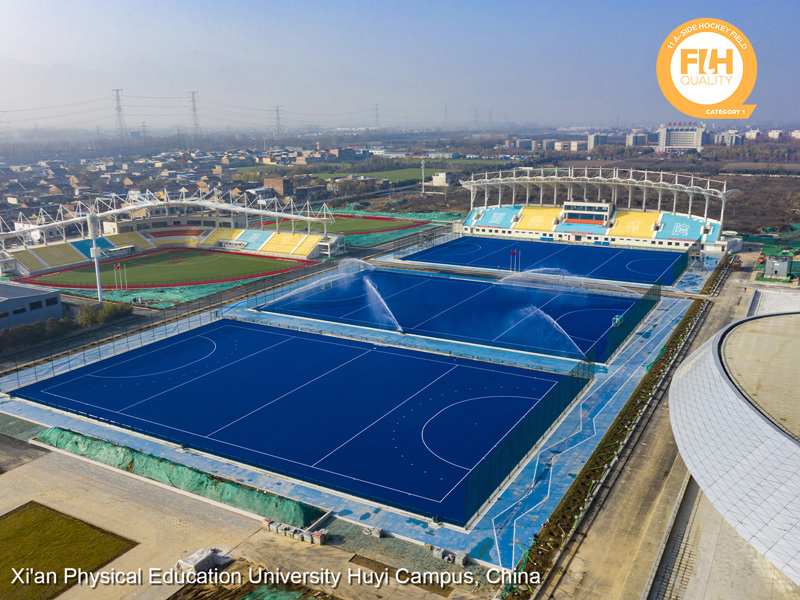 Get in touch
CCGrass offers hockey turf systems for all levels to suit different playing applications from international matches to junior training. Our global level system is certified for top-level professional hockey games, such as the Olympic Games and the World Cup.
Check out our FIH accreditation here. If you have any further questions about artificial hockey pitches, please feel free to call us at 86 25 6981 1666 or email us at [email protected].