CCGrass | Authentic Artificial Grass Company in China
With the widely used of synthetic turf in fields of sports, landscaping and leisure, how to make a wise choice amongst hundreds of artificial turf companies in the market has become a hit. This article will take you to know and understand CCGrass, a professional and trustworthy artificial grass company.
1. Introduction
CCGrass is the largest artificial grass company in the world, who is dedicated to providing the best artificial turf for sports and landscape purposes. After more than 18 years of focused development, our products have served clients from multiple regions with varying needs, including professional football clubs, government bodies, schools, and countless households around the world. Besides, CCGrass is awarded as FIFA Preferred Provider, FIH Preferred Supplier and World Rugby Preferred Turf Producer.
CCGrass entered the artificial turf industry in 2002 and owns the world's largest artificial turf factory with an annual capacity of over 80 million square meters. The factory area in China and Vietnam is approximately 500,000 m²+300,000 m², with 4000+ employees carefully performing every step in the production process, including yarn extrusion and twisting, turf tufting, latex or PU backing and finishing. Our factories comply with ISO9001 and ISO14001 and pass various kinds of strict factory audits such as BSCI, WFSGI and ICS, and etc.
Our beliefs are to Create Together, Share Together and Win Together with our global partners. And we continuously focus on our mission to enhance the health and well-being of society by enabling innovative uses of artificial grass in sports, leisure and play.
2. Innovation
Innovation is the core competence of a reliable artificial grass company. It drives the company break the technical bottleneck and establishes the industrial standards. Our experienced R&D department is dedicated to using the most advanced technologies to improve both the appearance and performance of the products. Moreover, CCGrass believes that artificial lawns are part of nature as well and has made significant innovations in environmental protection and sustainable development.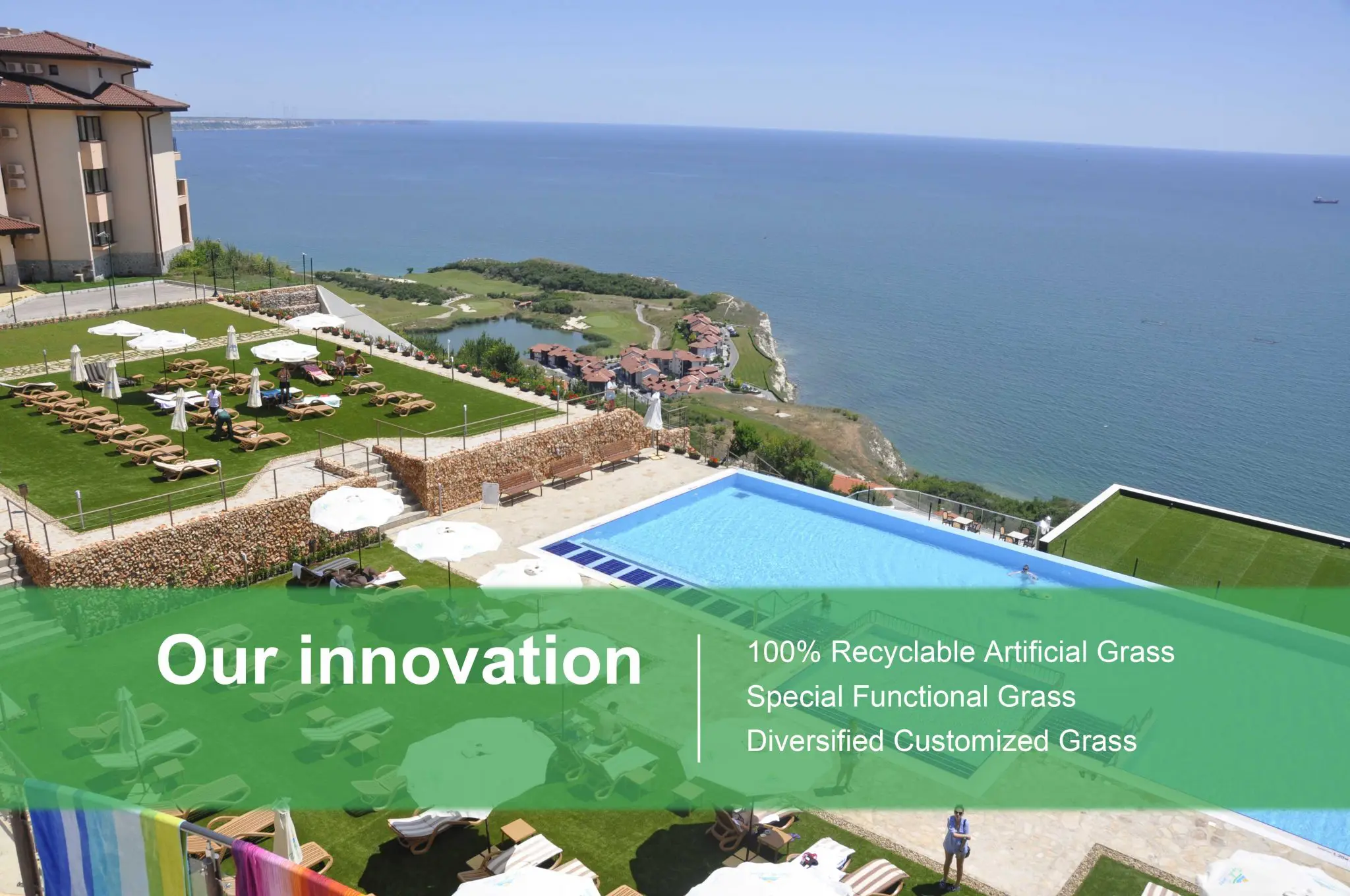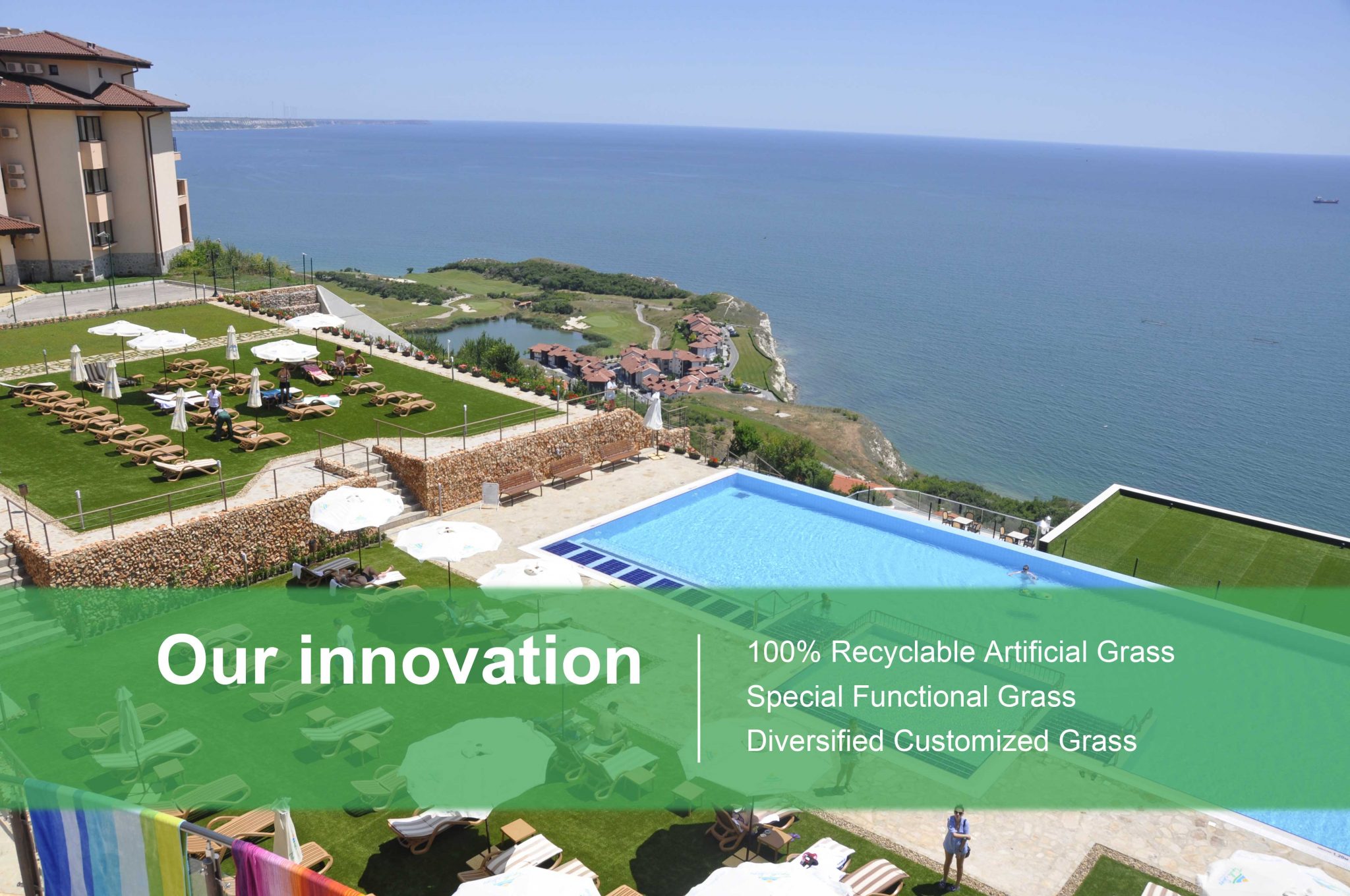 ● 100% Recyclable Artificial Grass
CCGrass is committed to offering solutions to public concerns. The PRT® product series is an innovative 100% recyclable artificial grass that improves drainage more than 5 times, increases tuft lock and aids installation.
● Special Functional Grass
CCGrass owns many patents on specific grass, designed to deal with challenging requests from the market. The Grasscool series helps cool down the surface temperature on hot days and for tropical zone. The Antibacterial series provides kids and pets with double anti-microbial protection. The flame retardant series reduces fire risk to bring greater safety to users.
● Diversified Customized Grass
In the past decades, more than 2000 customized products have been produced. CCGrass provides products to our clients' specific requirements, from grass colour to shape and height of fibres. Our development team responds to unique requests from the market.
3. Quality & Service
● Our Quality
Quality is the key to identify the trustworthy artificial grass company. However, most contractors and end customers are not able to distinguish the defective products by the samples. Therefore, the certifications guarantee quality. Our products meet the highest standards of leading sports organizations, such as FIFA, FIH, World Rugby, GAA and ITF.
CCGrass has an ongoing commitment to high quality. From the selection of raw materials through to the entire production process, we pursue the excellence of each detail, making sure every product is tested thoroughly and carried out under the supervision of more than 150 QC personnel within each factory. Only after this are products released to the market.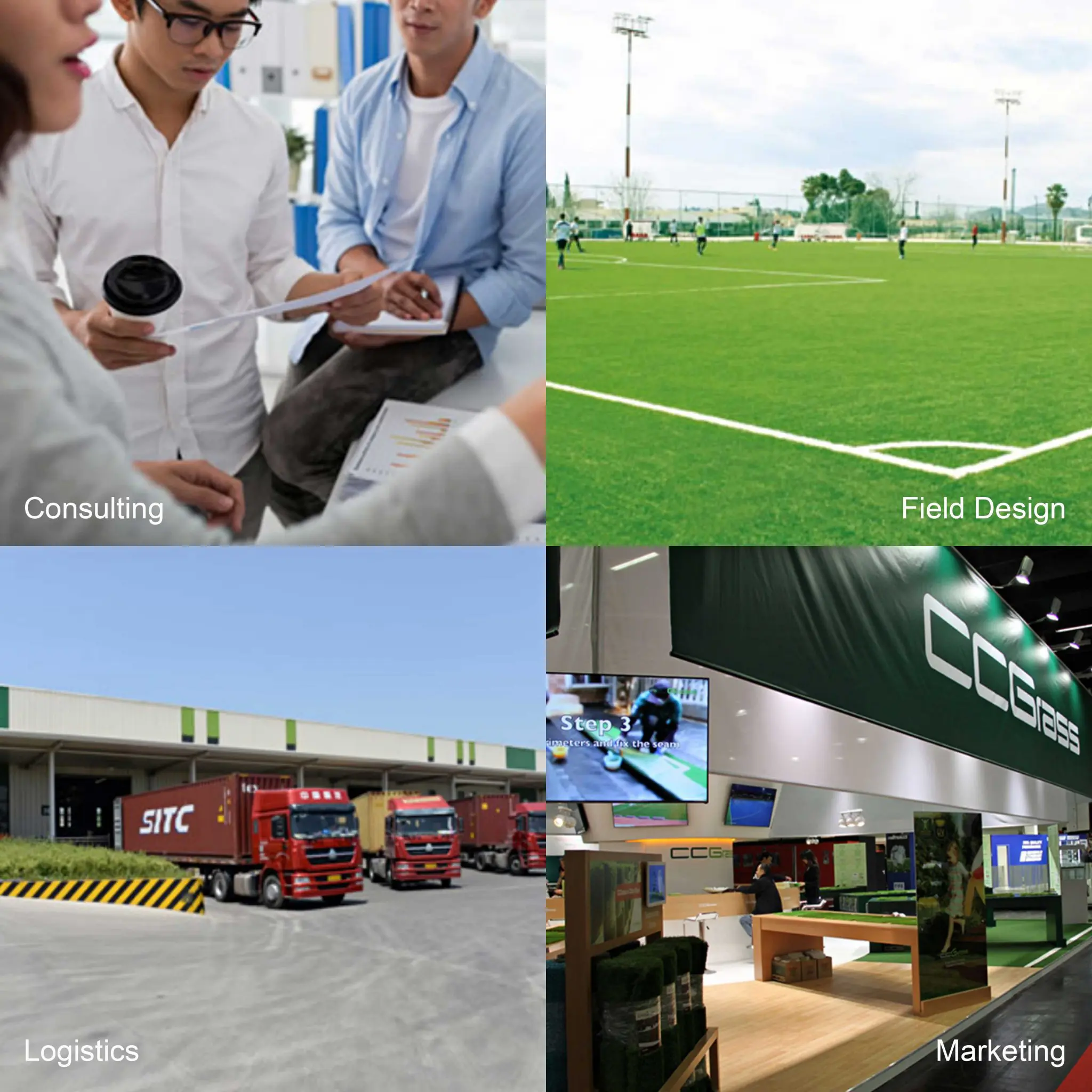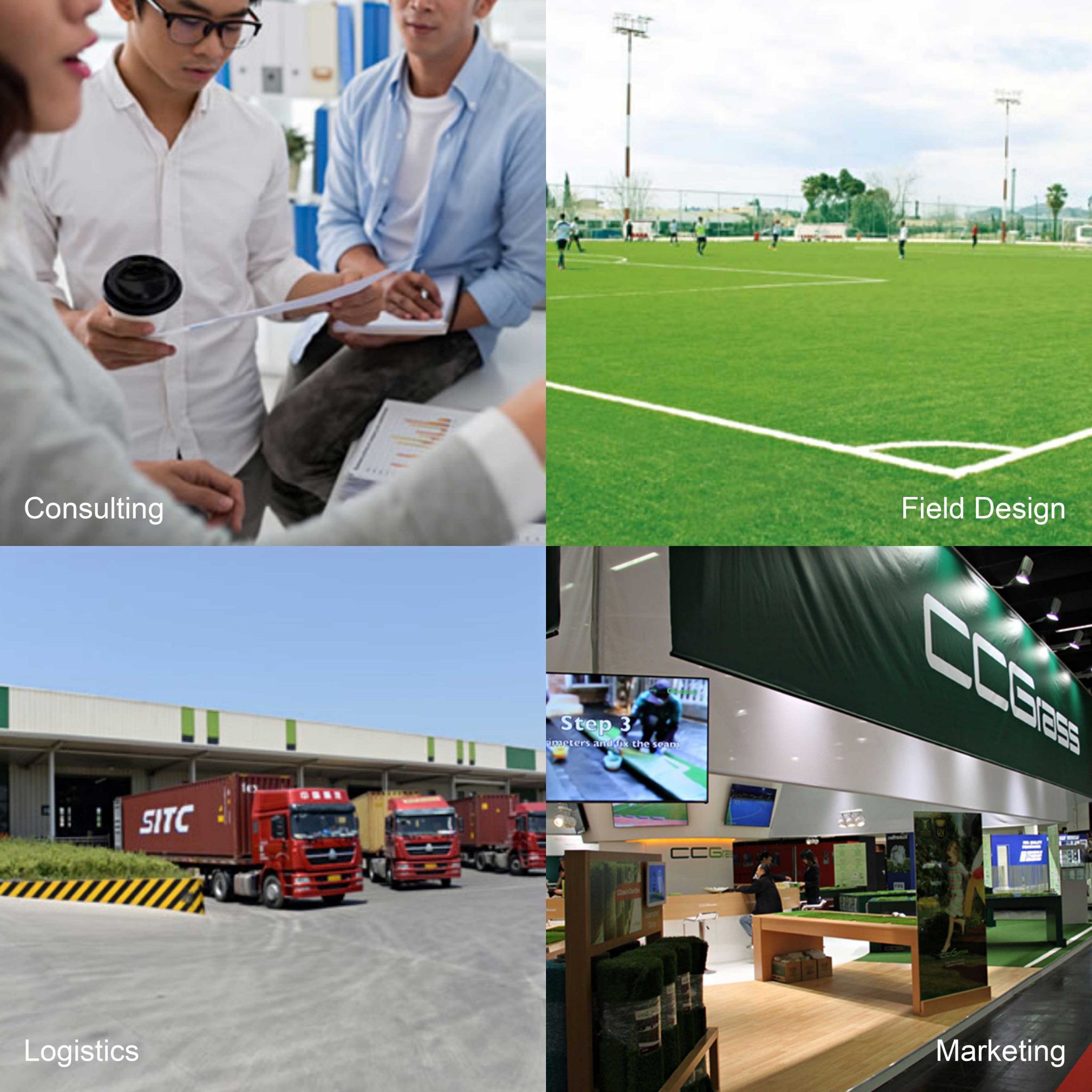 Consultancy
Our sales team is trained to provide the best solutions for customers' needs, both for sports pitches and landscape applications. And, through regular internal communication, our team offers answers based on many years' shared experiences.
Field Design
CCGrass offers efficient and free field design and installation design. Each sports pitch or landscape area is tailor-made in our factory. We believe that accurate design makes for easier transportation, installation and minimal waste.
Logistics
A wide network of logistic services ensures that orders are delivered to our clients in different countries, promptly, at the best price.
Marketing
Our marketing team focuses on assisting our partners and clients to promote artificial grass in their markets through a strong social media presence and a range of marketing tools, including samples, videos, brochures, product specific flyers, and many more.
4. Professional Sports Solutions
To achieve maximum potential in any sport, players require consistent, great quality and high performing base. As a leading artificial grass company serving the sports industry for decades, CCGrass has accumulated rich experience in sports field solutions.
We have developed a range of sports systems for major sports such as football, hockey, rugby, tennis, multi-use and others that are used by communities, schools, universities and many leading clubs.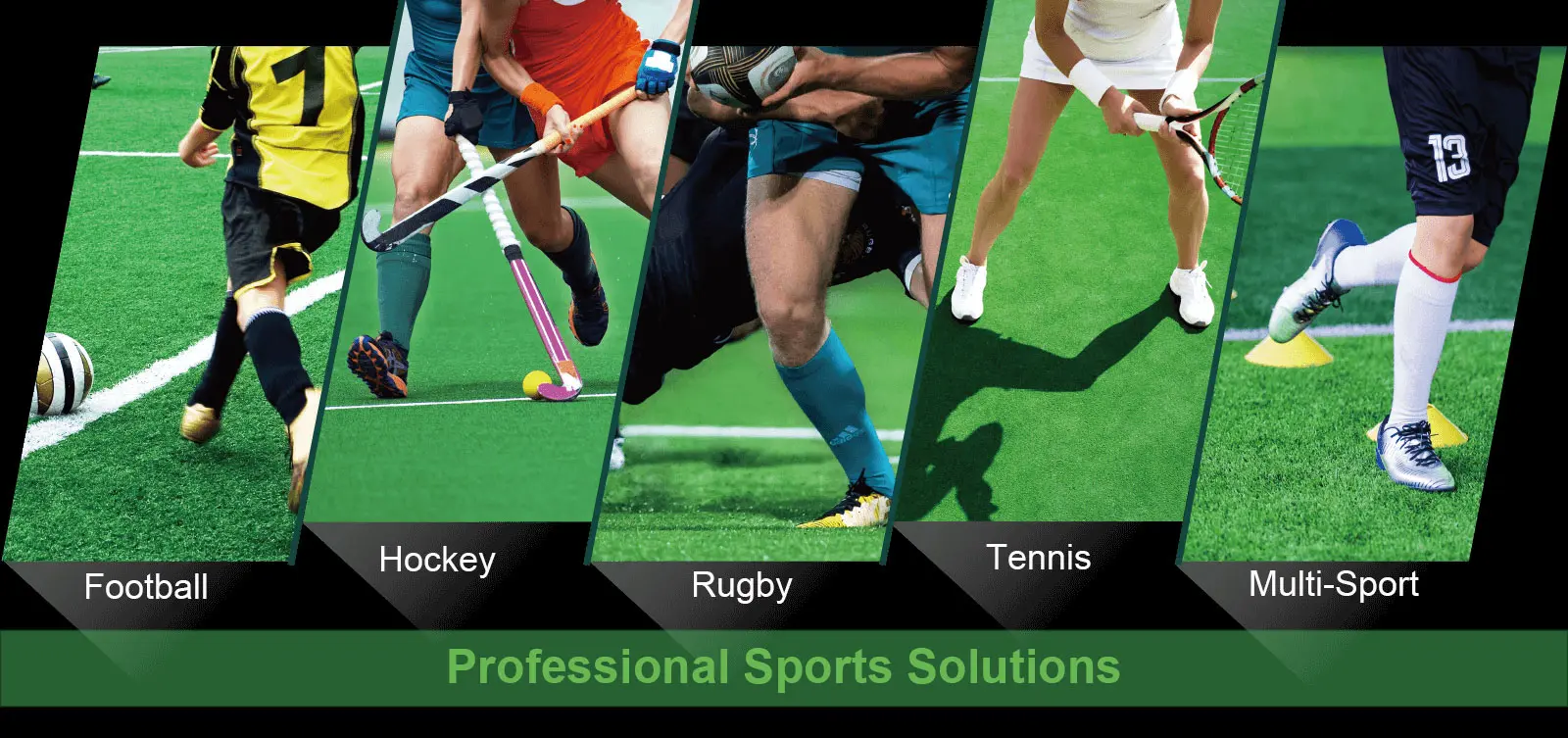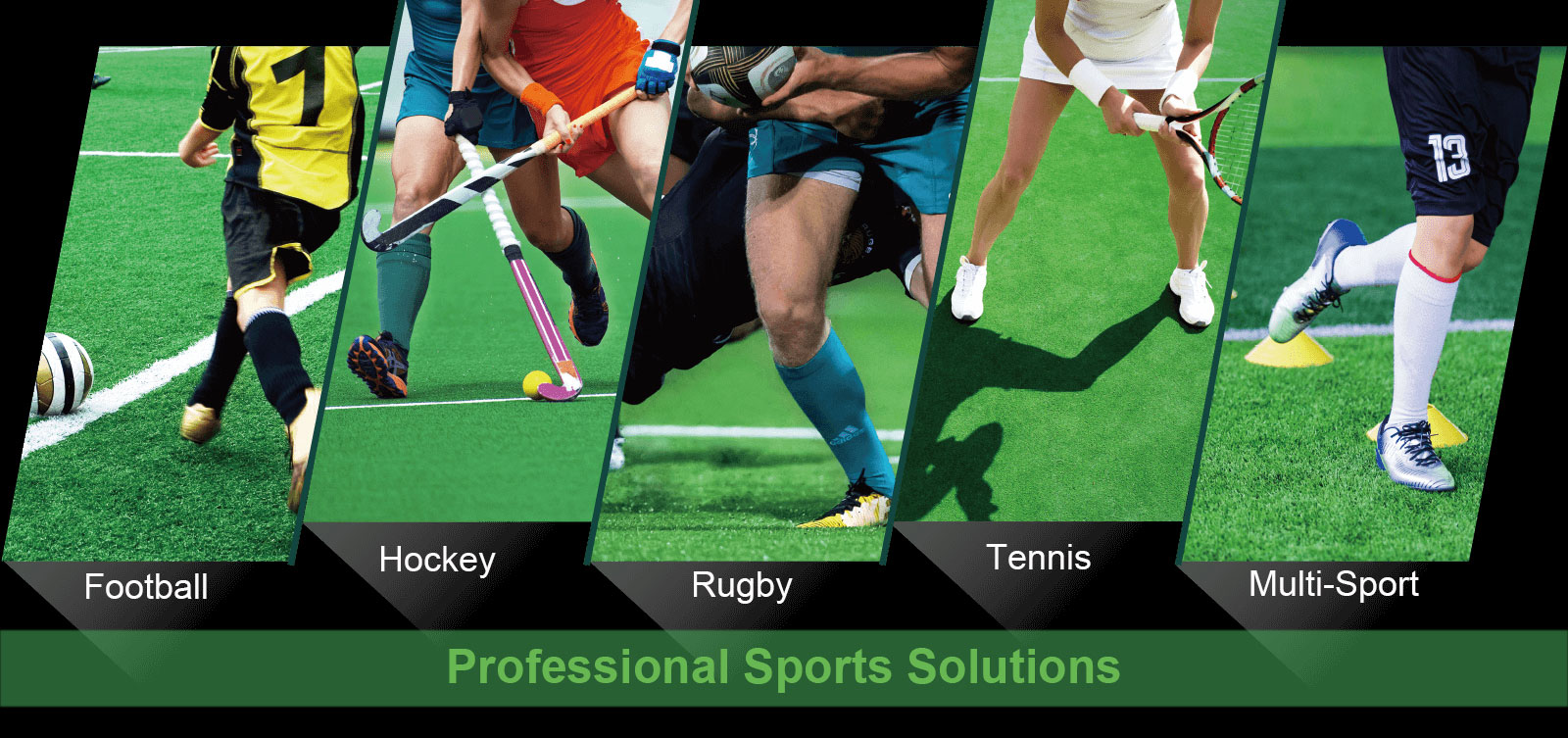 ● Football
As a FIFA Preferred Provider (FPP), CCGrass has more than 100 systems tested to FIFA Quality & Quality Pro standards and now has over 250 FIFA certified fields worldwide. We provide solutions for football played at every level and all ages. Different turfs are designed for full size fields, training areas and mini-football pitches.
● Hockey
As an FIH Preferred Supplier, CCGrass hockey systems are tested to meet all the requirements of the FIH quality programme. In addition, we have innovated special colours with the better visual experience.
● Rugby
CCGrass is a World Rugby Preferred Turf Producer. Our rugby fields are proven to meet the performance required by World Rugby's Regulation 22.
● Tennis
We offer attractive and comfortable tennis courts for high-quality club use, intense school play and leisurely family time. Moreover, we provide ITF certified tennis turf for the fast tennis court.
● Padel
CCGrass padel turf products have been designed and developed under the test by the independent laboratory IBV, and comply with the standards set by the FEP, providing perfect solutions with ideal playing properties for padel.
● Multi-sport
We offer advice and choice when multiple sports are required and believe multi-purpose fields should never sacrifice performance quality. Our Football and Hockey system meets both FIFA Quality Pro Standard and FIH National Standard, and our Football and Rugby system has passed both the FIFA Laboratory Test and the IRB Laboratory Test. Other sports, such as tennis, athletics, netball, lacrosse, recreational bowls, basic cricket, and even archery, can be accommodated on a CCGrass artificial sports turf pitch.
5. Landscape and Leisure Solutions
CCGrass is one of the first artificial grass companies in the world to design landscape grass. We have developed wide applications including residential, commercial, DIY, pets, golf, city landscape, etc.
For landscape grass applications, the industry does not establish strict quality standards. So, how to choose safe and high quality landscape grass?  We believe that you can take "UV resistance" and "safety" as two necessary conditions to choose lawn products. CCGrass landscape has passed UV tests, and is capable of keeping fresh and green for up to 10 years and is also tested to REACH, RoHS, DIN, EN71-3, ASTM, etc. standards and is proven to contain no detectable Pb, Cd, Hg, Cr and other heavy metals.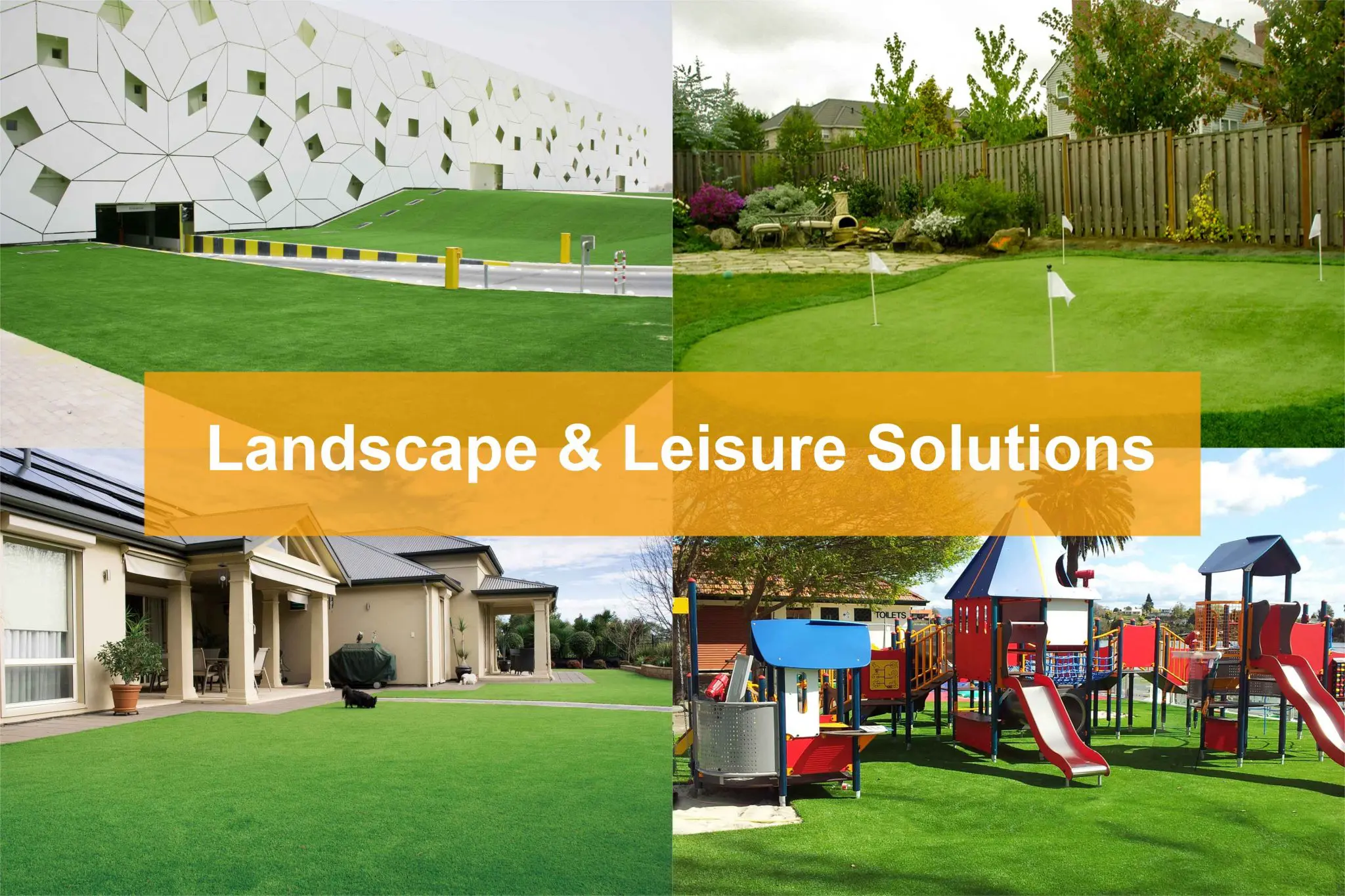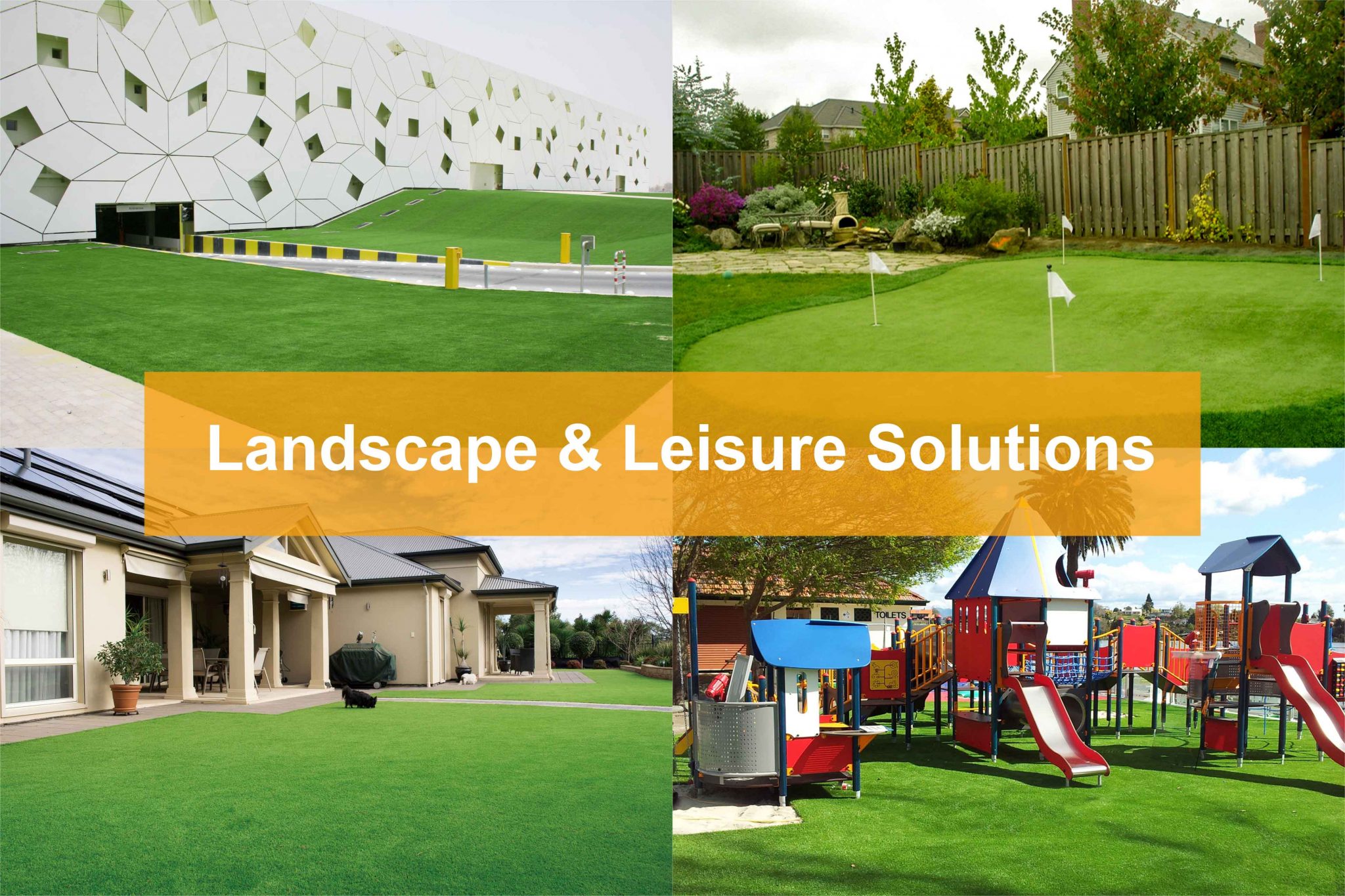 ● City & Commercial
CCGrass landscape is an environmentally friendly solution for all city and commercial areas worldwide. It provides a creative way to build up more green spaces in largely populated cities and areas. With its easy installation and low maintenance, this additionally makes it the best cost-effective option.
● Garden
We provide families with eco-friendly, attractive artificial grass for their gardens. It requires no mowing, no watering and no fertilizing, freeing families of these concerns to bring them a safe green space.
● Playground
CCGrass focuses on creating safe, entertaining and aesthetical grass for playground areas. Multiple colour choices create different game zones and areas for children. All playground grass is strictly tested, proving to be safe and healthy for children's fun.
● Golf
CCGrass landscape for golf is designed and manufactured according to real putting green experience, offering unparalleled realism in terms of surface appearance and performance. Its perfect smoothness guarantees precise ball roll and provides delightful comfort while playing on it.
● DIY
Our landscape products are available in Chain/DIY stores all over the world. No matter if it is a small size for an indoor mat or a big size for backyards or gardens, you can always find the right product for your DIY project.
If you are looking for an authentic and professional artificial grass company, CCGrass is the perfect choice! For more information, please feel free to call us at 86 25 6981 1666 or email us at [email protected].