Game On: Unveiling the Allure of Artificial Turf Bocce Ball Courts
Bocce ball is a classic outdoor game enjoyed by people of all ages. Whether you're playing in your backyard with friends and family, or at a club with fellow enthusiasts, having a high-quality bocce ball court can greatly enhance your experience.
In this article, we will cover everything you need to know about building an artificial turf bocce ball court. This includes the benefits of using artificial turf, how to choose the right artificial grass, recommended turf options, and a step-by-step guide to help you get started. There's plenty more to learn, let's keep reading!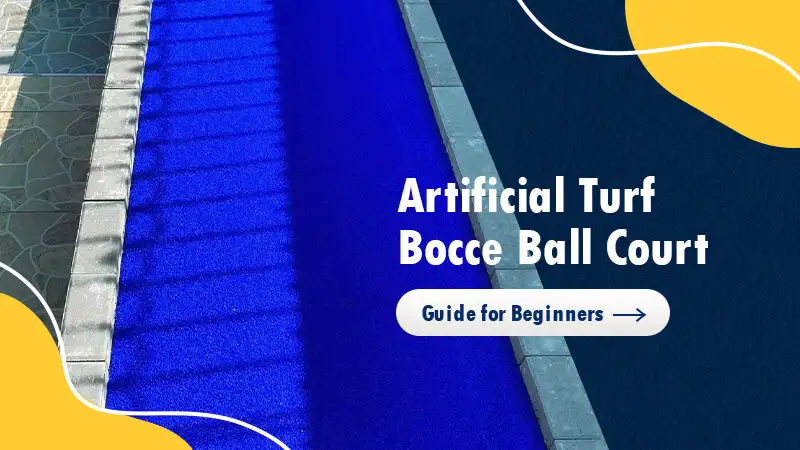 What is a bocce ball?
Bocce ball is a game that originated in Italy and has since become a popular sport around the world. The game is played with eight colored balls and one smaller ball known as the "pallino" or "jack", and can be played by individuals or teams.
Bocce ball is a game of skill and strategy, where the objective is to throw the colored bocce balls as close as possible to the pallino, scoring points for each ball that is closer than the opponent's.
Bocce ball courts for residential areas & clubs
Bocce ball is a game that can be played in various settings, including residential areas and clubs. Residential bocce ball courts are typically smaller in size and designed for personal use in backyards or outdoor spaces.
These courts can provide a fun and entertaining activity for family and friends and can be customized to fit the homeowner's preferences and space limitations.
Bocce ball courts at clubs, parks, or recreational centers are typically larger in size and specifically crafted to cater to tournament play, attracting players of all skill levels.
These courts can range from 60 to 90 feet in length and 12 to 16 feet in width and experience higher traffic levels, requiring a more durable playing surface.
To meet these demands, artificial turf has become a popular choice for club bocce ball courts due to its consistency and resilience against heavy use.
Exploring the benefits of artificial turf bocce ball courts
Consistent surface for improved bocce control
Synthetic turf provides a more predictable and controlled playing surface for bocce ball players. With no bumps, divots or uneven patches, players can focus on their game strategy and technique without worrying about the ball's trajectory being affected.
The uniform surface of the turf ensures that the ball rolls consistently, allowing for greater precision and control.
Low-maintenance alternative to natural grass
Choose artificial turf for your bocce court and enjoy minimal maintenance. Unlike natural grass, which requires regular watering, mowing, fertilizing, and weeding, artificial grass only needs occasional cleaning and brushing to stay playable. This means more time for playing bocce and less time and money spent on upkeep.
Charming year-round appearance
Using artificial turf for your bocce court not only guarantees year-round playability but also boosts the appearance and value of your property.
In contrast to natural grass courts, which can become muddy or withered due to harsh weather conditions, synthetic grass always looks lush and inviting, regardless of the temperature or weather.
Excellent durability
For a high-traffic bocce game, artificial grass is a perfect choice, as it's durable and highly resistant to damage, wear, and tear. It will not develop dry patches or flatten over time, allowing players to enjoy a consistently clean and level playing field. This results in a superior bocce experience that lasts for an extended period.
How to choose the right artificial grass for your bocce ball court?
When creating a bocce ball court with artificial turf, it's essential to choose the right turf for optimal gameplay and longevity. Here are some factors to consider when selecting the right turf for your court:
Low pile height
Pile height refers to the length of the individual grass fibers, and it's best to choose a turf with a low pile height. This ensures a smooth and consistent roll for the bocce balls, as high blades of grass can inhibit gameplay and slow down the balls.
Face weight of bocce ball turf
Consider selecting high-density artificial grass for your bocce court, which usually with high face weight of the turf. A denser turf provides a more durable surface and enhances gameplay by allowing for smoother and more accurate ball rolls. Ideally, a turf with a face weight ranging from 50 to 70 ounces per square yard is recommended.
Ideal bocce ball turf color
For a classic look, choose a green shade that resembles natural grass. Alternatively, some prefer a modern look and opt for colors like blue or red. It's important to consider the contrast between the turf and bocce balls for optimal game visibility. Choose a color that provides good contrast, based on personal preference and style.
UV resistance
Choose UV-resistant artificial turf for your bocce ball court to prevent fading and deterioration caused by the UV rays. CCGrass artificial grass uses the best UV inhibitors, exceeding industry standards with testing by SGS to UVA 5000h and UVB 3000h for long-lasting color and durability.
Effective Drainage
To maintain a high-quality bocce ball court, it's essential to choose a turf with excellent drainage capabilities. Adequate drainage prevents water buildup that can damage the turf's quality and affect gameplay. Opt for a turf that can swiftly drain water, ensuring you can resume playing even after rainfall.
Recommended artificial turf for bocce courts
FastPro HF
FastPro HF is our top-of-the-line sports turf designed for high performance. It's crafted from 100% PE curly monofilament and boasts a low pile height and dense structure, which gives it a smooth surface for excellent playability.
Highlights
Safety & Health
Extreme UV stability and durability
Top performance versatile turf
Aesthetic color innovation
Green E
Green E is an ideal option for residential bocce ball courts. It features high-quality and dense curly yarns that offer a durable and uniform surface, ensuring an enjoyable bocce ball experience.
Highlights
Safety & Health
Replicate a professional sports experience
Durable and long-lasting
Multiple Colors
How to build a bocce ball court with artificial turf?
Installing your own artificial turf bocce ball court can be a great addition to your outdoor space. It may seem like a daunting task, but it's actually quite simple if you follow a few essential steps: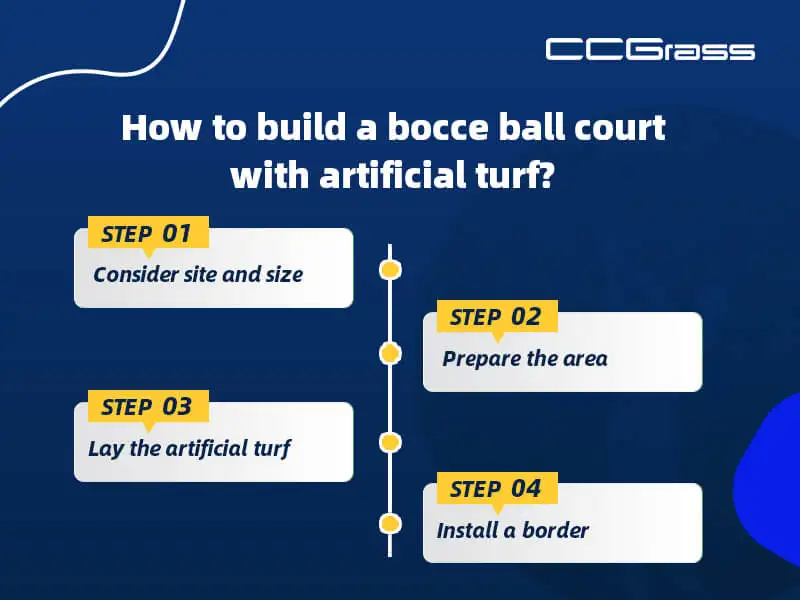 Step1: Consider site and size
Look for a flat area in your yard or outdoor space to build your bocce ball court. While the standard court size is 86.2 feet long by 13.12 feet wide, adjust the size based on your available space and intended use. A smaller size may be more practical and inviting for casual games with friends and family in your backyard.
Step2: Prepare the area
Remove approximately 3-4 inches of soil and any existing grass from the selected area, ensuring that the ground is level. To prevent weed growth, we recommend laying down a weed barrier fabric before laying the base layer.
Next, add a 2-4 inch layer of crushed stone, gravel, or decomposed granite over the entire area. Compact and level the layer to create a smooth surface for the artificial turf.
Step3: Lay the artificial turf
Roll out the artificial turf over the compacted base layer to cover the entire court area, and then trim any excess turf with a carpet knife. For secure installation, drive landscaping nails every 2-3 feet along the edges and seams, attaching the turf to the base layer.
 Tip: Lay the turf flat in the sun for a few hours to allow it to stretch – this will remove creases and the fibers will be in better condition.
Step4: Install a border
Adding a border to your artificial turf bocce ball court can enhance its appearance and functionality. This will help define the area and keep balls from rolling away.  You can choose from a range of materials, including wood or contrasting turf, to create the border that suits your style and preferences.
Conclusion
We hope this article has given you valuable insights into building your own artificial turf bocce ball court. Whether it's for personal use or a club, using artificial grass for your bocce ball court offers numerous benefits that will surely elevate your experience. Don't hesitate to start your project today and enjoy endless hours of fun with your new court!
At CCGrass, we provide high-quality artificial turf for bocce ball courts perfect for both residential and club use. Our three world-leading factories allow us to offer wholesale and factory direct prices that are unbeatable. Get in touch with us today at 86 25 6981 1666 or email us at [email protected] to request free samples!