The Different Types of Artificial Turf Ideal for Athletic Fields
Synthetic sports turf has become a popular choice for athletic fields due to its durability, low maintenance needs, and high playability. With advancements and innovations in technology, there are now diverse types of artificial grass available in the market, each with its unique set of features and benefits.
In this article, we will explore the different types of synthetic turf and help you determine which one is the right fit for your sports field.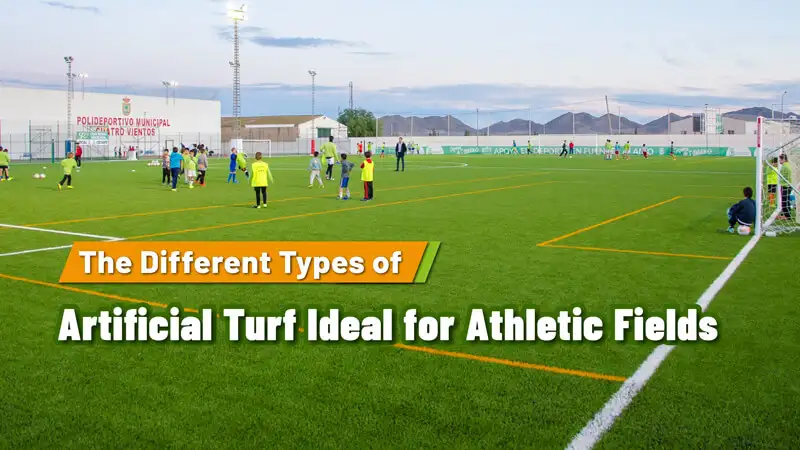 What is synthetic turf?
Synthetic turf is a surface mainly composed of synthetic fibers, bottom backing, and a coating that resembles natural grass in appearance.
Artificial turf was first used in 1966 when it was installed in the Houston Astrodome, the first domed sports stadium in the USA. Due to the lack of natural light reaching the pitch, the natural grass turned yellow and died, and the field was in such poor condition that it turned into artificial grass.
Nowadays, artificial grass with greatly improved simulation is not only applied in various outdoor sports fields, such as football, hockey, rugby, tennis, and golf, but also widely used in residential and commercial areas.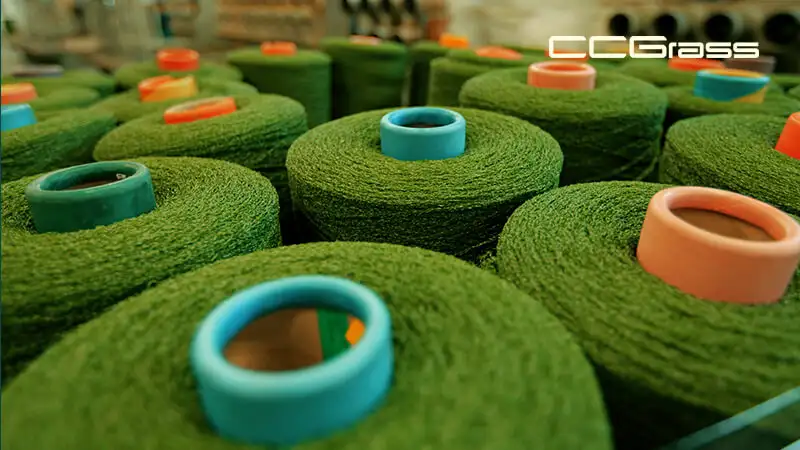 Benefits of an artificial grass sports surface
All-weather
Actually, if it snows this point can be challenged, but basically, synthetic sports turf can be used in pretty much any weather. Artificial grass sports surface has excellent drainage capabilities, which means that it can be used in even the wettest conditions.
A safe and consistent surface
Natural grass fields can become uneven and worn down over time, creating unsafe playing conditions. Artificial turf has a much more consistent surface that is soft and forgiving, reducing the risk of injury. Synthetic turf also provides better traction for players, which reduces the risk of slipping and injury.
Low maintenance needs
Fake grass requires much less maintenance than natural grass, which can save time and money for sports teams and organizations. It does not require as much water or fertilizer, and it does not need to be cut or reseeded.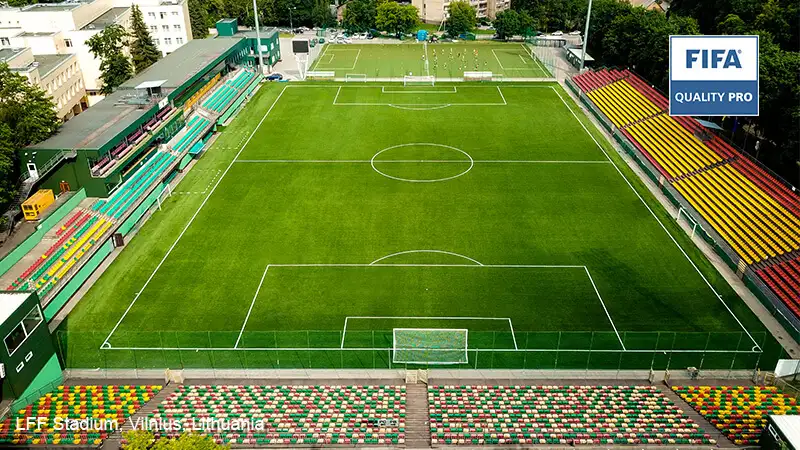 Cost-effective
In addition to saving on maintenance costs, you can also rent out use of your synthetic sports turf field for financial gain. High-quality artificial turf fields are able to withstand intensive use, offer more usage time, and last much longer than natural grass. Moreover, most artificial grass surfaces can host more than one sport; for example, football and rugby go very well together.
Improved aesthetics
Artificial turf can be customized to match a team's colors, logos, and more. It also has a much more consistent, vibrant green color than natural grass, which can make a sports field look more inviting and professional. It can really become a focal point in a community, where people gather to play, learn or simply watch.
Types of artificial turf for sports fields
Monofilament turf
Monofilament turf is made of individual fibers that mimic natural grass. It's a great choice for sports fields that require a high level of performance, such as football and American football.
The monofilament fibers are designed to withstand heavy use and provide a soft, resilient surface for players. Additionally, this type of synthetic turf provides excellent ball roll and bounce, making it ideal for sports that require a high degree of ball control.
Texturized Turf
Texturized turf is made up of short, curled fibers that are designed to provide a dense, smooth surface for players. This type of artificial grass is ideal for sports that require a high degree of comfort, such as field hockey and golf.
Additionally, texturized turf provides good traction and stability, making it an excellent choice for sports that require quick movements and sudden changes in direction.
Fibrillated turf
Fibrillated turf is made up of thin, flat fibers that have been split or frayed to create a soft, natural-looking surface. It has the advantage of being very durable, and great at holding infill material in place, but not as good at staying upright.
It's an ideal option for sports that require a fast playing surface, such as tennis and basketball courts.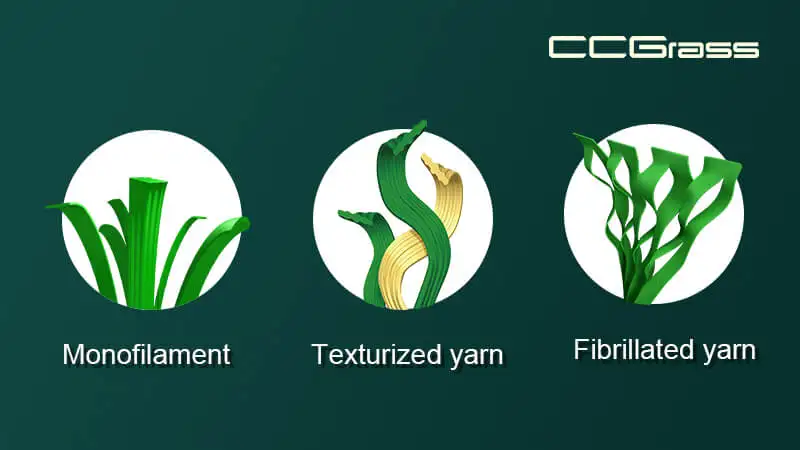 Mono and curly combined turf
Monofilament fibers combined with strong curly yarns in each tuft of grass are a range of synthetic sports turf surfaces exclusive to CCGrass. The curly yarn acts as a support layer that wraps around the sand infill, supporting the straighter yarn to stay upright longer, offering better sports performance, better shock absorption, and less infill migration.
The best uses of this series are for sports pitches such as rugby, football, American football, and multi-sport fields.
Mono and fibrillated fibers
A combination of monofilament and fibrillated fibers in artificial grass gives it a unique texture and performance. Monofilaments provide durability and resilience, while fibrillated fibers add a more natural look to the turf and help hold loose performance infill in place for a low splash.
It is often used in football fields and other high-performance sports facilities where a combination of durability, performance, and appearance is essential.
Combining 2 or 3 yarn shapes
Taking two or three different shaped and colored artificial grass yarns harmoniously enables a more vibrant and attractive look. Each yarn plays its own role – durability, softness, and resilience; forming a truly cutting-edge sports turf.
How to choose the right type of synthetic turf for your athletic field?
When choosing the right type of artificial turf for a sports field, there are several key factors to consider, including:
Performance requirements
Different sports have different performance requirements, such as ball roll, speed, bounce, and traction. These requirements will determine the type of turf that is best suited to the sport.
Foot traffic
Different types of turf are designed to withstand different levels of wear and tear. It is important to consider the amount of foot traffic that will be on the field, as well as the frequency of use.
Budget
Determine the budget available for the artificial turf and compare the cost of different options.
Beyond these, we recommend that you seek advice from a professional who specializes in artificial turf for sports fields. They can provide guidance and recommendations based on the specific requirements and conditions of the field.
Recommendations for the best artificial grass for sports fields
Superb Series
Type: Monofilament turf
Best uses: Football, American Football
Highlight:
●  Advanced polymer and diamond shape with 400µm thickness
●  Always strong, resilient, and soft to touch
●  Lisport XL 25,000 cycles
●  12-15 years warranty
FastPro HF Series
Type: Texturized Turf
Best uses: Hockey, Golf
Highlight:
●  Dense stitch for a compact appearance
●  Smooth surface for great playability
●  Player-friendly with unsurpassed comfort
●  Aesthetic color innovation
YEII Series
Type: Fibrillated turf
Best uses: Tennis, Padel
Highlight:
●  Unique fibrillating structure
●  Excellent playing performance
●  High wear resistance
●  Different color options
Superb EX2 Series
Type: Mono and curly combined turf
Best uses: Rugby, Multi-Sport
Highlight:
●  Diamond shape monofilament combined with the curly yarn
●  Stabilize the sand in the turf
●  12-15 years warranty
●  Environmental friendly
Vmax Series
Type: Mono and fibrillated fibers
Best uses: Football
Highlight:
●  Resilient V shape monofilament plus the long fibrillated yarn
●  Available in 3 different fibre colour combinations
●  Compliance with FIFA Quality and Quality Pro standards
●  Environmental friendly
Triplex Series
Type: Combining 2 or 3 yarn shapes
Best uses: Football, Multi-Sport
Highlight:
●  The V shape – upright with excellent 'bounce-back' recovery
●  The C shape with central spine – great to touch
●  The diamond shape at 400µm thickness – one of the strongest yarns
●  More consistent ball roll speed
Conclusions
In recent years, synthetic sports turf technology has continued to innovate, offering new features and benefits to athletic fields. It's important to choose the right type of turf that fits your specific needs, to ensure a safe and enjoyable playing experience.
CCGrass is deeply involved in synthetic sports turf and has developed a range of sports systems for major sports including football, hockey, rugby, tennis, padel, and multi-sport. Our artificial sports grass meets the highest standards from leading sports organizations such as FIFA, World Rugby, FIH, and ITF.
Whether you're planning to build a new pitch, resurface an old one, or simply need some guidance, our aim is to provide you with professional service. Call us at 86 25 6981 1666 or email us at [email protected] for a free field consultation today!