Enhancing Education and Play: Artificial Grass for Schools
The growing popularity of artificial grass for schools, colleges, and universities is bringing about a notable transformation worldwide. As educational institutions strive to create safer, more sustainable, and visually appealing environments, synthetic turf has emerged as a game-changing solution.
Boasting a wealth of benefits, from versatile playgrounds to extended playing time, artificial turf is revolutionizing the way students learn, play, and thrive.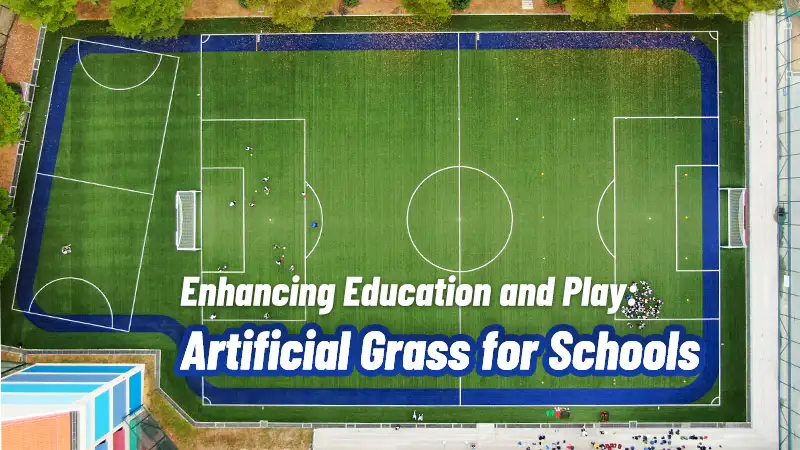 Benefits of artificial grass for schools
No cancelled sports lessons or matches
Natural grass fields can be vulnerable to weather conditions, and heavy rain can turn them into muddy, unusable surfaces. This often leads to the cancellation of sports lessons and matches, disappointing both students and coaches.
In contrast, artificial turf is designed to drain quickly, ensuring that the field remains playable even after heavy rainfall. Schools with artificial grass fields can enjoy uninterrupted sports activities, maximizing students' learning opportunities and athletic development.
Better facilities to meet curriculum needs
Artificial grass for schools offers a myriad of benefits, including extensive usage throughout the day. In addition to sports, schools can utilize artificial grass for various outdoor curriculum activities.
Teachers can conduct physical education classes, outdoor learning sessions, and team-building exercises on the safe and consistent surface. The inviting outdoor space encourages active participation during breaks, promoting physical fitness and social interaction.
Stand out from other schools
Embracing artificial grass for school grounds can set an institution apart from others in the education sector. A well-maintained and visually appealing turf ground leaves a positive impression on parents, students, and visitors.
The aesthetics of the synthetic turf surface play a significant role in shaping its reputation and attractiveness. By investing in an artificial grass field, a school can showcase its unwavering dedication to providing exceptional facilities and a secure environment for its students.
Benefit the community & gain financially
Artificial grass for schools can have positive effects on the wider community. Schools can collaborate with local organizations, sports clubs, and community centers to share the use of the artificial playground, benefiting multiple groups within the community, and potentially generating additional revenue for the school.
Moreover, synthetic grass requires lower maintenance costs compared to natural grass fields. While initial costs may be higher, the long-term savings on maintenance, such as mowing, watering, and fertilizing, are substantial. Schools can allocate these savings to other educational initiatives or improve their infrastructure further.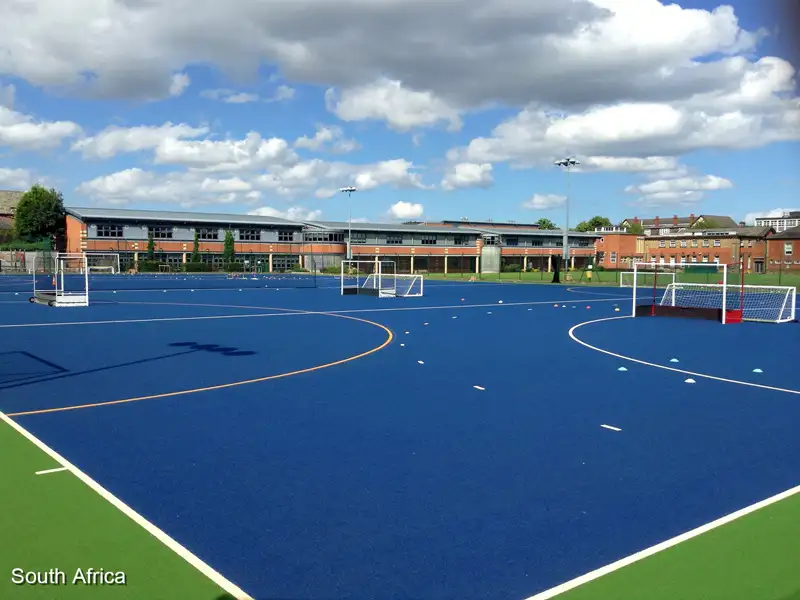 Choosing CCGrass: Your school's perfect artificial grass solution
Trusted qualifications for school artificial grass
CCGrass, with three well-managed factories in China and Vietnam, upholds top-notch standards with ISO9001, ISO14001, ISO45001, and ISO50001 certifications. Rigorous audits like BSCI, WFSGI, Sedex, and ICS further showcase our commitment to excellence.
Our sports surfaces meet the highest performance standards required by World Sporting Bodies including FIFA, FIH, World Rugby & ITF, ensuring top-level quality for school grounds.
Moreover, we prioritize student health and safety by rigorously testing our artificial turf against hazardous substances, adhering to strict international standards such as REACH, EN71-3, ASTM, and DIN. This ensures a worry-free experience for all students.
Tailored systems for your school playground surface
Choosing the right surface is absolutely essential, especially considering the school's main focus. For instance, a school is predominantly hockey focused then chooses typical hockey turf. Likewise, with football our most dominant school sport, prioritize a surface optimized for the sport rather than a multi-sport pitch.
Our experts will assist you in selecting the most suitable sports turf system, considering factors like the types of sports played, usage frequency, and specific performance needs. They will tailor a system that perfectly aligns with your school's requirements. From selecting the ideal artificial turf to determining the best infill type, we guide you every step of the way to ensure the optimal sporting solution for your needs.
Affordable excellence in sports grass solutions
CCGrass is dedicated to providing schools with the best value for their investment in artificial grass surface. Our priority is to deliver cost-effective solutions that meet your school's needs, ensuring you obtain the highest quality pitch at the most reasonable price.
We understand the financial constraints that schools often face, which is why we aim to offer top-quality artificial turf products without compromising affordability. Trust us to deliver a durable, safe, and visually appealing playing surface that enhances the overall sports experience for your students and athletes.
Versatility: from full-size pitches to customized areas
We provide a wide range of artificial grass surfaces designed to cater to all your school's sporting needs. Whether it's full-size sports pitches, smaller side areas, or indoor training spaces, we have the expertise to deliver the perfect solution.
Our synthetic turf covers a wide range of sports, including Football, Rugby, Hockey, Multi-sport, Tennis, Padel, as well as Multi-purpose recreational areas and Landscaping lawns. From design and manufacture to installation and maintenance, our dedicated team ensures each grass surface's durability and high performance.
Featured school playgrounds with CCGrass artificial grass
Artificial grass for universities – Advancing sporting excellence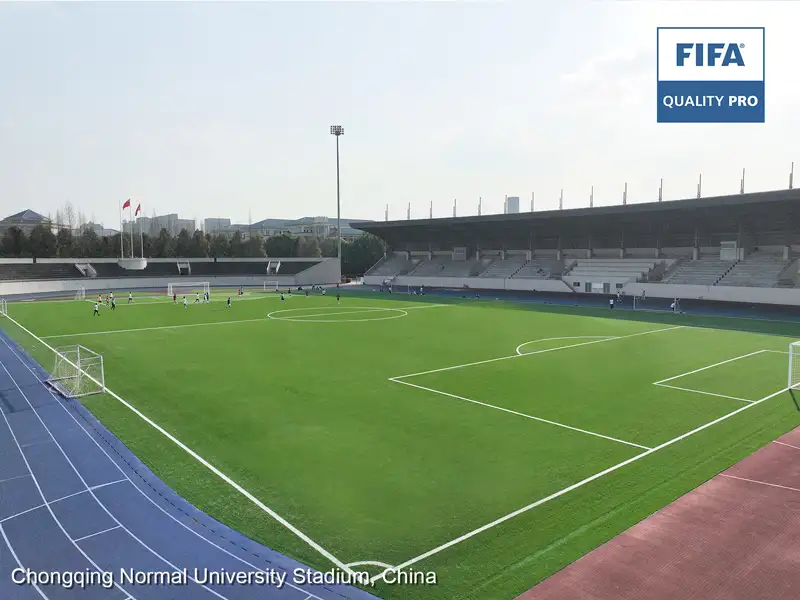 Our FIFA Quality Pro football pitch is a game-changer for universities, confidently hosting the highest level of competitions, professional matches, and intercollegiate tournaments. With exceptional durability and consistency, this world-class facility fosters a culture of sporting excellence on campus, empowering athletes to reach new heights.
From daily intensive use to exhilarating matches, FIFA certified turf system guarantees year-round top-tier performance, providing outstanding school grounds for athletes and sports enthusiasts alike.
Model: Stemgrass Series
Central spine for natural appearance
High Durability: Lisport 50,000 cycles
Soft and player-friendly
The most diverse FIFA systems
Hygienic & colorful artificial grass kindergarten playgrounds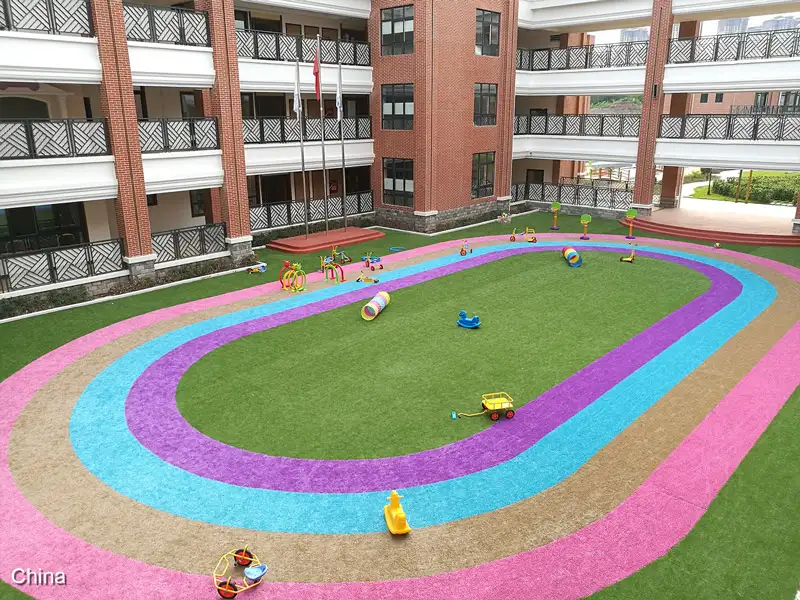 CCGrass offers vibrant artificial grass for kindergartens and elementary schools, creating a soft and safe surface for children's activities. Our durable and low-maintenance solution fosters holistic development and active play. With a variety of color options, schools can craft captivating outdoor spaces that stimulate creativity and curiosity among children.
Additionally, we provide specialized features such as GrassCool technology and antibacterial properties, providing further options to enhance the play area and ensure a healthy environment for children.
Model: Rainbow Track Grass
Bright and cheerful colors
Soft and skin-friendly
Customizable
Terrific drainage
Multi-functional artificial grass for schools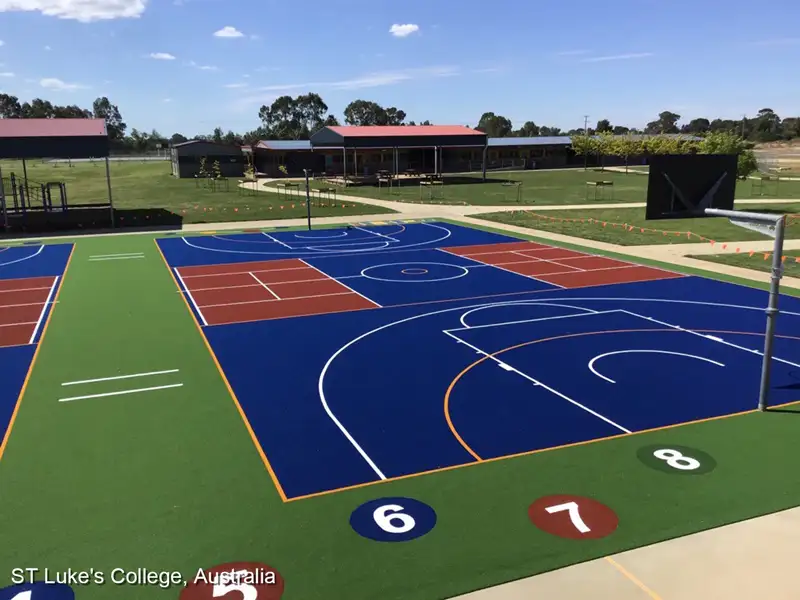 St. Luke's College takes pride in its versatile sports area, featuring two multi-sport fields with bright and colorful turf. This thoughtful design caters to diverse activities, blending sports and recreation to foster inclusivity.
Students can now enjoy engaging in various activities together, creating an ideal space that benefits a larger number of students while promoting fun and physical activity.
Model: FastPro HF
Multiple colors
100% PE curly monofilament
Top performance versatile turf
Extreme UV stability and durability
Conclusion
At CCGrass, we believe that anything that helps children to learn, practice and progress in different sports, will help them go further in life. Having a safe, clean artificial grass pitch, will encourage this and give children more opportunities.
Our commitment to enhancing education and play drives us to create tailor-made solutions of artificial grass for schools, ensuring that students have the best possible environment to learn, practice, and excel in various sports.
To learn more about our artificial grass for schools or to explore how we can enhance your educational institution's facilities, contact us today at 86 25 6981 1666 or email us at [email protected].