Time to Install Artificial Grass for Backyard!
Having a beautiful and lush grass lawn for backyard is a dream to every house owner. However, the endless work of lawn mowing and watering is fatiguing. Hence, installing artificial grass for backyard is the perfect solution.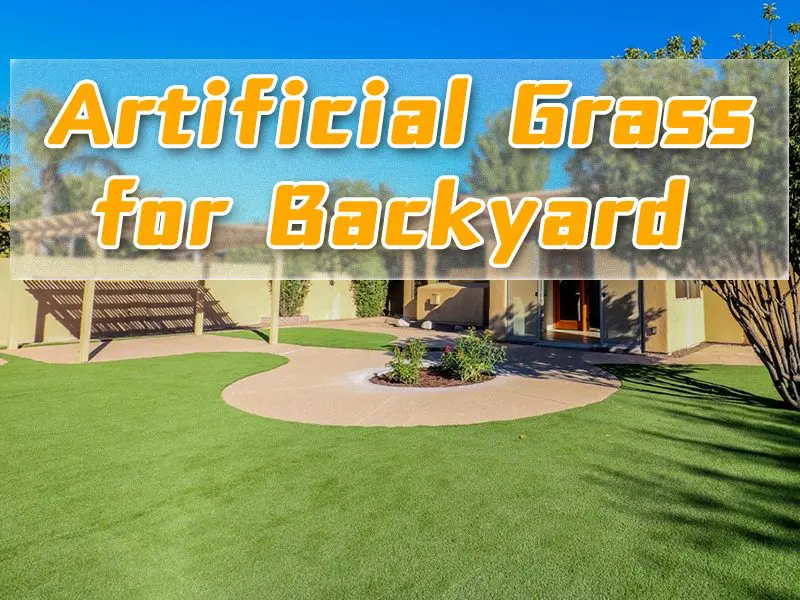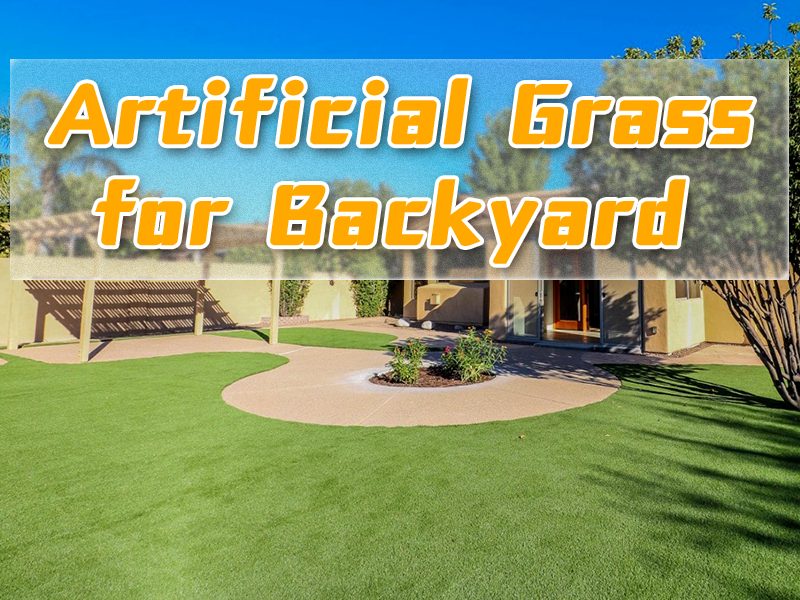 About Artificial Grass
Artificial grass is a surface of synthetic fibers made to look like natural grass. It is most commonly used in arenas for sports played on the grass. The main reason is maintenance—artificial turf stands up to heavy use, such as for football club training, and requires no irrigation or trimming. However, it is now being used for residential lawns and commercial applications as well. More and more families and commercial areas choose to install artificial grass for backyards, gardens, balconies, playgrounds and communities etc.
In the early 1960s, artificial grass was initially invented, but it was famous for installing in the AstroDome – the first indoor, major-league baseball stadium of Houston in America. Since the early 1990s, the use of artificial grass in the more arid Western states of the United States has moved beyond sports fields to residential and commercial landscaping.
With the advance of technology, the raw materials and the way of installing artificial grass have radical developed. Synthetic turf is produced in a similar way to a carpet – using a tufting machine. Large numbers of needles insert fiber strands into a fabric backing and a flexible adhesive is then used to bind the fibers to the backing.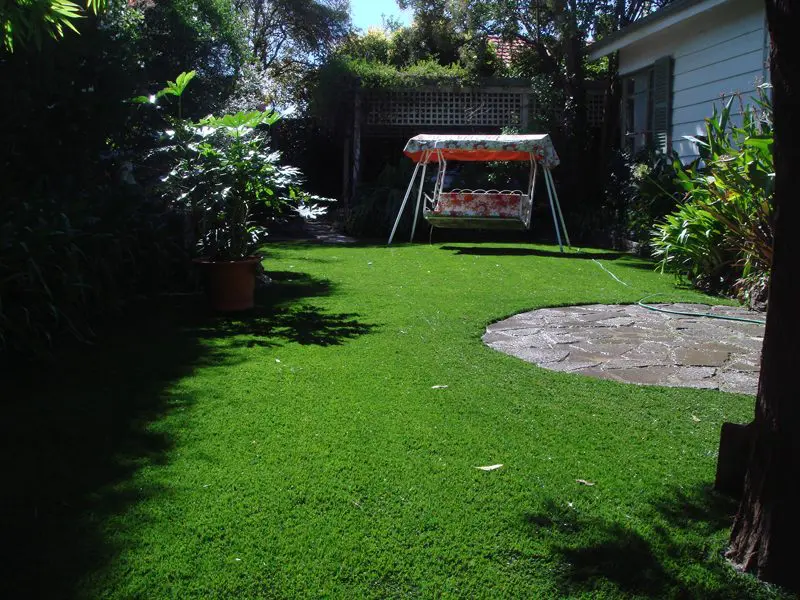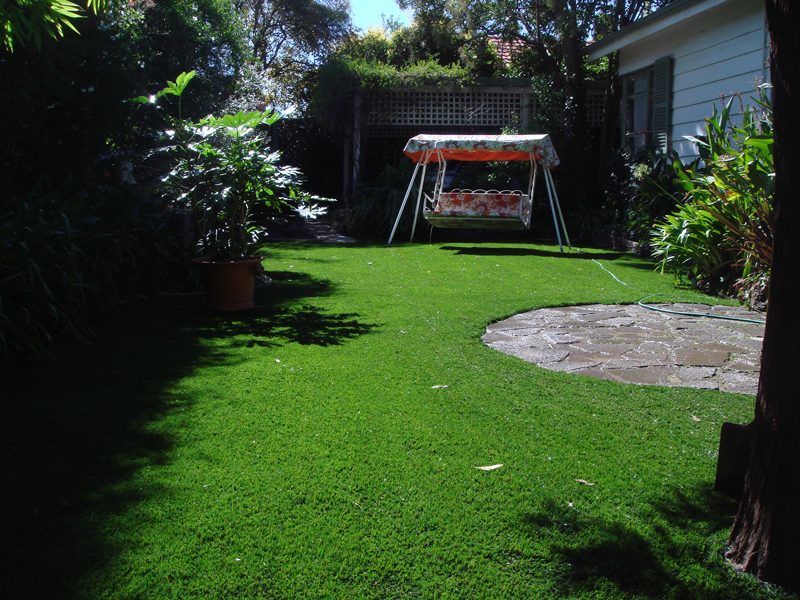 Why Installing Artificial Grass for Backyard?
Compared to real grass, artificial grass is a better and easier solution to add some color and style to your backyard. Here are various reasons that reveal the benefits of installing artificial grass for backyard:
1. Water saving
Regular watering is vital for natural grass, especially for drought regions such as northern Australia, western America and the Middle East. The grass in these areas might be irrigated twice a day. On the other hand, the artificial grass for backyard only requires occasional watering. For further elaboration, the only time you need to water them is when you want to clean them. Just rinse the grass yarns for a few seconds is enough to get rid of the dirt and mud. Please click the link to find further details about how to clean artificial grass.
2. Safety
Harmful chemicals are often used for pest control on nature grass which is a quite huge potential threat to our health. On the contrary, as the raw materials are lead and heavy metal free, the artificial grass for backyard has become a perfect and safe option for adults and children playing on it. This is also why more public play areas are starting to use fake grass.
3. Low maintenance
Only minimal care is required to maintain the beauty of the artificial grass for backyard, including brushing, rinsing and removing debris. On the other hand, maintenance and care that goes into a natural lawn involve mowing, edging, aeration, seeding, fertilizing, weed control, and watering. It is obvious that the cost of care and maintenance of artificial grass is much lower than nature grass.
4. Aesthetics
Nature grass falls in autumn and get bare in winter, which is not only unaesthetic for your backyard but also makes children or pets nowhere to play around. Laying artificial grass for backyard typically comes in a range of green hues. Most artificial grass products use a blend of hues to produce a more realistic appearance. High-quality artificial grass has blades with soft edges and firm tips that do not look fake. Some artificial grass even has a thatch layer that helps make a backyard look less perfect and more realistic.
5. For pets
The artificial grass for backyard is like the paradise for pets, they can relieve themselves without any concerns because the artificial turf is soft, beautiful and easy-to-clean. It gives your dog, cat or other pets an outdoor space they can explore and have fun.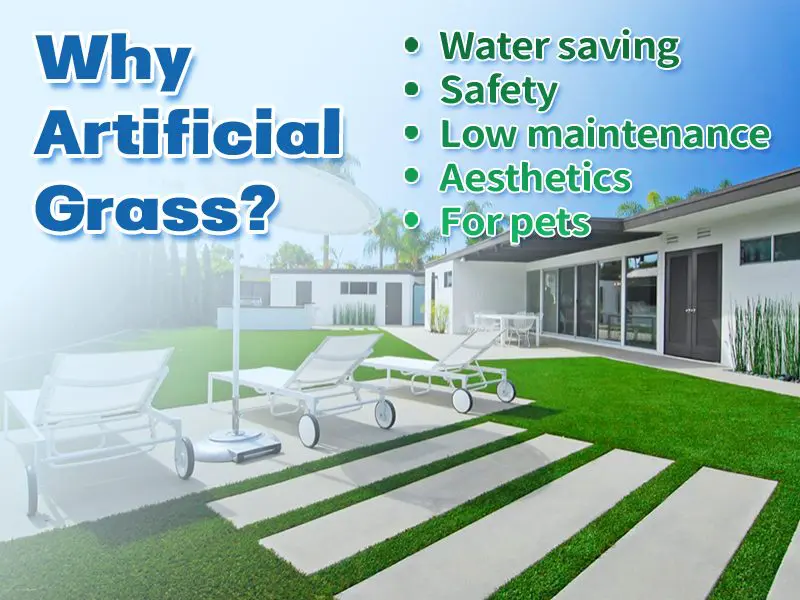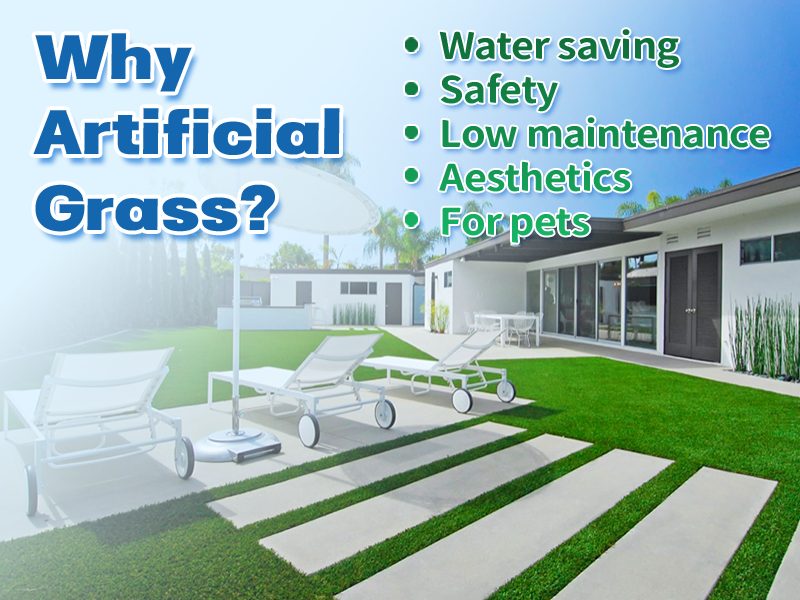 Best Artificial Grass for Backyard
Backyard is the place where families and friends can catch up with each other, barbecue at the weekends, play with kids and pets, enjoy the beautiful sunset with lovers. The tips below aim to help you choose suitable artificial grass for backyards.
1. Pile height
The pile height of artificial grass refers to the length of the grass blades. Due to the high frequency use of artificial grass, we should not choose high pile height artificial grass for backyard. The pile height of 25-35mm is suitable, even if you step on it frequently, the grass lawn can maintain a better condition.
2. UV resistance
Backyard is always exposed under the burning sunbeam. Hence, when choosing the artificial grass for backyard, the good UV resistance keeps the grass yarns colorfast for years, which extends the life span of artificial grass as well. CCGrass uses the best UV inhibitors, which are tested to both UVA 5000h & UVB 3000h by SGS, exceeding industry standards to ensure the yarn is not damaged by the sun's rays for 10 years.
3. Flame retardant
Backyard is a great place to barbecue and enjoy the gourmet with families or friends. However, the flame is a huge threat to our life and property. Therefore, the capability of anti-flaming is vital when choosing artificial grass for backyard. Please click the link to discover more about the flame retardant grass from CCGrass.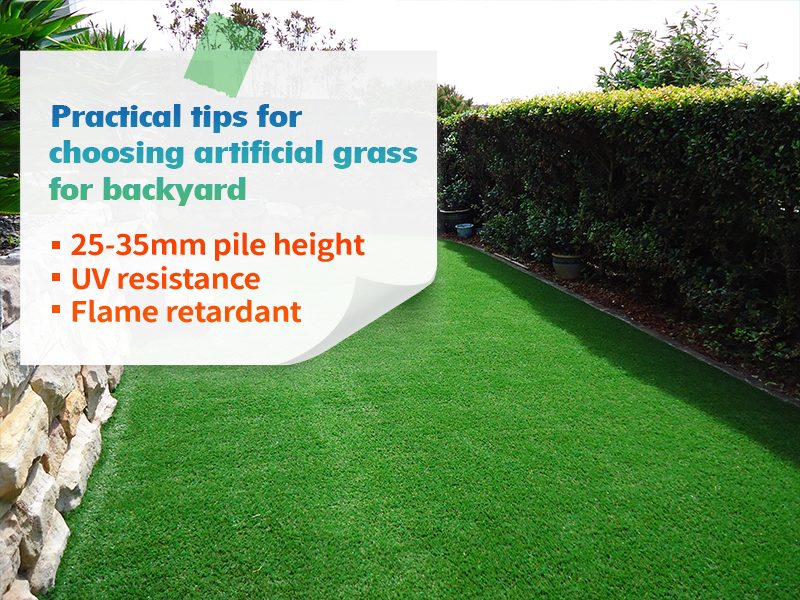 CCGrass is one of the first designers and manufacturers of landscape turf in the world. We have developed wide applications including residential, commercial, DIY, pets, golf, city landscape, etc. If you are looking for artificial grass for backyard, our grass products will be able to meet all your needs and make your backyard attractive and functional.
For more information, please feel free to call us at 86 25 6981 1666 or email us at [email protected].