The Ultimate Guide to Residential & Commercial Landscape Turf Solutions
Welcome to the world of artificial landscape turf, where the beauty of nature meets the convenience of modern living. In this guide, we'll uncover the features, benefits, and our impressive turf products. Together, they elevate both residential and commercial landscapes, offering newfound beauty and practicality.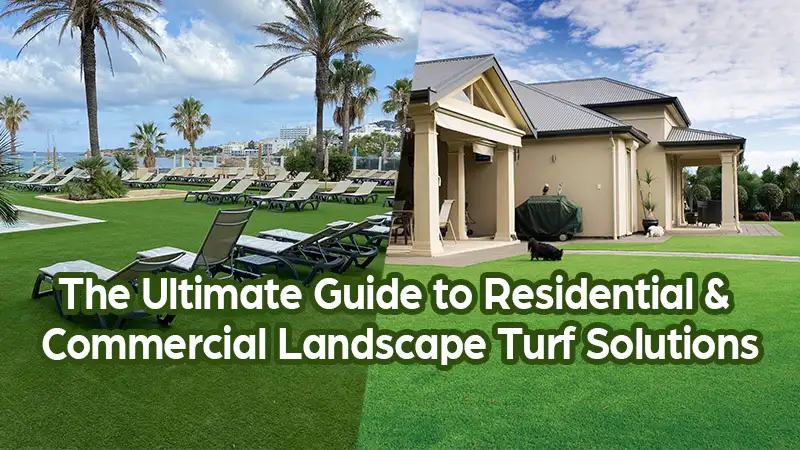 Features and benefits of artificial landscape turf
Stunning looks with minimal watering
Artificial landscape turf is an eco-friendly choice that enhances your outdoor aesthetics. It demands minimal to no watering, making it ideal for arid regions.
Its lush appearance remains vibrant year-round, effectively saving water resources and providing an attractive, sustainable alternative to traditional lawns.
Save time and money
With fake turf, there's no need for regular mowing, watering, or fertilizing. This translates into more leisure time and significant savings on maintenance costs.
Instead of working tirelessly to maintain its perfection, you can now savor your outdoor space during weekends.
Exceptional durability & resilience
Artificial turf is meticulously designed for resilience, boasting a robust construction that enables it to withstand heavy foot traffic and various weather conditions.
With regular brushing to keep grass blades upright, your artificial lawn maintains its fantastic look throughout the entire year.
Cleanliness & comfort
Landscape turf eliminates common outdoor inconveniences. Bid farewell to grass stains on your knees and muddy paw prints.
Your outdoor area stays clean, keeping your indoor environment clear of dirt and mud tracks.
Install once, enjoy for years
Say goodbye to the hassle of replanting, reseeding, or resodding. Once installed, synthetic turf requires minimal ongoing attention.
It's easy to clean and can provide a beautiful outdoor setting for approximately a decade or even longer with proper care. This longevity makes it a cost-effective and long-lasting landscaping solution.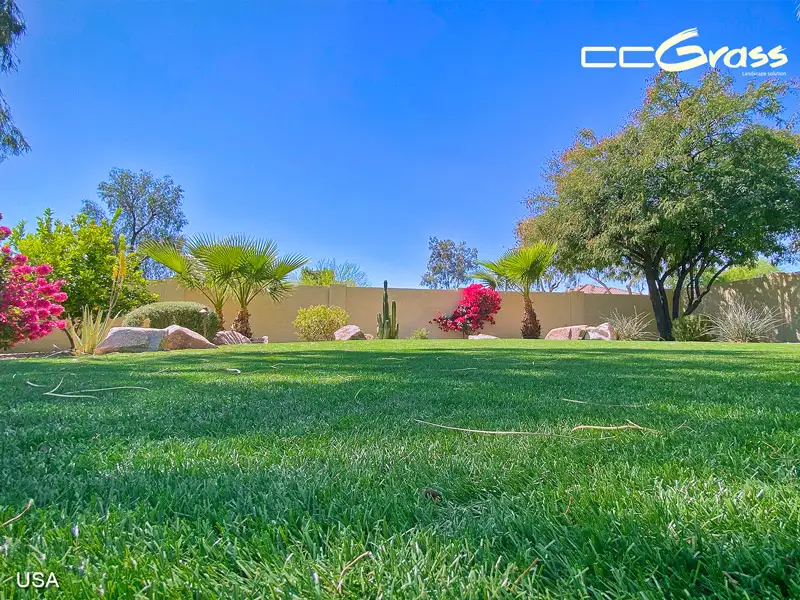 Why choose CCGrass landscape turf?
Built-in UV protection
Sunlight can harm fake grass over time, causing it to fade or crack. At CCGrass, we tackle this challenge with advanced built-in UV protection.
Rigorously tested by third-party SGS, our artificial grass surpasses industry standards, enduring 5000 hours of UVA and 3000 hours of UVB exposure, ensuring it stays fresh and vibrant for up to 10 years.
Safe for people, pets and the earth
CCGrass landscape grass is your assurance of safety. It has undergone comprehensive health tests, including REACH, RoHS, DIN, EN71-3, and ASTM, all certifying it to be free of harmful components.
With patented antibacterial technology, it's a perfect choice for kids and pets, ensuring a clean and healthy outdoor environment. Beyond that, CCGrass is dedicated to being eco-friendly, making it a responsible choice for the planet.
Flexible color and style options
With its extensive production capabilities and a proficient R&D team, CCGrass offers a wide array of grass colors and shapes that cater to diverse regional preferences. Our premium artificial turf, complete with realistic thatch, captures the essence of natural grass.
This versatility in colors and styles, coupled with its authenticity, guarantees a seamless integration of your landscape with its surroundings, resulting in an aesthetically pleasing outcome.
Our selection of landscape turf products
Explore our variety of artificial landscape turf options, suitable for residential and commercial use, promising years of effortless beauty. Below, we highlight some of our top picks.
Classic residential turf: Timeless beauty
Its unique C-shape with a Dual-arch structure offers both a beautiful appearance and a soft, resilient feel. Enjoy timeless charm and comfort in your outdoor space with this classic option.
Highlights
Special design
C-shape with brilliant Dual-arch structure
Soft and resilient
Oasis residential turf: Nature's perfect match
With its varied monofilaments, wide-slender collocation, and highly natural appearance, Oasis seamlessly blends with the outdoors, creating an inviting atmosphere reminiscent of natural grass.
Highlights
Monofilaments of various different shapes and colors
Wide and slender collocation
Highly similar to natural grass
Elegant residential turf: A sunny delight
Elegant turf stands out with its innovative sunny yellow design, closely imitating a natural lawn. It adds a touch of brilliance to your home garden, leaving a lasting impression of artificial grass that's anything but ordinary.
Highlights
Innovative sunny yellow design
Closely imitate the natural lawn
Creating an impressive image of artificial grass
Dynamic residential turf: Unmatched durability
Engineered for incredible resilience and durability, Dynamic excels in regions with intense UV exposure, maintaining an impressive appearance season after season.
Highlights
Strong, Durable, Premium
Incredible standing stability
Exclusively designed for strong UV regions
Admire commercial turf: Exceptional aesthetics
Featuring a brilliant Dual-Arch structure, it not only captures the eye but also delights the senses. Its exceptional design elevates commercial spaces, setting a new standard for aesthetics and performance.
Highlights
Brilliant Dual-Arch structure
Enhanced experience of look & touch
Amaze commercial turf: Innovation redefined
Amaze turf embodies creativity and innovation with its exclusive Rock Tech. This unique feature creates a dense, outstanding appearance, offering both high quality and cost-effectiveness for commercial landscapes.
Highlights
The unique Rock Tech makes dense and outstanding
High-quality and cost-effective
Bonus commercial turf: All-round excellence
Bonus is the magnificent all-round artificial landscape turf for commercial applications. The advanced tufting technique coordinates the balance amongst the diverse fibres, multiple colors, stunning appearance, soft touch and trusted quality.
Highlights
Advanced tufting technique
Cost-effective
Fluffy and realistic-looking
Artificial landscape turf in residential and commercial settings
Our landscape turf gallery is brimming with creative inspiration. You can design lawns, walkways, play areas, or pool surrounds of any size or shape without concerns about mowing or shade. Alternatively, bring vibrancy to your garden, backyard, or balcony. For more applications and ideas, explore our Landscape Turf page.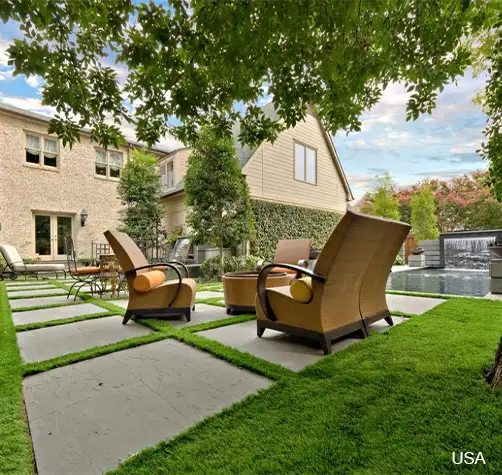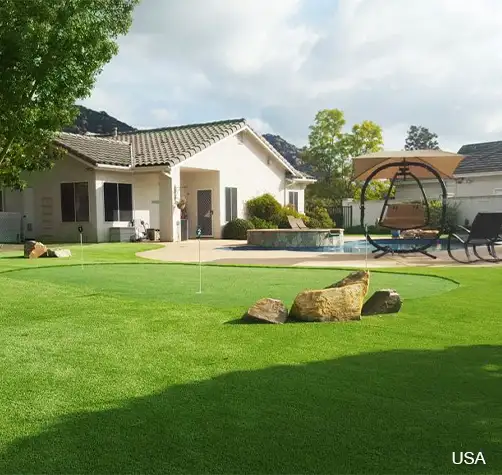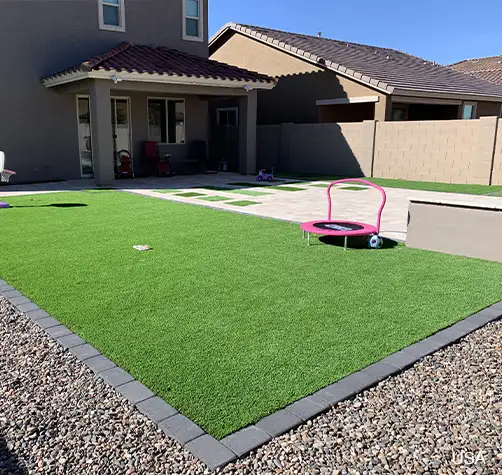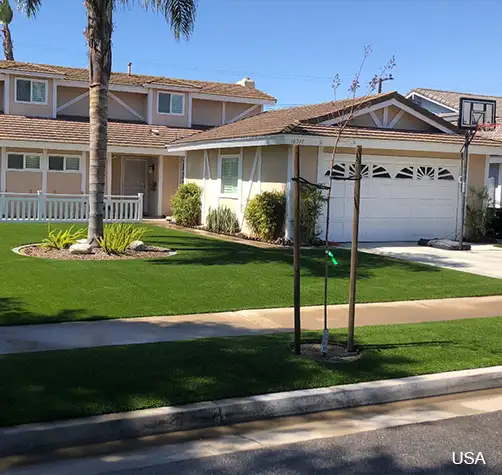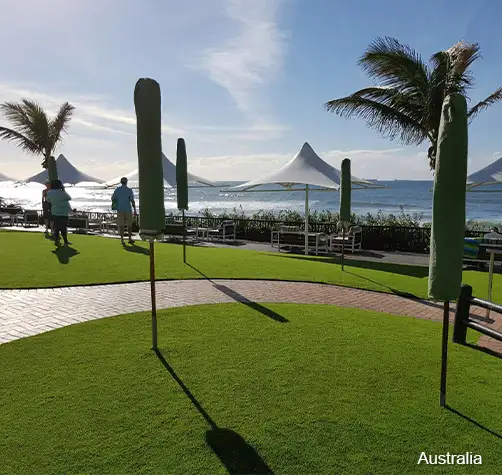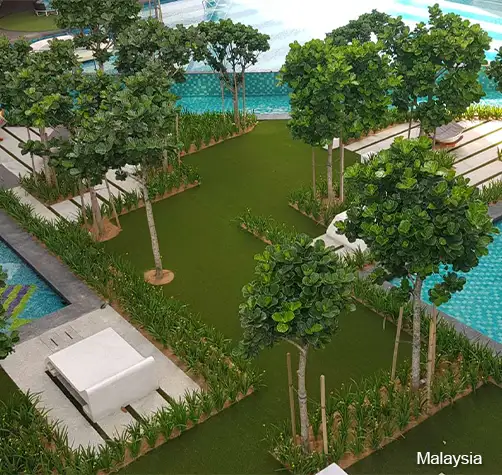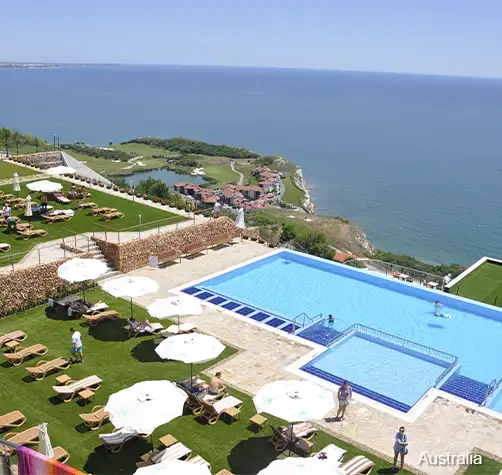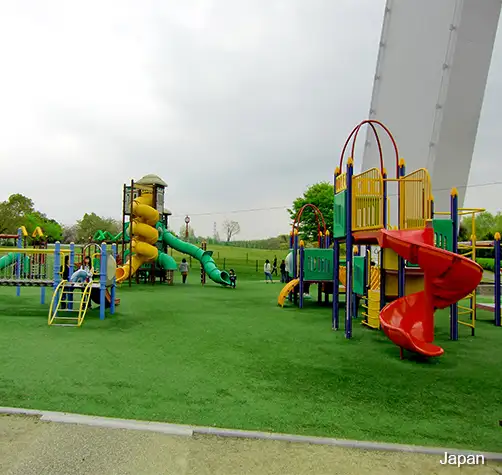 Conclusion
CCGrass is one of the first artificial grass manufacturers and designers in the world. We have developed wide applications for landscape turf including residential, commercial, playground, DIY, pets and golf. Our products have been installed in more than 140 countries and are widely accepted by millions of families around the world.
To explore the potential of artificial grass in your landscape, please don't hesitate to contact us at +86 25 6981 1666 or via email at [email protected]. Our dedicated team stands ready to assist you in selecting the perfect artificial turf solution tailored to your needs.