St Brendan's Park FC Takes Facilities to The Highest Level
The CCGrass football field at St. Brendan's Park FC in Ireland has successfully undergone testing according to FIFA standards and has achieved FIFA Quality certification. This state-of-the-art artificial grass pitch significantly enhances the club's facilities, taking it to an exceptional level.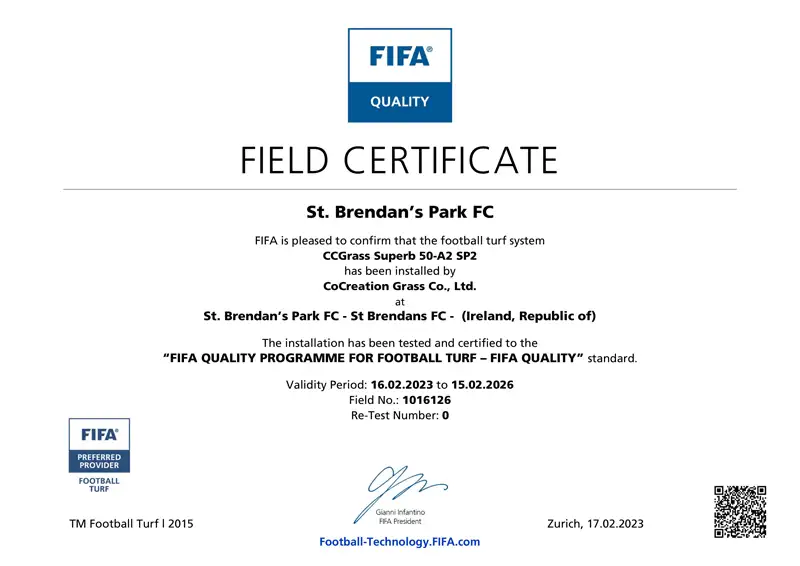 About the project
Our longstanding partner, PST Sport, was responsible for the installation of this football pitch. Covering an area of 6,600 square meters, the pitch features our flagship Superb 50 artificial grass carpet, expertly laid on high-quality shock pads.
This remarkable project will bring long-term benefits to both the club and the local community, ensuring an enhanced sporting experience for years to come.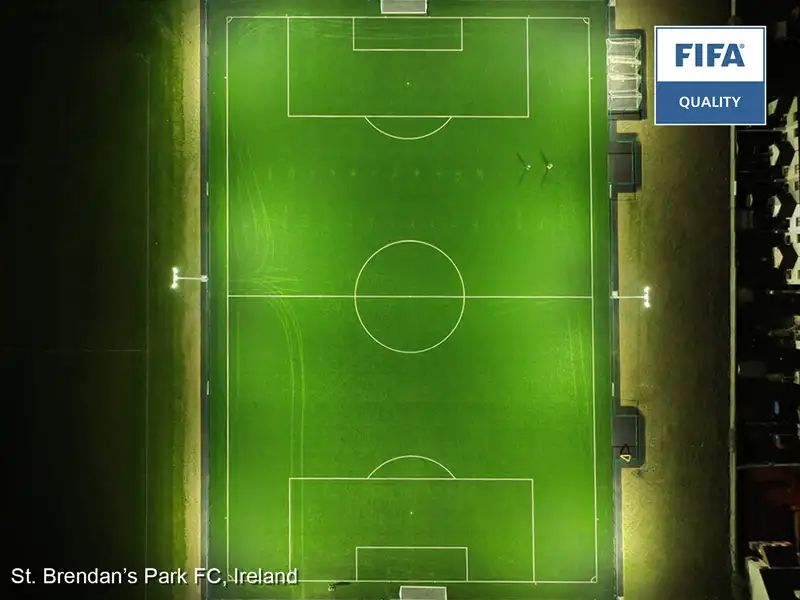 About the club
St Brendan's Park FC was founded in 1971 and has been providing a sporting and social outlet for the greater Tralee area for over 50 years. The club has played a crucial role in promoting and developing football sports in the region, with all involved working tirelessly to improve facilities and create inclusive opportunities for all age groups.
This new FIFA Quality pitch provides a durable, safe, all-weather playing surface that accommodates the club's high usage throughout the year, allowing for more games and training sessions. Equipped with floodlights, the facility offers nighttime usability, while also generating revenue through pitch rental, benefiting the club and its members.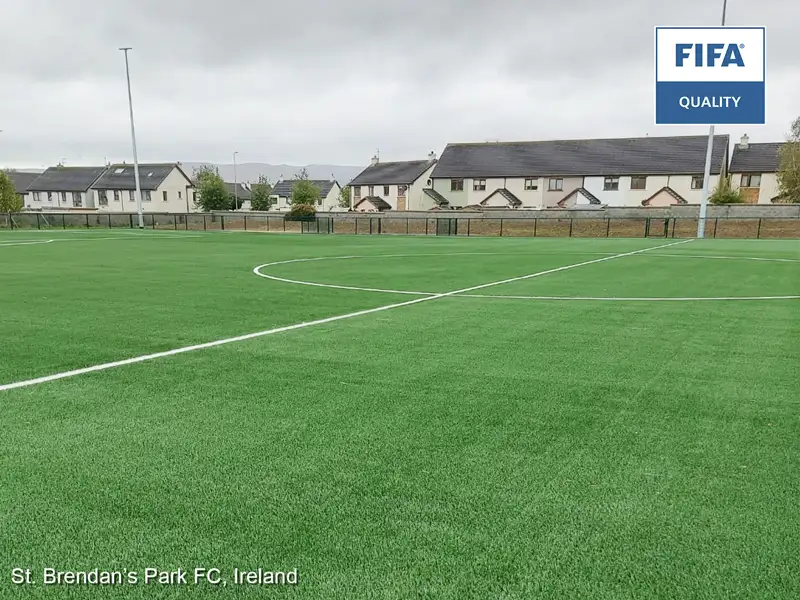 About the surface
Superb 50, a diamond-shaped yarn with a thickness of 400 µm and a strength of 17,000 dtex, stands out for its outstanding durability. Its smooth shape ensures a soft touch, and it is manufactured using the advanced C8 polymer, known for its purity, enhances its resilience.
The fiber's upright resilience allows for ball roll on the turf surface that closely emulates a high-quality natural turf pitch. Moreover, the fibre's exceptional durability, enduring up to 25,000 cycles in the Lisport XL test while maintaining good condition, ensures a service life of 12-15 years.
About CCGrass
As a FIFA Preferred Provider, CCGrass offers over 180 football turf systems that have undergone rigorous testing to meet FIFA Quality and Quality Pro standards. With over 350 FIFA certified fields worldwide, we have been trusted by professional sports clubs, government bodies, communities, and schools to deliver exceptional artificial grass solutions.