CCGrass won 3 Global Elite level hockey fields, contributing to the Chinese National Games
Recently, 3 hockey fields installed by CCGrass are applied for the 14th Chinese National Games. The fields are located in Xi'an Physical Education University Huyi Campus, having obtained the highest level certification – FIH Global Elite Level certification.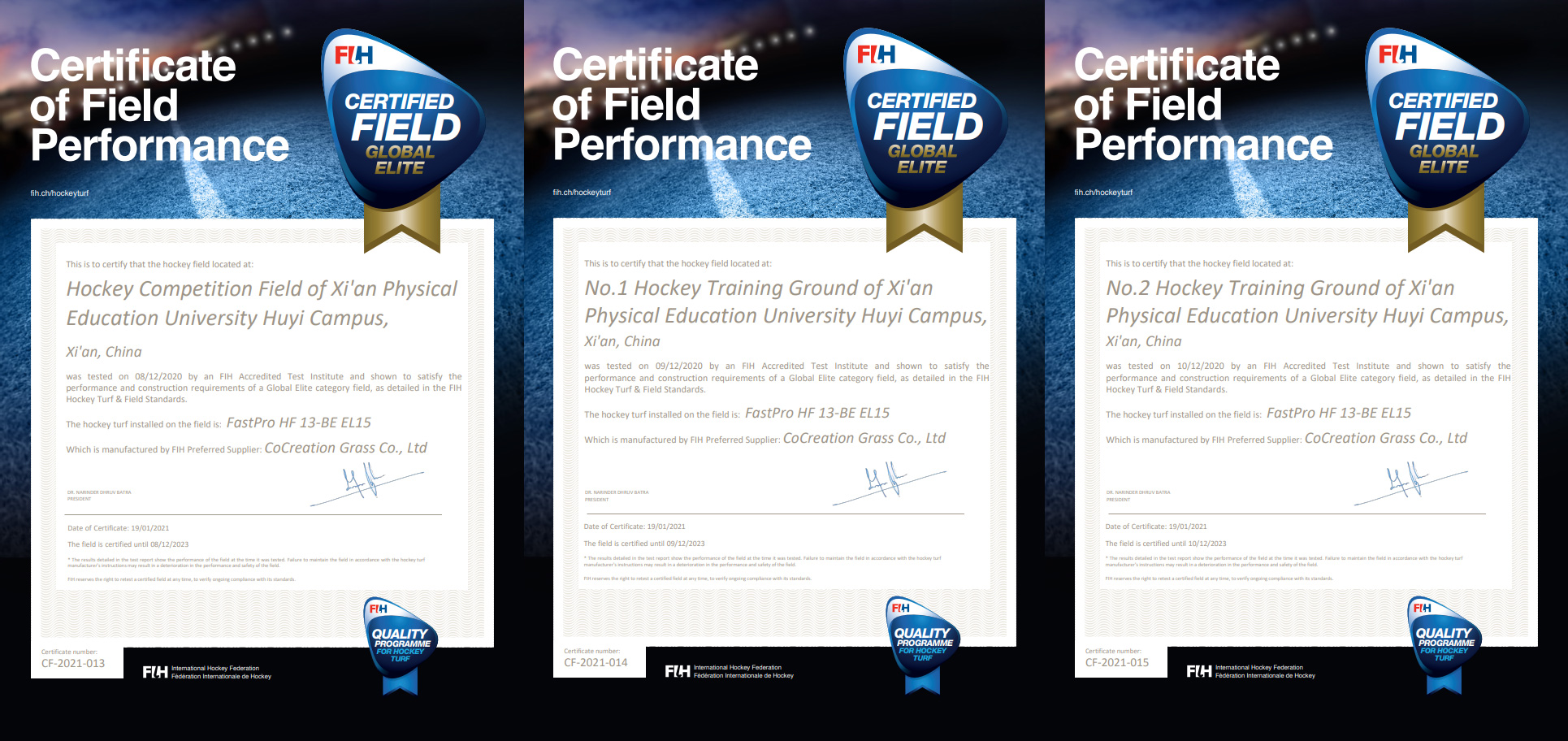 Three FIH Global Elite Level certificates
The 14th National Games will be held in September 2021. The Xi'an Physical Education University Huyi Campus will serve as a secondary arena to undertake the hockey games, so there are very high requirements for the newly built hockey fields. CCGrass is the world's largest producer of artificial grass. As a FIH Preferred Supplier, CCGrass has had over 40 certified hockey fields around the world since our first FIH certified field in Wandsworth Lord in the UK in 2012. CCGrass has extremely rich experience in the production and installation of artificial turf for hockey fields and is the best choice for the field supplier of the National Games. The product chosen is CCGrass FastPro HF series, which has passed FIH Global Level product certification and has been well received by our global customers for many years.


FIH Product Certification
FIH Global
Non-filled "wet" Hockey Turf
Used for top level national & international hockey
FIH National –Class 1
Sand Dressed Hockey Turf
Used for high level club/college hockey
FIH National –Class 2
Sand Filled Hockey Turf
Used for community fields
FIH Multi-Sport–Class 1
Sand dressed or sand filled synthetic turf or textile surfaces
Normally used for multi-sport fields that also needs to accommodate football or lacrosse
FIH Multi-Sport–Class 2
Sand dressed or sand filled synthetic turf or textile surfaces
Normally used for multi-sport fields that is also used for tennis
FIH Multi-Sport–Class 3
Longer pile (3G) synthetic turf
Rubber and sand infill
Designed for football and hockey

Global Elite
FIH Tier1
competitions

Global
International and top level national
competitions

National
National, regional and
community hockey

Multi-sport
Community and development
level hockey