British School Chooses Chinese Pitch for its National Game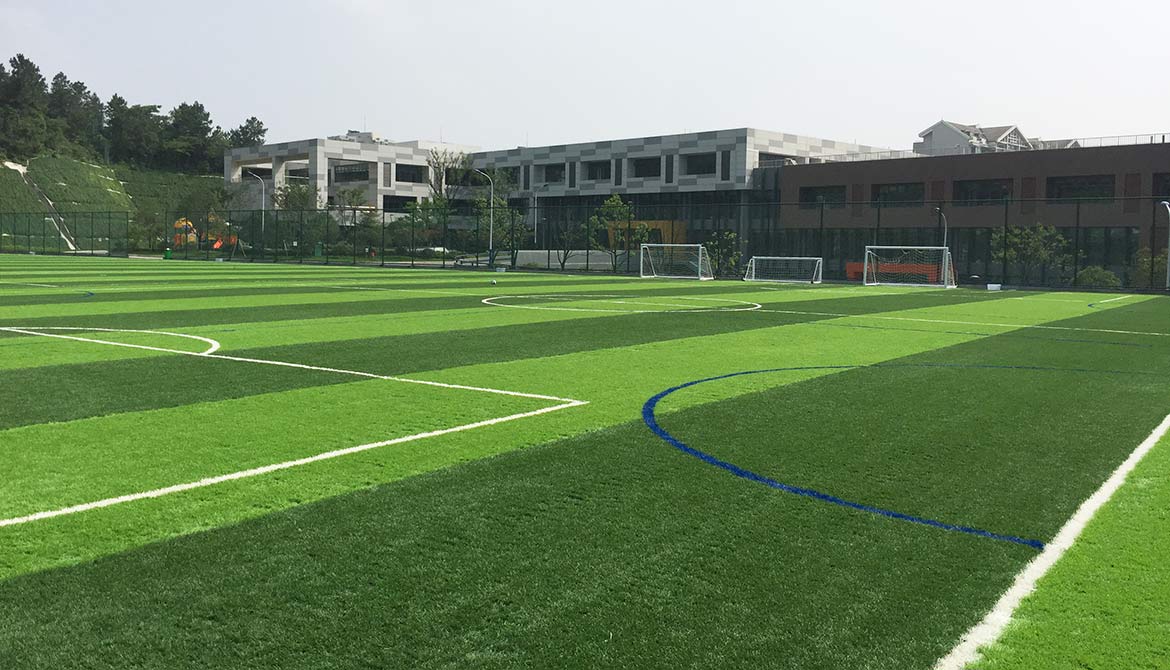 28th May, 2016, saw the British School of Nanjing in China hold their ninth annual Summer Fair, the first major event to be held at their brand new state of the art facility, featuring a new artificial grass pitch as the crown of the new campus development.
The Summer Fair is the ubiquitous British tradition, evoking home baking, school bands and charitable events involving lots of water. It is also a unique element of British culture that exports well. In Nanjing, over 900 guests turned out in far from ideal conditions to provide the school with their most successful fair to date.
Of the many fun filled activities on offer, the opportunity to "Soak the Teacher" was a possibility far to good to be passed up by many students, taking place on the school's new football pitch, an artificial grass installation by the world's largest producers of such turf, CCGrass.
Being set into the side of the beautiful Cuiping Mountain presented both parties with challenges and difficulties when it came time to install the pitch.
Speaking of the cooperation with CCGrass, school headmaster, Mr. Matthew Shepherd, said, "Working with CCGrass was a good experience. We needed a full-size football pitch installed in winter; not an ideal time of year for this. CCGrass were professional; advising us on how best to do this, honest; advising us on the difficulties, and flexible; re–arranging schedules around the weather. All of this ensured our pitch was ready to use for our first event on time and in great condition".
BSN's Head of Sports, Mr. Daniel Aylward, spoke of the pitch quality, saying, "The surface that's been used is great for football; the ball is not to fast. For rugby, it's soft enough for us to be able to play contact on it. The markings that have been done are excellent; utilising the space brilliantly. They have put in different colours so that we can see the different markings for all the different sizes of pitches. Production wise, the speed that they put it all together was excellent. When we needed a couple of areas topped up, the company was happy to come in with extra rubber pellets and do that, all free of charge".
The CCGrass product Stemgrass was selected for the installation. With a "spine" running through the middle of each blade, Stemgrass is valued for its durability. After 50,000 cycles of Lisport rolling, it does not show any signs of diverging or splitting. The surface is resilient enough to allow natural ball behaviour, give uniform traction and reduce shock to the joints and ankles.
Other pitches that utilise Stemgrass include Camp de Sports de Santa Barbara, Spain (FIFA 2 star), Hollviken IP, Sweden (FIFA 2 star) and the National Olympic Stadium of Phnom Penh, Cambodia.
About the British School of Nanjing
The British School of Nanjing (BSN) opened in September 2007 and is the first and only school in Nanjing to provide quality British international education. The school is also part of the The British Schools Foundation (also known as The British Schools Group) is a UK registered non-profit Foundation and the governing body of a world-wide network of, at time of writing, 11 British International Schools. Find out more at www.bsn.org.cn.
About CCGrass
CCGrass, the largest manufacturer of artificial grass in the world, is dedicated to providing the best artificial turf for both athletic and landscape purposes. After more than 10 years of focused development, CCGrass products have served clients from multiple regions with varying needs, including professional football clubs, government bodies, schools, and countless households around the world. CCGrass products have been installed in more than 90 countries with a total volume of more than 90,000,000 m². Find out more at www.ccgrass.com.