Why Artificial Turf Baseball Fields Are the Winning Choice?
Over the years, advancements in artificial turf technology have positioned it as the ideal playing surface for numerous sports. Whether it's football, hockey or rugby, artificial grass has emerged as a frontrunner due to its durability, low maintenance requirements, and consistent performance.
Today, synthetic turf has become the new norm in the world of baseball, offering significant advantages for players, field owners, and the overall game. In this article, we will explore the major benefits that artificial turf baseball fields bring to the game, alongside introducing two cutting-edge 3G baseball turf systems that enhance the playing experience.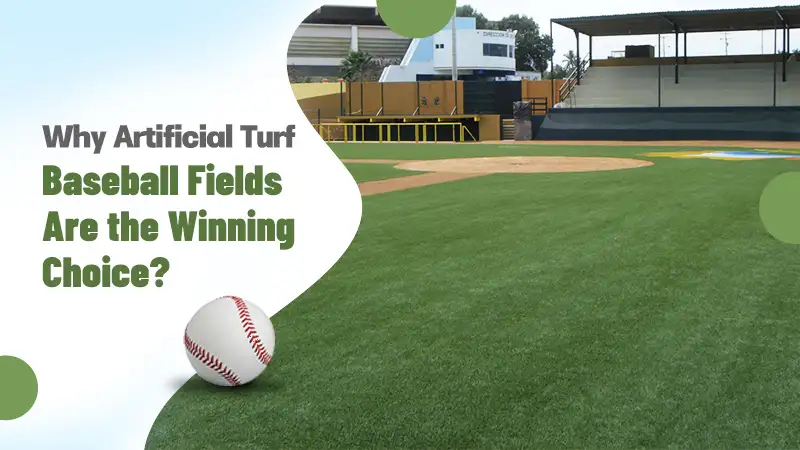 4 top benefits of artificial turf baseball fields
Superior durability and extended playing time
Artificial turf baseball fields offer superior durability compared to natural grass fields, which are highly susceptible to weather conditions and wear and tear from extensive use. Natural grass fields require frequent maintenance and recovery periods, limiting the number of games that can be played in a week.
In contrast, turf baseball fields provide a reliable playing surface regardless of weather conditions, reducing game cancellations and maintenance downtime. High-quality artificial grass is designed to withstand intensive use, allowing for extended gameplay without compromising performance or safety. This durability and resilience enable continuous play, minimizing disruptions to the baseball schedule and maximizing revenue and player participation.
Low maintenance and cost-effectiveness
Revolutionizing the maintenance aspect of baseball fields, artificial grass offers numerous advantages as a low-maintenance solution. With artificial turf, there is no requirement for excessive watering, resulting in significant water conservation. It also eliminates time-consuming tasks like mowing, trimming, fertilizing, and applying pesticides. This not only saves money and labor but also avoids the use of harmful chemicals, making it safe for players and the environment.
Furthermore, synthetic grass does not require reseeding or extensive repairs, reducing maintenance costs over its lifespan. Despite a higher upfront cost, a durable and high-quality turf system proves to be the economical choice in the long run. Its cost-effectiveness makes it a popular option for organizations with limited budgets, providing excellent sports facilities without the hassle of high maintenance.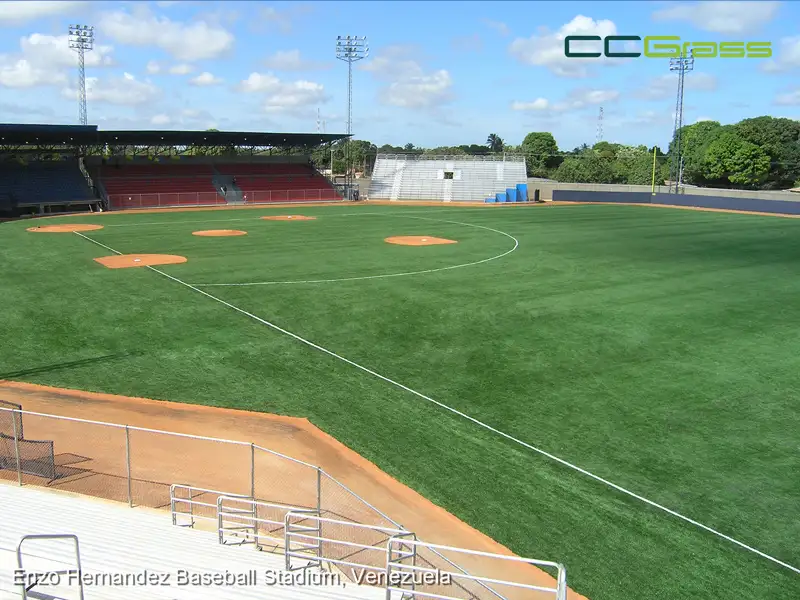 Enhanced safety and consistent playing surface
Ensuring player safety is of utmost importance in any sports facility, and synthetic turf baseball fields excel in this aspect. The advanced 3G baseball turf systems used on these fields effectively absorb impact and provide optimal support, reducing the risk of strains, sprains, and joint injuries. Unlike natural grass fields, artificial turf eliminates depressions or bumps that can lead to unpredictable footing and potential accidents.
Additionally, the consistent playing surface of artificial grass enhances the baseball experience. The absence of irregular bounces allows players to anticipate the ball's movement accurately, enabling precise hitting and pitching techniques. By providing a smooth and predictable surface, artificial turf enhances player performance and overall enjoyment of the game.
Ideal for indoor baseball facilities
Artificial sports fields make year-round baseball a reality, particularly in covered stadiums. Unlike natural grass, artificial grass doesn't rely on sunlight for growth and maintains an appealing appearance without natural light. Indoor baseball games on synthetic turf fields offer the same quality as outdoor games, ensuring a seamless transition for players.
On top of that, indoor facilities with artificial turf have the potential to generate revenue through extended rentals and hosting tournaments. This versatility and revenue-generating capability make artificial grass a valuable asset for indoor baseball facilities.
Recommended 3G baseball turf systems
Green Play Series for versatile turf baseball fields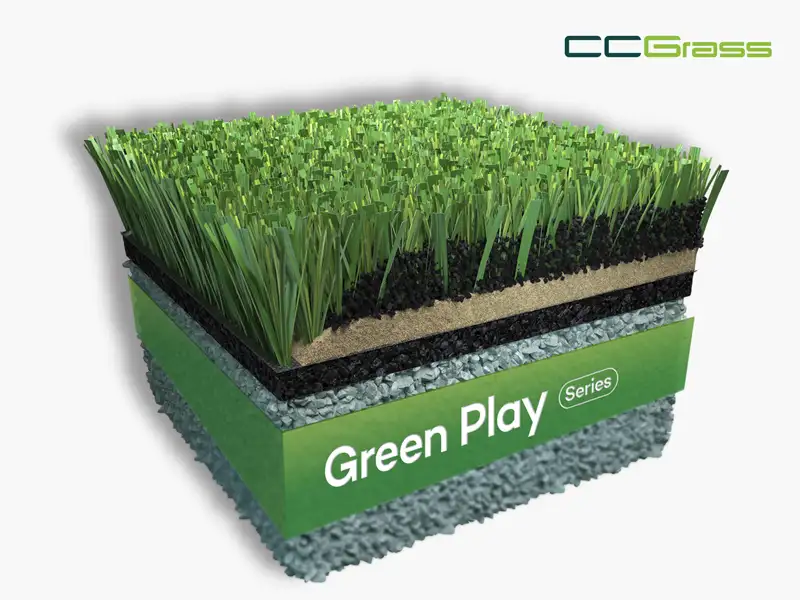 CCGrass Green Play Series combines shaped monofilament fibers with strong fibrillated yarns, resulting in better surface fiber coverage. The wider fibrillated strands help hold loose performance infill in place and reduce splash, creating a more realistic ball bounce.
Available in three different fiber color combinations, this turf delivers a natural and visually pleasing aesthetic. With its cutting-edge technology, the Green Play Series leads the way in synthetic turf performance and aesthetics.
Certified by FIFA & GMAX
Improved infill retention & lessinfill splash
High wear resistance & good resilience
Multi-sport use
Green Dura Series for high-demand turf baseball field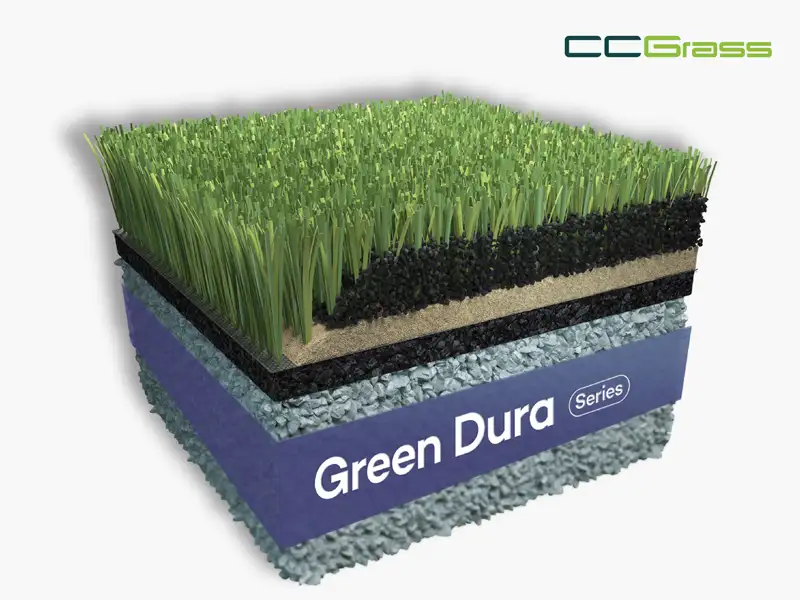 CCGrass Green Dura Series is a remarkable sports turf solution that adopts a classic diamond shape yarn with a thickness of 400µm. It showcases superior durability and improved wear resistance, significantly prolonging the surface's service life.
Designed to withstand the impact and abrasion from pitching and hitting, it ensures exceptional longevity and reliable performance for baseball games. This turf allows for increased usage of the playing surface and delays the need for replacement, ultimately maximizing its long-term value.
Advanced polymer and diamond shape with 400µm thickness
Always strong, resilient and soft to touch
Super sports performance
12-15 years warranty
Upgrade your baseball field with CCGrass
Baseball is more than just a sport; it is a powerful metaphor for life. As the popularity of baseball continues to grow, the significance of artificial turf baseball fields becomes increasingly evident, as they offer athletes an exceptional sporting experience.
CCGrass is always dedicated to offering best sports turf solutions for global sport industry. We take pride in being recognized as Preferred Producers by esteemed organizations such as FIFA, FIH, and World Rugby. Our impeccable artificial grass pitches have been successfully installed in sports clubs, community facilities, schools, and professional competitions worldwide.
Upgrade your baseball field with our high-performance turf for unmatched durability and safety. Contact us for free samples at 86 25 6981 1666 or [email protected].