Synthetic Turf Pitches – German Style
This week, Bryn Lee, CCGrass European Office CEO, visited our field at TSV Fortuna, Germany. Please go with Bryn to know more about this field.

TSV Fortuna, Billigheim's new CCGrass Pitch!
Just as different countries play football in their own styles, so it seems that there is also a specific "national" approach to pitch building.
Situated on the outskirts of a small town, TSV Fortuna is a small club with its own clubhouse and natural turf pitch. Alongside this is their new CCGrass field, built by German pitch specialists Raumflora. The club has a clean, fresh feel and is at the heart of the community.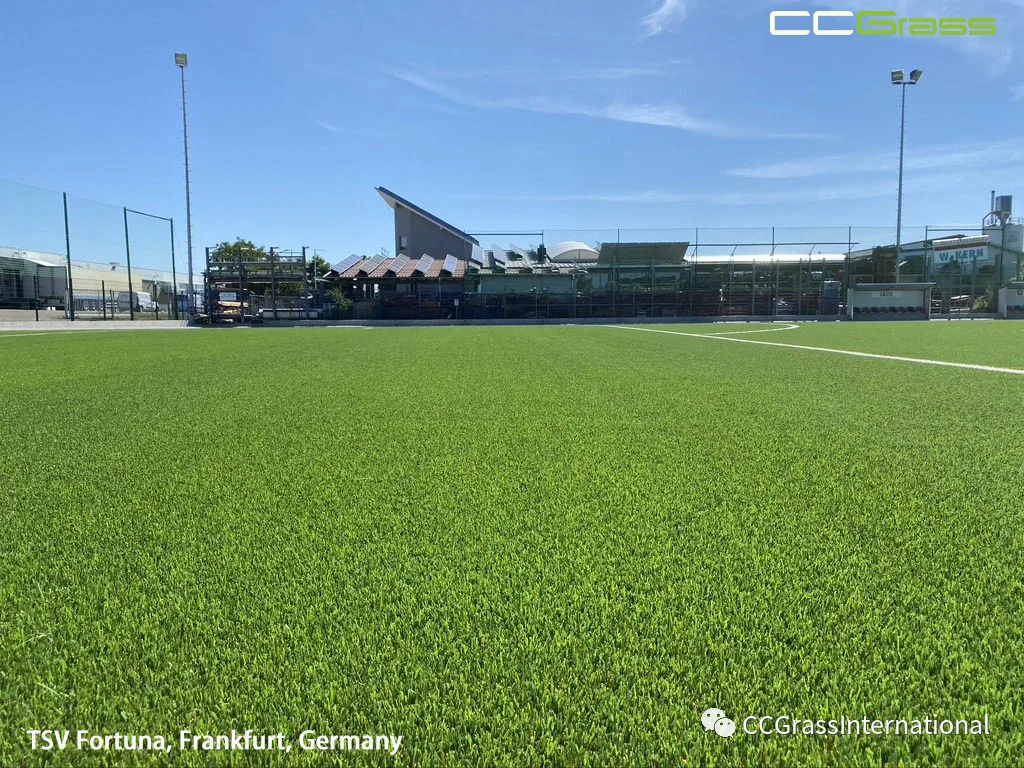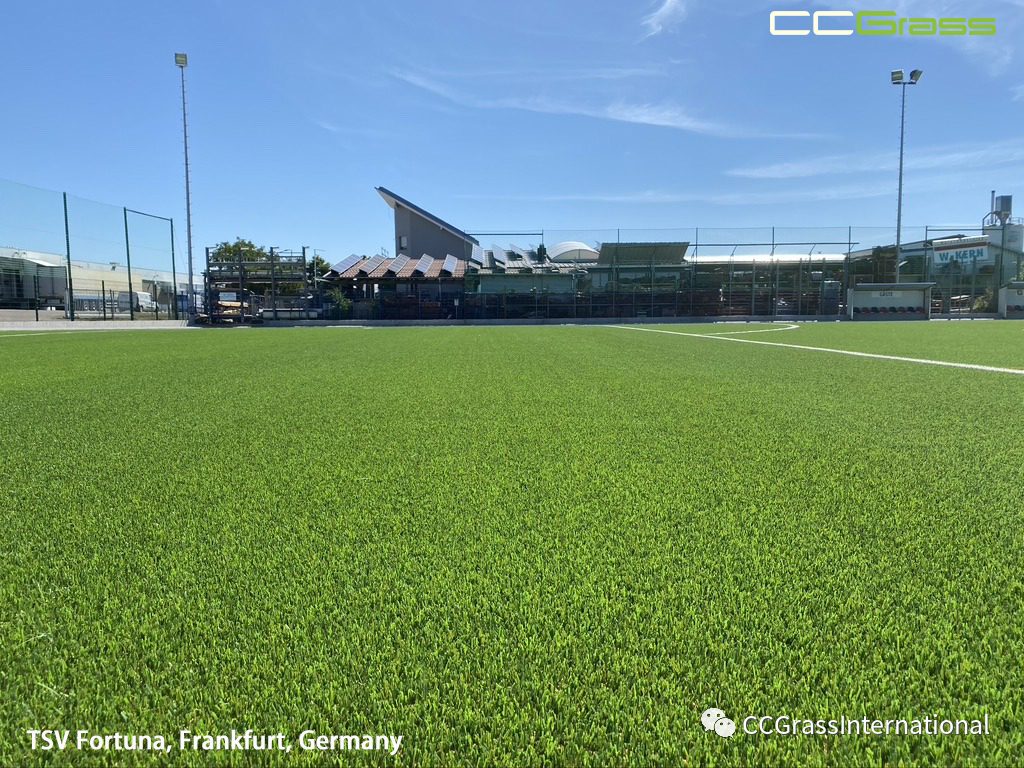 The chosen surface was the new CCGrass BiPlex AU 40. This consists of two different shaped fibres, with three separate shades of green in the surface, making for an attractive natural appearance. In fact, alongside the nearby natural grass field, the colour looked about as realistic as you can get.
The top 15mm of fibres were left clear, with 10mm of cork infill and 15mm of sand, brushed into the bottom of the turf. What was most impressive was how even and consistent the infill height was, across the entire area, and it is clear that considerable attention to detail had driven this installation. The white lines were sharp and straight, whilst no seams were visible. Underfoot it felt firm, but with a slight give, similar to the adjacent natural turf pitch.
Under the BiPlex AU 40 product, lies a 35mm pad, consisting of rubber granules and small rounded stone, bound with a strong binder. This created a very even and true "engineered" layer, that adds to the overall sport performance, as well as the integrity of the construction. The depth of stone and drainage, beneath was specific to the local ground conditions.
A pitch can be superbly built and turf installed perfectly, but it can still lose out if the detail around it, is poorly finished. Here, we had a shallow drainage channel around the perimeter, then attractive brick paving to the surround fencing. The paving was ample room for spectators to walk on. So much more attractive than a tarmac surround.
Perimeter fencing was at 2m, extended behind the goals. This was simple and effective.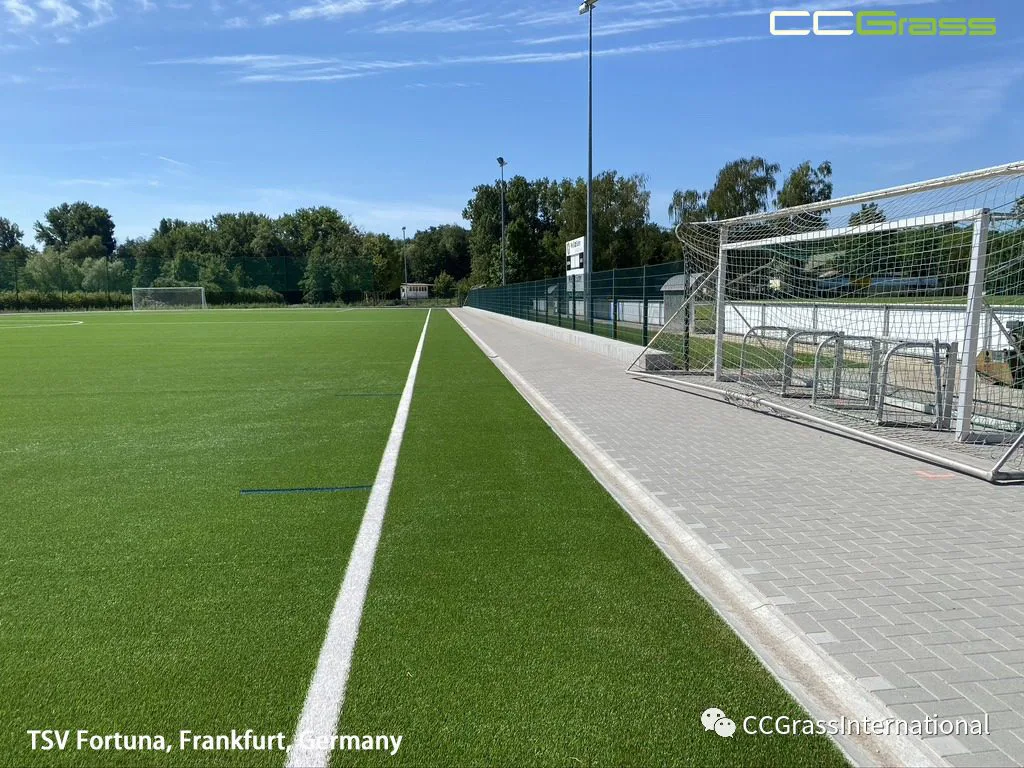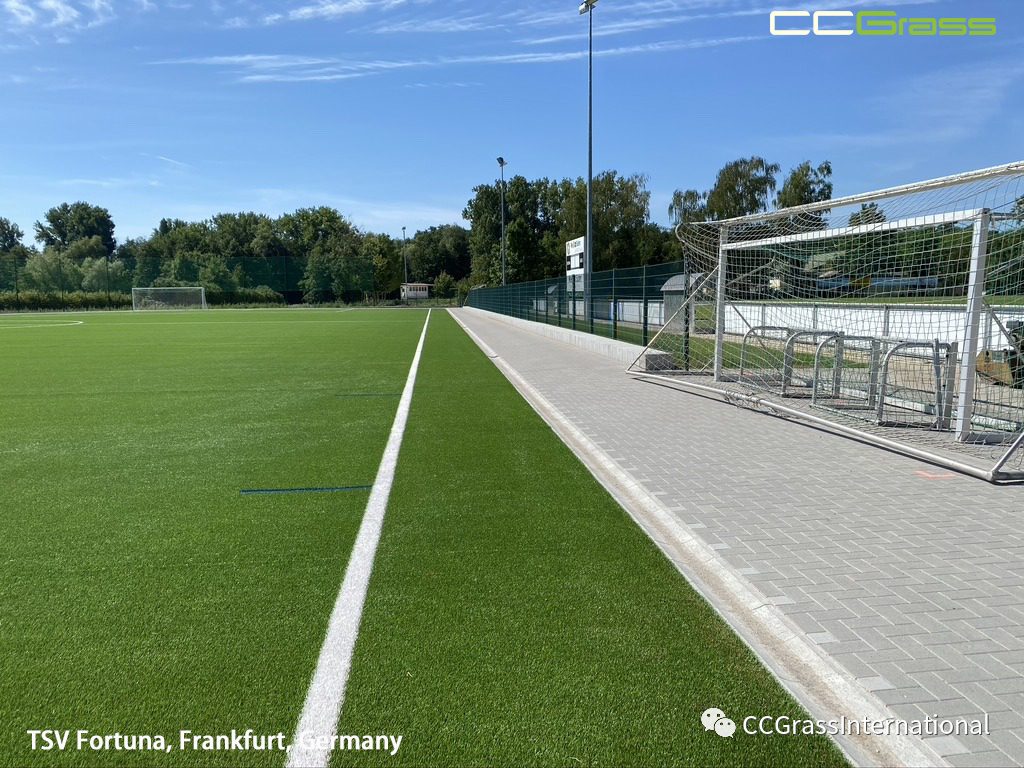 Whilst the pitch was on the small size, and, unlike other countries, the run off from touchline to kerb was only 1.6m, it worked. The cost for this pitch is considerably less than a comparable build in other countries, despite the very expensive shockpad. It meets local DIN requirements, as well as FIFA Quality Pro. With its cork infill, this is a great alternative system to conventional SBR filled pitches.
For any player, the performance of the pitch is most important, and here, at TSV Fortuna, this is what is delivered, as well as an attractive, efficient and cost effective build.