Everything You Need to Know About Artificial Grass for Garden Lawn
Are you still tired of sod mowing? Are you dreading unaffordable bills due to grass watering? Are you ashamed of a mottled garden with inevitable bald spots everywhere? Do you want to own beautiful grass for all the year and don't like to look out on to a muddy mess during the winter? You are now faced with the potentially daunting task of choosing the best artificial grass for garden lawn, and CCGrass is here to eliminate all of your troubles and concerns of gardening.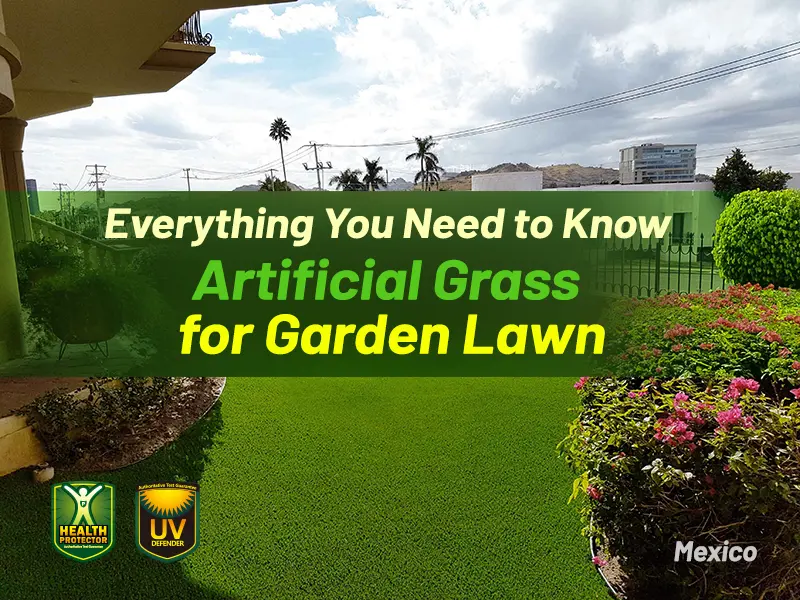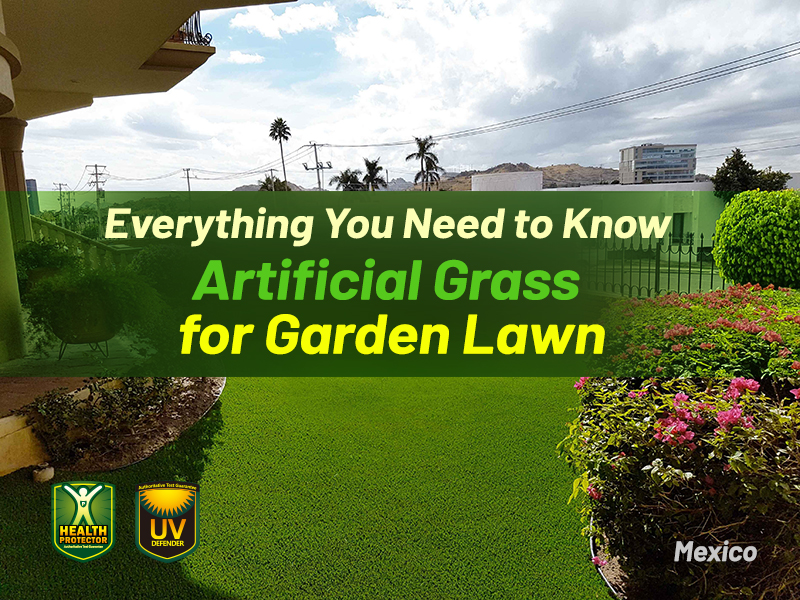 Why you should choose artificial grass for garden lawn?
1.No need to mow or water it
When it comes to garden grass, most people will think of watering and mowing the grass. Compared with real grass, the low maintenance aspect of artificial grass for garden lawn cannot be overlooked. Artificial grass for landscape has become more and more popular especially in areas where water is in short and natural grass is difficult to grow. Why you have to waste your precious spare time on breaking your back to mow your grass when you can sit back, relax and enjoy that view of your beautiful garden? Just enjoy the beautiful weekend on your garden lawn with artificial grass.

2.Amazing and fun
Imagine this scene, during autumn and winter, real grass of the garden turns yellow and requires watering, there are times when it would require trimming and fertilizing as well. However, with synthetic grass, the scene will not appear. There is no need to fix the artificial grass for garden lawn and water it ever again except when you need it to wash it periodically because the fake lawn can keep green all year around. What's more, you can decorate your preferred lawn scene by yourself. With artificial grass, the possibilities are just endless!
3.Ideal for outdoor spaces
Have a dream of establishing a garden in your lawn but worry about fails? Do not worry, synthetic grass is an awesome choice for you, it can make your land beautiful in an instant. Real grass cannot thrive on the lawn, especially in heavily polluted areas, or if children like to play on the lawn. If your apartment or balcony has a small garden, it is also recommended to use artificial grass.
What will the artificial grass for garden lawn be used for?
Like choosing a carpet in your house or apartment, when you decide the artificial grass, you need to consider factors of what your fake lawn will be used for. For example, a show lawn for friends and neighbors; a safe place for kids can play without hurts; or a wonderful place for pets to run around.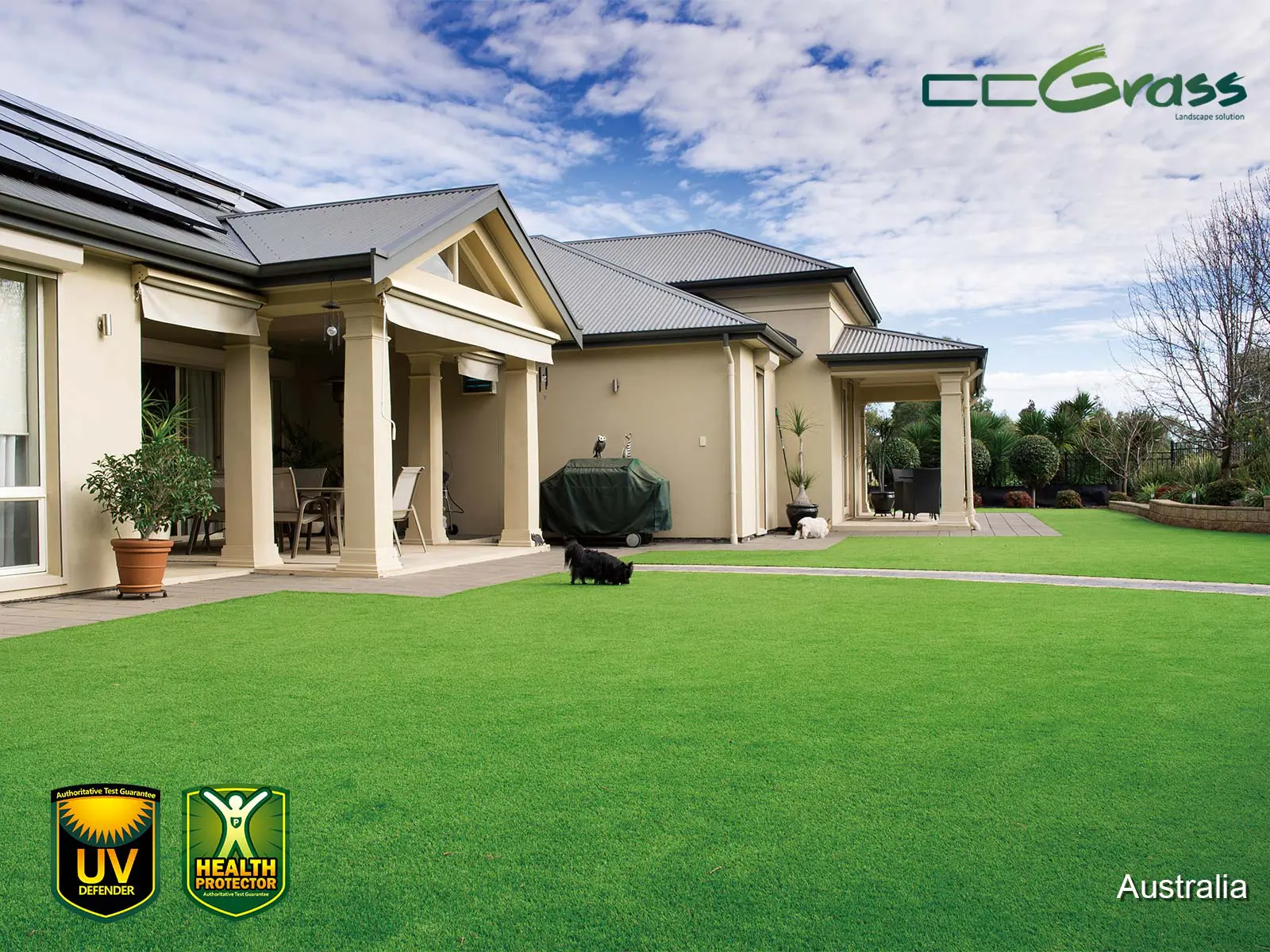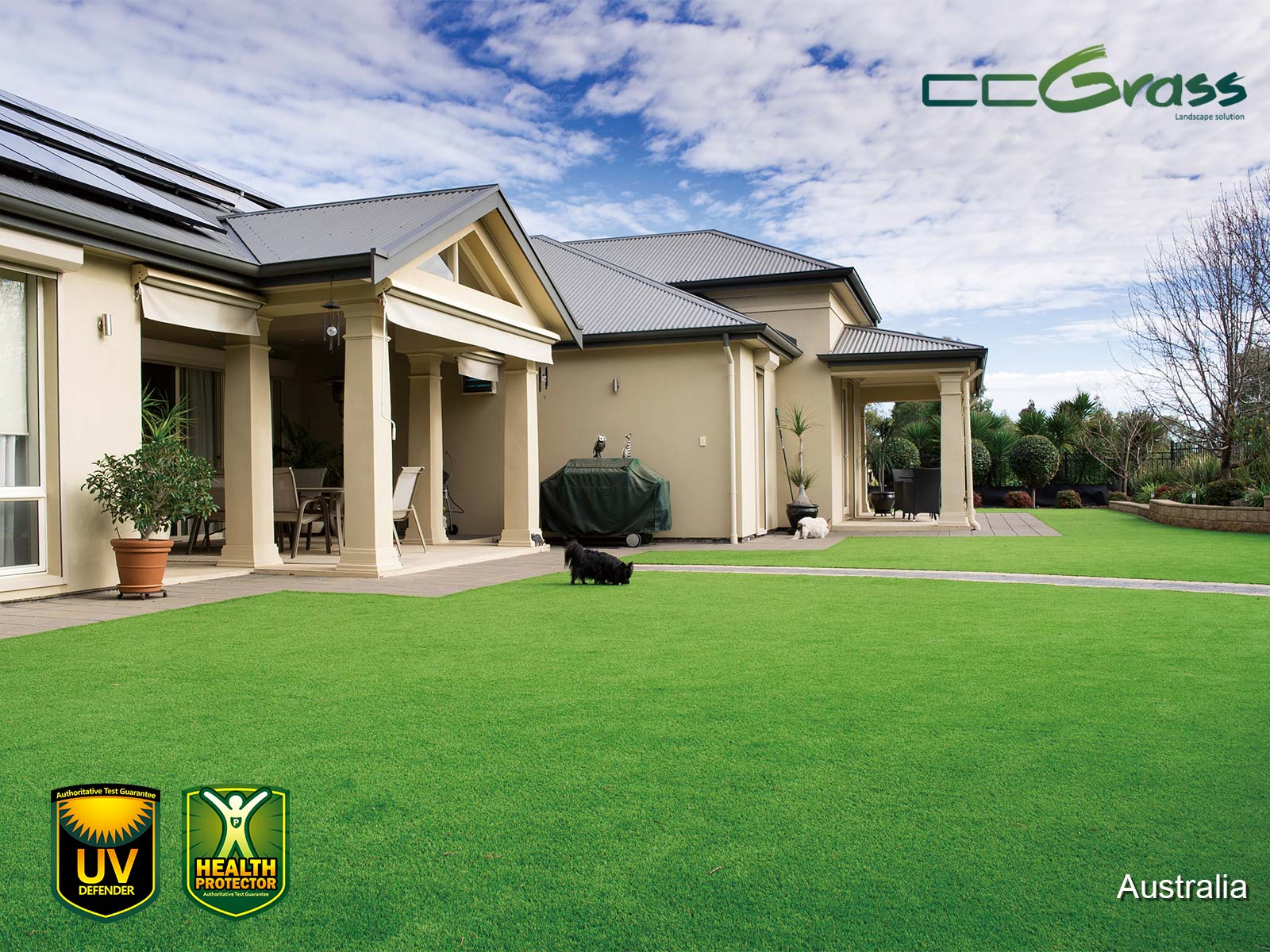 1.A show lawn
Do you want a great lawn to show your taste and enjoy a beautiful garden all year round? Choosing a grass that is hard wearing but there are not many abrasive dense fibers. Having one artificial grass in the garden can be an outgoing view. You do not have to worry about bad weather or seasons because synthetic lawn can always be green. Thus, you can show your beautiful garden to visitors every time and let them feel great scene in your house.
2.Play area for kids
One thing need to be considered. If you have kid or kids for that they like playing football or other sports on the grass, artificial grass absolutely is a certain solution for you. The reason is that within traditional grass, after using it for some time, the real grass is easily worn out and the underlying ground will become compressed and be very dangerous for kids if they fall. We usually recommend using short pile artificial grass for gardens often used by children because even the best long pile grass will flatten over time.
3.Play area for pets
Compared with real grass, artificial grass for garden lawn is more suitable for owners of pets, as pets often run around, dig lawns, and leave muddy footprints on the grass. Also make sure the artificial grass is highly permeable so that pets' urine can easily run through. Take a look at our article through the link https://www.ccgrass.com/choose-a-reliable-artificial-grass-for-dogs/ which gives more details on choosing a reliable artificial grass for dogs.
What to keep in mind when choosing artificial grass for garden lawn?
When deciding which artificial grass is best for you, you need to consider several aspects. At CCGrass, we would like to mention some of the most important aspects here: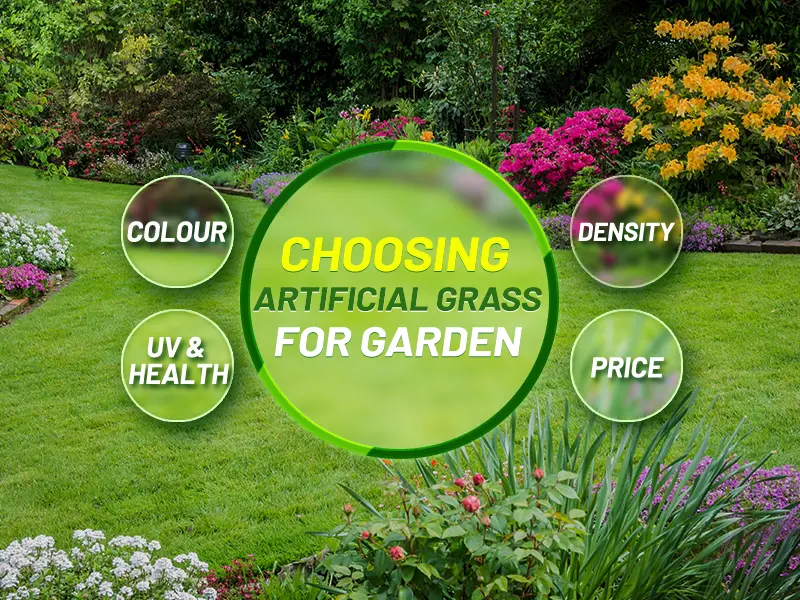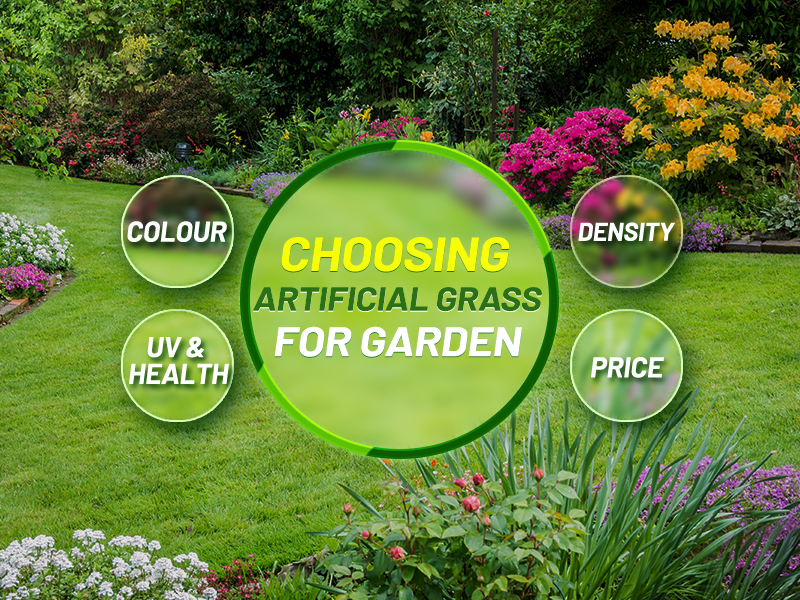 1.The colour
When choosing artificial grass, color is a very important aspect. It should have realistic hue and saturation. Mixed fibers of different colors can make it closer to natural grass. Remember, natural grass is not absolutely green.
2.Density
The density of artificial grass is usually mentioned in Dtex. The more stitches of artificial grass, the heavier the density. Dense artificial lawns look more natural than less one. The density of the product will also affect the elasticity and resilience of the lawn. It's up to you to decide whether you like the dense appearance and if the density is also necessary because your garden is subject to crowded foot traffic.
3.UV Defender& Health Protector
In outdoor use, artificial grass is exposed to sunlight. While the UVA and UVB in sunlight are the killers and bring damage to artificial grass. Like our skin, artificial grass also requires extra protection to defend against aging. CCGrass uses the best UV inhibitors to ensure the yarn is not damaged by the sun's rays for 10 years. Our landscape is tested to both UVA 5000h & UVB 3000h by SGS, exceeding industry standards.
With the prevalence of artificial grass installed in garden, whether it is safe enough becomes a top concern. CCGrass is very strict in the choice of raw material, using the purist quality that family members, especially kids can touch and play on safely. We have been tested to more than 200 substances according to the highest industry standards on health and safety, and is proved to contain no detectable trace of all. More information can be found on our youtube channel. What's more, we CCGrass has a sound guarantee system, which can provide reliable service for you.
4.Price
Finally, price is also an important factor. We recommend that you find an artificial lawn that is reasonable in price and meets your goal so that you can install the lawn comfortably.
The Choice is Yours
Now we may have given you a few things to think about before choosing your Artificial Grass, however, these are all important considerations in choosing your perfect lawn and achieving your dream garden. If you have any more questions when it comes to choosing artificial grass for garden lawn, please do not hesitate to call us at 86 25 6981 1666 or email us at [email protected].