Indoor Turf Fields: Choosing the Best Artificial Turf for Indoor Sports
If you're building an indoor sports facility and aiming to replicate the appeal and functionality of natural grass, your solution lies in artificial turf. Indoor turf fields bring a host of advantages that can redefine your sports facility, enhancing everything from playability to year-round availability.
In this article, we'll outline five compelling reasons to embrace indoor sports turf, along with expert-backed product recommendations for your indoor turf facility.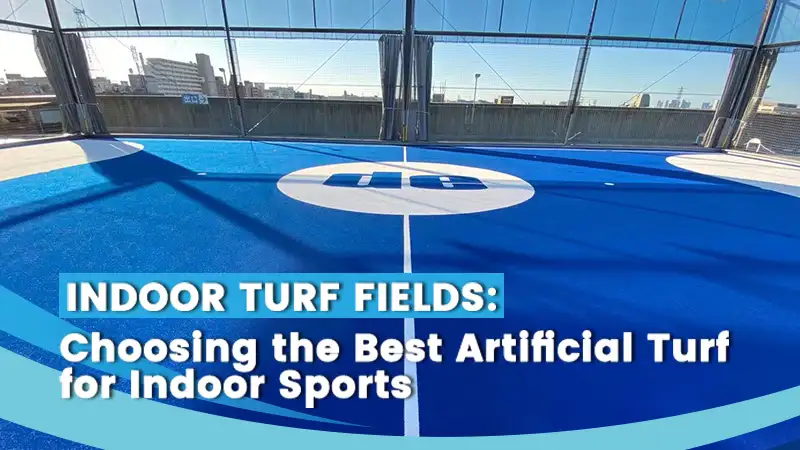 5 benefits of adopting indoor turf fields
All-weather convenience
Indoor turf fields offer a remarkable advantage in their ability to remain unaffected by adverse weather conditions. Regardless of external factors, these indoor turf facilities uphold optimal performance, facilitating uninterrupted year-round usage.
This not only ensures the consistency of training and game schedules but also efficiently reduces disruptions from rain, snow, or extreme heat. As a result, they emerge as the ideal choice for both professional athletes and recreational users.
Exceptional durability for intensive usage
Indoor fields, available day and night, often feature a more compact layout compared to outdoor fields, leading to concentrated wear patterns. Artificial grass rises to this challenge admirably. Designed with robust construction and premium synthetic fibers, it's built to withstand the ongoing rigours of daily usage.
Opting for highly wear-resistant artificial grass ensures enduring exceptional performance, empowering sports facilities and recreation centers to confidently invest in a durable and cost-effective solution.
Distinctive appearance and branding
Premium synthetic grass boasts a year-round vibrant appearance. Facility owners can choose from a variety of styles and colors to infuse a modern and unique aesthetic into their premises. Whether opting for a classic grass green or more daring hues, the field can exude a distinct visual appeal.
Integrating your logo onto the field provides a powerful means of showcasing your brand, creating a lasting identity that reinforces your market position and leaves a memorable impression on visitors and users alike.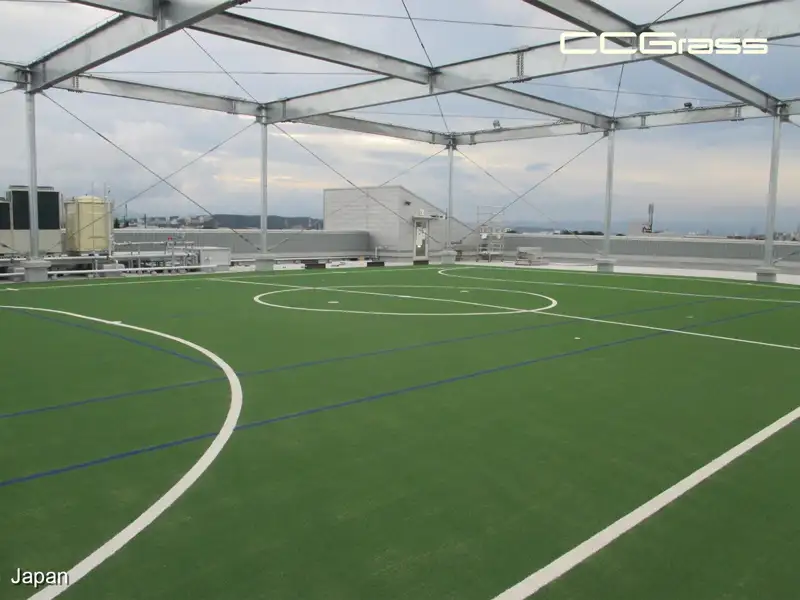 Improved safety and performance
Indoor turf fields are dedicated to athlete well-being, featuring a soft and uniform surface that safeguards joints and prevents injuries. The high-quality turf ensures optimal traction, shock absorption, and ball roll, enabling athletes to excel and enjoy a competitive experience.
Additionally, most of sports turf systems come equipped with shock pads, which cushions falls and adds an extra layer of protection between athletes and the concrete base.
Versatile space for diverse activities
Injecting vibrancy into indoor facilities, artificial turf transforms them into versatile spaces catering to a wide range of sports and recreational activities. Hosting intense football and rugby matches, as well as dynamic lacrosse drills, these fields provide a hub for athletic excellence.
Beyond sports, this adaptable environment seamlessly transitions into a venue for events, parties, and gatherings, thereby boosting facility use and revenue potential.
Exploring common indoor turf fields & best product picks
CCGrass offers a wide range of indoor artificial turf solutions to cater to your specific needs, allowing you to create a customized indoor environment. Our synthetic grass comes with varying pile heights, face weights, and fiber colors, providing options that suit different sporting applications.
Indoor football fields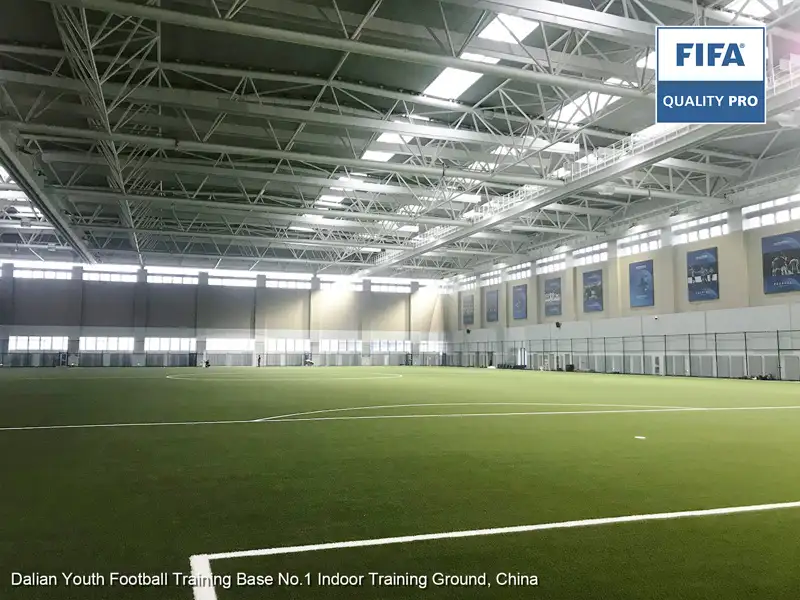 Football is a sport that greatly benefits from indoor turf installation. The prolonged football season frequently subjects athletes to varying weather conditions, spanning rainy summers to snowy winters, thereby elevating the potential for injuries and match cancellations. With indoor football turf, players can engage in uninterrupted gameplay, enabling them to concentrate fully on the game devoid of weather-related concerns.
Top indoor football turf choice – Superb Series
Our flagship Superb Series is incredibly durable artificial grass with an extended service life of 12-15 years. It boasts unrivalled characteristics, including an industry-high dtex of 17,000, diamond-shaped blades 400 microns wide, and a C8 polymer compound, elevating your indoor football experience to new heights.
Highlights
Lisport 550,000 cycles
Lisport XL 25,000 cycles
Meet FIFA Quality Pro requirements
Always strong, resilient and soft to the touch
Multi-sport & event facility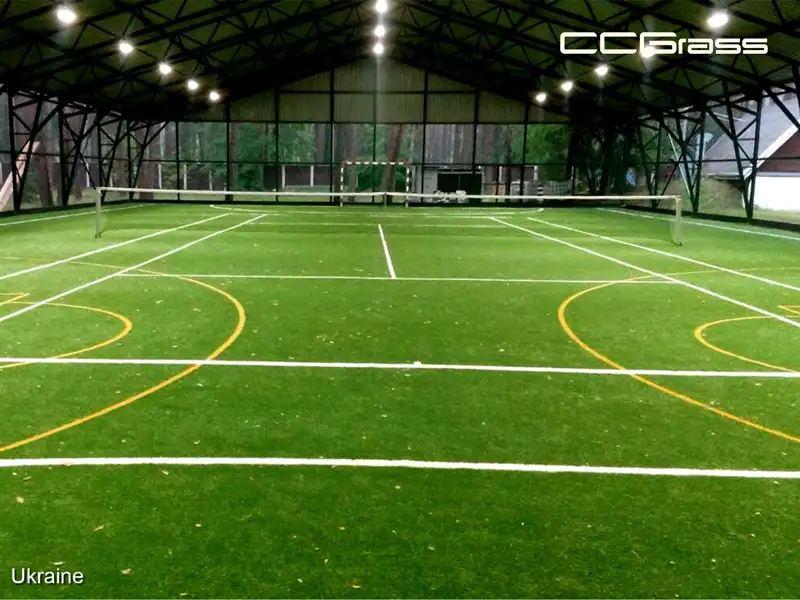 Featuring customizable line markings and a surface that replicates natural grass, synthetic turf emerges as the optimal choice for effortlessly accommodating a diverse range of sports and activities under one roof. By doing so, it enables you to maximize your facility's spatial utility without making any compromises on quality.
Top choice for multi-sport turf
Elevate your facility's possibilities with Max EX2 – a blend of Omega Max monofilament and curly yarn. Certified by FIFA, FIH, and World Rugby, its durability, performance, and adaptability redefine your space. Max EX2 stands as a versatile champion, ensuring top-notch experiences across a range of athletic endeavors.
Highlights
Three-dimensional monofilament combined with curly yarn
Outstanding standability
Unique Matt fiber color
Certified by FIFA, FIH and World Rugby
Gyms and fitness centers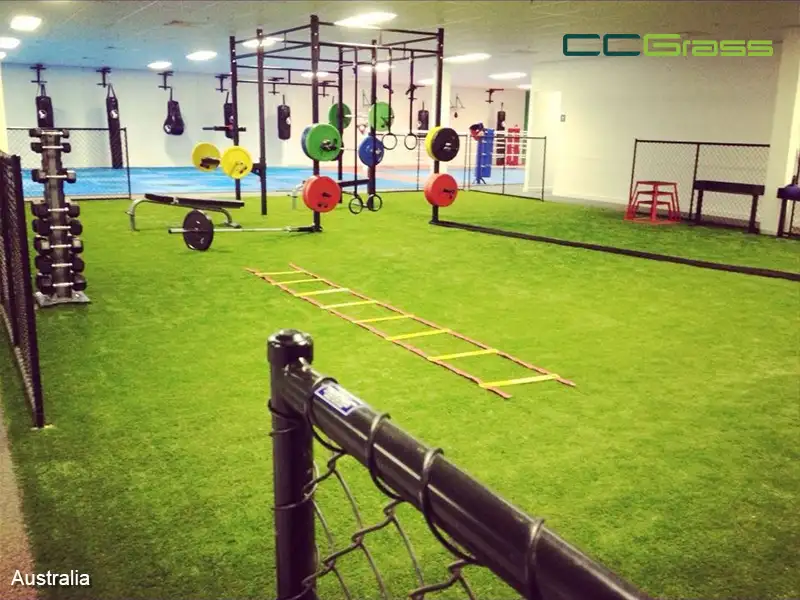 The indoor turf provides the necessary traction and shock absorption, reducing the risk of injuries during dynamic movements. Gym-goers can now engage in various exercises, such as sled pushes, tire flips, agility drills, and bodyweight training, all on a cushioned and joint-friendly surface.
Recommended indoor gym turf – YEII Series
YEII Series is an economical and dependable gym artificial turf. Its unique fibrillating structure, coupled with a shorter blade length, sets YEII apart as an exceptionally robust and effortlessly manageable solution, making it the ultimate selection for fitness centers with heavy foot traffic.
Highlights
Unique fibrillating structure
Excellent wear resistance
Multiple colors
Great for commercial and residential use
Indoor golf courses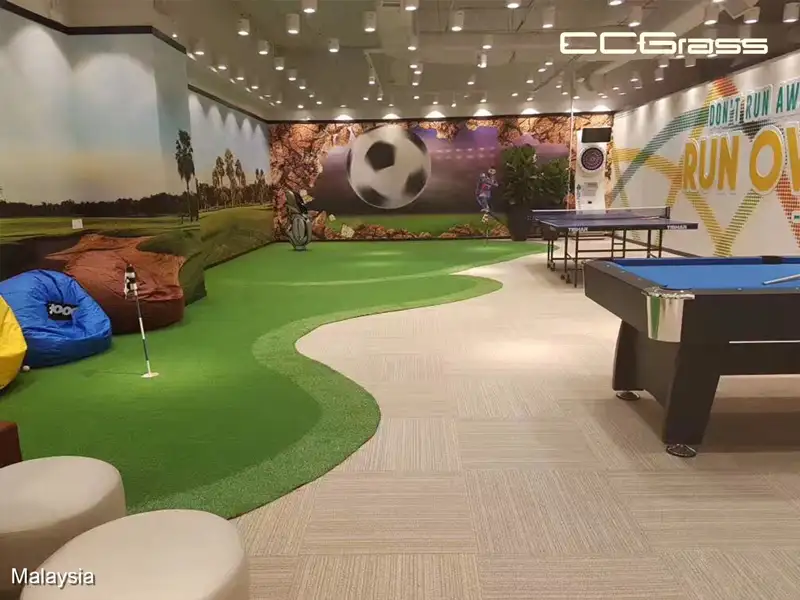 Choosing artificial grass for indoor golf courses presents business owners with a trendy and low-maintenance solution. Indoor putting greens create a controlled environment for golfers to perfect their swings, putts, and chips. The turf's reliable and true roll replicates real grass, boosting players' skills and confidence.
Top indoor putting green turf – FastPro HF
FastPro HF is an advanced and best-selling putting green turf. 100% PE curly monofilaments and dense stitches create a full, compact, and extremely durable product. With its smooth surface ensuring great playability, golfers can relish a top-tier playing experience.
Highlights
Professional sports products
Easy Installation
Aesthetic color innovation
Excellentfor professional and amateur golfers
Conclusion
In conclusion, indoor turf fields can be a game-changer for any sports facility. As we've seen, the world of indoor turf fields is diverse, offering options to suit various sporting needs. By selecting the right indoor turf and considering factors like durability and safety, you can create an environment that surpasses natural grass in practicality and charm.
Whether constructing a new sports haven or upgrading an existing one, indoor turf fields could be your winning strategy, revolutionizing the way sports are played and enjoyed, year-round. For professional guidance and top-quality indoor artificial turf solutions, don't hesitate to contact us at 86 25 6981 1666 or email us at [email protected].