Beginner's Guide | Everything You Should Know About Artificial Putting Green Turf
Golf is a challenging but rewarding sport that requires a lot of practice and patience. More and more golfers choose artificial grass-putting greens because they are easy to install and maintain, perform well, and look attractive. So how do you create a satisfactory artificial putting green?
With this guide, you will learn how to choose the best artificial putting green turf as well as the knowledge of installing and maintaining the putting green, let us take a look.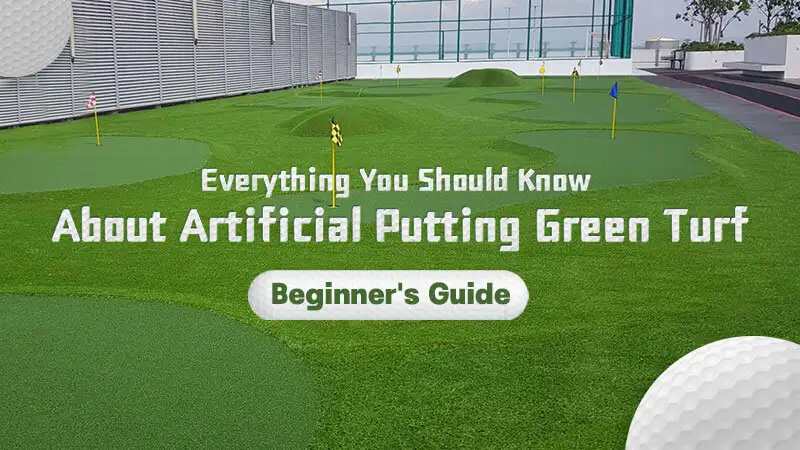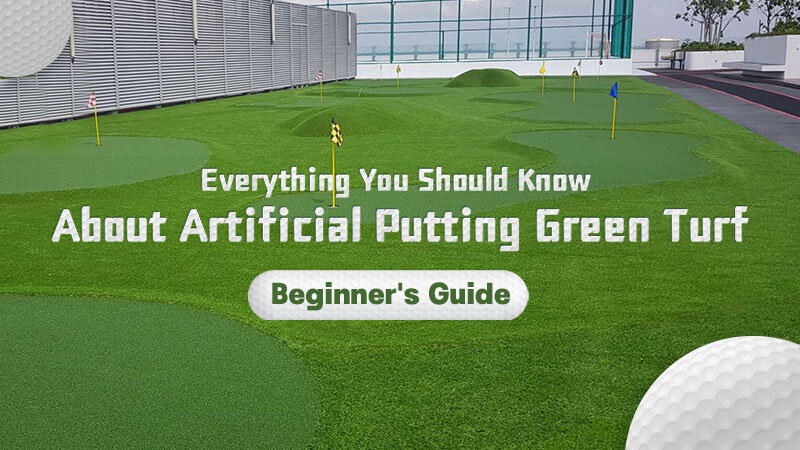 How to choose artificial grass for putting green?
Common materials of artificial putting green turf
Artificial putting green turf is a low-pile fake grass that allows golf balls to really roll. It is made of durable synthetic fiber materials such as nylon, PE, or PP.
Different materials have different properties, among which PE products are soft and natural, not easy to wear, will not fade in direct sunlight, are affordable, and ideal for outdoor putting greens.
The pile height of putting green turf
The length of the tufts measured from the primary backing top surface to their tips is usually measured in millimeters (mm).
High-pile artificial grass is good for trendy yards as it is more comfortable and lush, but putting greens should have a lower pile height to ensure true ball rolling. The pile height of most putting green surfaces is about 13mm in length.
Face weight of putting green turf
Choose thick, high-density artificial grass for your golf putting green, depending on the face weight of the turf.
Higher face weight means denser and more durable grass products. Artificial putting green turf with a face weight between 50 and 70 ounces per square yard is ideal.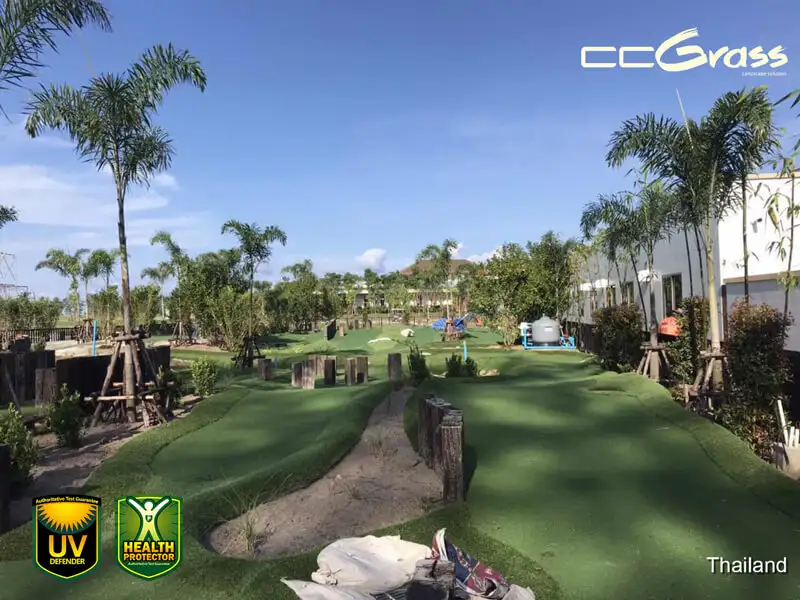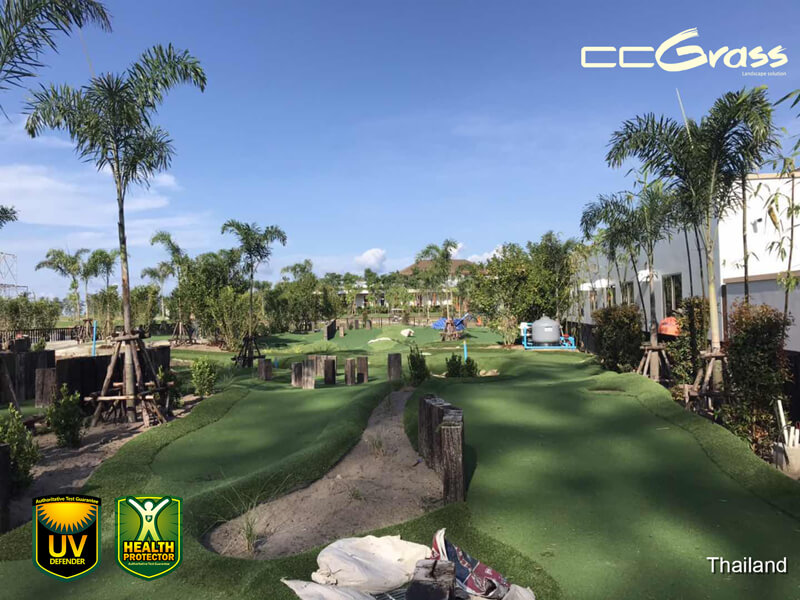 UV protection
Outdoor putting green turf is always exposed under the burning sunbeam. Good UV resistance can keep the grass yarn colorfast for years, thus prolonging the life of the putting green.
CCGrass artificial grass uses the best UV inhibitors, tested by SGS to UVA 5000h and UVB 3000h, exceeding industry standards.
Type and amount of putting green infill
The type and amount of infill affect ball speed, ball bounce, and more. One of the most commonly used infills is silica sand, which helps keep the fibers upright and enhances the appearance and performance of the putting green.
Infill also regulates the speed of the green, you can add more infill to increase the ball speed, or remove infill to make the ball roll more slowly.
Recreational putting greens vs. professional putting greens
The stimp rating and chipping distance of recreational and professional putting greens vary. The stimp rating tells you how fast the ball travels across the putting green, and a chip shot spends less time in the air and more time on the ground.
Both the stimp rating and the chipping distance are significantly higher on professional putting greens.
Professional putting greens typically cost 20-50% more than putting greens for leisure. The amount of infill, labor, and overall detailing on pro-style greens make them more costly.
Beyond that, recreational putting greens are easier to maintain than professional putting greens.
You can choose recreational or professional artificial grass putting green according to your usage intention and budget.
Why you should use artificial putting green turf?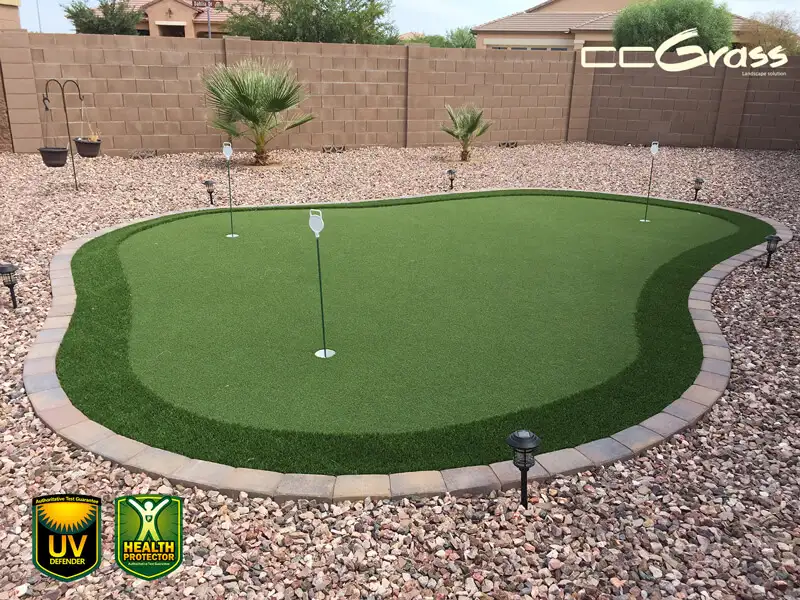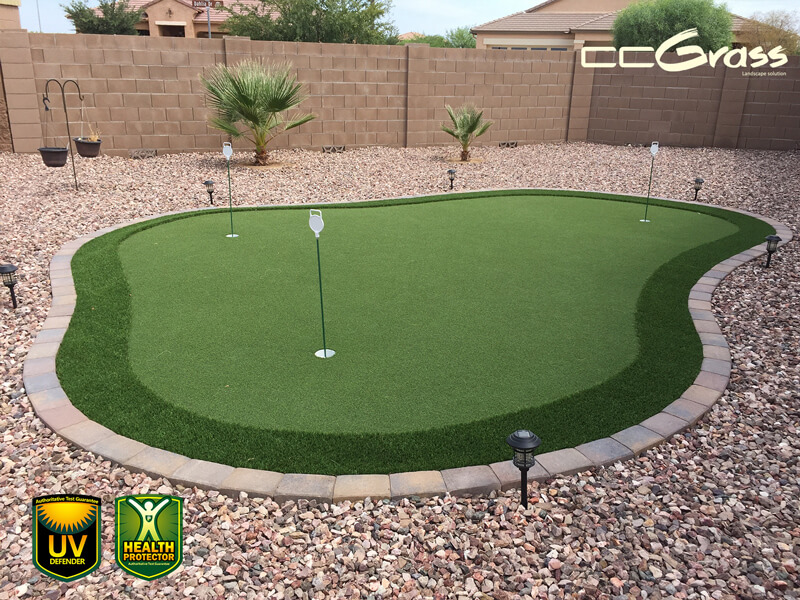 Save time & money
No mowing, no watering, no spraying, no fertilizing, which is environmentally friendly and saves the expensive and time-consuming maintenance, so you could spend more time enjoying the green with your family and honing your golf skills.
Unmatched putting green experience
Our state-of-the-art artificial putting green turf is designed and manufactured from a real putting green experience, offering unparalleled realism in appearance and performance, helping all golfers achieve the perfect shot every time.
Wide range of applications
CCGrass synthetic putting green turf can be installed virtually anywhere, no matter the size of your area. It can be used for indoor and outdoor putting greens, mini golf, professional sports clubs and golf courses.
Great golf training
Create an artificial grass putting green at home so you can train on fresh, natural-looking, and comfortable grass surface year-round. Don't need to go to the golf course every time, perfect for the professional golfer or beginners to practice their golf swing.
Recommendations for the best artificial putting green turf
FastPro
Our putting green turf FastPro series is excellent for both professional and amateur golfer to practice their putting techniques. It features the latest technology texturised monofilaments with dense stitches for a true and consistent golf ball roll on the surface.
Highlights
Safety Guarantee
Professional sports products
Extreme UV stability and durability
Smooth surface for great playability
Portable golf putting mat
The realistic synthetic grass mat can be rolled out indoors or out, so you can practice your putts almost anywhere. Our golf putting mat is versatile for home practicing, backyard sporting, family entertainment, and office relaxing.
Highlights
Safety Guarantee
The realistic golf course experience
Long-lasting smoothness
Suitable for both indoor and outdoor use
Stemgrass EX2 for putting green fringe
The Fastpro putting green surface is best optimized when combined with Stemgrass EX2 fringe. The putting green fringe not only helps keep the ball on the green but also provides stability and protection for the putting green.
Highlights
Super wear resistance
Good standing ability
More natural foot feel
FIFA certified product
How to install artificial putting green turf in the backyard?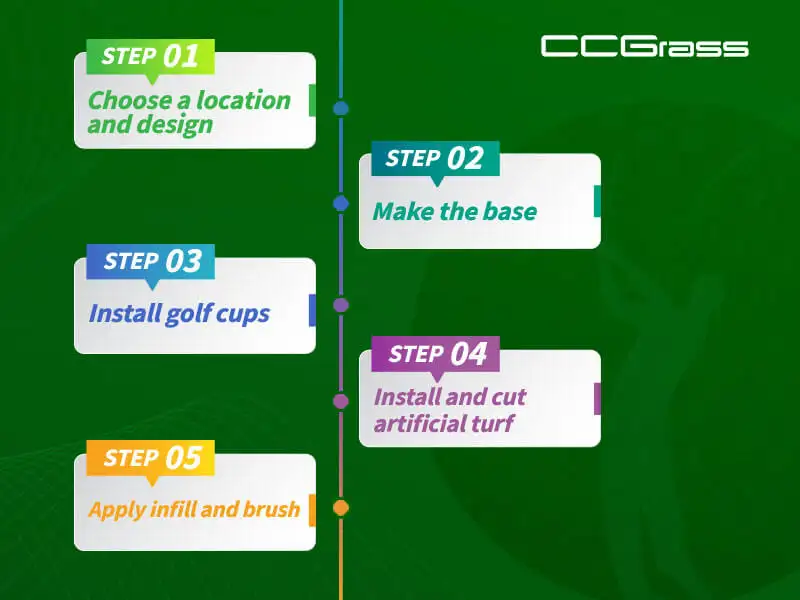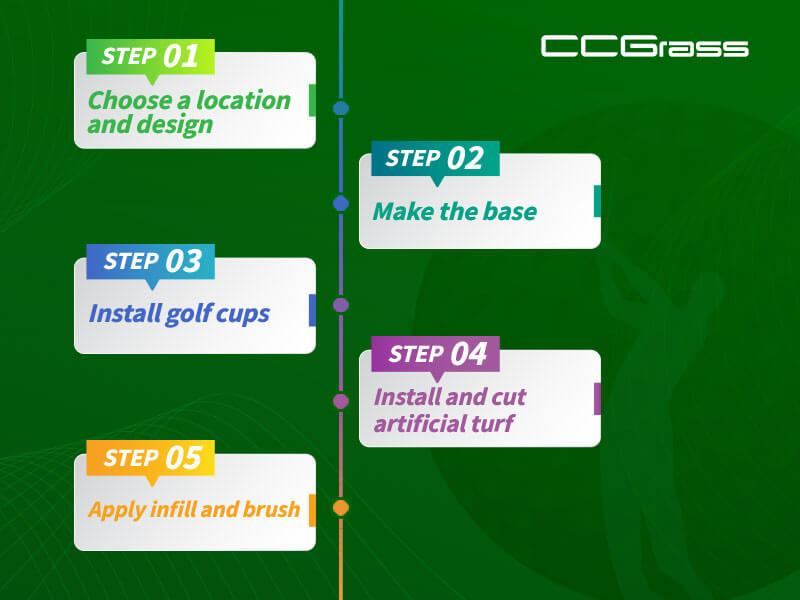 Step1: Choose a location and design
It's up to you to decide where to place the putting green first. Look for a horizontal location with good drainage. Then communicate with the professional company, inquiry, design, and order the putting green turf.
Step2: Make the base
The installer will outline the yard with spray paint according to the blueprint. Excavate 3-5 inches of native soil inside the outline, leveling and laying down an optional weed barrier on top of the excavated area.
Then put the crushed stone into the area and spread it out evenly, compacting with a compacting machine to create a smooth, flat base.
Step3: Install golf cups
Another critical step in installing a backyard putting green is deciding where the cups go. Use a shovel or spatula to make holes for the cups and insert golf cups into the holes.
To ensure reliable installation, it is recommended to apply concrete to secure the rim of the cup. Then, compact the sub-base around each cup with a hand compactor to level the surface.
Step4: Install and cut artificial turf
Place putting green turf on the base and carefully cut out the shape and size of your design with a carpet knife. You can use chalk to scribe your design onto the top of the turf.
As a rule of thumb, use turf nails along the perimeter to secure the contour. Next, use your hand to press down on the lawn to find the cups and use a carpet knife to cut out the holes.
Tip: Lay the turf flat in the sun for a few hours to allow it to stretch – this will remove creases and the fibers will be in better condition.
Step5: Apply infill and brush
Applying a proper layer of sand infill to your artificial putting green is very important. Use a stiff brush or electric broom to vertically brush synthetic grass to make sure the infill is evenly spread out.
How to clean and maintain artificial grass putting green?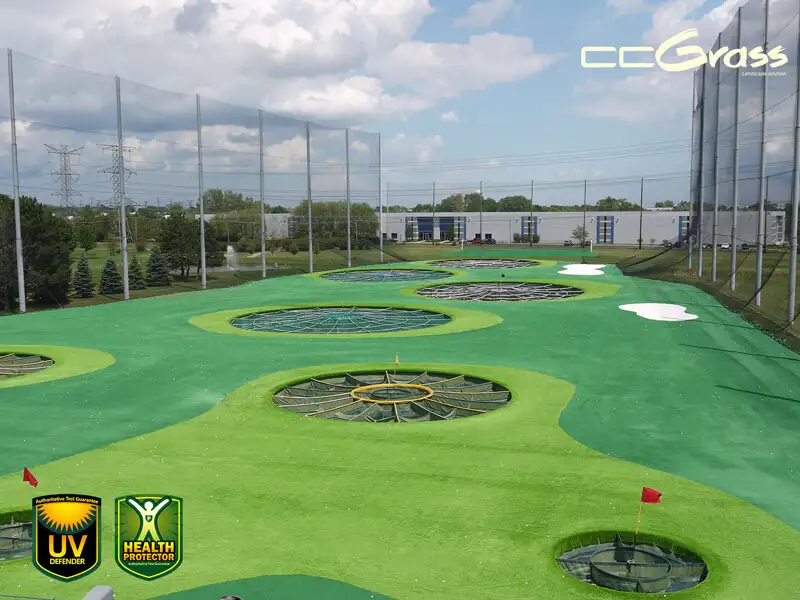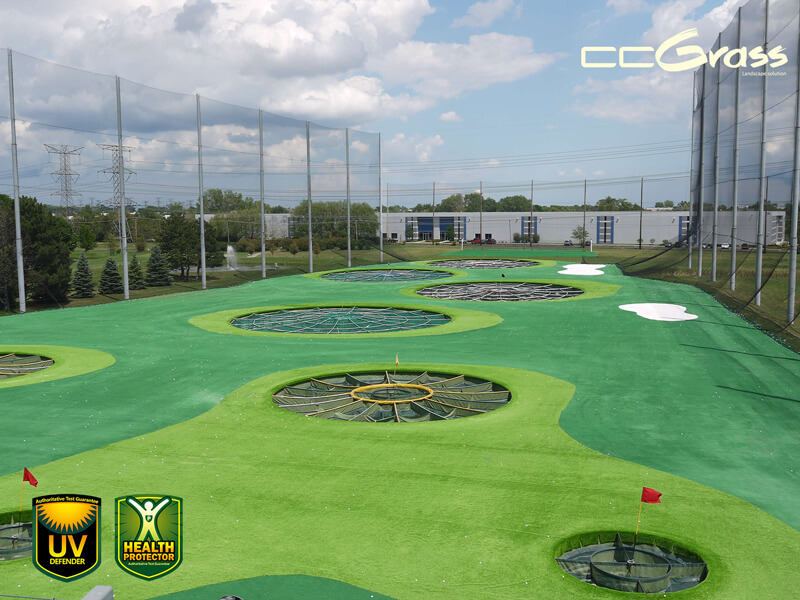 Artificial putting greens require some simple maintenance to keep them in top condition. 
Weekly: Remove debris such as leaves from putting green turf.
Monthly: If your putting green gets dusty, you can simply rinse your grass with a water hose. For mildly soiled areas, a basic mixture of warm water and a small amount of mild household detergent solution will do the trick! Just wipe it with a sponge and then rinse.
If the blades look flat: Rake the turf so that the blades stand up.
Avoid wearing high heels or carrying sharp objects onto the putting green area.
Keep sticky objects such as chewing gum away from your putting green turf.
Conclusion
The emergence of artificial grass-putting greens has broken the tradition that only when you go to the golf course can you enjoy the fun of swing, making the dream of playing golf anytime and anywhere a reality.
Armed with a thorough knowledge of artificial putting green turf, it's time to build your own putting paradise and start swinging!